Geoff Rogers is always looking for a problem to solve. His enthusiasm has ushered him into the world of business and biomedicine.
In 2008, a frustrated medic walked into Monash University's school of engineering and threw down a challenge. Did any student have the skill and tenacity to design a vital piece of machinery that had long eluded the medical industry? 
For about 20 per cent of cardiac patients, the existing guidewire technology used for minimally invasive heart surgery could not effectively be used, as the guide wire could not be steered into the position required to deliver treatment. 
It was a problem that the most experienced biomedical engineers had been unable to solve and just the type of challenge mechanical engineering undergraduate Geoff Rogers was looking for.
His final-year research project involved applying mechanical engineering to the field of medicine, and it was impossible for him to walk past a problem without trying to crack it.
Fast-forward a decade, and Rogers was recognised with the Prize for New Innovators in the 2018 Australian Prime Minister's Prize for Science. 
The robotic guidewire he designed in response to the medic's challenge was the basis for his first entrepreneurial venture, IntelliMedical, which he formed in 2012 and sold five years later to the US-based Merit Medical Systems, a world leader in surgical devices. 
In July this year, Rogers finished a three-year tenure as global CEO of Wintermute Biomedical, where he worked with a team to develop a range of anti-pathogenic compounds and underwent research and development programs in antibacterial, antiviral, anticancer and antifungal medications. 
Wintermute recently moved its US laboratories to Melbourne's La Trobe University, where Rogers is Adjunct Professor at the La Trobe Institute for Molecular Science. 
The company has also developed next-generation hand and surface sanitisers, which are proving to be game changers during the COVID-19 crisis.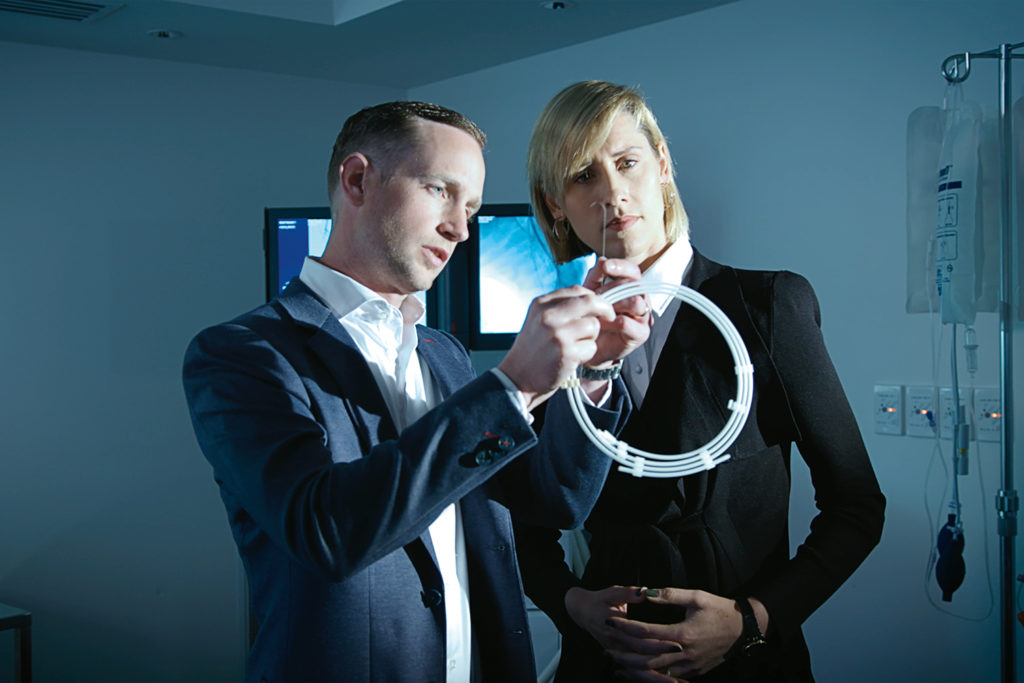 Natural-born problem solver 
Like many engineers, Rogers's interest in problem-solving was formed at a young age. His father was a mechanic in Euroa in country Victoria, and he grew up tinkering with cars in his workshop. 
"I can remember, when I was very young, undoing the bolts that Dad had loosened up for me and just playing around and seeing how things worked," he said. 
"I guess that's where the engineering angle came from."
Rogers's early ambition for a career in the automotive industry was disrupted when the global financial crisis tightened the screws on the Australian vehicle manufacturing sector. 
While considering an alternative career during his final undergraduate year, he started applying his industrial perspective to medicine. 
"When you look at the tools used in medicine today versus those available in an industry like manufacturing, medicine can be very technologically deficient," Rogers said.
"Looking at medicine as an engineer, and as somebody interested in applying science to product development, I could see that there were significant opportunities to solve decade-long challenges in medicine versus in the automotive industry."
The guidewire challenge came at the perfect time for Rogers. 
He worked on its design while completing his undergraduate project. Within nine months, he'd reached a point where he felt it "looked like it could potentially be something", but it was during his PhD in micro and nanotechnology that the theory became reality. 
Inside the guidewire
The guidewire is a complex device that can be steered through the blood vessel system by remote control. It contains 15 components, which are custom-manufactured and assembled by hand.
The device is just a third of a millimetre in diameter — about the thickness of two strands of hair. Inside its hollow stainless-steel centre are four tiny steering cables made from an advanced material that Rogers cannot disclose.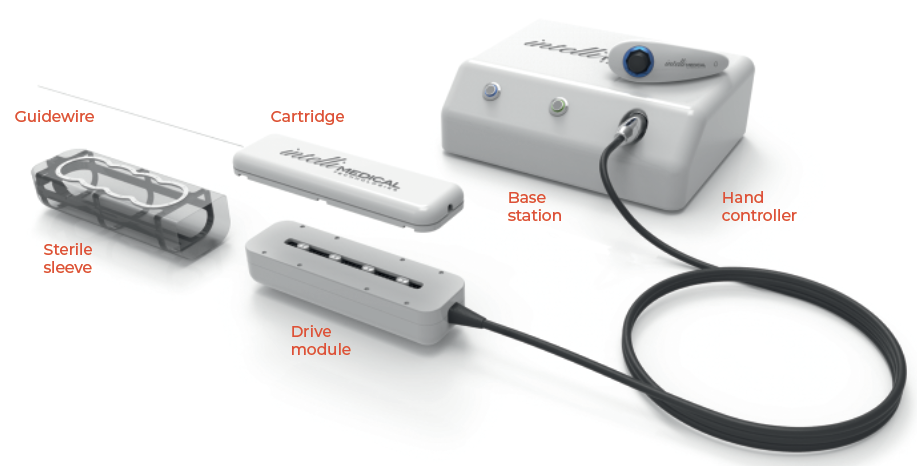 Depending on which of the four cables is pulled, the guidewire tip flexes left or right, up or down, enabling cardiac surgeons to deliver treatment to specific locations in the heart. 
Materials behave differently at such a small scale. They effectively have no mass or weight, and it is their surface tension that dominates. They are also very sticky, and Rogers said this created a major obstacle. 
"We were originally using steel for the cables and we were struggling to solve the stickiness," he said. 
"The advanced material was a major enabling piece of technology in that it is very slippery and has low friction. When we started the company in 2012, this technology didn't exist. We worked closely with manufacturers to help us get where we needed to be."
Straight to the heart
The application of physics to manufacturing was vital to the creation of the guidewire. 
But understanding how the device could be used in a clinical setting was essential to its success.
Rogers lost count of how many cardiac procedures he observed during development. He attended open-heart surgeries and interventional procedures, such as the insertion of stents into blocked coronary arteries.
"Anyone in product development knows that unless you watch your end-users use your product, there'll be ways that you haven't intended for it to be used," he said. 
"I gave an early 3D-printed prototype to someone to ask, 'How does it feel and is the shape right?.' They asked, 'Is it robust?', and then dropped it on the ground and it smashed into a million pieces. 
"Unless you actually spend some time with your users in their work environment where stress is high and where there's a very different demand, you just cannot predict how the product will get used."
Associate Professor Andrew Ajani is an interventional cardiologist at Melbourne Private Hospital who served as a medical advisor to Rogers at IntelliMedical. He said Rogers observed many of the stent procedures he conducted during the design phase of the guidewire. 
"One of the most important things about the guidewire from a clinical perspective is that it be easy to use," he said. 
"Geoff needed to understand how we used conventional guidewires during a procedure so that when he came to develop the new wire, he could factor in the technical demands."
"UNLESS YOU ACTUALLY SPEND SOME TIME WITH YOUR USERS IN THEIR WORK ENVIRONMENT WHERE STRESS IS HIGH, YOU JUST CANNOT PREDICT HOW THE PRODUCT WILL GET USED."
From startup to sale
Developing a speculative solution to a long-standing problem is expensive. Rogers put together a small team that he said represented three vital pillars — engineering, medical and business expertise.
"From day one, as a team, we knew that our job was to get it to the point where it would work in a human patient in a clinical setting, so that we could then partner with somebody to take it to market," Rogers said. 
"We knew we did not have the capability to scale up and sell them all around the world through a global distribution network."
When the guidewire reached the point of in vivo studies, Merit Medical expressed a commercial interest. Rogers travelled with colleagues to the company's headquarters in Utah to present to its board of directors and, in September 2017, Merit Medical purchased IntelliMedical.
While the sale was in progress, Rogers had a chance meeting with scientists in the US that set the course for his next venture. 
They were developing a new antibiotic and, while their science was sound, they did not have the business experience that Rogers had gained while taking his company from research to commercial outcome. 
Rogers joined Wintermute Biomedical as CEO in 2017. His wife, Priscilla Rogers, who also studied engineering at Monash and completed a PhD in micro and nanotechnology, had spent her career working in the health sector and joined the company as Chief Operating Officer.
"We just thought, if we really believe in what we're doing, which is using our skills to try to solve medical problems, how can we ignore this opportunity?" Rogers said. 
"How can we not help these guys and get this product to market?"
Changing direction
Prior to moving operations to Australia last year, Wintermute was testing its sanitiser Decastat with various government departments, including defence departments, but hadn't cracked the public health sector market.
"When COVID-19 hit, those conversations came full circle and, all of a sudden, customers were asking for our products yesterday," Rogers said.
Wintermute is currently supplying Decastat to a number of Australian companies, including top ASX-listed companies that need to clean their facilities and keep their staff safe.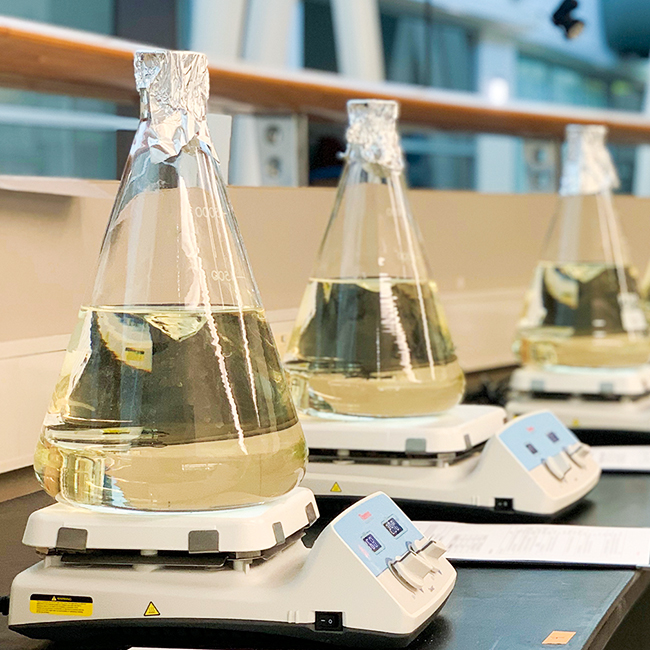 "We scaled as fast as possible, because we were just inundated with back orders from some of Australia's largest companies," Rogers said.
While Rogers can't reveal what Decastat is made from, he said "you may have eaten some of the ingredients for dinner last night".
"They occur in nature, but you can also produce them synthetically at high volumes," he explained. 
"We combine them with our unique chemistry to allow much higher doses to be delivered directly to bacteria or viruses."
Alcohol-based hand sanitisers evaporate once your hands are dry and clean — you are only protected until you touch the next door handle. 
However, water-based Decastat provides residual protection; when it dries, the active ingredient lasts for many hours after, depending on how many times you wash your hands or clean a surface.
In April this year, Wintermute was producing 10,000 litres of Decastat a week from its facility at La Trobe University. 
The university's Vice-Chancellor, Professor John Dewar, said the relocation of Wintermute's US labs represents a "vote of confidence" for its Research and Innovation Precinct — and that it is exactly the type of company it aims to attract.
"Wintermute is developing innovative solutions where current medicines are failing," he said. 
"It is doing something as a day-to-day practice that universities want to do much more regularly, which is apply research to real-world problems."
By May this year, Rogers estimates Wintermute would have been producing up to 80,000 litres of Decastat a week. 
"IT IS DOING SOMETHING AS A DAY-TO-DAY PRACTICE THAT UNIVERSITIES WANT TO DO MUCH MORE REGULARLY, WHICH IS APPLY RESEARCH TO REAL-WORLD PROBLEMS."
For an engineer who nominates chemistry as his least favourite subject, Rogers never expected to be working on the next generation of medicines and sanitisers. But, just like the guidewire challenge, he saw a problem that required a solution.
"I really believe that engineering is problem-solving," Rogers said. 
"Simple as that. An engineering degree teaches you to take a really complex problem, break it down into manageable pieces, and solve it. I don't think there's any problem an engineer can't apply their mind to."