The elite of Australia's construction industry will come together in Melbourne this Wednesday 3 May to celebrate the sector's greatest achievements of the past year.
The gala award dinner will see representatives of the nation's best construction companies meet at Crown Palladium, with the evening capped off with the presentation of the 2023 Australian Construction Achievement Award.
Seven finalists — including a new civic hub in Sydney's "second CBD", a Murray River bridge crossing that forms the largest transport infrastructure project in northern Victoria, and a redevelopment of the Sydney Football Stadium — have been shortlisted for the award.
Find out more below about the seven finalists who will be honoured at the gala event, presented by Engineers Australia with the Australian Constructors Association.
Echuca-Moama Bridge Project — Stage 3, Victoria and New South Wales,
 

By McConnell Dowell Constructors and Major Road Projects Victoria
The Echuca-Moama Bridge project forms a second Murray River crossing between Echuca and Moama, as well as a bridge over the Campaspe River, earth embankments and flood relief bridges on adjacent floodplains. Constructed on the traditional lands of the Yorta Yorta people, this new link across the New South Wales-Victoria border features 5 km of road along with scenic walking and cycling paths.
It also far exceeded its IS design rating target score of 50, insteading achieving a Leading score of 75.4. The team estimates its approach reduced material life-cycle impacts by a third.
Edithvale, Chelsea, and Bonbeach Level Crossing Removal Project, Victoria,
 

By

Southern Program Alliance (ACCIONA Rail, WSP, Metro Trains Melbourne, and the Level Crossing Removal Project)

This project removed five dangerous and congested level crossings and built three new stations on the Frankston line in Melbourne's south-east. The work, which involved removing approximately 200,000 cubic metres of soil and installing 4500 sheet piles to create three new rail trenches, created safe access across the rail corridor for vehicles and pedestrians, and improved commuter experiences on the Frankston line.

One of the largest projects in the ongoing level crossing removal works, it entailed several innovative solutions and was delivered at a lower cost than estimated in the proposal phase.
M4-M5 Link Tunnels Project (WestConnex Stage 3A), New South Wales, By ACCIONA Samsung Bouygues Joint Venture
WestConnex Stage 3A was a $3.2 billion project in Sydney that saw the construction of two 7.5 km underground tunnels for a total tunnelling length of 21.5 km. Connecting the M4 motorway at Haberfield with the M8 at Saint Peters, the project featured numerous innovations. 
It features a world-leading edge shotcrete tunnel lining, using steel fibres. The final mix reduced shotcrete consumption by 15 percent, reducing construction traffic, avoiding 33,000 tonnes in CO2-equivalent emissions and saving $11 million.
Other innovations included mechanical and electrical work directly behind the tunnel face and iterative software system testing.
M80 Ring Road Upgrade Sydney Road to Edgars Road, Victoria, By CPB Contractors and Major Road Projects Victoria
This project to widen 5.7km of the M80 Ring Road in Melbourne's north added lanes, ramps, collector distributors and a smart freeway system. Working alongside 165,000 vehicles each day, the team completed its work six months ahead of schedule and under the client's budget. It also marked the first time a freeway used recycled content in every pavement layer and the first trial of a cone truck that could automatically deploy and retrieve traffic cones.
The team also was able to retain and extend a cable-stay pedestrian bridge spanning the freeway, rather than demolish and replace, saving around $1m, 120 tonnes of steel and 50 cubic metres of concrete.
Parramatta Light Rail Stage 1 Infrastructure Contract, New South Wales,
By Parramatta Connect (CPB Contractors Downer EDI Works Joint Venture)
Negotiating three major hospitals and a lively dining precinct, the first stage of the Parramatta Light Rail project connected Westmead to Carlingford via the Parramatta CBD. Encompassing 5 km of the existing Carlingford and Sandown lines, the resulting two-way track is 12 km long and features 16 fully accessible stations and 12 new or refurbished bridges. 
Key innovations in the project included the first use in NSW of BarChip macro synthetic fibres within the concrete track, which reduced the amount of steel reinforcement required by more than 2400 tonnes; an Australian-first rail boot system; and 2 km of "green track" (featuring vegetation between the rails).
Parramatta Square Precinct: 3, 4, 6 & 8 Parramatta Square & PHIVE Parramatta Square, New South Wales,
By Built in JV with Obayashi and in partnership with Walker Corporation and Parramatta Council
Four commercial towers, a civic hub and space for the new $2.8 billion Parramatta Square precinct went into one of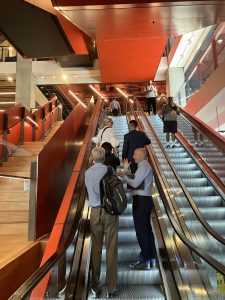 Australia's largest urban regeneration projects. The three-hectare site saw commercial and retail builds, fit-outs, interconnecting basements, integrated transport access and public domain works. Six and Eight Parramatta Square is now the largest commercial office tower by floor space in Australia.
For Four Parramatta Square, the project made use of what was at the time the biggest structural steel jump start construction approach, removing four months from the project timeline compared to a traditional approach.
Sydney Football Stadium Redevelopment, New South Wales,
By John Holland Group
A world-class stadium with room for 42,500 people, the redeveloped Sydney Football Stadium is "designed for the fans" and provides an optimal sporting and entertainment experience with enhanced accessibility, safety, sightlines, and operational efficiencies. 
A key feature of the stadium is the innovative, lightweight roof structure, designed to reflect sound back into the stadium to minimise noise impacts on the surrounding suburbs. The structure is composed of more than 4000 individual pieces of steel of varying lengths and geometries, each of which was digitally modelled to provide highly accurate fabrication data and drive project efficiency.
A complex fabrication and installation project that had to negotiate COVID-19 delays and wet weather, its innovative achievements include the erection of complete trusses without the need for extensive fit-out at heights.