From rethinking stormwater harvesting to recycled construction materials, the research projects at Victoria University's Sustainable Futures Innovation Hub are looking at the west of Melbourne with a planetary health focus.
Victoria University's (VU) Innovation Hub, located at the university's Footscray Park and Werribee Campuses, was launched in April 2021 to develop solutions to sustainability problems. It combines engineering experience with expertise from a range of other disciplines.
"The research projects we're working on touch on important needs in the COVID recovery," says VU Innovation Hub lead and Professorial Research Fellow at Victoria University Mikel Duke. "But also sustainable development goals in the construction industry, water supply, and more."
As part of its brief, the VU Innovation Hub is connecting with communities in the west of Melbourne and along the Werribee River, where the need for sustainable thinking is particularly intense.
"The Werribee River catchment area supplies a huge amount of agricultural produce for Australia, it's going to see immense growth in population and it's a major employment district, so it's got these competing uses between living and industry," says Duke.
The VU Innovation Hub might have a local focus on Melbourne's west but its projects have the potential for a national and international application. Here are three areas it's exploring right now.
1. Water generation management
Australian cities are young by global standards but they still have water management issues endemic to urban areas all over the world.
"I live in an older Melbourne suburb," says Duke. "They only just recently upgraded iron pipes to new materials."
He says that a cities' water systems can become chaotic with time, and that ongoing works to avoid inefficiencies are essential.
"According to the Bureau of Meteorology's National Performance Report 2019-20, the number of bursts and leaks per 100 km of water mains in the western suburbs of Melbourne is one of the highest in Australia," says Dr Nitin Muttil, leader of the Water Resources research group inside the hub.
Preventing water loss and repairing bursts and leaks can be prohibitively expensive, so innovation is critical. Civil engineers have to pay attention to the 'economic level of leakage', a metric for measuring whether or not an effort to reduce water loss is financially viable. This challenge has resulted in new ideas being explored by Muttil and his team.
In a previous study led by Muttil, a team of engineers was able to show that by replacing pressure reducing valves with hydro turbines you can keep water pressures low enough to prevent infrastructure damage while simultaneously generating clean energy – creating extra value from water loss prevention. 
Another idea is harvesting the huge amount of rain that hits non-permeable city surfaces. A research team led by Associate Professor Shobha Muthukumaran in partnership with Greater Western Water are conducting hydrological and water quality modelling to select suitable stormwater treatment options for water supply as alternative to freshwater sources.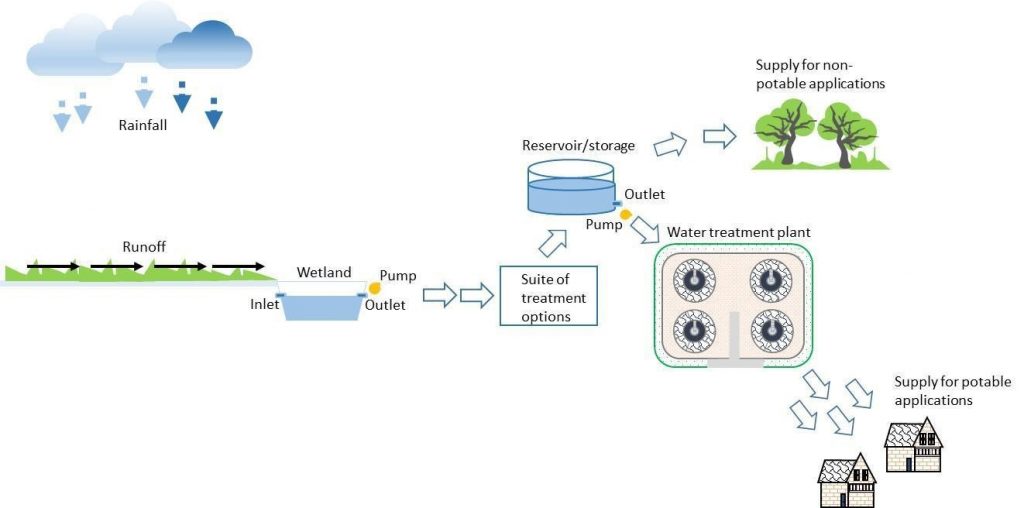 Their project involves conceptualising a scheme for the Melton growth area, where stormwater is channelled into drains, naturally filtered in local wetlands, treated through stormwater treatment trains and captured in a storage/reservoir. The captured water can then be used for potable applications (after going through a water treatment plant) and non-potable applications such as agricultural and open space irrigation uses.
2. Roads and housing foundations made of recycled waste
The world's largest basaltic plain is located in the Western suburbs of Melbourne. The seasonal shrink-swell movements of these reactive soils impose stresses on residential and road structures. To overcome this, the VU Innovation Hub is investigating the use of recycled wastes.
"Some recycled wastes can have superior engineering properties compared to virgin materials," says Structural Engineering Professor Sam Fragomeni. "Including greater flexibility to absorb the ground volume changes and less sensitivity to seasonal weather changes."
His colleague Dr Ehsan Yaghoubi, a Civil Engineering Senior Lecturer at Victoria University, offers some examples. Drawing upon experimental results, recycled materials were utilised for modelling a pavement structure using FlexPAVE pavement design and analysis software.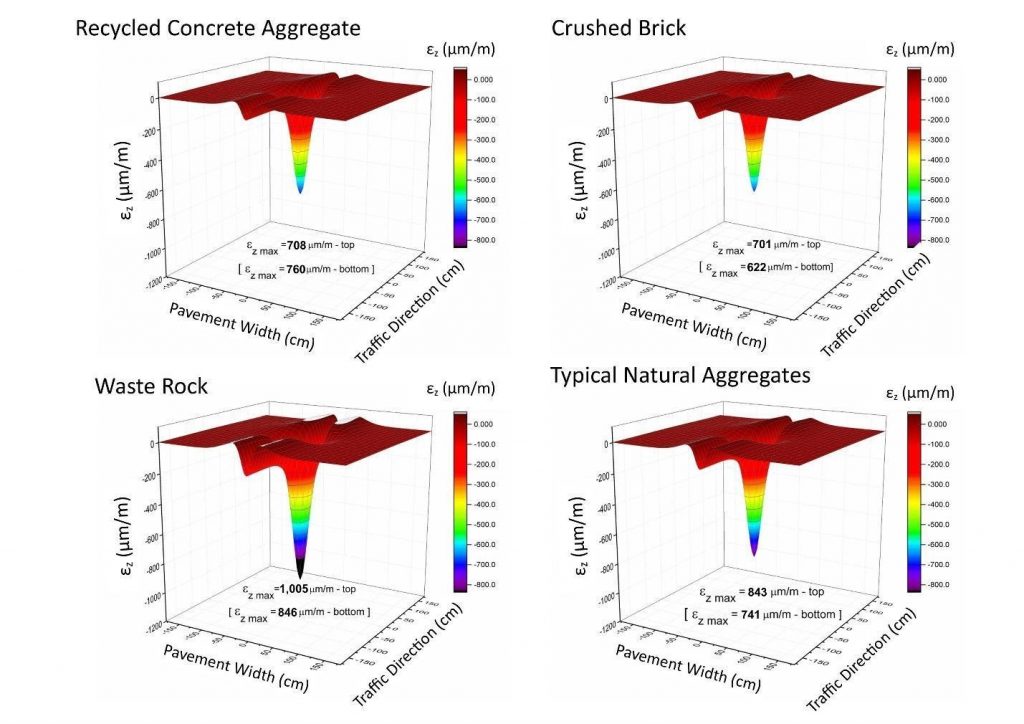 Both recycled concrete aggregate (produced by crushing concrete structural elements from demolition activities) and crushed brick showed lower vertical strains compared to the typical virgin base material. This suggests better performance and less potential for rutting distress, where depressions and grooves are worn into road pavements by vehicular loading.
Through extensive geotechnical and structural investigations using the hub's advanced testing facilities, researchers are developing solutions using these recycled materials, including a concrete house slab system.
Another promising use is a recycled material blend that improves the life of sewer infrastructures. At a trial site located in Wyndham City, provided by Greater Western Water in collaboration with Ground Science, the hub researchers are performance-monitoring infrastructure that uses a 100 per cent recycled blend of glass, tyre and plastic. This project is supported through a Sustainability Victoria grant from the Victorian Government's Recycling Industry Strategic Plan Fund.
Fragomeni estimates that about 7,000 tonnes of waste materials can be utilised per one km of the pipelines – diverting all of it from landfills.

3. Digital transformation of the construction industry
Construction is a huge part of Australia's economy, but it's also one of the least digitised. This doesn't just affect its efficiency or profitability, it is making the industry less sustainable in a few ways.
"The construction industry has a long-standing problem of defective work," says Professor Zora Vrcelj, Head of Built Environment at Victoria University.
She points to a report from financial comparison company Mozo that shows repairing defects has cost Australia $10.5 billion over the past decade and says it's just the tip of the iceberg. After all, the Victorian government has set aside $600 million just to deal with dangerous cladding.
If you catch more problems earlier, you drastically reduce waste in the construction industry. One of the VU Innovation Hub's goals is to produce high-end tools that would normally only be available to the most well-funded firms and put them in the hands of surveyors and construction managers. This includes technology that draws upon augmented reality.
"For example, just by scanning the construction site, you would be able to immediately overlay the original design drawings and identify irregularities," says Vrcelj.
There are other potential projects in the works too, including a tool that uses thermal imaging to see through walls and assess waterproofing issues, potential mould growth, and the installation of proper insulation.
Such tools would help address Australia's critical shortage of qualified surveyors, as it would mean the same number of experts with the same amount of time on their hands could accomplish more comprehensive work.
Another promising avenue the VU Innovation hub is exploring is immersive virtual reality experiences, where trainees will be able to experience in-depth learning away from real-world hazards.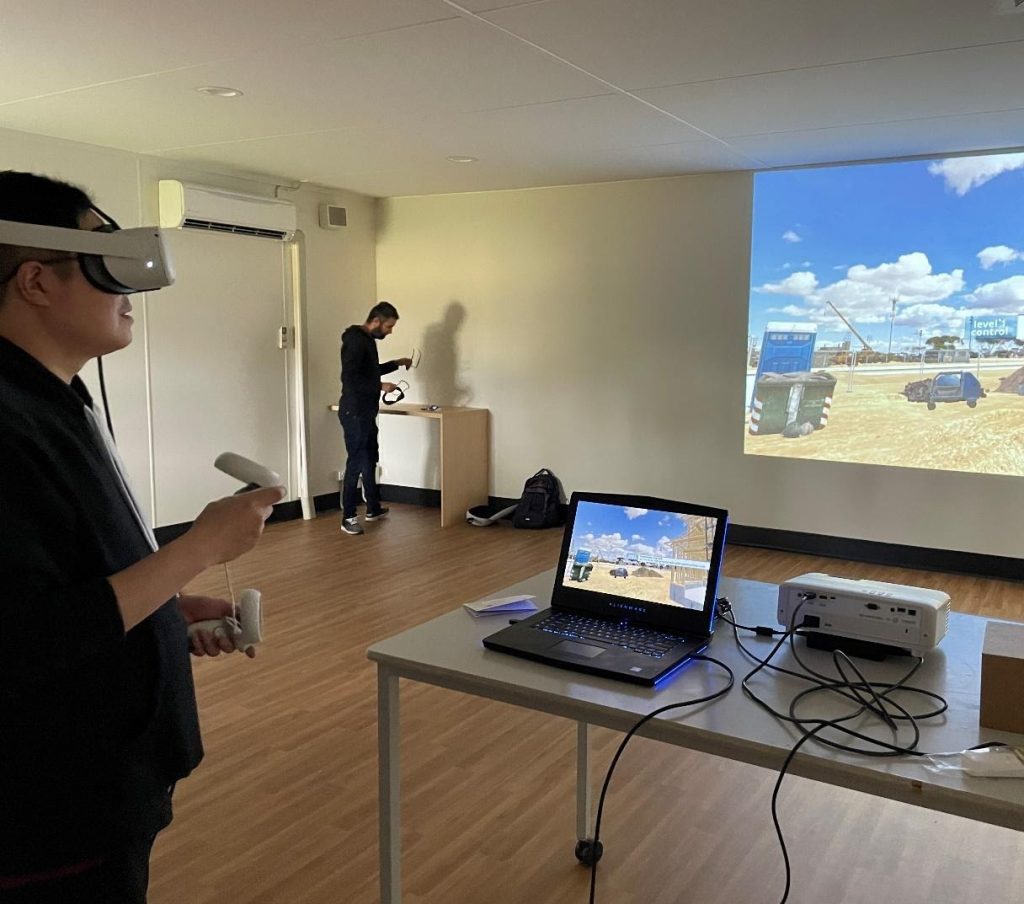 "For example, you could have a virtual reality two-storey residential house construction site where the truss frame is being installed. The trainee would have the opportunity to identify all the hazards and risks without being exposed to them," says Vrcelj.
Such tools wouldn't just reduce safety and critical skills gaps, they also address UN sustainability goals around diversity and inclusion, says Vrcelj.
"Digitalisation of the construction industry has potential to challenge current perceptions of the construction industry careers, traditionally perceived as masculine due to its heavy focus on manual labour, and increase workplace diversity."
Discover more about Victoria University's College of Engineering and Science.
The Victoria University Sustainable Futures Innovation hub is funded in partnership with the Victorian State Government. More details can be found here.