From the initial shift to remote work and forming COVID-19 task forces, to focusing on economic recovery once the pandemic has passed, here's what's changed – and what hasn't – for nine Australian engineers over the past couple of months.
You can view all nine stories by scrolling down, or click on an image below to jump to a story.
"I personally feel grateful because we're the lucky ones. We can still do our jobs. If this had happened 10 years ago, much of the technology we're using didn't exist."
I feel like Australia might be turning a corner in its response to the coronavirus. We're feeling a little bit more confident and that's a great thing.
But if you go back six or so weeks, that wasn't how people felt.
People were very anxious. At that time our focus was making sure people had a really clear focus, they were supported and that we kept delivering for clients.
We were really careful about measuring our productivity. The first week or so wasn't at the usual levels, but I'm happy to say it's bounced back as people have adjusted to their new normal. 
Like many, I think this will fundamentally change how we do work. I normally fly a lot, but I can say I have had more client meetings in the past six weeks than I've had in the past six months because we haven't had to line up our diaries to be in the same city to meet face-to-face. 
That is not just feedback from me, but many of the senior leaders in the business see that clients have never been more open. We think it's great, so we hope that's about to change forever. 
However, what I'm keeping an eye on is if we're doing this for another six months, whether fatigue will set in. Does it get easier or does it get harder? And I guess we won't know that for a while. 
On the whole, though, the response from the engineering profession shows you that we can still have a flexible workforce, even on the biggest projects. We can still deliver high-quality work. I think that will be really important for us to remember in the coming years, and it has challenged some of the orthodoxies in engineering.
Clearly there have been some changes, particularly in the sectors that have been most impacted – aviation being an example, the university sector being another. But broadly speaking, we've seen the public sector, government infrastructure and the like, remain strong. They want those projects to go ahead and that's good. 
In the private sector it's been more cautious. Some clients are bringing things forward because they see opportunity, while other clients are delaying, or deferring or they're reviewing. And in each of those cases, we've got a role to play in supporting clients to make good choices and give them the best technical advice we can to support their decision. 
Our profession already has a strong focus on safety, which I think has been a big part of aspects like construction still going ahead, just with a new overlay of safety and risk management as it relates to COVID-19. 
We are going to have to learn to live with this for a while yet. So it's good that we've got better protocols in place and we can always improve those further.
Engineers should be at the forefront of crisis response, helping out where it's appropriate. If infrastructure is used as a stimulus as some of the rhetoric and commentary suggests, engineers need to be involved. 
If we were doing a medical intervention, would you expect the Australian Medical Association to be at the table? Absolutely. If they're planning anything around stimulus for infrastructure, then engineers need to be responding to the agenda by designing the programs. 
I've been really heartened by the response of our peers and our industry groups. They've come to this crisis response with a real sense of openness and purpose, and I think the profession as a whole has carried well the responsibility that the country needs us to do our job to the best of our ability.
If we can keep that early-stage work – investigations, planning, designing – going, it sets us up well for the construction activities that come down the track, which will be a big part of the stimulus kick and putting more people to work.
But I also think it's important to look at our work models and reimagine what will actually benefit our profession in the longer term as well. This COVID-19 challenge has given us all pause to think about how we're doing things.
If we could move all of our staff to be working from home in a fortnight without any significant issues, then what other changes could we make to our industry? I think that there's a chance here to influence the future.
I personally feel overwhelmingly grateful because we're the lucky ones. We can still do our jobs on computers. If this had happened 10 years ago, much of the technology we're using didn't exist, or certainly wasn't widespread. 
We should be feeling very grateful that most of what we're doing is cloud-based. The fact that I'm talking here about productivity being very similar just shows you how much the industry has changed. 
I think there's 100 things that we will all do differently, and I don't think it'll ever go back to how it was before. This is an opportunity to look at how do we be more productive, how do we get things done in a more collaborative or innovative and creative way? 
I really hope we don't miss this chance to re-imagine ourselves and our profession beyond just working from home. I think those things are powerful and enduring and they will leave us a better profession. 
"As a student you need to do your 480 hours of relevant work experience to graduate. I know a couple of people who haven't done their hours, and not being able to get work experience would absolutely delay their degree."
My studies and future plans have really been affected by the coronavirus. 
I've been following COVID-19 very closely since late December/early January. I was set to do an 18-month exchange program in China and Hong Kong beginning in January as part of the New Colombo Plan Scholarship, which is a strategic initiative of the government to strengthen bilateral relations in the Indo-Pacific region.
Obviously I've had to defer that until next year. I'm lucky that I didn't go in January, though. When the borders started closing, everyone had to evacuate on very short notice, which was really stressful. 
I was in a unique position because I knew a lot about COVID-19 by the time it came here, whereas I think a lot of people just thought it was a foreign thing and it wouldn't affect us too seriously. But I think that's the hardest bit around the whole pandemic – people don't actually know what's going to happen.
A huge impact has been the uncertainty at university. Engineering is quite practical-based, especially at Curtin, so we do a lot of labs. Now we have to watch them online, which isn't as immersive. With all classes and assessments moved online, there's also a lot of uncertainty with how our exams will be run.
I don't know the exact date when uni went online, but it feels like it's been forever. I much prefer studying at uni as opposed to at home. Being physically at uni was also beneficial because the engineering school at Curtin is a close-knit community. Everybody knows each other, so it really helps when you're doing the same units with people in person, because you can collaborate and share ideas, work through problems together, see how they're tackling things. You can still do that online, but there's just an extra barrier, I think.
One strange way that online learning has been good, though, is for engagement. Sometimes people are too scared to say something, so they won't put their hand up. But with anonymous polls or Q&As online, it's easier to ask questions or put forward ideas when you're not face-to-face.
Our university has really stepped up and implemented a number of measures to help students. One of those has been the option to choose a pass or fail grade, which I think has removed some of the pressure. They've also really relaxed assessments and requirements for work extensions, and they've given us a tuition-free week.
They're very understanding of what we're going through, so they're reacting accordingly. I think that's been comforting for a lot of students.
Myself and some other Engineers Australia student ambassadors have helped set up a Facebook group for WA engineering students. We wanted to create a platform where students feel comfortable seeking support or having discussions with their peers.
One of the main concerns students are bringing up is work experience. Mining, oil and gas are probably the biggest industries in WA and they have large vacation work and grad programs. But they've been hit hard by the crisis.
As a student you need to do your 480 hours of relevant work experience to graduate from an engineering degree in WA. I know a couple of people who haven't done their hours, and not being able to get work experience would absolutely delay their degree even though they've completed all of the coursework. I'm lucky that I've done my hours already, but I think that will be an issue for a lot of people.
The pandemic has me thinking of ways to solve problems like this and the systems that need to be in place to stop the effects from getting too drastic. I'm still figuring out what I want to do post graduation, but I know that I want to be involved in solving problems that arise in society like this.
"The shock of how quickly that came about has been unsettling, but I think we've just now landed in a place where we're stabilising and understanding what needs to happen next."
Engineers Without Borders (EWB) was significantly impacted by the coronavirus, and it happened really quickly. We went from doing our budget planning for next financial year and business as usual to, within a month, looking at a significantly reduced revenue for our programs. 
In response to COVID-19, the most significant changes will be seen for work that requires us to be in communities. Many parts of those programs … we don't see that we can run them overseas for at least 12 months. We had a number of volunteers in Cambodia, for example – they've all come back.
The shock of how quickly that came about has been unsettling, but I think we've just now landed in a place where we're stabilising and understanding what needs to happen next.
We had already been planning for more flexible delivery models, and we also just signed off our new 10-year strategy in February 2020. With this new strategy, we started pivoting to implement localisation in countries, so setting up country offices and hiring local staff. In places where that was already completed or underway, that work can still happen, which is really fantastic.
In other areas, we can give support by doing engineering work remotely. But in terms of anything like professional training or student design summits that require the participants to actually go and spend time in a country, working with communities and learning those skills, that's not going to happen for a certain amount of time. That's where we really were hugely impacted.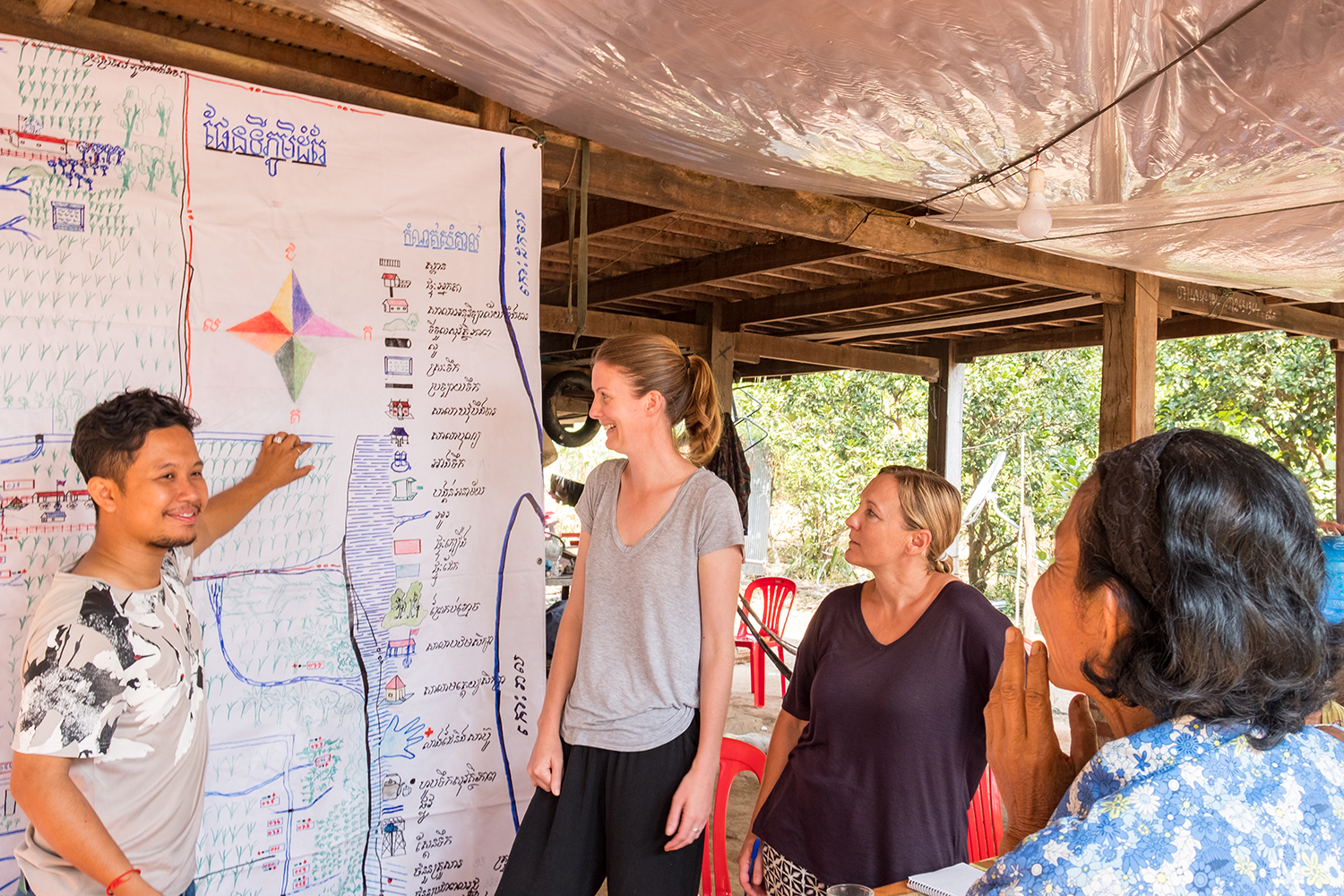 Looking ahead, we have had to streamline a lot of our operations and be laser-focused on where we can have the most impact. That falls into two categories: EWB education, which is training and educating all people to be technology stewards; and EWB engineering, which is about developing technology for all.
With engineering education, in Australia we're integrated into the university curriculum for most first year engineering students. That program was already designed with a majority of the content online, so it hasn't skipped a beat.
We've even put ourselves forward to our university partners offering to help them set up and strengthen their online education, and we've had a strong uptake. At least half of our university partners have reached out for further support to help deliver an engaging remote learning experience for their students.
On the EWB engineering side, we still have programs going, but we have had to rethink how we conduct them. Normally we would have Australian engineers working on the ground in a country, but now we're having to do that all remotely and work more closely with our local partners.
I've been saying to my team that this for me is the new normal. I don't want us to go back to being entirely reliant on Australian engineers going off into communities. We've got really great relationships with some of the governments of countries that we work in, as well as that power of partnership. And those are the people who have their finger on the pulse of those communities. 
The silver lining of this shift is that it has created more opportunities for people to volunteer with us who might not have been able to previously. For instance, if someone can't travel because they have caring responsibilities. Now there are ways they can get involved. It's really pushed some different thinking and different mechanisms into play for us.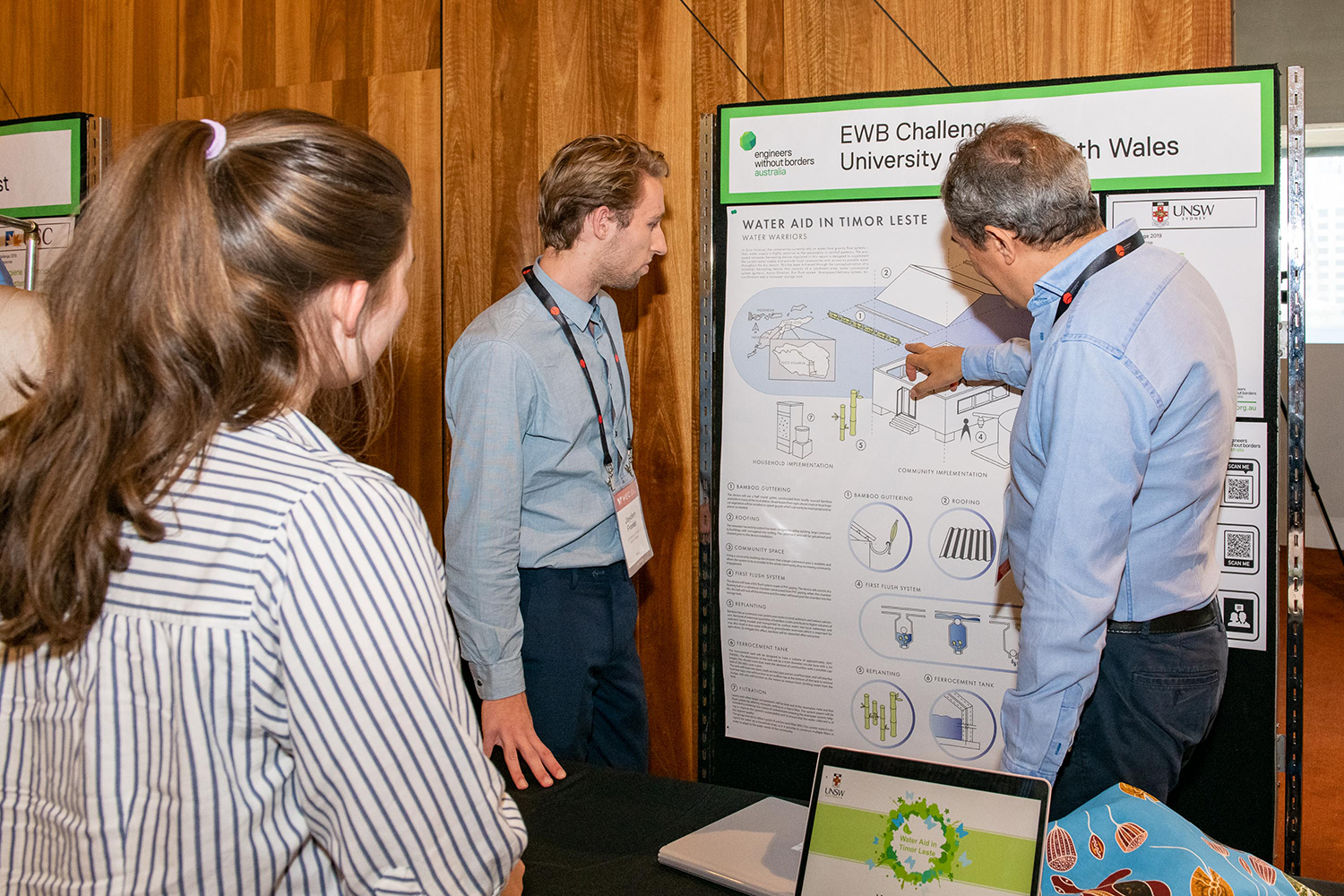 We've also noticed our corporate partners are asking about more pro bono and skilled volunteering opportunities for employees who might have capacity right now. It's great for us because we get their expertise, and their people have opportunities to contribute in meaningful ways that are in their field. 
I think we're perfectly placed right now to help with the response and recovery that's underway. Governments are already asking us to adapt what we do to this new context. For example, in Vanuatu, we were already working with the government there on a set of sanitation and hygiene guidelines. Now we're looking at how to adapt them into emergency response guidelines.
We have such a strength in water, sanitation and hygiene – that's been our bread and butter – and it's exactly what's needed right now, particularly hygiene, and for places that might be challenging environments to work in.
When these crises land in vulnerable communities, the immediate risks are far greater, the impact is felt more deeply, and the recovery takes longer. So our role there is really critical right now, in terms of our capacity to step up and make sure these people aren't left behind.
"I've at least got a taste of how uni is in the first year under my belt, which is pretty lucky I think, given the circumstances now."
For me, doing university coursework online hasn't been that big of a change. I mostly watched my lectures online anyway.
All the onsite practicals just got indefinitely cancelled. It's lucky I did mine early in the year – we got to disassemble an engine, which was really great – so I'm not missing out on too much, but it's still disappointing for the general university cohort.
 The tutorials are really helpful to cement the theoretical aspects of what we're taught. They're now done online, usually by watching a teacher do them and asking questions, but it's not the same as you getting to do it yourself.
My cousin has just started engineering this year, and he's finding it pretty hard and overwhelming, which I completely understand. If you haven't met anyone and have to do everything at home, with no one to talk to about it, that would be difficult.
I've at least got a taste of how it is in the first year under my belt, which is pretty lucky I think, given the circumstances now.
Even though I mostly watched my lectures online, it was still nice being able to go to uni and have some elements in person. The main struggle for me with it all being recorded is it's just a lot of things to watch, and it's very easy to fall behind. 
In the tutorials you work through problems together as a group, which they can't replicate online. You can try to recreate it over Zoom or something similar, but it's just not quite the same as being able to sit down with a bunch of people and actually work through the question together. I would definitely be keen to go back and be able to do that again.
Relatively speaking, I'm pretty lucky being a second year while this is happening. I'm kind of in the middle where I'm used to being in university, but then I'm not at the stage where it's critical that I have to go out and get work experience or work on final year projects.
The one thing I'm really disappointed about, though, is not being able to participate in the Warman Design and Build Competition, which is a robotics competition for second-year engineering students. It's unfortunately been cancelled this year because of COVID-19 restrictions.
That was so disappointing. All my uni friends who are older than me talk about what a great experience it was. I feel like I'm missing out on important practical experience because you get to build a robot and the only way you learn is by trial and error. That's extra to what we're taught. You have to learn it as you go, which is something I'm really sad to miss out on.
It's something you can put on a resume as well. 
That was pretty disappointing that we didn't get to do that, but considering the circumstances, it's a relatively small loss. I think the whole coronavirus situation is being handled as best as possible with everyone's wellbeing in mind, which is what matters in the end.
"I think one thing this has shown is engineering is definitely an essential service, and keeping this work in the pipeline is in our best interest."
When the pandemic was first declared, our company put together a COVID-19 taskforce. They initially met daily and sent us daily updates about how to manage our work while staying. 
We have offices across Australia that vary greatly, from larger offices in Sydney with upwards of 100 staff to smaller offices like Canberra, where I'm based, which has only 15 people – we all have different strategies. 
Now I think the taskforce is meeting every few days or weekly as things are settling down. 
In Canberra, half our staff are working from home, myself included. However, I still need to go into our office sometimes because of the nature of my work, and our office management plan has guidelines to follow for those of us who do have to head in.
We've got all the windows and doors open. We've got hand sanitiser when you walk in, and there's signs up everywhere to remind us to follow the government's hygiene advice and keep our physical distance, including the maximum number of persons allowed in certain rooms. Staff who are working in the office are spread out so no one is working within 5 m of each other.
The day-to-day management is a really big challenge in itself – working remotely and trying to stay productive and motivated – and we're being fed a lot of information and tips on how to manage these new issues of working at home. It's definitely a learning curve. 
But at the end of the day, we still have to work. 
We do geotechnical and environmental engineering, which involves a lot of site work as well. The construction sites we visit have their own management plans that we need to follow. On the construction site, it's the basics like making sure we keep our physical distance as much as possible and keeping contact between ourselves and clients brief.  
We plan to continue operating until told otherwise, but we have to abide by the site rules, which are following government regulations. If we and the construction workers don't, then that's when there's going to be issues and the government might have to make the decision to shut down construction sites, which nobody wants to see.
Right now I'm not particularly worried about work drying up, although company wide we do forecast a bit of a slow down eventually. Geotechnical engineers are one of the first ports of call for any development. Even if they do shut down construction sites, we can keep doing the investigations because we get out there before any construction starts. Then structural and civil engineers or architects can do the design work. 
If we're still getting out there and doing our low-risk work, we know it's unlikely to be problematic. With our field work, it's generally two or three people working outdoors: an engineer and a machine operator or drilling crew. If we can still assess the ground condition and pass that information to our clients, then they can still do the design work for the construction, even if the construction isn't going to go ahead straight away. 
This is if they do ever end up shutting down construction sites, which hopefully won't happen, particularly with the reduced number of COVID-19 cases and flattening of the curve we're seeing. But in the event they do, then if we're still doing the investigation and design, then when conditions improve there's no delays and they can just get straight to the construction phase.
We're really hoping that nothing closes, but you just don't know. 
Besides construction sites closing, we might start to see some problems with projects that rely on imported materials. I do a lot of work for solar farms, and if they're not able to import parts from overseas as they have previously done, then that could slow some parts of that line of work.
I think one thing this has shown is engineering is definitely an essential service, and keeping this work in the pipeline is in our best interest to keep the economy going and keep people in jobs. I guess it is nice recognition that we are an essential service.
I think the broader silver lining is that people are learning remote work has major benefits, including the cut down of traffic congestion and pollution in larger cities; and also that engineers can do it. I think it's just adapting and working in these new ways and still being able to deliver projects within these constraints. It's a positive thing.   
"All we can do is carry on. The worry is whether the work will continue, and whether projects will actually come about, or whether it will just pause for six months, or however long."
I don't think my 'business as usual' will change a whole lot.
I have been working as a freelance engineer for the past seven years, and to begin with I didn't experience much change at all, since I have already adjusted to working remotely. The only change is that I can't now jump on a plane every couple of weeks to visit my clients like I had been doing. 
At the moment my work prospects aren't too affected. However, in general engineering and construction don't always immediately feel the effects of major events like a depression or recession. There is always a trickle-down effect that will hit later on, say in two or three months, or when projects currently underway start to finish off. 
The big worry with the coronavirus is that construction will need to stop, which might change how we work. They're managing to keep it going, but if the sector gets shut down, then there's a real worry that the design side of things, which is predominantly where I work, will dry up as well.
All we can do is carry on. The worry is whether the work will continue, and whether the prospects will actually come about, or whether it will just pause for six months, or however long.
The uncertainty surrounding whether contracts will continue due to work being frozen and staff being stood down does make me nervous. The initial stage of denial when something big happens is now starting to merge into realisation and compliance – realisation that this is dreadful for everyone and we just don't yet know how this will affect the engineering profession long term. 
There are just a lot of question marks at the moment. Mental health is probably one of the biggest challenges I foresee if this continues for too long. 
My advice, if working remotely is a totally new experience and you're struggling with this, is pick up the phone to have a chat. Get in touch with some contacts you think about from time to time but haven't bothered calling for months, or maybe even years. I've already heard from two work contacts I haven't seen since I was last in Kuala Lumpur and London more than five years ago. Waking up to receive messages from old friends and colleagues is very uplifting. I think when we all get through this, our social lives will be raring more than ever! 
It depends on the kind of engineering you do, but I also find that if you're working on your own, it is a lot more intense than working in the office. You can almost be twice as productive, but I think that can come at different costs.
One of the biggest challenges is trying to remain focused and motivated. With engineering, you really need to think about what you're doing. You get really engrossed in your work, and suddenly four hours has flown by. After that, I feel completely deflated, so I try to force myself to get up every hour and stretch the legs. It sounds corny, but it really helps.
Heading into this, I think I'd become a bit too complacent and I didn't have enough back-up projects. Now, looking ahead, I think I'll need to have other means of creating work for myself.
We live in a new age now, where there is no such thing as a secure job for life anymore. People have become a lot more used to working on shorter-term contracts, and they are becoming a lot more open to the idea as well.
"I think as graduates we need to share the challenges we're facing right now and how we can address these issues."
I'm in the second year of my graduate position, so working from home isn't something that I've done before. I think the biggest challenge for me as a young engineer is maintaining regular communications with my colleagues.
It used to be that when I felt like a tea break or needed help, I could tap one of my colleagues on the shoulder. But now they aren't as easily accessible.  
It hasn't prevented me from doing my work, but it's shifted my priorities and how I organise my day and workload. One of the things I'm really missing is casual catch-ups with coworkers. I have to actively make that effort to maintain those connections – it's much more intentional now than before.
Somehow, I think I'm more connected to my managers since I started working from home. Usually we would have a weekly meeting to discuss important deadlines. Now we have daily toolbox meetings to talk about what we're working on or some interesting problem we have. But those daily check-ins keep us close as a team.
I don't think I'm alone in feeling like this. I'm involved with the Young Engineers Australia SA committee. Before this pandemic, our plan for the year was to organise events around career development, mentoring and networking.
But we're living in a different world now and we're shifting focus to have regular check-ins with graduates to make sure they are okay. 
I think as graduates we need to share the challenges we're facing right now and how we can address these issues. I'm learning a lot about staying motivated to get things done, and making sure to look after myself and my peers. Overall I think most people around me are doing well and that's very, very reassuring.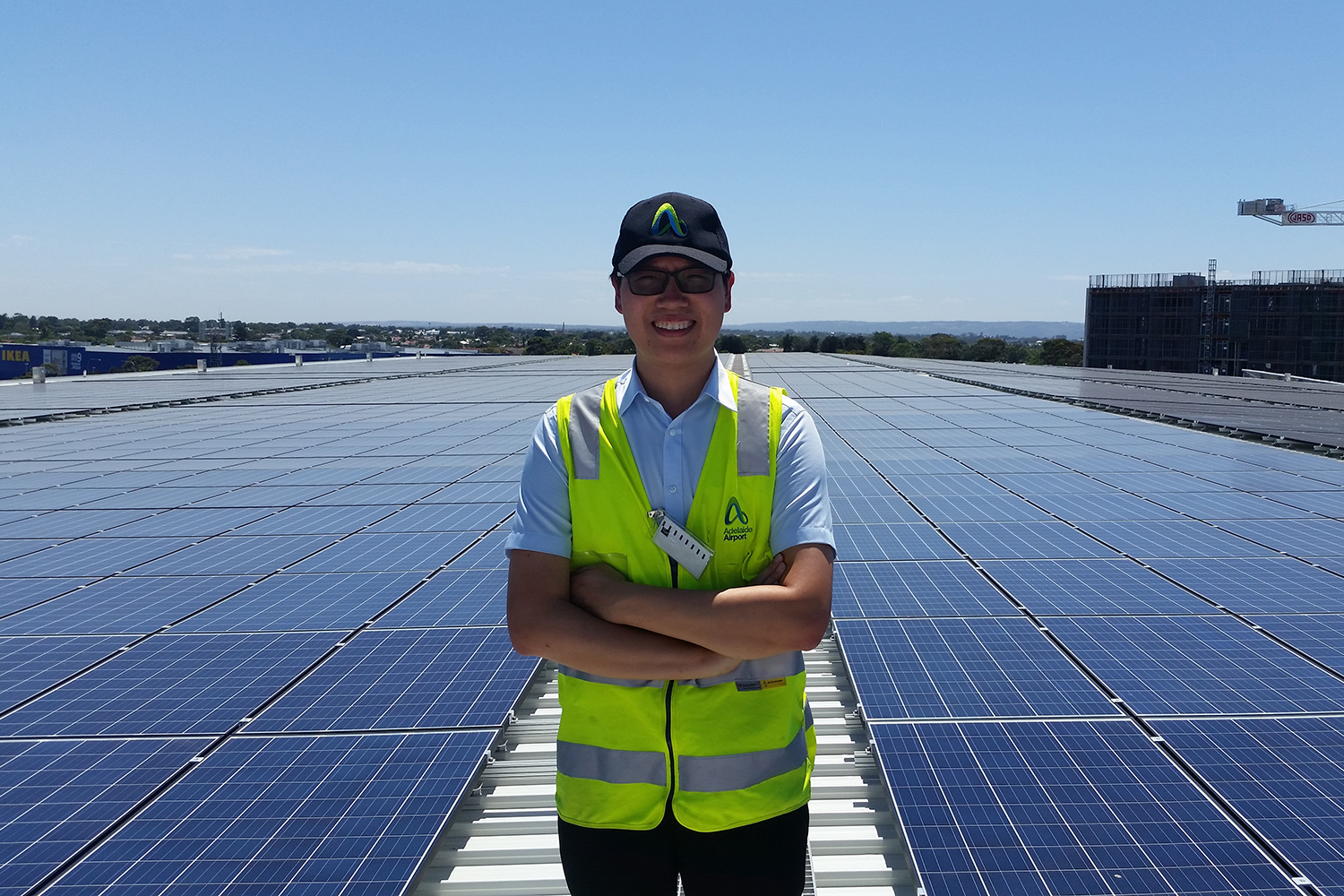 I think as a company we have been wanting to work more flexibly for quite a while, and this is a very good opportunity for us to demonstrate that we can do this very effectively. 
That will be a very good lesson learned from this pandemic. And another lesson is never to take things for granted. Personally, I'll enjoy a Friday drink with my coworkers once we can gather again. I'll never take those opportunities for granted.
"I think pre-COVID, the thinking was that engineering is one of the most difficult jobs to do remotely ... Now we're thinking post-COVID, and the most interesting part is how we're never going to go back to the way it was."
It's almost like there's the pre-COVID world and the post-COVID world. 
Pre-COVID, supporting flexibility was a big priority for us anyway, but post-COVID it's an imperative. 
I think our organisation has a long history of enabling our people to work flexibility and remotely. Last year, we actually ran a six-week trial in Queensland with a large project team working remotely. From that trial, we were able to take a lot of learnings and apply that to our current situation.
Some of the benefits we saw were things like more flexibility for people with caring responsibilities. We also predicted benefits like a reduction in overhead costs and a reduced carbon footprint, which is what we're seeing now with COVID-19. The biggest thing though is the commute time. People are loving not commuting and seeing that as just value back in their lives.
Another anticipated benefit was enhancing the labour pool to be able to leverage people from teams across Australia and around the world to tap for these roles.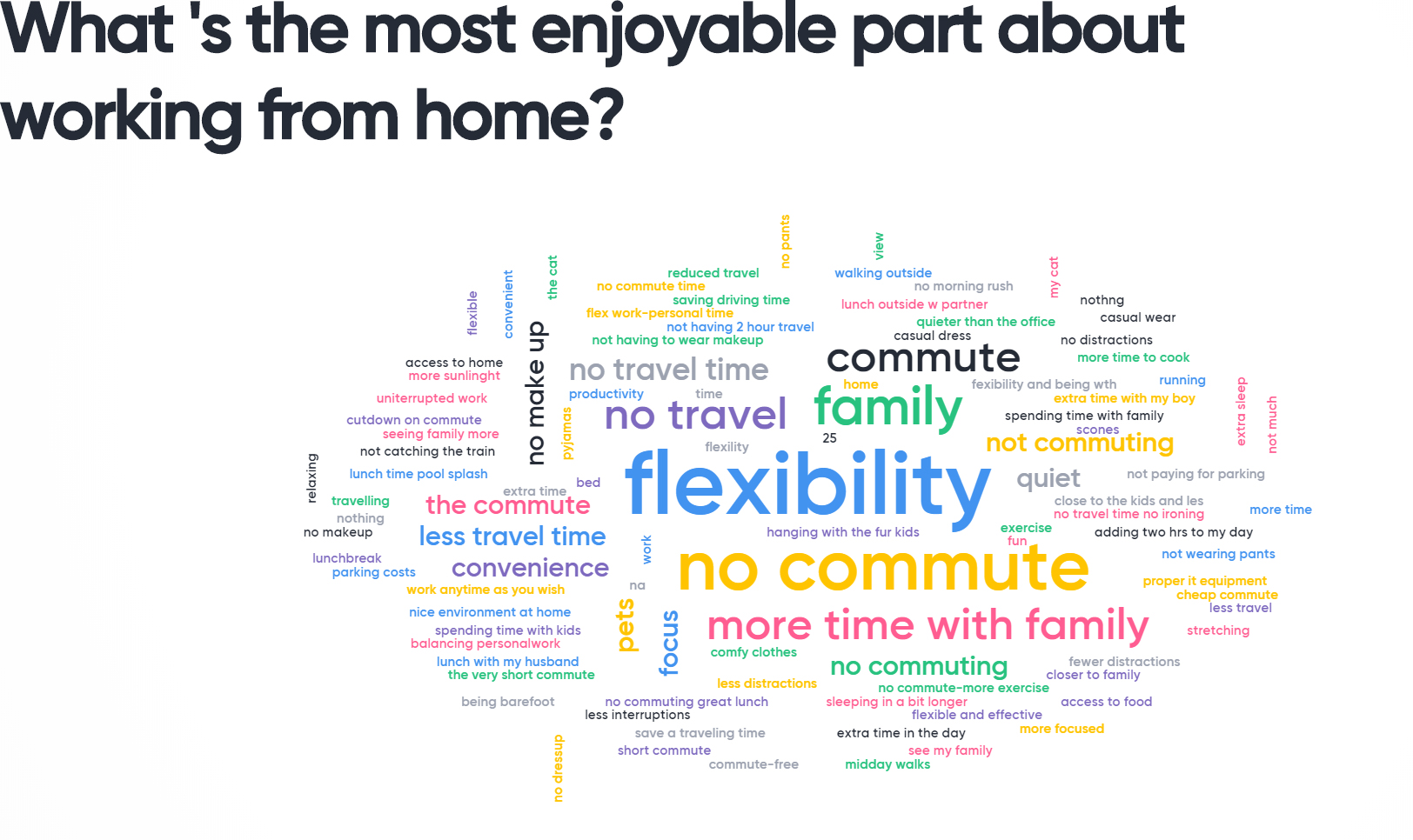 However, the trial team was really conscious that there are more opportunities for miscommunication when you're not speaking with someone face-to-face. There were also concerns with issues around security and confidentiality, distraction and loss of productivity, and health and safety.
But to be honest, because we went through this trial last year, when it was time to work remotely due to COVID-19, it was an easy and smooth transition.
We established a whole suite of norms and guidelines for a new way of working – even small things like what are the preferred technologies and tools, and how to do electronic approvals has been really helpful to have.
A unique layer to the trial was we had to figure out how to stay compliant with Queensland's engineers registration scheme, which requires all engineering work to be supervised by a registered engineer. The supervising engineer must take full professional responsibility for service. This is obviously more difficult with remote working, but during the trial the team discovered that this was achievable via Skype sessions every morning. We've been able to carry this over to our work now. 
I think pre-COVID, the conventional thinking was that engineering is one of the most difficult jobs to do remotely, and even if you could, it was hard to do it at scale. 
Once COVID-19 hit, first and foremost we had to ensure that people had the necessary connectivity and were set up properly. About 90 percent of people were able to do it within a day, but for that remaining 10 per cent it was a lot harder, especially designers with heavy-duty data requirements. We advised people to 'set yourself up for the long term'.
But pretty quickly the conversation turned to mental health as well as engagement and productivity. The longer we work remotely, the more challenging it gets for some.
We conducted an internal survey and asked what things people liked best and least about working from home. Some people love working from home, while others said they are struggling and are having a hard time with it – it's really not what they signed up for.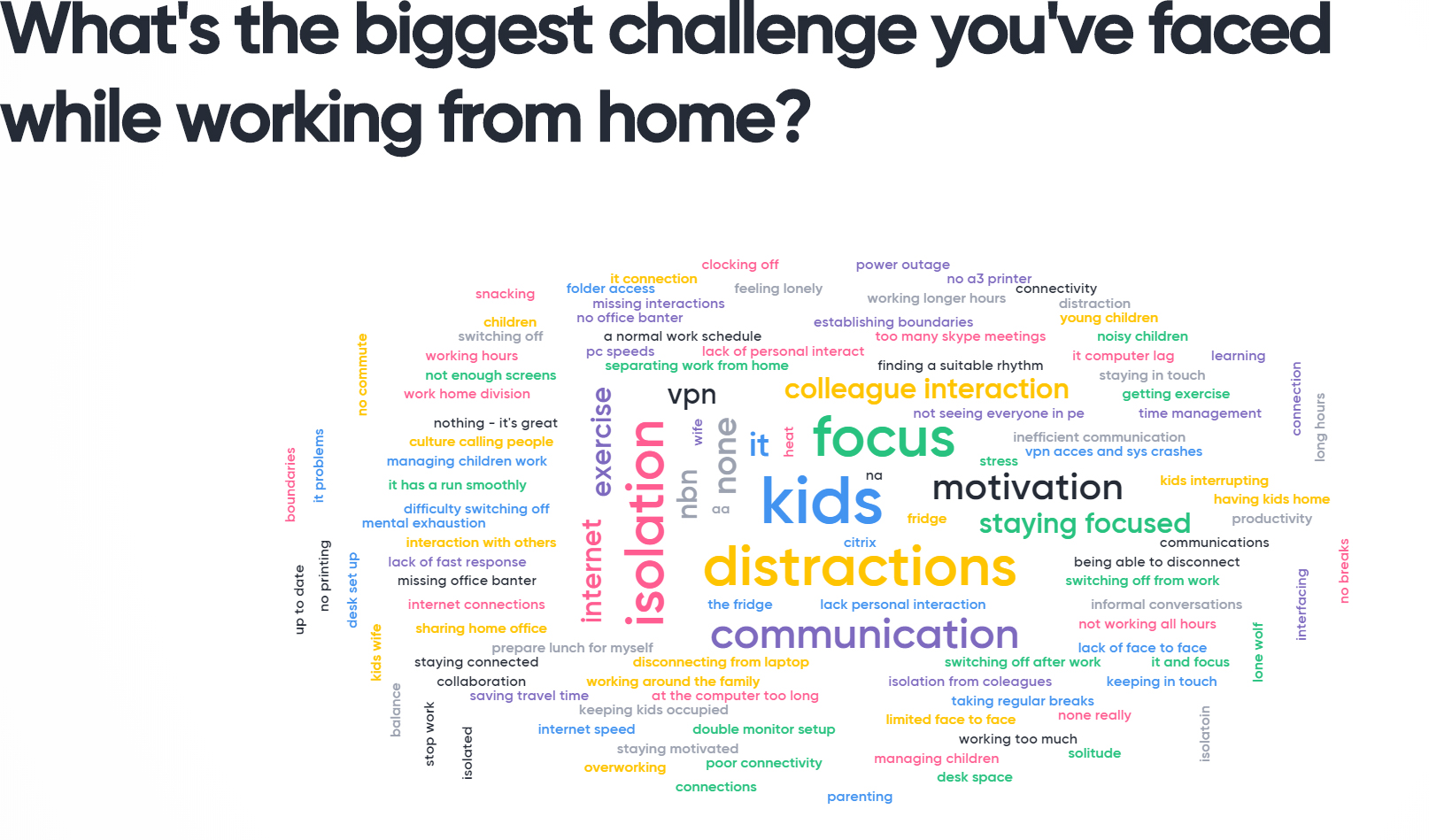 People talked about feeling isolated and the lack of motivation. The line between work time and non-work time is blurred. We've acknowledged that, and we've also acknowledged that people are doing it tough. 
Now we're starting to think about the post-COVID world, and I think the most interesting part of this discussion is how we're never going to go back to the way it was. I think there will be a huge number of people who will want to keep working from home, at least part of the time. 
When we reopen the offices, we'll probably do it on a slow step-by-step process. We don't want to assume that everyone will return to the office on day one. But I've already had a project team in Queensland advise that they've decided to have one common day in the office a week and work from home the remaining days of the week.
This experience has also taught us that post-COVID, we could have an operating model where people are working together on projects from literally anywhere in the world. Geography matters less than it used to. 
One thing I think we should not lose focus on is our commitment to develop our graduate engineers through this challenging environment. If you're a fresh graduate recruit in this era, the next 12 months will be challenging in terms of meeting your development, mentorship and upskilling needs. The current environment has changed a lot about how we develop talent, but we're learning to navigate and remain committed to supporting our young graduates. 
I think that's part of the story here. We're all in it together. It's brought a lot of people closer who might not have actually had as much interaction in the workplace. We are trying to highlight some of these positive stories on our silver linings website on our company intranet.
"In some ways this period has been an innovation accelerator for us."
We understand as engineers that if you don't maintain the transformers, the power goes down. If you don't maintain the water infrastructure, the taps won't turn on.
Our people have responded to this challenge: to help the communities in which they live and work to make the best of the challenges that we have in front of us. That's what they do every day anyway. 
To me, what lies ahead is trying to see the opportunity and how we can transform our business and our way of working to be more efficient, more effective and more productive than we might have been if this crisis hadn't been foisted upon us. 
The world is different. COVID-19 is offering us the chance to pivot in a whole range of new ways. It is not about how we preserve what we have, but the opportunity now is to truly create what we can be. It's not about bouncing back – it's about how we bounce forward. 
In some ways this period has been an innovation accelerator for us. The velocity of change has been unexpected, and the ability of our people to respond quickly and decisively has been one of the most rewarding things from the entire experience so far. The call to arms I am challenging our people with is: What are the opportunities? What are the ways we can bring this together for our clients? 
Operationally, we've quickly deployed new technologies that allow for fewer face-to-face meetings, remote monitoring, more online training and professional development programs across a dispersed network. Obviously in the future we would love to see people coming together and collaborating together in person, but I think we'll use a lot more technology to do that more effectively and more efficiently.
Another positive change is we will learn that a lot of things we thought were absolutely mandatory and important, aren't. I am also hoping some of the things that come out of this is a more human way to work. Over the past months, I have been introduced to our employees' partners, children and pets. You don't need to be in the office, as long as you're there for your team and you are working well with your team, maybe that's just a better way of work. 
How have things changed for you? Has your work been affected, or is it still business as usual? We'd love to hear your story. Comment below or contact us here.