He's already made significant contributions to the field of advanced aircraft structures and materials. Now, Professor Brian Falzon is setting his sights even higher.
Are we on the cusp of a new space revolution? Recent sub-orbital flights undertaken by wealthy private operators Richard Branson and Jeff Bezos suggest so.   
"Access to space is now no longer the preserve of large governments," says aerospace engineer Professor Brian Falzon. "Space is now within the reach of start-ups, researchers and even high school students."
And space tourism is just part of the picture. Organisations and individuals around the world are currently formulating plans that could lift millions out of poverty and help us battle climate change. 
"It's a significant moment," says Falzon. 
He is so excited by the possibilities that he is returning from Queen's University Belfast to his native Australia to take up the role of Director at the new Space Industry Hub at RMIT, connecting the hub to the global research and innovation ecosystem.  
"It's not precisely in the mould of what I've done in my career so far," he says. "But it feels like an incredible opportunity to make an impact." 
He likens the recent developments in space tech to those in consumer electronics. 
"The hardware has simultaneously been getting smaller, more powerful and more affordable," he explains.
Take satellites, for example. 
"SpaceX is looking at launching thousands of satellites, which weigh about 260 kg each, to establish blanket global internet coverage," says Falzon.
 "A company called OneWeb is doing something similar."
He points out that about half the world's population currently lacks internet access. A global satellite internet service could change all that.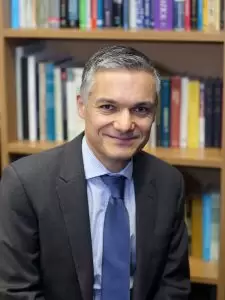 "The proliferation of satellites in low-Earth orbit, with improved data transmission rates and low latency — coupled with advances in data analytics, AI and machine learning — will create a powerful resource," says Falzon. 
"How the ensuing rich stream of data and information may be harnessed is limited only by the imagination."
Australia, for example, could respond more effectively to bushfires, provide better flood management and enable companies to create agile and flexible complex supply chains.  
There have been other recent breakthroughs.  
"Smaller satellites means smaller rockets, or the ability to launch a number of satellites in a single launch mission," says Falzon. 
Developments in advanced manufacturing, such as increased automation and 3D printing to produce reusable launch vehicles, are further reducing the cost of accessing space, he notes. 
All of this helps explain why Falzon — whose research into advanced composite materials and structures has been used to develop airplanes, race cars and maritime vessels — chose the role at RMIT over jobs with broader remits.
Falzon established himself as a significant researcher while still completing his postgraduate study at the University of Sydney. While there, he made seminal contributions to the analysis of the structural stability of thin-skinned composite aerostructures. This has had a significant influence on the innovative designs subsequently implemented by Boeing Aerostructures Australia on the Boeing 787 and F/A-18E/F programs.
He is now returning to Australia after spending most of his career in the UK: first at Imperial College London and most recently at Queen's University Belfast, where he was head of the School of Mechanical and Aerospace Engineering. In between these two appointments, he was the inaugural Chair of Aerospace Engineering at Monash University. 
To date, his field has been industry-focused research in collaboration with significant organisations including Bombardier, Airbus and Britain's Ministry of Defence.
"The [UK] Ministry of Defence work was one of my first projects at Imperial, linked to  the Eurofighter Typhoon," he says, by way of example.
"The wing of the fighter jet contains fuel tanks," he explains. 
"They were interested in what would happen if a projectile pierced the wing — not so much the effects of fuel combusting but those of hydraulic shock. We were able to model the hydraulic shock emanating from that projectile, propagating through the fuel, and impinging on to the wing structure, to predict the damage to the structure it would cause."
Since then, Falzon has devoted considerable energy to computational modelling to simulate how various structures made from composite materials might respond under damage-inducing loads.
More recently, he has researched the use of nanotechnology to give composite structures added functionality. 
"For example, we know that carbon-fibre composite structures are lightweight and strong, but they do have certain weaknesses in certain directions. So, we can increase the fracture toughness with nanoparticles."
Nanoparticles can also facilitate what's known as in-situ structural health monitoring. "It's a bit like creating a nervous system for a structure so that it knows when it's damaged," Falzon says.
His family's decision to return to Australia was not taken lightly. 
"We've had a fantastic time at Queen's," he says. "But my partner and I were getting somewhat homesick and so we made a decision, about a year and a half ago, to pursue a return to Australia if the right opportunity came along."
He says there is a palpable sense of excitement in the burgeoning Australian aerospace sector about the tremendous opportunities that the new space revolution might bring. 
"I am looking forward to making my small contribution to this worthwhile endeavour."