Australian policymakers want manufacturing to play its part in economic recovery. But what does manufacturing look like today, and how can a sector that is a much smaller part of the economy than it used to be remain competitive? 
There will be many reasons to remember 2020. One of them might be as the year Australia finally remembered the importance of manufacturing.
As Chief Executive of the Australian Industry Group Innes Willox observed in May, manufacturing has been seeing more public and political attention than at any time in a generation.
Manufacturers have made significant effort to ensure that enough critical items like personal protective equipment, ventilators, hospital beds and sanitiser have been there to meet demand at the height of the pandemic. 
Manufacturers' importance beyond the crisis is being seriously considered too. 
"Sovereign risk, national interest, and value-add of high-quality jobs mean manufacturing should be a big piece of the economy," said Andrew Liveris, former CEO of Dow Chemical and a current adviser to the National COVID-19 Commission Advisory Board. 
A year ago it would've been unusual for us to give so much weight to a sector contributing a purported six per cent of gross domestic product (GDP), which had been described as "hollowed out" by the commodity boom, and written off after years of highly publicised factory closures.
Australian manufacturing is not dead; it just got a bit sleepy, according to its champions. 
They might also tell you it is now more exciting than its previous labour-intensive, sheltered, inward-looking self.
"I guess I get a little bit fatigued with having to argue around the six per cent stat all the time," said Alex Kingsbury, Additive Manufacturing Industry Fellow at RMIT, speaking of an older understanding of manufacturing oriented around a factory site and the products coming out of it.
Nowadays, manufacturing is highly disaggregated, with the three steps before and after production — though still very much part of the manufacturing process — potentially taking place outside the company whose name a finished product bears.
The manufacturer — a classic example is Apple and its iPhone — might not even make the product itself and doesn't have to. There's a lot of value either side of the production step. It is still part of manufacturing.
Whatever the case, the six per cent figure is an unfair calculation of the industry's importance, Kingsbury said.
"Talk about Australia transitioning to being more of a service economy — this works very well with modern manufactured goods," she said, pointing to services now attached to products. 
"I'm quite sure that what that number is not capturing is the work happening either end of the 'smiley curve'."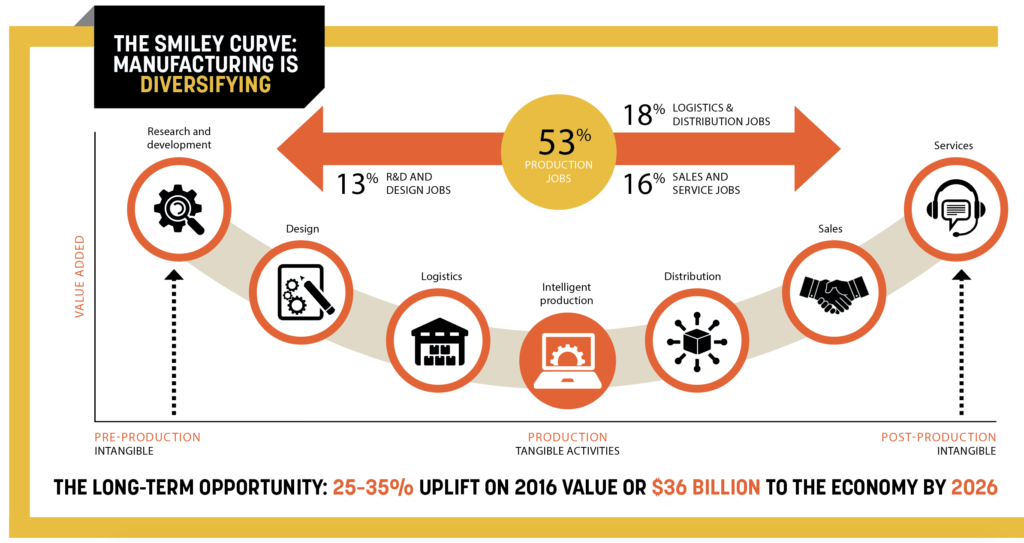 She added that manufacturing is desirable because it expands a middle-class in a way primary industries don't, and — as the pandemic has highlighted ­— if a nation's supply chains are cut off, it still needs to be able to take care of its safety and security needs.  
Kingsbury recently finished a three-year position as Technical Reviewer at the Advanced Manufacturing Growth Centre (AMGC), testing the merits of projects selected to "commercialise innovation" and "demonstrate how to enhance Australia's global competitiveness and set the direction for industry across the country".
After more than 80 reviews, she confidently concludes a death diagnosis for manufacturing could not be more wrong.
A very-much-alive and highly sophisticated manufacturing sector is linked by its supporters to a healthy economy.
"Technology development and manufacturing have driven the prosperity of leading economies for centuries," Chris Farley FIEAust, Chief Operating Officer, Design, at Planet Innovation, told create. 
"Greater involvement throughout the value-chain drives a self-reinforcing cycle of skill and knowledge and thus technology development.
"We need to be better here; we have all the ingredients to be globally competitive in many, many markets."
"We don't try"
Among the pandemic projects that helped ensure adequate medical supplies was the Notus Emergency Invasive Ventilator Program, led by Grey Innovation.
The effort has delivered 2000 invasive ventilators to the Federal Government stockpile. For Grey, as for all in the consortium, making ventilators under licence is not their core business.
Grey is a thriving commercialisation house with six companies in its portfolio, most of which are in medical devices, but with others in defence and environmental technology. 
According to founder Jefferson Harcourt MIEAust, the value of the portfolio grew at 150 per cent compound annual growth rate over the past five years. It takes university research programs and turns these into products and services, building businesses and raising capital. The firm works a beat that few in Australia do.
"It's no surprise that we're not good at commercialising. When I say we're not good at it, I'm not saying we try and fail. We don't try," Harcourt told create. 
"There are very few companies like ours taking that research to do anything with it. The vast majority of it is shelved and goes nowhere. And if it goes anywhere, it's typically offshore." 
The gap between academic and commercial output has been singled out as a weakness within manufacturing for years, particularly around the "ideas boom" of 2015-2016.
"It's no surprise that we're not good at commercialising. When I say we're not good at it, I'm not saying we try and fail. We don't try."
Australia has placed second-last in OECD nation rankings for industry-research collaboration. According to AMGC research, only four per cent of manufacturers collaborated with academic researchers in the 2014-15 financial year.
"Collaboration is critical," Dr Jens Goennemann, Managing Director at AMGC, told create. 
Goennemann firmly believes that manufacturers should compete on value, not cost, to be viable.
"We encourage deeper collaboration between industry and research partners — not for the sake of collaboration or research as a means in itself, but for tangible commercial outcomes that find a customer," he said.
ASX-listed company Carbon Revolution is one example of a niche business fitting the advanced manufacturing model. Success for this maker of one-piece carbon fibre wheels has been based partly on collaboration with outside researchers and businesses. 
Carbon Revolution is located alongside Deakin University's Carbon Nexus facility — which has globally renowned research and development facilities and expertise — and other companies at the university's Waurn Ponds campus that specialise in high-value composite products. 
What they make isn't cheap, but is underpinned by more than 40 patents and world-class science and engineering.
Innovation ecosystems
One suggestion for improving commercial outcomes from academic work is innovation hubs, designed to accelerate the journey from lab to market. According to Liveris, these have yielded results in countries including Canada, the UK, and the US.  
These might resemble a smaller version of the "innovation ecosystem" of top-notch research, companies and venture capital that Silicon Valley took decades to build.
"The originator of the technologies that those guys worked on in that ecosystem was actually the national labs; the US obviously had Bell Labs, Argonne National Labs, Lawrence Livermore labs," Liveris told create, of a model recreated at 11 institutes around America about different emerging technology themes.
"What we did there was we said, 'Look, the public funds that are being directed to a 
variety of different government departments — Department of Defense, Department of Energy, Commerce, etc. — we should take those funds and then direct them to these newly created innovation hubs and accelerate the scaling of certain technologies, and we should pick what those technologies are'." 
Liveris says this model could work in Australia. 
It would need intellectual property (IP) infrastructure in place to share technologies developed, to be located where best-in-class activities are occurring, to be dollar-matched by the private sector, and to have consistent, bipartisan support. 
Public-private partnerships would not require extra funding.
"This sort of template needs policy consistency, tracking of the use of the funds, tracking of the output of whatever gets created," he added.
Engineering and agility
Commercialisation business Planet Innovation (PI) is another company that pivoted to ventilator manufacture as the need arose.
PI was started in 2009 by four diagnostics industry specialists, and is a multiple-time champion at the Australian Financial Review's Most Innovative Companies awards.
Co-founder Stuart Elliott is blunt about what innovation means: meeting a previously unmet market need. 
PI's contract manufacturing operation began in 2016, and since the pandemic began has added 74 production technicians. These hires have been driven by manufacturing medical devices for export markets, particularly for diagnostics.
Elliott said that agility, driven by engineering talent, has been vital to growth in high-tech, high-value manufacturing — which is where the country must focus — as products evolve. 
"Even if that evolution is just adapting as certain electronic parts become obsolete and we need to use their replacements — simple things like that — through to adding new features or ongoing improvements in reliability or cost reduction," he told create.
"Or adapting the product for new markets. You might have a perfect product for flu testing, and then COVID comes along and you go, 'okay, we need to adapt it for COVID testing', or 'we need to adapt it for the Japanese market'. All sorts of reasons why you need good engineering skills sitting right on top of manufacturing."
"Agility, driven by engineering talent, has been vital to growth in high-tech, high-value manufacturing — which is where the country must focus — as products evolve."
Engineers are also essential to Bosch Australia's global competitiveness.
Automotive assembly might have left our shores in 2017, but Bosch is still building internationally relevant quantities of alternator diodes for cars. That year it made 120 million of them, all of which were exported. 
Quantities have lessened slightly with the slowing global automotive market, but Bosch still makes around 20 per cent of the world's supply from Clayton in south-east Melbourne.
Kate Lemon, Engineering Section Leader for assembly, heads a team assembling and testing diodes — which she has worked on for more than 20 years — and is "still constantly finding new challenges and experiences," she told create.
The target is to reduce costs every year, despite material and labour cost increases, and engineers work with a global team to introduce new diodes with higher efficiency. 
An additional challenge is the scarcity of local semiconductor expertise.
"Our engineers need to be able to establish networks with both local and overseas specialists and quickly learn to become the experts themselves, whether it's for developing new soldering processes, data-mining production data to reduce yield loss, or learning how a complex 
machine functions down to its smallest components and core code in order to get every 
possible improvement out of it," Lemon said.
Internationally minded
Interviewees are unanimous that Australian manufacturers are playing a global game.
The steep tariffs that allowed the nation to industrialise began to disappear in the 1970s and are unlikely to come back. 
As Stephen Bell, University of Queensland Professor of Political Economy, told the ABC in June, the nation's industry went from one of the most to one of the least sheltered between the 1960s and the early 1990s.
"We became world champions in pulling down tariff barriers," he said.
Whether the six per cent figure is totally fair or not, the openness of the Australian economy goes some way to explaining the smaller share of GDP over time.
The sector nowadays has the fundamentals in place to grow again, according to Goennemann.
"We just need to build on these and help manufacturers scale – this is after all where Australia's future jobs and growth will come from," he added.
Liveris agreed, saying that looking internationally is one of several ways we could more than triple manufacturing's contribution to GDP.
"Internet and digital have destroyed the notion of proximity to market," he said. "You can be in Chennai, India, and scale, you can be in Israel and scale, you can be in Iceland and scale. You don't need a large domestic market to scale in this digital era."
"We just need to build on these and help manufacturers scale – this is after all where Australia's future jobs and growth will come from."
Kingsbury cites iOrthotics as a standout example of what's possible. The Queensland-based company began using fused deposition modelling (FDM) additive manufacturing in 2015 to cut down waste versus milling plastic medical insoles. 
It then moved to the newer, much quicker multi-jet fusion, as well as digitalising and automating its operations from the order and foot scan at the clinic to production at the lab.
"Part of the reason why they're able to export is because their product is very niche and specialised and they are very good at what they do. Being able to digitalise and leverage cloud computing, it's no issue for them to be taking in orders from the US for example," Kingsbury said. 
"If we think about manufacturing in terms of the economy and also just think about the economy more generally, where do we generate wealth? We don't generate wealth by making and consuming within our own bubble. That's not how capitalism works. We generate wealth by being able to export and receive money in, more so than what we're sending out." 
Time will tell if this emphasis on manufacturing will be sustained, if policymakers can ensure the consistency the captains of industry want, if investors will see it as a more worthwhile investment than housing or stocks, or if some combination of these can help the sector realise its potential. 
One thing is certain, and that is that engineers will also play an important enabling role. And that a more diverse economy could nudge tomorrow's engineers towards a prosperous future in manufacturing. 
"If we don't have a vibrant industry then it's very easy for these people to jump on a plane and be lost from Australia," Harcourt said. "It happens all the time."
Kingsbury sees hope around the startup and entrepreneurial culture, which she describes as highly talented.
"I think that, for me, it's really my greatest hope for manufacturing and where I think a lot of the growth is going to come from," she offered.
"We're going to be looking at business models that are advanced, but products that are very rich in IP. And when you're able to have a business that is based around products that are rich in IP that you own and can protect, then you have a very strong value proposition."