All-electric flight has the potential to slash carbon emissions and reduce reliance on dwindling oil reserves, but there are some issues to overcome. These engineers and industry heavyweights are investigating how to make it happen.
While the aerospace industry is pouring resources into their quest for alternatives to fossil fuels, the holy grail of all-electric flight has remained elusive.
A well-known obstacle is the fact that batteries are not yet advanced enough to last through long haul flights. Many innovative solutions have been proposed, including a detachable 'flying motorcycle' that can boost flight time by acting as an extra power source.
But battery life isn't the only challenge to be overcome before the first electric plane takes flight.
Transport heavyweight Rolls Royce recently teamed up with a group of UK universities to tackle the problem by working to understand the mechanical engineering issues holding back electric air transport.
The project, known as Cornerstone, has an investigation team from Imperial College London, Oxford and Nottingham Universities.
Not just about electric engineering
Cornerstone principal investigator Seamus Garvey from Nottingham University explained that a cross-disciplinary approach is necessary to achieve success in the electrification game.
"There is an assumption that moving towards electric flight requires electrical engineering only, and that is utterly wrong; some of the biggest challenges are in fact mechanical engineering challenges," he said.
The £6.1 million (AUD$10.8 million) project is funded by the Engineering and Physical Sciences Research Council (EPSRC). EPSRC is a major research funding body, with an annual research investment of around £800 million (AUD$1.4 billion).
One focus of Cornerstone will be high power-density contacts: areas of aircraft engines that experience high stresses between surfaces.
"The whole area of understanding how long those contacts will last before cracks start to develop, then those cracks propagate and result in fatigue failure, is as yet an incomplete science," Garvey said.
The team will also investigate the interaction of airflow with fan, turbine and compressor blades, impacts such as collisions with birds, and load and vibration dynamics.
Garvey said that one of the advantages of electrification is to reduce vibration.
"When we design a rotating machine one of the things we worry about a lot is whether the machine will shake itself to pieces through vibration," he said.
A hot issue
Heat management is a key challenge of all-electric aircraft. Garvey explained that electrical machines are limited by their ability to shed heat.
To tackle this problem, the Cornerstone project will build on previous research which has trialled oil as a coolant for gas turbine propulsion systems. This includes using fine oil mists as well as cooling components for internal pipe elements.
They will also experiment with materials such as graphene and diamond-like carbon, which have extremely high thermal conductivity.
"If we can build those into our engine components, the heat can pass through the parts much more easily than it would do otherwise," Garvey said.
Hybrid approach
As well as working towards all-electric aircraft, Rolls Royce has thrown in with Airbus and Siemens to develop a plane that combines gas turbines with an electric motor.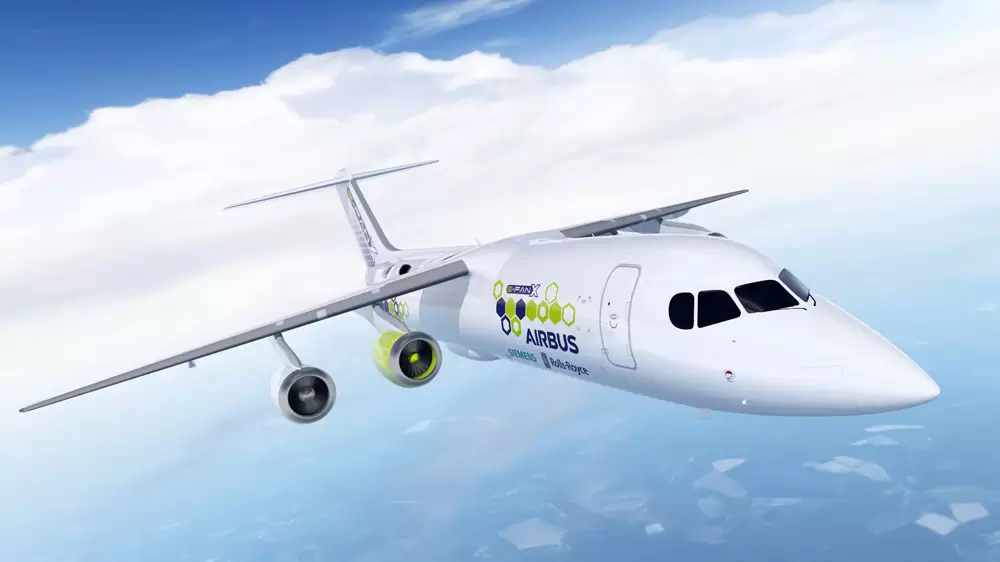 Announced in November last year and expected to take to the skies in 2020, the E-Fan X hybrid-electric technology demonstrator will replace one of the four engines of a BAe 146 with a 2MW electric motor. Once the technology has been proven, a second gas turbine might also be replaced with electric propulsion.
"The E-Fan X is an important next step in our goal of making electric flight a reality in the foreseeable future," said Airbus Chief Technology Officer Paul Eremenko.
The evolution of the E-Fan X has been informed by a long line of previous electric flight demonstrators, from the initial Columbian Cri-Cri prototype in 2014 through to last year's E-Fan 1.2. It will focus on finding solutions to issues such as thermal effects, electromagnetic compatibility and electric thrust management.
According to Eremenko, the three industry giants are keen to move on from fossil fuels.
"We see hybrid-electric propulsion as a compelling technology for the future of aviation," he said.