Drone delivery has been credited with saving hundreds of lives in rural Africa. But whether it can operate as a last-mile solution in cities is up in the air.
In Rwanda, the little red boxes parachuting from drones carry life-saving blood to children with malaria. In Ghana, they signal the arrival of COVID-19 vaccines. In Japan, it's prescriptions for residents of the hard-to-reach Goto Islands. 
For people in far-flung places, the buzz of a delivery drone can be the difference between life and death. But despite years of fanfare, drones are yet to take off for more mundane cargo in cities. 
Will the technology used to fly medicine to remote hospitals in Africa ever make sense for everyday deliveries in Sydney?
For Rwandan women, having a baby is dangerous. Every birth in the African nation comes with a one in 400 chance of dying, making it six times riskier than base jumping.
One of the most common complications is severe bleeding after childbirth, or postpartum haemorrhage. It's a medical emergency that can be treated with blood transfusions — assuming you have the correct blood type on hand.
But with 82 per cent of the population living in rural areas and notoriously hilly terrain, new mothers die before the blood that could save them makes it to remote hospitals.
It's a picture drone delivery company Zipline hoped to improve when it started flying blood in Rwanda. The San Francisco startup currently delivers 75 per cent of the country's blood supply outside of the capital Kigali.
Doctors in rural hospitals can order blood by text or phone call, and the products they need are loaded into an autonomous drone. The drone flies the blood up to 100 km before parachuting it down to a landing zone about the size of two parking spaces. 
Research published last year found Zipline's drones resulted in an 88 per cent reduction in deaths from postpartum haemorrhage in Rwanda. The study's "back of the envelope calculations" suggest they saved the lives of between 43 and 157 mothers each year.
A separate study in medical journal The Lancet found Zipline deliveries cut delivery times and reduced blood wastage in Rwanda by 67 per cent. 
Delivery droids 
What's less clear is whether drones have a place in cities, where the logistics can be infinitely more difficult and the package more mundane.
In March, Zipline unveiled a second-generation platform designed for home delivery in a dense city, suburban town or rural area. Instead of the parachutes used in Zipline's first-generation aircraft, the system features a "delivery droid" that lowers to the ground on a winch while the aircraft hovers above.
Both the drone and the droid are autonomous. The droid's side-to-side motion is controlled by small, integrated fans, meaning it can position itself precisely even in high winds.
The system can deposit packages in an area as small as a table.
Zipline said sending a meal with the platform uses 97 per cent fewer emissions than a petrol car, thanks to the drones being small, fully electric and able to fly directly to their destination.
And it said each drone is designed to fly further in its lifetime than an average car drives — more than 400,000 km.
The platform comes with a dock that typically attaches to the outside of a restaurant, healthcare centre, warehouse or other building. The drone lands at the dock, and the droid lowers into a loading portal inside the building.
Humans place a package inside the droid, which then returns to the drone for take-off.
Zipline's promotional material makes the process appear seamless. The company already sends a package every 90 seconds and, in February, hit half a million deliveries.
Still, it's unclear whether drone delivery is finally coming of age. Years of predictions that drone would take over the skies have failed to eventuate.
Amazon founder Jeff Bezos first unveiled plans to fly packages to customers almost a decade ago, and Prime Air completed its first delivery in 2016. But the company's long-awaited drone delivery service is reportedly expected to cost a whopping $63 per package in 2025.
Domino's made history with the world's first drone pizza delivery in 2016, but it then appeared to pause its drone delivery ambitions until last year.
City limits 
Professor Jonathan Roberts is the co-founder of the UAV Challenge, an international flying robot competition that sees teams use drones to search for a lost bushwalker in the outback.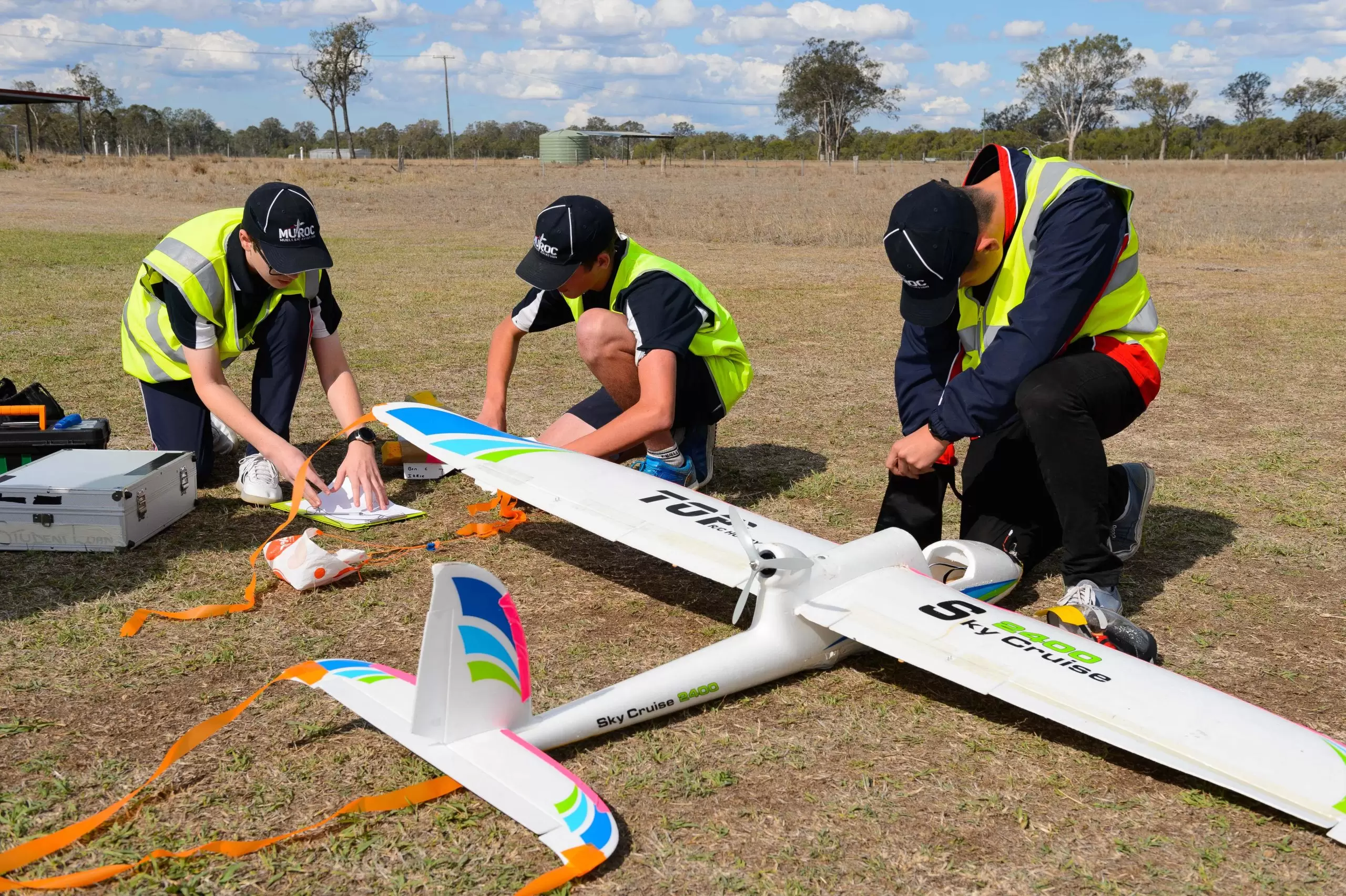 He's wary of claims that drones will take over deliveries in our city centres.
"I actually don't think they'll be delivering in inner city areas," he said. "It just doesn't make any sense."
Roberts, an aerospace engineer and Professor of Robotics at Queensland University of Technology, said the challenges are more about practicality than the technology in the drone itself.
He believes that for drone transport to work in cities, it would need to be designed into the built environment. That might look like apartment blocks with a secure rooftop area for deliveries.
"It's very hard to retrofit this idea of flying things delivering stuff into existing buildings in the inner city," Roberts said.
Retrofitting buildings also hasn't happened for current deliveries by humans.
Roberts points to a recent trip to New York when he was regularly woken by Amazon delivery drivers. Many buzzed every apartment in his building until someone opened the shared front door.
"The business case [for medicine] makes a lot of sense, because the outcomes are so important."
"With humans on the street delivering, it's already completely ridiculous," Roberts said. 
"So I can't understand how you could have drone delivery. That's even more ridiculous."
Where Roberts does see real application is in remote medicine. That's where the big advantage of drone delivery — speed — comes into its own.
"It's quite clear that you could potentially get stuff much quicker than you would otherwise," Roberts said. "Which is why I've always thought it was a good idea for certain things.
"Very interestingly, you will see demonstrations of people getting food, coffee, and you start to question whether that's worth it."
Roberts envisages drones delivering life-saving treatments or collecting pathology samples from remote places such as islands.
"It seems pretty compelling," Roberts said. "I think the business case [for medicine] makes a lot of sense, because the outcomes are so important."
In Australia, only two companies have CASA approval for commercial drone deliveries: Wing Australia and Swoop Aero. 
Google-backed Wing has polished promotional videos, matched by a slick app that customers can use to order smoothies, sushi and fried chicken. 
When they arrive at their destination, Wing's drones convert from aeroplane to helicopter mode, hovering while they lower packages to the ground using a tether and hook system. It makes the drones more suitable for fragile cargo like coffee or eggs than the parachutes of early drone delivery systems.
Wing is also building a library of aircraft tailored for the delivery of different products. The company has completed more than 300,000 deliveries worldwide.
Melbourne-based Swoop Aero, like Zipline, has focused instead on faster medical transport. The company has delivered vaccines, pathology samples and other medical supplies in Vanuatu, the Democratic Republic of Congo, Mozambique and Malawi.
Last year, Swoop Aero announced it would start shuttling samples from Queensland's Moreton Bay islands to pathology labs.
The company said it will slash six hours off the time it takes vital blood tests and COVID-19 swabs to reach the lab for analysis. 
Wing's drone delivery service has approval to operate in North Canberra and in Logan, between Brisbane and the Gold Coast. 
"It's very hard to retrofit this idea of flying things delivering in the inner city."
Roberts said there's a reason why drone companies opt for trials on the urban fringes. He thinks it's the only place where everyday deliveries are realistic.
"There's actually a reasonable reason to use it, because you might live a long way from the shops," he said.
"And you've got space around you so that it makes the drone coming in and dropping stuff off easy."
Roberts said current drone delivery trials are just about demonstrating that the concept can work. "Whether these things in a commercial sense actually stack up … I'm sceptical," he said.
Do look down
University of Technology Sydney computer scientist Professor Michael Blumenstein has spent years teaching AI algorithms to "see" the world from a drone.
He's one of the creators of SharkSpotter, a technology that can detect sharks and other marine life swimming off Australian beaches.
The platform uses the real-time feed from a high-resolution camera attached to a drone. The software processes the video stream and analyses it, looking for sharks in the ocean.
SharkSpotter is trained to recognise several objects, including 16 different types of marine life and humans, using deep learning. Blumenstein said the technology is given "supervised training", where researchers provide labelled samples to learn from.
But Blumenstein said identifying objects in a city is not like spotting them in the ocean. 
"In an urban environment, delivery has got a lot of problems that you have to overcome that you don't have on an open beach," he said. "[The beach is an] open environment with lots of visibility in all directions — it's different."
In 2018, a Little Ripper drone used by the SharkSpotter team performed what is believed to be the world's first drone rescue.
The aircraft dropped an inflatable rescue pod beside two teenagers struggling in heavy surf.
"In an urban environment, delivery has got a lot of problems that you have to overcome that you don't have on an open beach."
But Blumenstein said adding a package for delivery is very tricky. 
"The payload on any drone causes a different dynamic around its speed, navigation, its resistance to being affected by environmental conditions, wind and so forth," he said.
Still, Blumenstein said sending a rescue pod to swimmers was easy compared to the challenges of urban areas.
"When you're dropping it, you're dropping it in the ocean," he said. "It's not like you have to worry about how it's going to be delivered in a conventional sense."
Blumenstein said perishable food would need to be protected to prevent contamination. The payload would also need to be secured in a way that can't possibly detach.
"There needs to be a mechanism in place that assures people that what's going over their heads is going to stay there until the delivery point," he said. 
The mosquito-like buzz of drones is also a big issue in urban areas. While Blumenstein said he's never had a complaint about the SharkSpotter drones, early Wing food delivery trials were derailed by noise complaints. (Zipline said its latest drones are "almost inaudible".)
Blumenstein said progressing beyond the trial stage will bring even more challenges.
He believes we lack the infrastructure to support mass drone deliveries, and traffic management plans would be needed for drones the way they are for aircraft.
"That is a challenge, when you start getting busy skies and busy traffic," Blumenstein said.
"You've got to worry about collisions, you've got to worry about scheduling, you've got to worry about the safety of individuals. There's a lot more to it."
Roberts maintains that drone delivery will be great, but it won't work for everything.
"People get excited by all this stuff, but it's just going to be a niche thing, I think," he said.