An ACT-based company is using artificial intelligence to keep more people safe and alert while behind the wheel of a car – and the tech has wider implications for autonomous fleets.
Seeing Machines specialises in artificial intelligence (AI) applications in driver-machine interaction. Founded in 2000, the company's computer vision algorithms, optics and processing technologies feed into driver monitoring system (DMS) solutions across the globe. 
"Our technology monitors drivers by tracking, measuring and processing the features from a camera system of the driver's face, eyelids and pupils," Daniel Edmunds, Senior Vice President of Engineering at Seeing Machines told create. 
"Our core signals can accurately determine where drivers are looking, and also where a driver's head is positioned. At a higher level we can determine if a driver is tired, fatigued, distracted or disengaged in the driving activity, and for example the identification of the driver."
There when you need
Seeing Machine's first commercially successful product was in the mining industry, in the monitoring of drivers to determine fatigue and distraction, and is now used in trucking companies worldwide. 
"When an alert goes off for drowsiness, it can be reviewed to see if it's a real drowsy event, then there's a mechanism to inform the company that they may have a safety issue around driver fatigue," Edmunds said. 
The company has also racked up accolades for their work in recent years, including taking the gong for the Top Exporter in the Technology and Innovation category at last year's Australian Export Awards. Edmunds said there's a lot of international interest in this technology.
"We're now operating in more than 26 countries. It's certainly a space that's rapidly evolving," he said. 
In addition to their applications in the fleet trucking arena, the company now has applications in the automotive and aviation fields. 
"In the automotive sector we supply our software and chip solutions for driver monitoring to Tier 1 suppliers for original equipment manufacturers (OEMs)," Edmunds said. 
"We also have applications for pilot support systems and simulator management in aviation."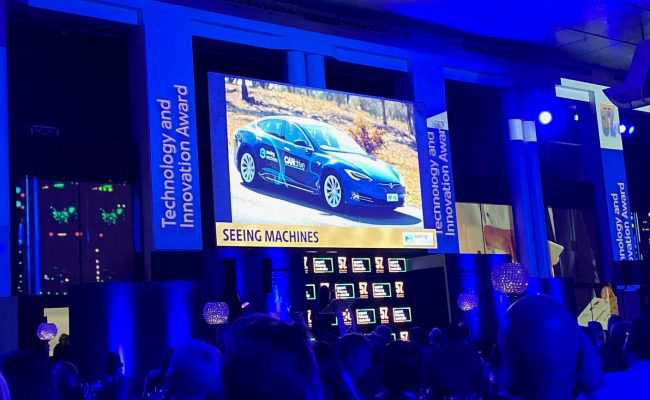 Within the automotive sector, Edmunds said the semi-autonomous vehicle market currently provides the greatest opportunity for the company. 
"OEMs are developing programs to introduce semi-autonomous vehicles, where the vehicle can drive itself in certain conditions. But there's still the need to ensure the driver is engaged with the solution, which is where our technology comes in," he said. 
"Driver monitoring is going from what was largely a niche-type product, trending towards a standard and common feature in all vehicles."
Fully autonomous vehicles are still likely several years away, Seeing Machines' applications are supporting development in this field. 
"There are a large number of companies developing robo-taxi type solutions in geo-mapped areas, and we're working with some of these partners when they test their prototypes," Edmunds said. 
"What our solution does is ensure that the backup driver is engaged and paying attention to the driving situation as a safety mechanism."
Growth of AI
The recent win by the AI company is timely, given the Australian Government's recent release of a report on the importance of capturing the benefits of AI. 
With AI estimated to generate $13 trillion in economic activity globally by 2030, one of the areas of priority identified in the report was cities, towns and infrastructure. 
"There are significant shortcomings in built infrastructure, which is already impacting the operation of our towns and cities," the report noted. 
"Automation and sensory systems can improve our infrastructure. We have world-leading capabilities within this area and we can export the solutions to a rapidly urbanising world."