The pioneers of PERC solar photovoltaic technology have been awarded the prestigious £500,000 Queen Elizabeth Prize for Engineering. 
When Professor Martin Green first started researching solar technology in the 1970s, the world was a very different place. 
For one thing, photovoltaic cells were used mostly on spacecraft – and weren't anywhere near the average home.
In the decades since, Green and his colleagues' contributions to solar cell technology have helped change that. 
Last week, the University of New South Wales Scientia professor was honoured, alongside three colleagues and former PhD students of his – Professor Andrew Blakers, Dr Aihua Wang and Dr Jianhua Zhao – with the highly prestigious Queen Elizabeth Prize for Engineering. 
Sometimes dubbed 'the Nobel of Engineering', the award comes with prize money of £500,000, and celebrates pioneering engineering advancements that benefit humanity.  
The Australian team won for their development of Passivated Emitter and Rear Cell (PERC) technology, which dramatically enhanced solar's energy conversion efficiency and has helped it to become the widespread, cost-effective energy generator it is today. 
Green said he's honoured to receive the award alongside the team, which published the first paper on PERC in 1989.  
"It's really special being able to share it with those former students and reminisce about the old times," Green told create. 
Professor Blakers said extensive teamwork was needed to develop the technology, which is now the dominant type of solar cell in commercial production. 
"Development of PERC at UNSW was thoroughly a team effort, as reflected in the authorship of the PERC papers and in the award of the prize to four people – additionally, there was extensive interaction with research groups in other universities," Blakers said.  
On the QEPrize judging panel was Australia's former chief scientist Dr Alan Finkel who praised the team's role in global energy transformation. 
"This year's winners are truly impressive. Their work is the result of decades of effort combining science and engineering design to produce a truly transformational technology that is helping us in our battle against climate change," he said. 
"We must use technology to reduce our emissions, which is why PERC technology and solar energy are so important."
How PERC changed solar efficiency 
Early photovoltaic cells weren't very efficient at harnessing sunlight — they only managed to convert about 14 per cent of it into electricity. 
Green's UNSW lab had some early success building on that; in 1983, Blakers and Green produced cells with 18 per cent efficiency, a big leap on the previous record of 16.5 per cent.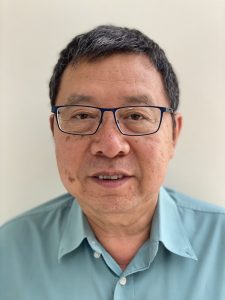 Dr Zhao joined the lab in 1985 and Dr Wang in 1986 and the team continued to break world efficiency records, which Green remembers as "a real buzz". "We really had to deliver the goods to be able to claim a world record [by having it independently verified]," he said.
"That really suited us because no one would have believed this little group from Australia was beating the big electronic companies involved and the whole US, Japanese and European programs, in terms of making the world's best solar cells."
Despite the success, there were still big limitations that solar cells had to overcome – which led to the development of PERC. 
"I realised that the structures we were then working on were inherently not capable of reaching [the calculated efficiency] limits," said Green.  
"[The winners'] work is the result of decades of effort combining science and engineering design to produce a truly transformational technology that is helping us in our battle against climate change."
One issue Green identified was Auger recombination occurring in the silicon used in solar cells, wasting the potential of the photo-generated electrons. 
"Light excites electrons to high energy states, and you want them to stay there as long as they can – when they relax back that's called recombination and you want that recombination to be as slow as possible," he explained.  
Instead of looking at improving materials as others were suggesting, the UNSW team decided to change the cell structure. 
"We had to do something different. So that's when I drew my first diagram of the PERC cell – it was a structure that inherently had all the features to be able to come close to those limits." 
A key innovation of PERC is the addition of an extra layer to the back surface of the cell, which helps prevent recombination and is much more effective at reflecting unused photons back into the silicon, generating more electrons.
The technology proved so effective that by 1999 the team had reached a record-smashing 25 per cent efficiency target. 
Market dominance 
While it took some time for commercial adoption – which started in 2012 – PERC technology is now the most widespread silicon solar cell – amounting to almost 90 per cent of the global solar market.  
"Even though the PERC has only been the dominant technology for five years now, there have been more PERC modules installed since then than all the solar generation installed in the history of human civilisation – it's really quite mind boggling," said Green. 
Zhao and Wang have since founded China Sunergy, once China's second-largest solar manufacturer, part of the nation's mammoth solar industry that has helped dramatically bring down the technology's production costs. 
As the global solar industry continues to expand, Blakers added that silicon solar cells could be responsible for about half of the total global effort to mitigate greenhouse gas emissions. 
"At current growth rates, global silicon solar cell generation capacity will pass the combined total of coal, gas, nuclear and hydro in about 2030 – much of this will be PERC cells," he said. 
The team will be officially presented with the Queen Elizabeth Prize for Engineering at a ceremony in London later this year.  
Engineers Australia Climate Smart Engineering 2023 (CSE23) will be held 29-30 November 2023 at the Melbourne Convention and Exhibition Centre. Call for abstracts and registrations are now open. 
Abstract submissions close 11.59 pm AEST on Wednesday 12 April 2023.