Building services engineer Daniel Messina is combining his passions for robotics and automation to take some of the grunt work out of construction processes.
From construction to completion, a building design can travel far from the initial idea. Taking on-site scans as work progresses can track these deviations and help course-correct if needed, but for engineer Daniel Messina, there are problems with that whole process.
In his first month on the job, Messina, a building services engineer with Arup, was taken to "appreciate how things look out on-site", and given the task to 3D scan the space for design documentation.
At the time, that process meant setting a scanner on a tripod, pressing a button and leaving it for 10 minutes – and then relocating it a number of times to repeat the process with each new location. It's not a hard task, but it is time consuming and tedious.
"I just thought, 'Surely there must be a better way of doing this?'. It just sounded mad to me that someone would stay out on site for two days just doing this," he told create.
The gears in his mind started turning, and he spotted an opportunity to combine his background in robotics and interest in automation to find a solution. This led him to creating Hermes the scanning robot, and receiving a spot on create's list of Most Innovative Engineers for his efforts.
Capturing the details
Messina was able to explore this idea with support from Arup University, the firm's own internal intelligence hub.
Hermes comprises a scanner mounted on an aluminium chassis, which contains all the electronics, hardware, motors and gears needed for the robot to move around. The idea is that someone plans a path, and the robot follows the path to scan at various intervals. Hermes uses LiDAR to map the space in 2D, and simultaneous localisation and mapping (SLAM) to stitch those images into a 3D representation of the space.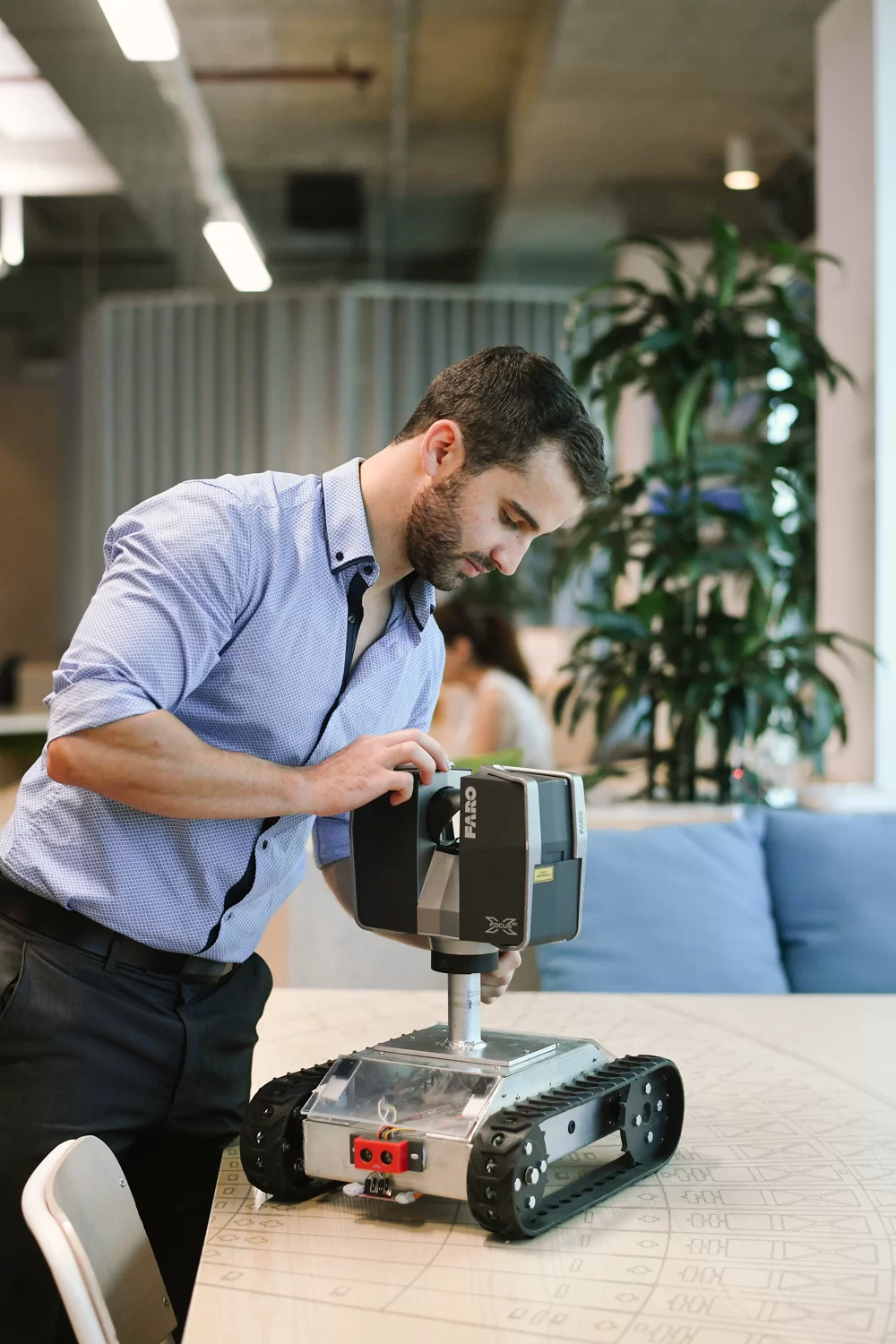 Messina said that while it still needs a person to mark the robot's path, that effort is now condensed into one chunk, rather than spread across a day or two.
"The required time for a person is still the same, but it alleviates the stop-start nature of the other method for someone to be more productive and conduct processing or analysis instead," Messina said.
"They can be more strategic and productive with their time."
Capturing a site's condition in 3D detail is very valuable in contexts like site verification during construction.
"What we find is, it's common for on-site scans to deviate from the drawings," said Messina.
"Over the life cycle of the building, those deviations become more and more drastic, to a point where the drawings might no longer be valid."
Messina found applications in other areas as well. Real estate, for example, could use scans for property fit-outs when a new tenant moves into a building and makes changes. He also sees benefits for asset maintenance, disaster relief or search and rescue, as well as mining.
Now he is looking at ways to further develop the technology. First on the list: make it wireless. One of the biggest challenges was connecting the scanner with existing hardware, so Messina had to create a bespoke system to access the scanner data through a wifi hotspot and control it remotely.
Another item on the wishlist is optimising its vision capabilities so Hermes can see farther and scan on the move.
"The current equipment requires Hermes to be stationary to scan, but what we're looking at is using the same SLAM tech, how can we create accurate point clouds while the robot is moving continuously," Messina said.
Up to speed
Interest in his invention has grown in the time being, with recent trips to Hong Kong and Singapore.
For Messina, working on this project was a chance to create something that would have an impact on the day-to-day lives of engineers.
"Having a human walk around a site doing this very mundane task … how do we optimise that so the human can make better use of their time?," he asked.
It's a struggle that might be all too familiar for some engineers out there — including Messina.
"It's a big topic here [at Arup]. We're passionate about design, and we are keen to find ways to reduce the time-consuming stuff, so we can be more creative," Messina said.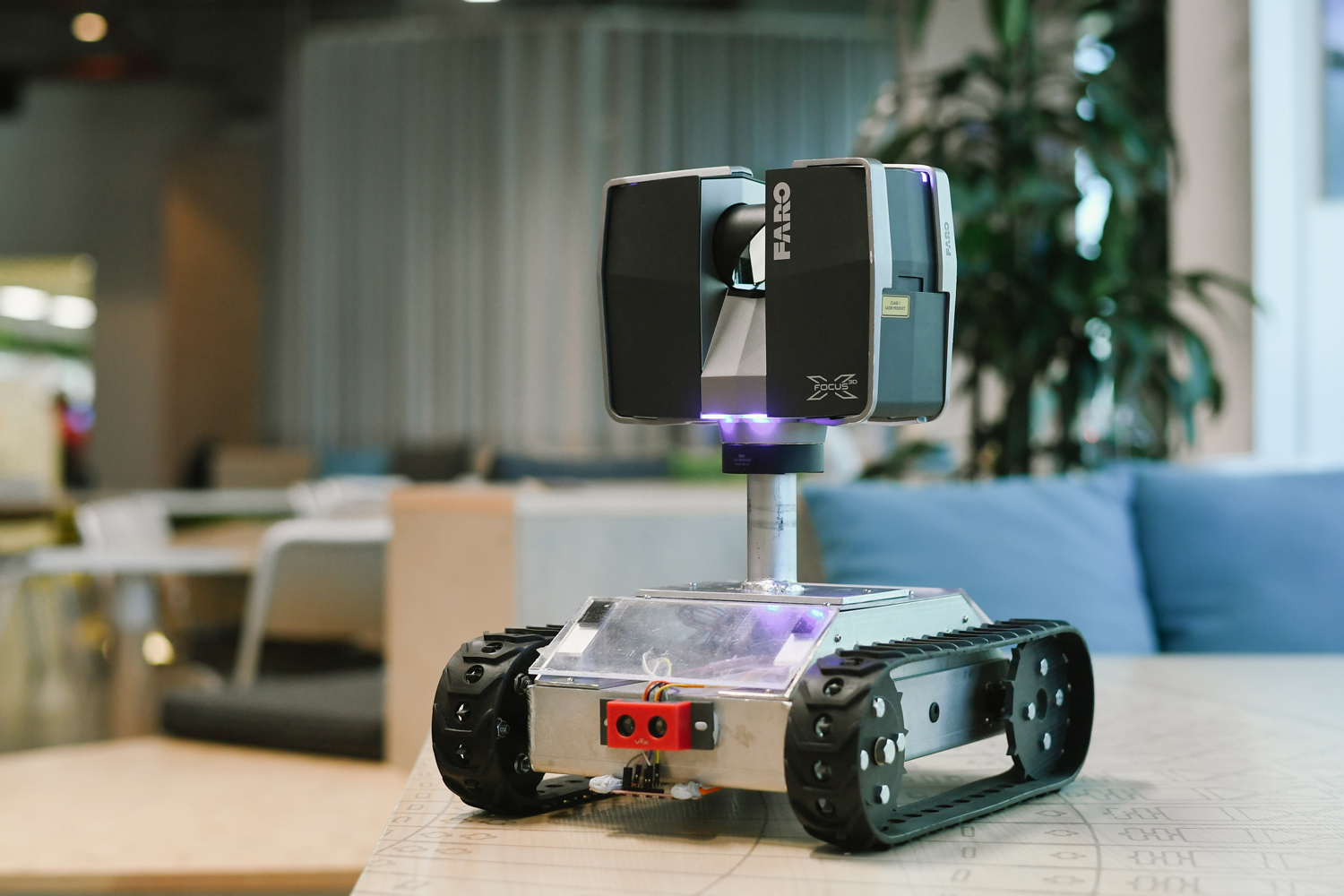 Appearing on the 2018 list of Australia's Most Innovative Engineers further encouraged Messina to "always be the person who asks 'why?'".
"It's my long-term goal to be on the forefront of innovation in our industry," Messina said.
"To be recognised at the beginning of my career has given me more motivation to keep doing what I'm doing and shed light on what we can do with automation in the construction industry."
He said building and construction have been left behind by the automation revolution.
"When we look at the automotive or aerospace industries, compared to construction there's a massive difference. They've progressed significantly, they've used robotics, they've made use of different techniques and design philosophies … and construction hasn't caught onto that as quickly," Messina said.
He hopes to one day see the construction industry held up as an example of innovation for others to follow.
"I'm really curious about how to shed light on that in the construction industry and accelerate that on the same level as aerospace and automotive," Messina said.
"The way I look at it, we need to be more efficient first, which will enable us to explore more."
The deadline for Most Innovative Engineers submissions is 14 March. If you or someone you know should be on this year's list, apply here.