It doesn't roll off the tongue like many other acronyms, but BVLOS – Beyond Visual Line-Of-Sight – is fast becoming part of the lexicon of engineers, pilots, regulators and lawmakers. 
Drone and AAM (Advanced Air Mobility) operations are growing rapidly worldwide, and there are many initiatives underway to explore both the technologies and regulations needed to fully realise the potential of uncrewed flight. 
Recreational drone flying in Australia is legally limited to visual line-of-sight. According to CASA, this means "always being able to see the drone with your own eyes". For commercial operations beyond visual line-of-sight, a specific CASA approval is required, which involves risk assessments, practical flight assessment, aeronautical knowledge theory exams, and a CASA-approved exam. The regulatory requirements overseas are quite similar. Once BVLOS is involved, whether autonomously or remotely piloted (through screens or goggles), the regulatory hurdles become much higher – and for good reason.
Building expertise
Phil Swadling, Technical Director Avionics at Thales Australia, presented at the recent Avalon airshow describing the work carried out to date and the lessons learned from both a technological and regulatory perspective of BVLOS operations. Thales has been leveraging its experience in certified aircraft avionics systems and air traffic management to develop technologies that have led to a number of trials of BVLOS operations. 
"The commercial Uncrewed Aerial Systems (UAS) industry is a lot more advanced than many people expect," Swadling explained. 
"There are 2,300 commercial UAV organisations with CASA-issued Remotely Piloted Aircraft Operator (ReOC) Certificates, along with 21,000 licenced remote pilots and another 14,000 unlicensed remote pilots with CASA excluded category accreditation."
"Much work needs to be done, but success will only come via collaboration between industry players and regulators."
And there's a good reason drone use is increasing. "You can put a drone into situations you wouldn't want to put a pilot in", he said. "…drones are ideal for the dirty, dull and dangerous work". 
The benefits are not just in risk management, the economics are also compelling. Swadling quoted a Deloitte Access Economics report showing the expected impact of drones to be a $9.4 billion to $20.7 billion boost to Australia's GDP. The number of jobs to be created by the sector is expected to be 5,500 annually to 2040. Because a good deal of drone operations are likely to be in remote areas, 64 per cent of new jobs are expected outside the east coast capitals. Swadling stresses that "operating BVLOS is key to truly unlocking drone potential".
Significant challenges
The biggest challenge is traffic management: BVLOS drones will potentially operate within the same airspace as traditional private and commercial helicopters and fixed wing aircraft. This challenge has spawned some new acronyms, such as CLUE (Collaborative Low Altitude UAS integration Effort) and UTM (UAS Traffic Management). 
Regulators such as the European Union Aviation Safety Agency (EASA) and the US Federal Aviation Administration (FAA) have developed risk categories and operation areas, and have been working with the industry on a number of trials.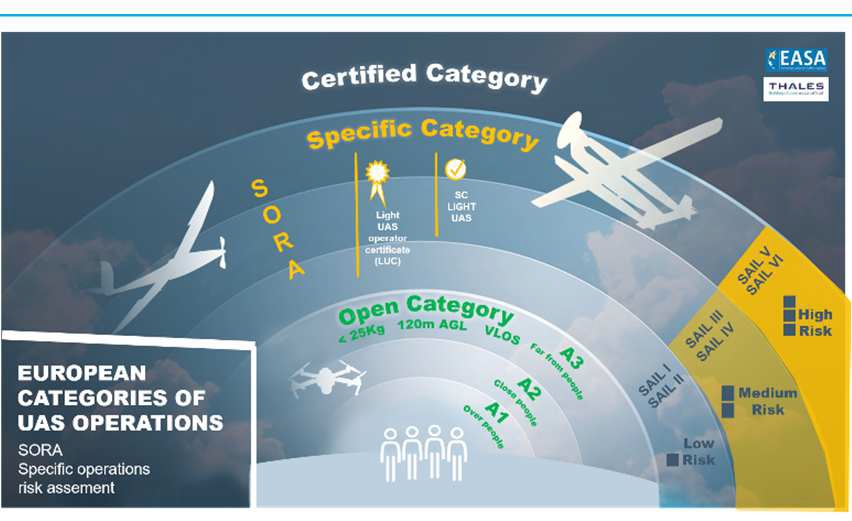 Swadling describes some of the trials in which Thales is heavily involved. 
"Centre d'Excellence Ile-de-France (CEDIF) is a collaboration between 900 companies in France, which forms part of the country's preparations for drone and AAM operations for the Paris Olympics. The Vantis UAS test site in North Dakota, USA, is a statewide UAS BVLOS network, using TopSky, a cyber-secure UAS Airspace Manager. The UK has NBEC, the National BVLOS Experimentation Corridor (NBEC), a safe, managed environment to test and develop concepts, principles and the related technologies to enable BVLOS flying in non-segregated airspace."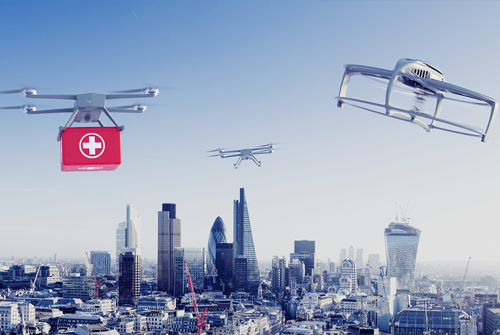 Similar research is also underway in Australia. The Geelong Low Altitude Airspace Management (GLAAM) project is a test site for developing methods of integrating crewed and uncrewed traffic with automated drone flight approvals, dynamic airspace management, and real time monitoring. A common concept within these research sites is "digital twinning", where traffic management experiments can be simulated in a virtual environment before being tested on the actual range. Digital twins are an important element in building confidence for regulators and the public.
Engineers are vital
The role of engineers in the BVLOS ecosystem is obvious. Engineers Australia's Damian Ogden, Group Executive, Policy and Public Affairs, makes this point strongly. "The skills engineers possess are a vital component of the aviation and aerospace sector. Engineers develop and maintain the infrastructure and technology required to allow the sector to overcome the challenges it faces and capitalise on opportunities."
Phil Swadling completed his session by talking about those challenges and opportunities. He summarised the needs to detect and avoid, to command and control, and to manage the UAS traffic ecosystem. 
"Australia needs a national UAS strategy," said Swadling, "which should answer the question of how are we going to get those economic benefits?". "[…] much work needs to be done, but success will only come via collaboration between industry players and regulators."