Adrian Piani is accelerating Canberra into a future fuelled by renewables — and is ready to keep its carbon zero promise.
The engineering profession is conservative, according to ACT Chief Engineer Adrian Piani FIEAust CPEng EngExec. And there's a very good reason for that.
"If we get it wrong, the implications can be significant," Piani told create. "We engage with risk every day, so change can be hard for us.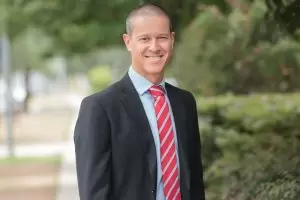 "Innovation can be hard [too] as we rightly worry about the potential for negative impacts. We have to acknowledge that potential but also understand the real risk."
Once they do so, he said, engineers can embrace innovation by managing it.
These are a few of the key commitments he and his colleagues are progressing to achieve a net zero emissions by 2045 future:
Phasing out fossil fuel gas and electrifying the ACT by 2045

Expanding the number of zero emissions vehicles to up to 90 per cent of new light vehicle sales by 2030

Phasing out registration of new light internal combustion engine vehicles from 2035

Reforming the ACT's building and planning system to ensure a transition to best practice, climate-ready and environmentally sustainable buildings and planning
"Broadly speaking, the ACT Government has for many years been a leader in tackling climate change, both adaptation and mitigation," Piani, who has almost two decades of experience as an environmental engineer in the water resources, environmental and infrastructure sectors, explained.
"The ACT Government has for many years been a leader in tackling climate change, both adaptation and mitigation."
At Engineers Australia's Climate Smart Engineering 2023 (CSE23), Piani will discuss how the ACT Government has managed the leadership of climate solutions, particularly in terms of the challenges for engineers and the unique skill sets required by those engineers to develop solutions and manage risk.
"I'll be discussing why engineers are so critical to finding those solutions and delivering our net-zero city," he said. "The uniqueness of Canberra is that we're making the decisions that need to be made, and we're making them first.
"We've just announced that the fossil fuel gas network is not the future, and our intention is to electrify the city. I suspect other jurisdictions are considering the same challenges Canberra has faced. "
Engineers are constantly being tasked with finding new ways to do things.
"We're using our engineering skills to deliver great outcomes," he said. "Yes, it's a bit different and yes, it's a bit new. But true engineering is [about] problem solving and finding new solutions to old problems."
Ahead of the game
The next big challenge for engineers, according to Piani, is removing carbon from concrete and steel.
"It can be done," he said. "Will it be challenging? Yes. But it can be done.
"There are obvious solutions. We've got low-carbon concrete available right now and I think we can use it more. We need to get over that barrier. And I think there's a pathway for steel as well. It's a bit longer, but there are new technologies that will come online."
Another challenge is removing the use of diesel fuel from the construction process. Piani expects, in the very near future, to see the transformation of construction machinery and vehicles to green hydrogen or electric.
"There are already all-electric options for machinery," he said. "We had our first all-electric excavator in town recently. I think the supply chain is just responding to this new need and is finding solutions.
"Because we're ahead of the game [in the ACT], because we've had this focus for many years — we just get on and do stuff. The objective is set, and we know what we need to do. It's not about agonising over the decision about whether we should be net zero. That decision has been made.
"Our role as engineers is to deliver."
Adrian Piani is just one of many experts in attendance at CSE23 — so don't miss out. Discover the stellar line-up and secure your place today.