One innovator is combining his passions for electronics and very fast cars to create a new breed of solar-powered dragsters.
By six he had started dabbling in electronics, soldering at nine, and charging people for repairs at 12. At six he had also started driving in paddocks, gotten involved in drag cars at 10 and was even allowed behind the wheel of a 700-hp vehicle at 12.
Now, Michael Fragomeni, founder of Top EV Racing, is working to electrify the motorsport world with solar-supercharged dragsters.
His moonshot idea is to develop electric vehicles able to compete in the excitement stakes with nitromethane-guzzling Top Fuel dragsters, the fastest of which have reached 539 k/h, and which operate at an eardrum-ruining 150 dB.
An electric vehicle would even have advantages on these dragsters, Fragomeni noticed after observing them up close for many years.
"Top Fuel cars slip their clutches for at least the first half of the racetrack, and they've got 5000, 8000 hp, now they're saying up to 10,000 hp on tap, and they slip the clutch till two-thirds of the track," he said.
"So they're not using that power fully at all, and we all know you've got to rev up an internal combustion engine greatly to make torque. An electric motor makes 100 per cent torque from practically zero RPM."
His project has been running about eight years so far, with roughly half of that as a full-time commitment, patiently developing parts that can't be store bought, trying to attract sponsors, and seeing how far design limits can be pushed.
If Top EV is successful, it will break eight world records (for speeds and elapsed time over various distances). There is one number that stands out among the goals: 612 km/h: half the speed of sound.
Vehicle specs include numbers like 5000 hp, or over 3.5 MW RMS, with a dedicated transporter including 6 kW of PV panels (the vehicle is solar charged), and a custom-built (like most everything else) 100 kWh lithium ion battery array to store the PV energy for fast charging the race car. The heaviest part of the Chrome-Moly chassis vehicle is its battery packs. Fragomeni, who will also drive the car, points out that they contain the equivalent of more than 20 kg of TNT in electrochemical energy density.
"If there is a short circuit, say we smack a wall at 500 kilometres an hour sideways and that battery pack short-circuits, we have a potential 20 m fireball explosion, much like the nitro cars, with my head just 30 cm away from the battery packs," he said
"So the composite container of those cells means a lot to us in strength integrity."
The battery and chassis brackets are 3D printed by Airbus – which has joined as a sponsor – out of the French company's Scalmalloy (scandium, aluminium and magnesium) additive manufacturing material.
"We had to revisit all of our designs with the uptake of additive manufacturing, and decreased our wall thicknesses on everything just to utilise those kinds of strength-to-mass ratios," said Fragomeni of the alloy, which is roughly as light as aluminium and as strong as titanium.
Besides battery explosions, another source of danger – and another reason to be extra-thorough with simulation and testing – is the fact that there is up to 1000 Vdc, which presents an enormous danger if there is a ground fault.
"Our technologies coming out of development on this race car will lead to low voltage electric cars. In time, we'd like to see low voltage cars, but for now, for Teslas and Nissan Leafs, and all the other [electric] cars are all high voltage – as they have to be able to get the current draw," he said.
"We don't want to guess; there's no second chances in these kind of situations so the more simulation, the more understanding we can have and reliable understanding, knowing that the software is spot on with all of these calculations, I mean that's come a long way."
It hopes to be on the track within a year, yet development efforts will continue after that, ad infinitum.
Generative design
The project team has set a timeline of three years to develop a composite chassis, an upgrade from the current certified Top Fuel-standard Chrome-Moly versions in use. The project recently started using generative design to improve the strength-to-mass ratio of the frame.
Fragomeni concedes that manufacturing in composites – generative design produces curved, organic-type shapes – will present all-new and highly-significant difficulties.
The project continues the founder's keenness for record-setting. The owner of a high-end auto sound system business for two decades past, he holds many Australian records for the loudest car stereo system, and still currently at 172.9 dB.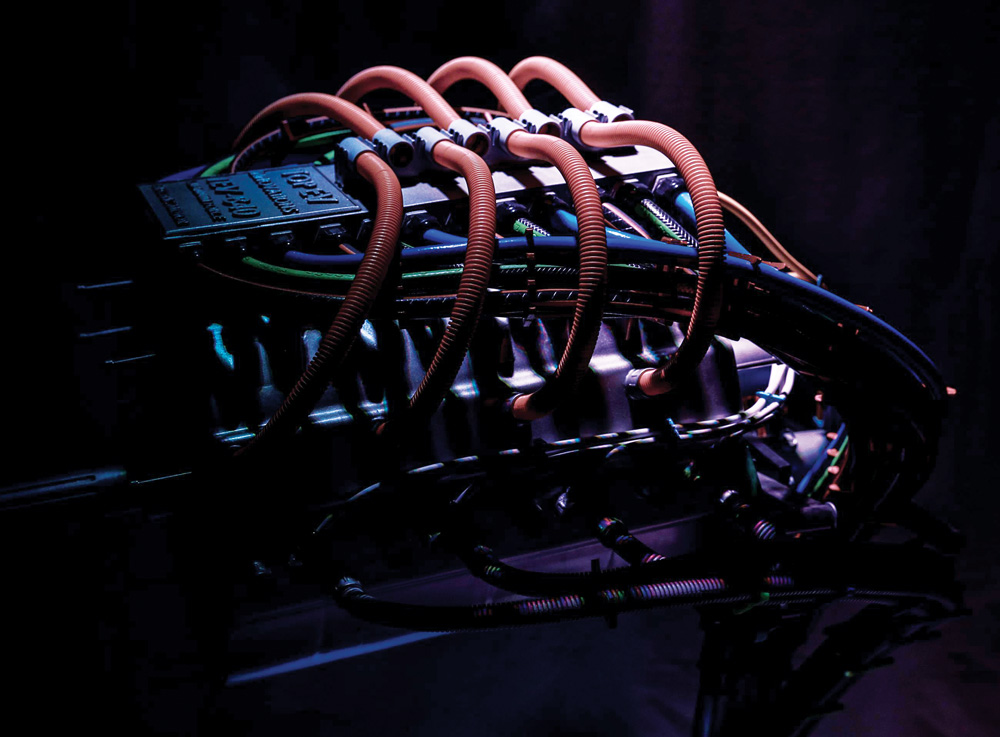 One of the major time investments along the way has been in attracting sponsorship and local interest. Though there are international relationships formed (such as with Airbus) and more recent enquiries made (the electrical motors and power drives have been of interest to Hyperloop, said Fragomeni), finding local support to engage actively has been challenging.
However, the Top EV team presses on, making advances, with a goal of bringing a collection of innovations to a sport that has seen progress by a lot of backyard science and incremental improvement since getting started in the 1950s, said Fragomeni.
They're also hoping to create a lot of records, noise, and excitement in front of crowds. Top Fuel devotees, used to the volume level of a jet taking off and plenty of nitro fire-ups, won't be disappointed. Will the dragster fly along noiselessly? Absolutely not.
"It's equivalent to more than 200,000 cordless drills … if you're to lay out 200,000 cordless drills on an oval and pull the triggers at the same time, it's not going to be quiet is it?" Fragomeni said.
"We're also using cryogenics to cool the motor and inverters so we're blowing off a lot of liquid nitrogen. The Top Fuel cars have big flames, we're going to have big nitrogen fog clouds and icicles. So that's an interesting comparison, they're fire and we're ice."