Pumped hydro stores excess energy by pumping water uphill and releasing it to turn a turbine under gravity. A Swiss startup has proposed an alternative solution – using concrete blocks, a crane and an electric motor.
Australia is betting big on pumped hydro, with the Snowy 2.0 project estimated to cost between $3.8 and $4.5 billion. Tasmania is also keen to increase its hydro capacity to become the 'battery of the nation'.
In a demonstration of the principle that elegant solutions don't need to be complex, Swiss startup Energy Vault has recently unveiled a demonstration plant that stores energy by using an electric crane to stack concrete blocks to store excess energy. When supply is low, the blocks can be dropped back to Earth, running the crane's motor backwards to release energy into the grid.
What's more, Energy Vault threw the plant together in around nine months – for the bargain-basement price of US$2 million (AU$2.73 million).
Denser than water
Like pumped hydro, the Energy Vault concept works by converting electrical energy to gravitational potential energy. Because the amount of stored energy increases with the mass of the material lifted, using a dense material like concrete rather than water means that a greater amount of energy can be stored in a smaller volume.
The company keeps costs down by using existing off-the-shelf hardware. They have invested their research and development into designing software to automate the crane's actions and compensate for the movement of blocks in crosswinds to make the lifting process smoother and more efficient.
To drive costs down further and reduce the environmental footprint, the system developers have devised a way to recycle building waste or gravel rather than virgin materials when manufacturing the concrete blocks.
Energy Vault's CEO estimates that after building 10 plants, the cost of energy storage for the system will be around US$150 (AU$205) per kWh. This makes the technology competitive with lithium-ion batteries, which currently cost around US$280 to US$350 per kWh. However, Quartz reported that the cost of lithium ion batteries could fall to US$100 per kWh, making them stronger competition in the long term.
Efficiency comparison
The efficiency of the concrete block system compares favourably to lithium-ion battery storage, offering 85 per cent compared to 90 per cent efficiency. There are varying reports of the efficiency of pumped hydro, with most sources citing efficiencies between 70 and 80 per cent.
Other advantages of this system over pumped hydro are it doesn't require dams or water, and the blocks can be recycled from building rubbish. According to Energy Vault, their system needs minimal maintenance and has the ability to operate for 30 years without losing capacity. In contrast, the operating life of lithium-ion batteries used for energy storage is around 20 years, and recycling facilities for spent batteries are not yet widespread.
Drawbacks are that the blocks need to be manufactured on-site, and a 35 MWh system would require a circle of land 100 m in diameter.
According to Energy Vault's Chief Technology Officer Andrea Pendretti, the system's niche will be in places with no shortage of land and building material, and a need for long-term, low-maintenance systems.
These factors could make concrete block systems a good option for renewable energy storage in parts of Asia and Africa, which Energy Vault CEO Robert Piconi is "very excited" about.
Scaling up
Energy Vault's demonstration plant is a scaled-down model of the commercial plants, which it has been commissioned to build early next year.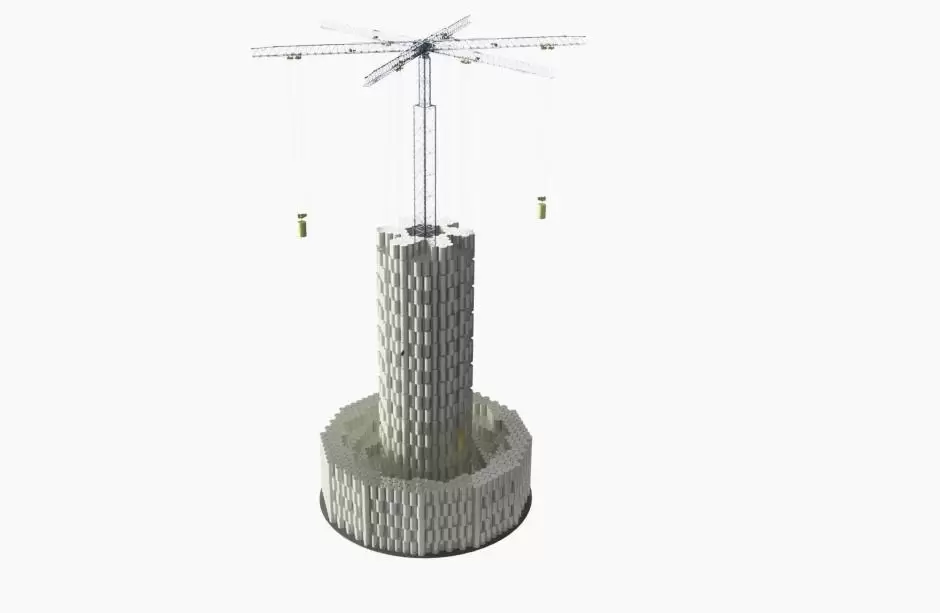 The demonstration plant uses a 20-metre, single-armed crane and blocks of 500 kg, while the commercial version will use a 120-metre, six-armed crane and 35-tonne blocks. The full-scale plant is expected to have a storage capacity of 20 MWh.
While this is small compared to the massive 129 MWh boasted by Elon Musk's South Australian lithium-ion battery, it would still be enough to power around 2000 Swiss homes for a day.