Instead of taking jobs away, this automated lifting device is working with its human counterparts to make crane operations safer.
Robotics and automation often get a bad rap for taking jobs away from humans, but Australian specialist lifting product company Tensa Equipment is showing that technology can benefit both the industry and its workers. 
The company is working with dogmen, workers who give directional instructions to crane operators, to improve safety of lifting operations with its new wireless load controlling system, Roborigger.
The device, which is installed between the end of the crane boom and the load, allows riggers and dogmen to rotate and orient the load using a handheld remote from a safe distance, thus eliminating the need to be in the load's vicinity or to control it with taglines. 
Tensa founder Derick Markwell, who started the research and development of Roborigger in 2016, said the idea behind this device was driven by a meeting at Offshore Europe 2015. 
A leading offshore wind turbine installer said he would pay $500,000 for a device that could hold wind turbine blades steady and allow their attachment in winds greater than 12 knots. 
For Markwell and his team, a challenge like that was too hard to resist.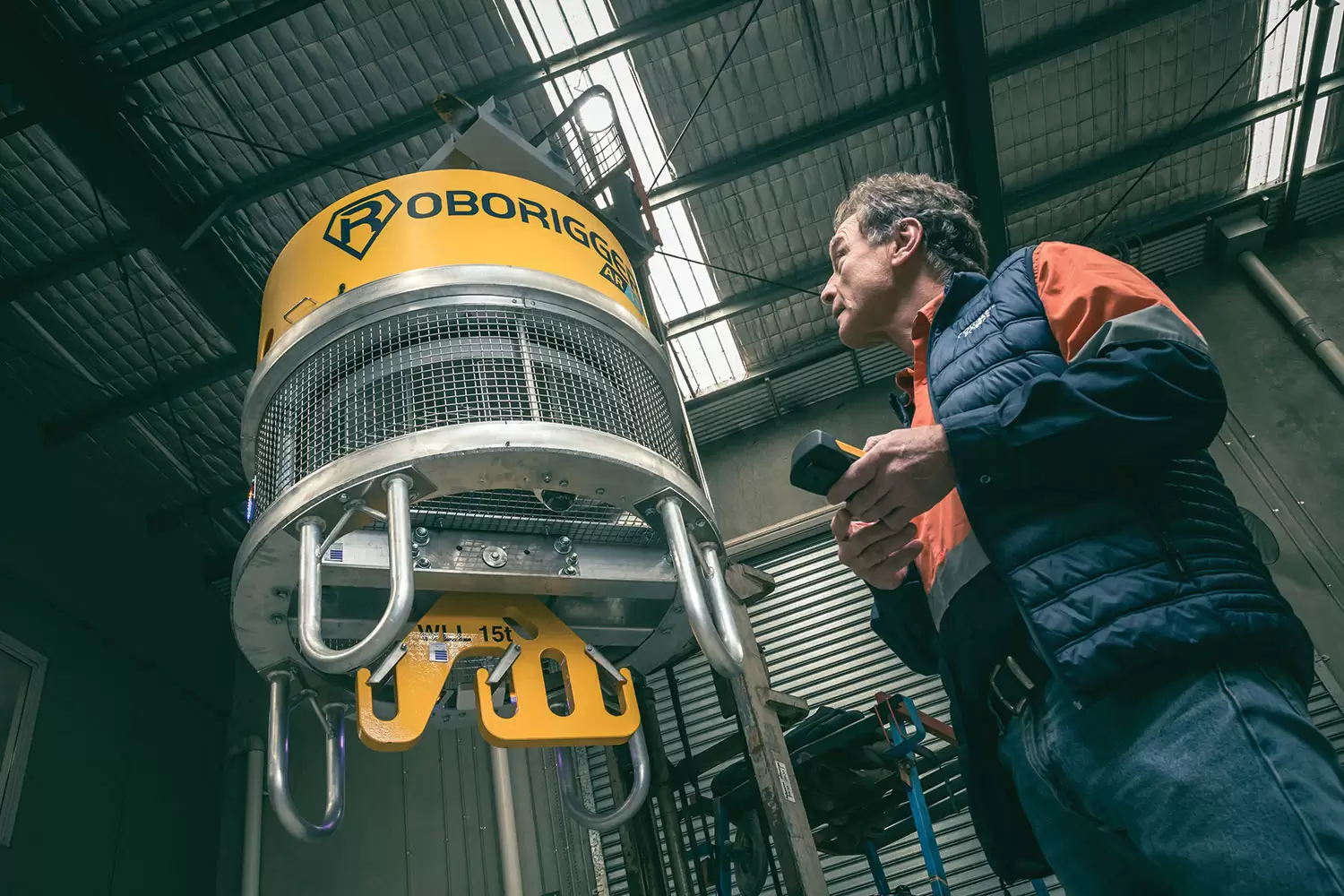 In a spin
"In the back of my mind I always thought that the solution would be to use a gyroscope," said Markwell, who was named one of Australia's Most Innovative Engineers in 2019.
"This turned out not to be true, as we found that gyros had limitations in that they are not able to deliver continuous rotating force, and this made them unsuitable. We played with a lot of spinning bicycle wheels and Lego gyroscopes as well as speaking to companies that have developed gyro stabilisation systems for vessels in order to reach this conclusion." 
Once the team carried out the calculations of the forces needed to accelerate and slow down the spinning load, they realised that an inertial system was better suited to achieve the rotational capability needed for the load they are aiming for.
"Our first prototype used a simple 240 V single phase motor driving the flywheel, using external power with a variable speed drive," Markwell said. 
"We then added lead acid batteries and an inverter onboard, and we had our first device running, though it was controlled by a cable to the remote speed control."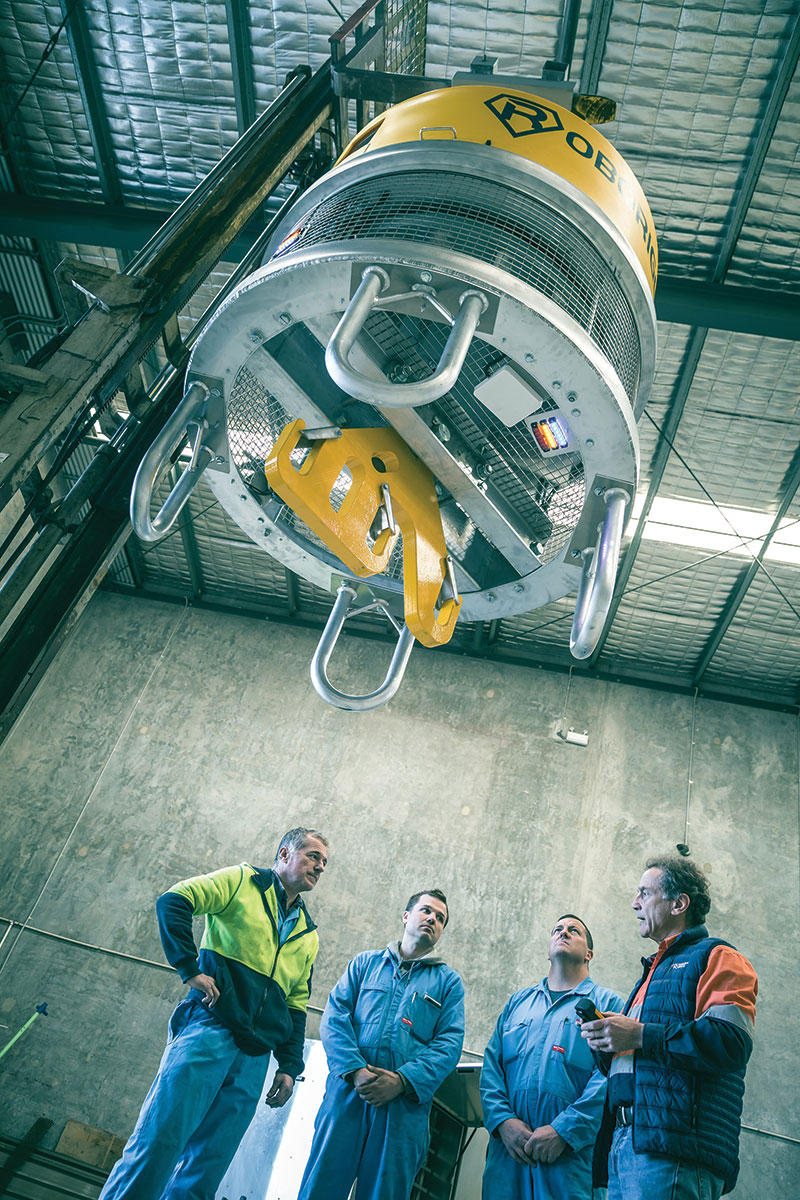 Having proven the concept, the team then built a more sophisticated Roborigger unit with a 3 t working load limit that incorporated a wireless remote and an onboard control system.
"We now knew the system could work and we had already filled a notebook with things we had to change in order to have a device suitable for a construction site," Markwell said.
The third prototype, scaled up to 5 t capacity, was demonstrated to oil and gas companies at the Australian Oil and Gas 2017 conference. 
That led to Roborigger being awarded an Innovation Voucher from the National Energy Resources Australia worth $20,000. 
By industry, for industry
Roborigger's development involved a collaborative process with the industry right from the start. 
"We had potential customers looking at our first working prototype," Markwell said.
"We got them excited and they were contributing to the design right from the early stage. They have genuinely been part of the development team." 
According to Markwell, "working with the end users is something we do whenever possible to ensure our products are technically aligned with potential customer's needs and to ensure there will be market acceptance for our product".
Being clear on the types of companies they want to work with has rapidly accelerated Roborigger's development and release to the market.
"We had potential customers looking at our first working prototype. They were contributing to the design right from the early stage."
The team especially looked for companies that have a strong and genuine focus on safety and that are prepared to invest in something that may take a year or more to reach the operational status needed. 
"We knew we needed to find partners who are able to understand that the development process will not be perfect and there will be problems to overcome during the development phase," Markwell said. 
"The prototype may even stop working during demonstration — which was exactly what happened to us."
"Our development partners Multiplex and Woodside were fantastic. They could see the concept was going to work and they threw in assistance in more ways than financing."
Multiplex introduced the team to F&G Cranes, which provided its yard for testing. 
Not only that, F&G crane drivers and dogmen also offered feedback during the trials, which was instrumental in the development of the Roborigger user interface.
Another example of the value of collaboration came after the team had struggled to get their control system to use the full mechanical power of the system without suffering from resonance. 
"With the load, the slings and the Roborigger components, we have a whole bunch of masses connected together and they all want to resonate as soon as we turn up the power," Markwell said.
Woodside helped the team solve this challenge through its partnership with Curtin University. 
Clear path ahead
Multiplex entered into a development agreement with Tensa in 2017 to coordinate trials and provide user feedback on Roborigger's useability in exchange for funding and use of Roborigger on their projects. 
"Working with Multiplex during the 12-month development trial has allowed us to develop a product that is really easy and intuitive to learn and use," Markwell said. 
This was essential in order for the product to gain widespread acceptance on site.
"While the funding and recognition has been beneficial to Roborigger development, it's the feedback that we received from the dogmen — who are the eventual users of Roborigger — that was invaluable," Markwell said.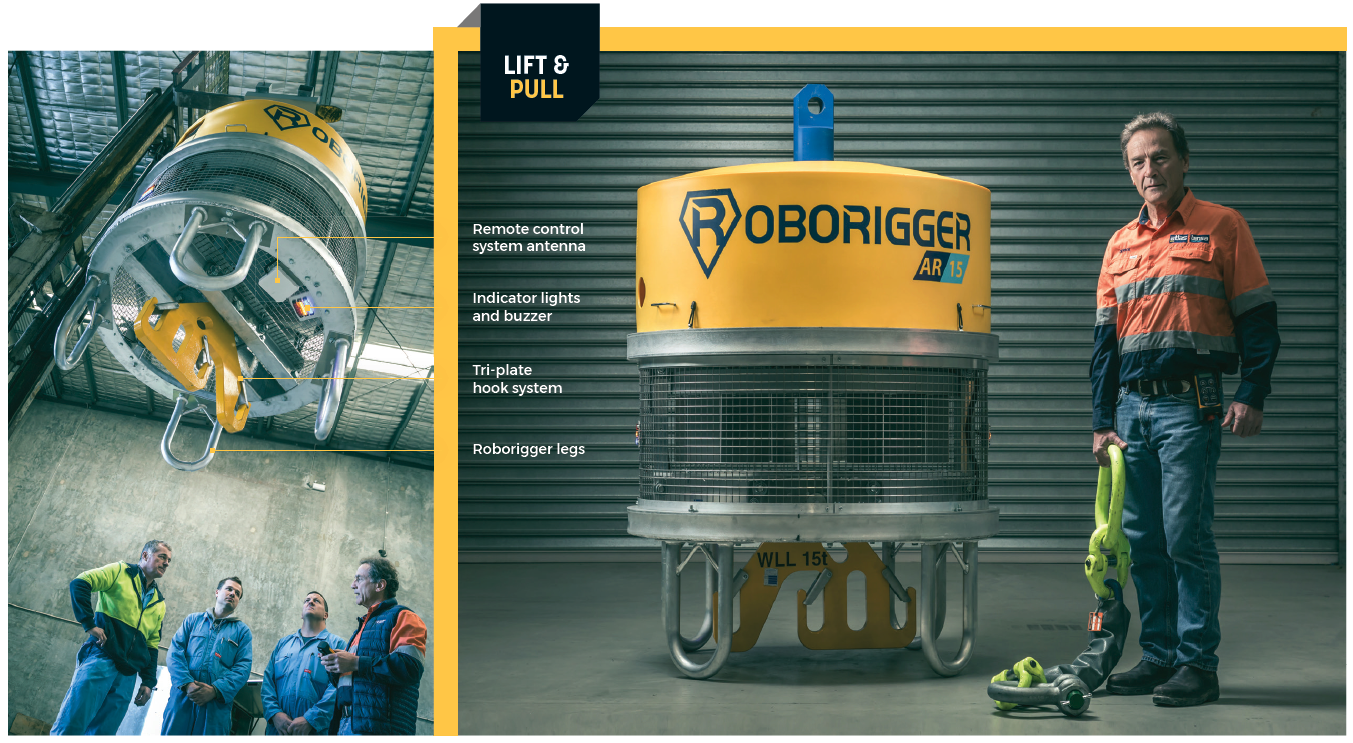 He is confident that this early support from industry leaders like Multiplex and Woodside demonstrates clear buy-in from industry. 
In addition to the current application with tower cranes, Tensa has developed larger Roborigger units suitable for handling wind turbine blades or mounting on lifting frames for container handling. 
"We have a whole bunch of masses connected together and they all want to resonate as soon as we turn up the power."
The company has already received a multitude of requests from major construction, renewable energy, nuclear power and transport companies locally and internationally.
"We are very confident that Roborigger can do the job that it is designed to do," Markwell said.
The team is building 40 Roborigger units this year and has recently delivered Roborigger units for Multiplex's projects in Perth, Sydney and Melbourne. 
A larger 20 t unit is being commissioned for use by Woodside.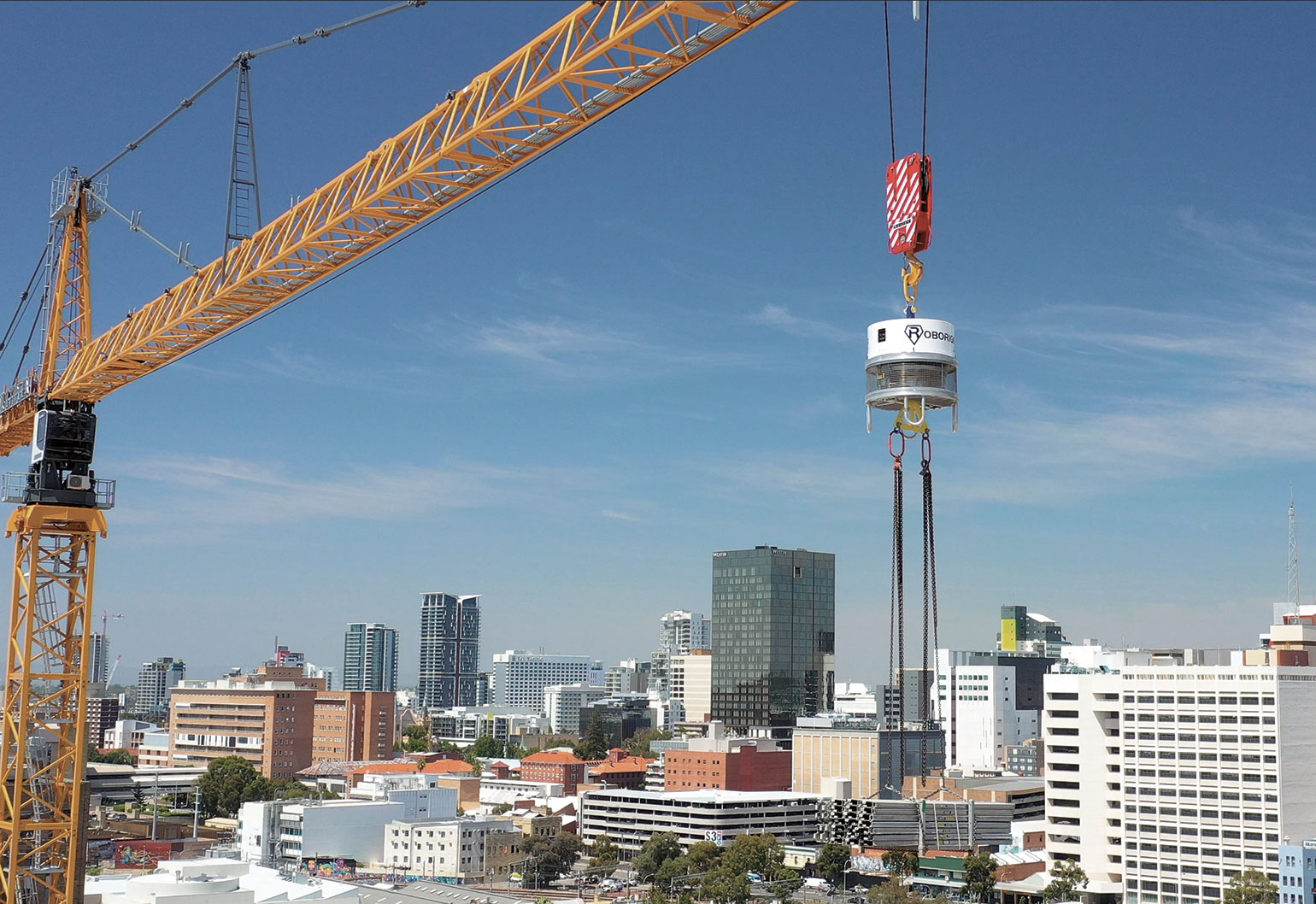 University partnerships
Commercial units of the wireless load-controlling system Roborigger are integrated with tailored data fusion algorithms and control architecture specially created through a partnership with Curtin University.
In 2018, Tensa engaged Curtin's School of Engineering to design a new control system for Roborigger. The project was granted co-funding from the Federal Government's Innovation Connections scheme.
It's the feedback that we received from the dogmen — who are the eventual users of Roborigger — that was invaluable."
According to Dr Fabrizio Padula, the Curtin University researcher who worked on the control system for Roborigger, "the device is the only battery-powered auto-rotator that exploits inertia to orient the load without exerting reaction forces on the crane."
However, Padula said, "this design requires sophisticated control algorithms that allow us to adjust the torque so that the desired load heading and orientation can be rapidly achieved without excessive swinging".
"This means the heading and orientation of the load can continue to be maintained even in the presence of strong winds." 
Are you an innovative engineer? Know someone who is? Register your interest for the Most Innovative Engineers listing. create will call for nominations in January 2020.