One of Western Australia's most significant road infrastructure projects will open up a thoroughfare through Perth's northeast suburbs.
In Perth's bustling northeastern corridor, commuters and commercial freight operators are breathing a sigh of relief with the completion of a new high-speed road project.
This project takes the form of NorthLink WA, a $1.02 billion road infrastructure project funded by the Federal and Western Australian Governments that stretches from the suburb of Morley to Muchea, north of Perth.
The 37 km long project is designed to reduce urban congestion, improve access between suburbs and provide safer highway routes for heavy freight vehicles.
Initiated in 2016, NorthLink WA is being constructed in three stages, with the central section — stage two — opening in August 2019. The lead contractor for the project was Great Northern Connect (GNC) a joint venture between Laing O'Rourke and BGC Contracting.
The central section encompasses a 20 km stretch of road network extending Tonkin Highway from Reid Highway to Ellenbrook. It features two flyovers; one fauna bridge; an 18 km long, 4 m wide shared path; and four major interchanges, including Western Australia's first freeway-to-freeway interchange.
The section removes two of the state's most dangerous intersections at Tonkin and Reid Highways, and Beechboro Road North and Gnangara Road.
Main Roads WA Senior Project Director for NorthLink WA Rob Arnott, a civil engineer, told create the Tonkin-Reid Highway intersection was a notorious black spot. Building an interchange between the two main roads was the best option for safety while also reducing congestion.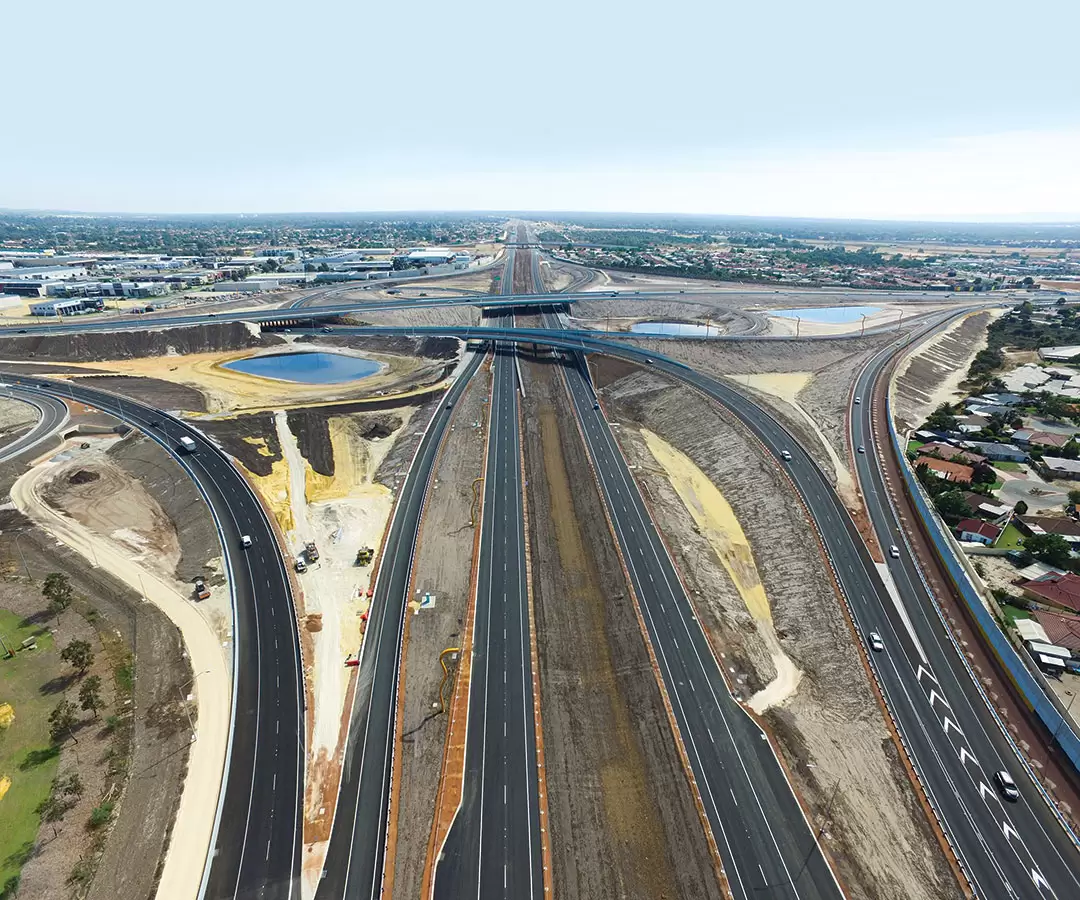 "With two freeways intersecting, we wanted to maintain continuous high-speed movement where possible," he said. 
"One of the main features of the Tonkin-Reid Highway Interchange is that the ramps are expected to carry high traffic volumes, more direct than other ramp connections.
"Ramps that cater for lower traffic volumes are designed with tighter geometry and will require vehicles to travel at slower speeds."
Two other major interchanges along the central sections at Hepburn Avenue and The Promenade are designed as grade-separated roundabout interchanges, which, while common overseas, have only recently been implemented in Western Australia. 
These interchanges eliminate the need for traffic lights and therefore further reduce congestion. 
"This roundabout design eliminates the high speed and impact angles — T-bone — which can typically result in serious injury crashes," Arnott said. 
"These types of interchanges are being used along the length of NorthLink WA, including in the most northern section, where we expect road trains up to 53.5 m long in the future."
"With two freeways intersecting, we wanted to maintain continuous high-speed movement where possible."
Digital roadmap
GNC employed a novel project-management method by tasking two full-time digital engineers to develop a virtual model of the central section using Navis Works software. 
The platform was suitable for sharing updates across the project team and for such planning as clash detection with existing public services, as well as assessing the constructability of the project.
When the team planned the Gnangara Road interchange, they virtually plotted receiving and storing the 36 beams necessary for the three-span bridge and placing them in relation to a simulated crane needed to actually construct the bridge.
GNC Project Services Manager Jordan Speed told create the team also constructed a footbridge for the principal shared path near the interchange, and the model helped determine how not to trap the crane between the two bridges.
"Traditionally, in the engineering world, you have to use 2D models and drawings to plan this out, but, being able to visualise things in 3D, you don't have to use your imagination; you have it right there," he said. 
"Plus, there was immediate clarity throughout the project team, saving everyone a lot of time."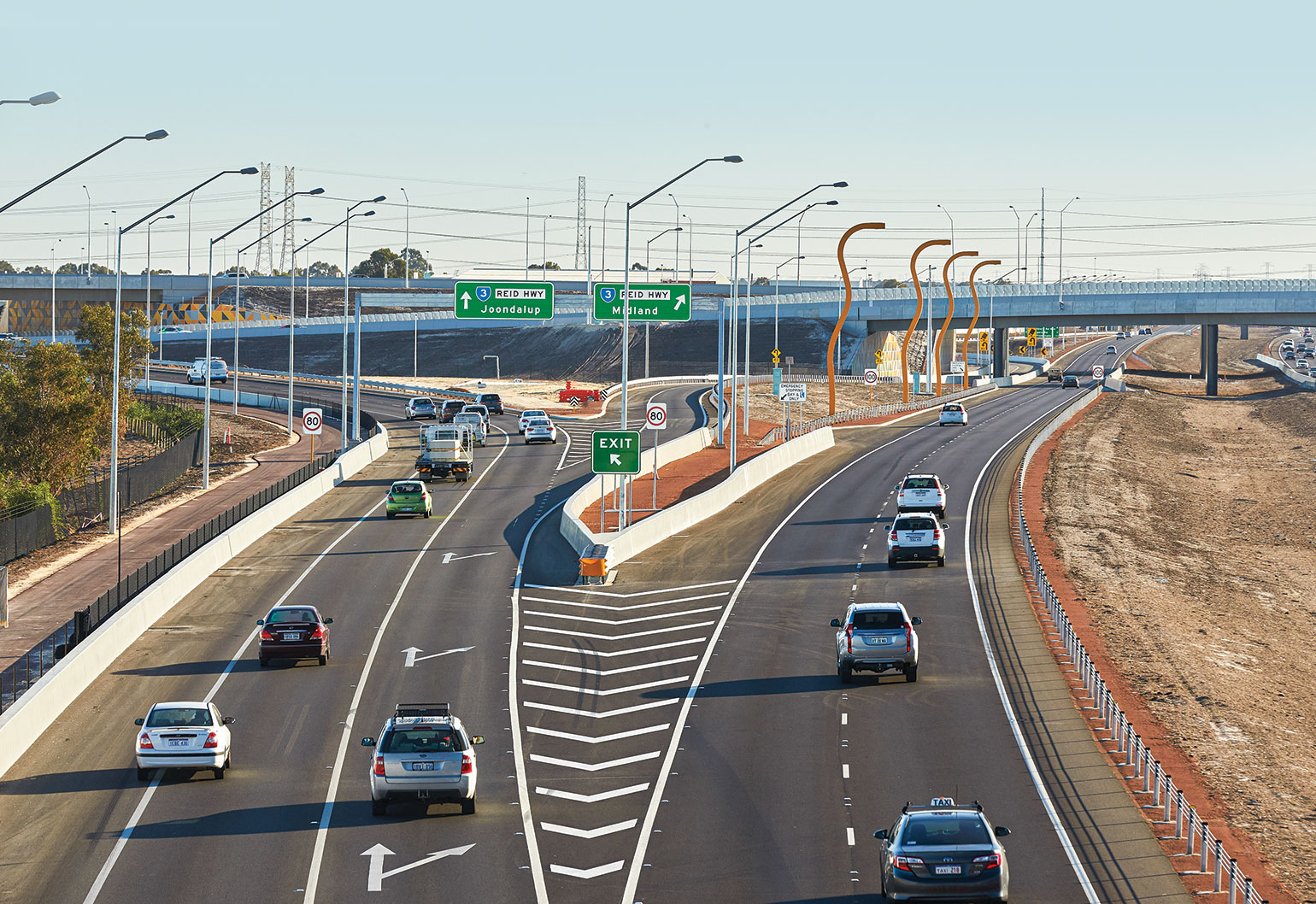 Laing O'Rourke used a similar digital model when constructing Optus Stadium's train station; however, the NorthLink WA central section was the company's first major road building project in Western Australia. 
"Using Navisworks we learnt some really valuable lessons, like new ways of showing progress in a linear project," he said.
The modelling was also instrumental in engaging the surrounding community about how the construction would affect their amenity, as well as testing out new road signage before it was installed.
"Being able to visualise things in 3D, you don't have to use your imagination; you have it right there."
GNC worked with the Infrastructure Sustainability Council of Australia (ISCA) to include sustainable design principles in the project by minimising construction materials, including the amount of sand, steel and concrete. 
One of the innovations developed by the project engineers included converting the bridge beams into continuous beams similar to a concrete link slab.
Traditionally, two-span bridges require a large support pier in the middle of the bridge and two sets of bearings linking to it. Speed said the new method meant they could use a narrower pier and one bearing in the bridge pier, thereby reducing the amount of concrete and the depth of the beams.
The project team used 156 T-Roff beams across the central section's road bridges and footbridges.
Construction challenges
The region was a flat, low-lying area with evidence of water bodies, which presented engineering and community challenges for the project team.
The team installed more than 2000 precast noise wall panels that were 5 m high to mitigate road noise in the residential areas of Bennett Springs, Ballajura and Ellenbrook.
Speed said the team had to develop a unique solution for pilings to support the walls, as they determined the ground was not strong enough to support the traditional continuous flight auger bored piles.
"Our pilings had to be 5 m deep, which was 3 m below the groundwater level, and all of this work was taking place next to people's backyards, so it presented some interesting challenges for us," he said.
"We spoke with the community extensively, especially on the Reid Highway corridor around Altone Road, as those areas were right near the highway, so we had to allow adequate time in our construction program to allow these things to be built in a sensitive way.
"The virtual model helped a lot in this regard, as residents could actually see what the noise walls would look like in relation to their properties, and it helped allay a lot of concerns."
The final part of the NorthLink WA central section is now open and caters for up to 70,000 vehicles per day.
Going green
Part of the project — the section north of Marshall Road — came into close proximity with the environmentally sensitive Gnangara Water Mound, which supplies some of Perth's drinking water.
In order to safeguard against possible contamination, the project team set up water monitoring at just more than 40 locations during construction works. 
To mitigate future road run-off, the project team developed clay-lined swale drains for biofiltration purposes.
GNC worked closely with the ISCA to implement sustainability principles in the design and construction phase of the project.
The project received an Excellent Design Rating score for a number of initiatives, including construction of Western Australia's first fauna bridge near Maralla Road, Ellenbrook.
"The fauna bridge enabled us to lower the profile of the whole highway while giving an avenue for fauna to cross," Arnott said.
"The structure is in place now, with revegetation works underway and, already, we have found emu tracks and kangaroo paw-prints, so it will be interesting to see how fauna take to it in the future."