A company in Western Australia is shaking up the field of structural audits by using drones, abseiling engineers and 3D modelling to reduce time and cost.
Structural audits take time, cost money, and a 200-page structural report can make for some pretty dull reading. Scissor lifts, crane boxes, multiple visits and set-ups at remote sites can also make an audit time consuming. And many companies drag their feet when it comes to act on the audit report, with repairs still not done even after multiple audits.
WA-based Yenem Engineering Services traditionally relied on crane boxes and scissor lifts to carry out site audits. It's equipment that takes some time to set up, and a single audit involves moving a crane to multiple locations at a site.
"Each set-up takes one and a half hours. Move to the next location, set up the crane, go through all the safety procedures. This all takes a lot of time," said Yenem structural engineer John Zhang.
It also means downtime for a client, as operations must stop for an audit to be carried out. Problems in accessing some areas of a site can also make it difficult to complete a comprehensive audit. Using crane boxes and scissor lifts for a structural audit pose safety risks.
"People have been lost in crane boxes. There's an element of danger having arms or your head outside the box. You've got to stay inside, so really it becomes largely a visual inspection," said civil engineer and Yenem owner David Meney.
But it wasn't just the logistics and safety concerns of traditional structural audits that saw Yenem revamp their approach: Yenem engineers were finding that many clients appeared to be doing little about audit findings and recommendations.
"The recommendations made with some level of urgency were often left unattended, and it makes you wonder whether the client is actually reading the reports," Meney said.
The team decided to change up their reports by turning to 3D site models that would enable clients to better engage with audits and recommendations. "So that requires more images to do photogrammetry," Meney said.
"We were asking 'how else can we audit and get to all those vantage points to collect data?'."
Hang engineers off a site
An undergraduate working for the company had run abseiling programs for children through the department of education, and it gave Meney part of the solution – if they could hang engineers off a site, it would let them get up close to structures. "We'll be able to get closer to the action, and not be limited to just the crane box," Meney said.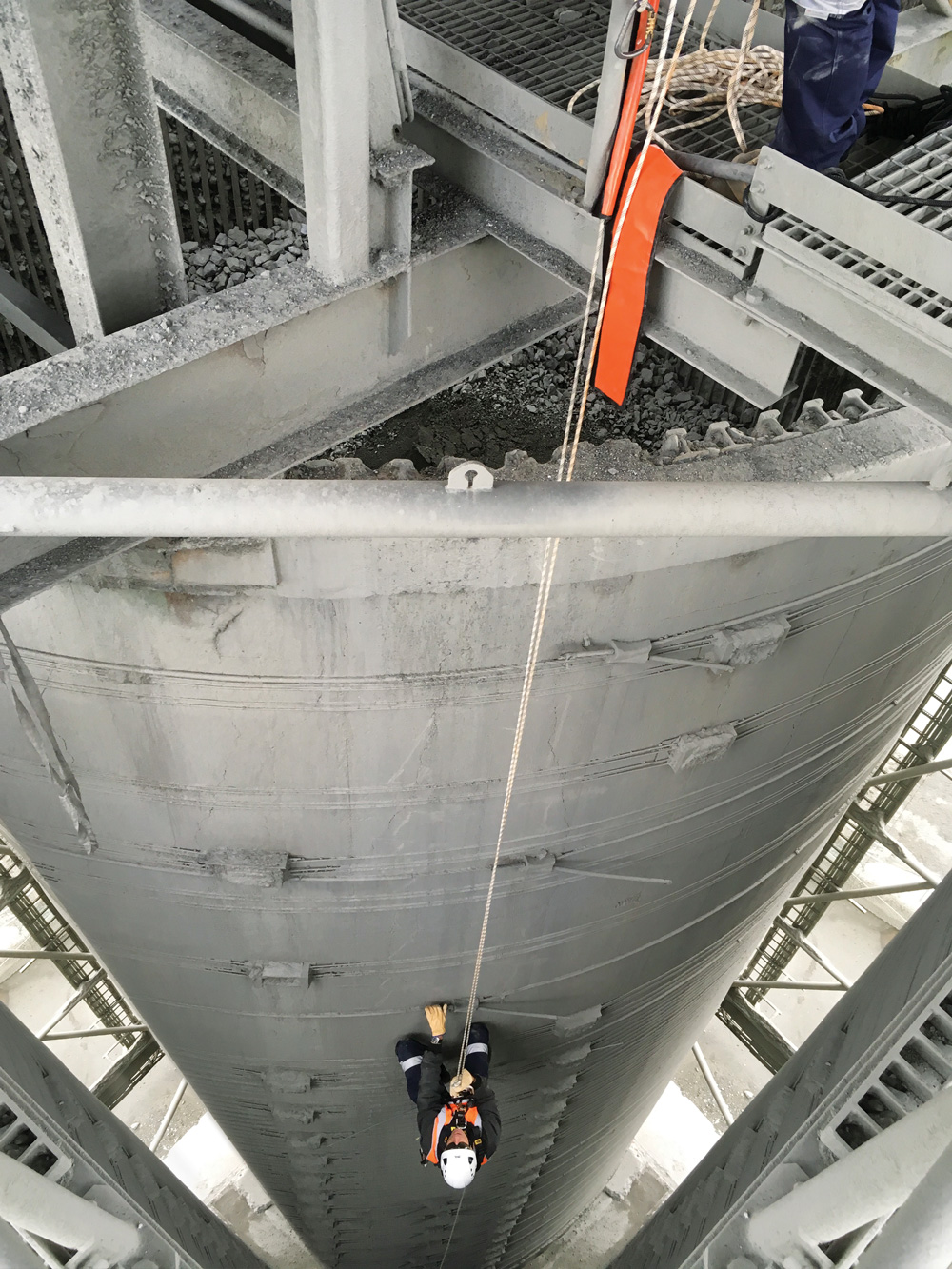 Now the company has also turned to drones to capture hundreds of images of a site to render into a 3D model. A combination of scissor lifts and crane baskets could achieve a similar result, but achieving optimal camera angles for the 3D model wouldn't be viable without the drone.
"Camera angles are a bit of a problem, and there's always other structures at a site. It's a little hard to get around with a crane box, but a drone makes that easier," Meney said.
With drones, there is also the potential for audits to be completed with no operational downtime. Unlike with crane boxes, or even abseiling, a drone operator can set up and launch a drone in minutes, and conduct a structural audit in and around a site while operations continue.
Using drones to conduct structural audits opens a whole range of potential applications and uses. Employing multiple drones would cut audit times even further, and mounting other advanced cameras and sensors on drones would create whole new sets of data. Ultraviolet, multispectral, and infrared cameras could measure a structure's heat loss or energy efficiency.
Time-of-flight cameras could boost the quality of 3D images produced. There is even potential to use Wi-Fi signals to measure objects through walls and equip drones with ultrasound sensors for measuring wall thickness.
Yenem is currently focused on 3D modelling and making the audit experience for clients as interactive as possible. Meney said their goal was to make audit reports similar to a 3D computer game like Call of Duty, where players use a controller to move around buildings and play.
"We can bring that Call of Duty style user interface to the workplace, where you're actually driving computer software in and around a structure," he said.
Important features, or areas that needed addressing could be marked in the model so that a client can just click and access more information.
Yenem isn't replacing crane boxes completely, but is instead taking a combined approach to site audits by using drones, abseiling, and crane boxes. Drones can rapidly conduct a general aerial audit and collect hundreds of high resolution images from multiple angles and altitudes.
"We can use the images to identify places we are really concerned about, and then hop on the crane and take a closer look and conduct testing," Zhang said.
The team then turns to abseiling to access areas the box can't reach, and to collect concrete samples and conduct testing.
This combined approach not only means engineers can get hundreds of images as well as wall samples, but they can do so in a fraction of the time.
"Inspections with the crane box and abseiling into difficult areas gets a lot of data, but the process is slow," Zhang said.
"With the drone, we can now finish an inspection in a day."
Rope works
In the world of industrial rope access, Germany company Seilpartner is a key player. And while drones may be set to take some surveying work, there will always be a need to have technicians up close and face-to-face with structures.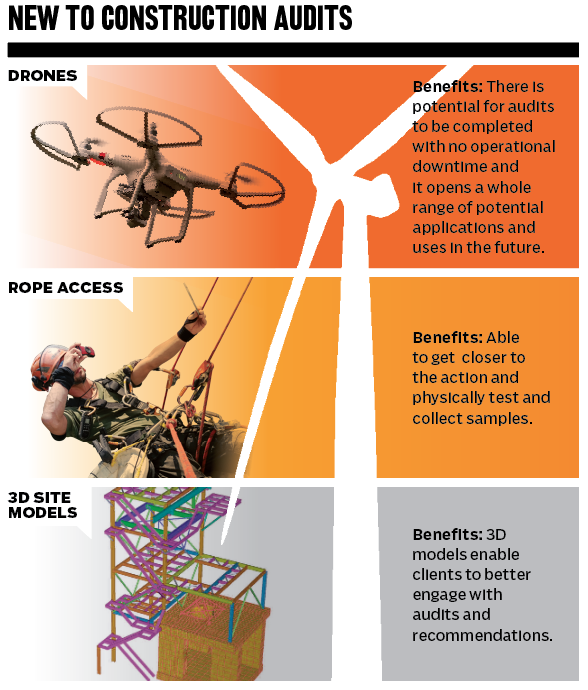 Seilpartner's largest project was also one of its first. But it wasn't a structural audit or survey work. It was art.
"The Wrapped Reichstag in 1995, that was our first major project, and we had up to 120 people on a single site," said Stuart Kenny, the co-director of Seilpartner Windtechnics UK, a subsidiary launched last year to focus on the wind turbine market.
"Sometimes rope access is cheaper than doing all the scaffolding or crane work," said Kenny. Industrial climbers can take almost any equipment they can carry with them.
"But it can't be too complicated," he said.
"A small computer tomography unit, a colour analysis unit for repainting buildings, core sampling. Something as simple as pressing a few buttons on a unit, and that data is sent to an engineer on the ground."
The rope access market has also changed, with increasing demand for local engineers for local work.
"Years ago, rope access was so specialised; the only firms were in the UK and Germany," said Kenny.
"Over the years it has built up, and now you have highly-qualified teams all over the world."