One aerospace engineer has turned her passions for flight and food into a startup geared towards improving crop performance and boosting food security.
For years now, engineer Anastasia Volkova has believed in the power of information to educate people and create lasting change. That belief forms the bedrock of her latest venture, agritech startup FluroSat, which aims to use data and analytics to increase food security while decreasing the environmental impacts of agricultural practices.
The technology developed by FluroSat captures early indicators of crop stress in remote sensing images from hyperspectral cameras on board drones or satellites.
Data collected can then be analysed to increase crop yields and increase efficiency by equipping growers with information about the optimal use of fertiliser, water and pesticides to meet the needs of their crops over time.
By taking a more targeted, use-as-needed approach to farming, not only can overheads for growers be reduced, but it also means less pollution from fertilisers and more informed water usage.
The company has already captured the attention of investors and those in the agriculture industry. In its first 12 months of operation, the startup raised $1 million in venture capital and grant funding and achieved $230,000 in revenue.
Connecting the dots
While the idea for FluroSat crystalised during an Inventing the Future course at University of Sydney, Volkova explained that it had roots further in her past.
After completing her Bachelor's degree in aerospace and computer-integrated technologies in the Ukraine, Volkova kicked her career off in style as transport manager for more 200 people during the UEFA Euro 2012 Football Cup. She then completed two Masters degrees simultaneously while working as a business developer for a travel startup, which is where she met Achkasov.
Realising they worked well together, Volkova and Achkasov joined forces to help found a film festival startup to educate eastern Europeans on the processes behind their food.
They then went on to run a boutique web development agency – and started to develop the back-end tools that are now used for FluroSat – before Volkova moved to Sydney to complete her PhD at University of Sydney focused on navigation for airbourne platforms.
Volkova describes her mix of academic and commercial interests as a "sweet spot" between building things and working out how they could be built.
Although her busy schedule doesn't leave her much spare time, Volkova loves what she does in both areas and finds they are complementary.
"What you learn as an academic gives you a platform to speak from and confidence that you know what the cutting edge and bleeding edge is."
She also has an urge to see that her study is benefitting people outside of the university grounds.
"It's almost an obligation we have when technology gets misused and misunderstood to bring its real value out to society," she said.
"Bringing things together is kind of my skill – connecting dots and getting things done."
Volkova's work has attracted a lot of attention. Earlier this year, her efforts to create change were rewarded with a NSW/ACT Young Achiever Award, and last year she was the recipient of a Zonta International Amelia Earhart Fellowship.
The awards have provided validation that what she is doing is of value to society – as well as increasing credibility with senior peers in both the academic and business worlds, Volkova told create.
She also feels her responsibility as a role model to other young engineers.
"I'm trying to take that role of responsibility and also ensure that I am projecting the right image … for people who are just like me but maybe earlier on their journey," Volkova said.
Feed the world
Volkova said the next goal for FluroSat is "world domination". She wants to use the technology and decision support tools they are creating to optimise crop production everywhere in the world to provide sustainable crops for a growing population.
"Right now … it's not profitable to be feeding the world and this is a challenge; it cannot stay like this for much longer," Volkova explained.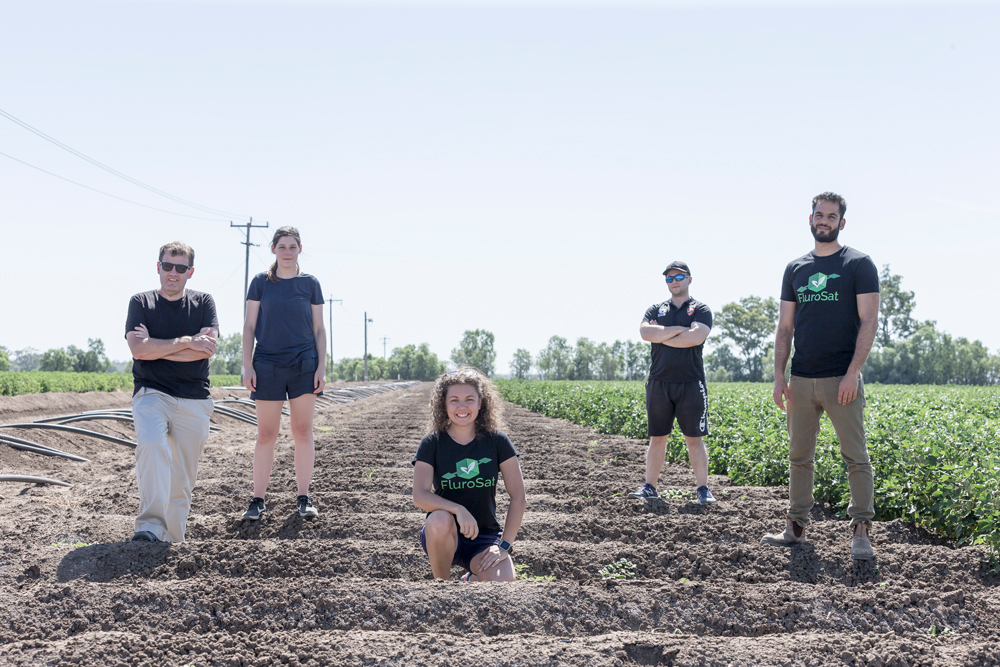 To assist with this goal, FluroSat has been preparing a beta version of their FluroViewer for an official launch on 7 August to coincide with the Australian Cotton Conference.
Volkova explained that the FluroViewer turns pixels into numbers to allow farmers to make better decisions. It employs a user-tailored fusion of current and historic data collected from satellite, aerial and in-situ sources.
"We are attracting innovative agronomists to become our commercial partners this Australian summer season," Volkova said.