Electric vehicles are finally taking off in Australia, but sales will need to grow much faster to reach Australia's emissions targets.
Sales of new electric vehicles in Australia rose 86 per cent in 2022 to 39,353 – or about 3.8 per cent of all new cars purchased. Although the best performance to date, Australia is still substantially below the global average of between 12 to 14 per cent of new car sales, according to the Electric Vehicle Council.
The latest market review by the non-profit industry group, Australian Electric Vehicle Industry Recap 2022, estimated there are some 83,000 light electric vehicles (EVs) on Australian roads, of which 79 per cent are battery electric vehicles (or BEVs). The balance are plug-in hybrid electric vehicles (or PHEVs), cars with battery packs as well as internal combustion engines.
"If you think you're seeing more EVs on the road than you used to, you're right, but if we want to hit our national emissions targets, we won't make it on this current trajectory," said the council's CEO Behyad Jafari. 
He said there's no room for complacency: "To achieve the federal government's emission target, we'll need a near fully zero-emission vehicle fleet by 2050 … that means reaching 1 million EVs by 2027, and around 3 million by 2030."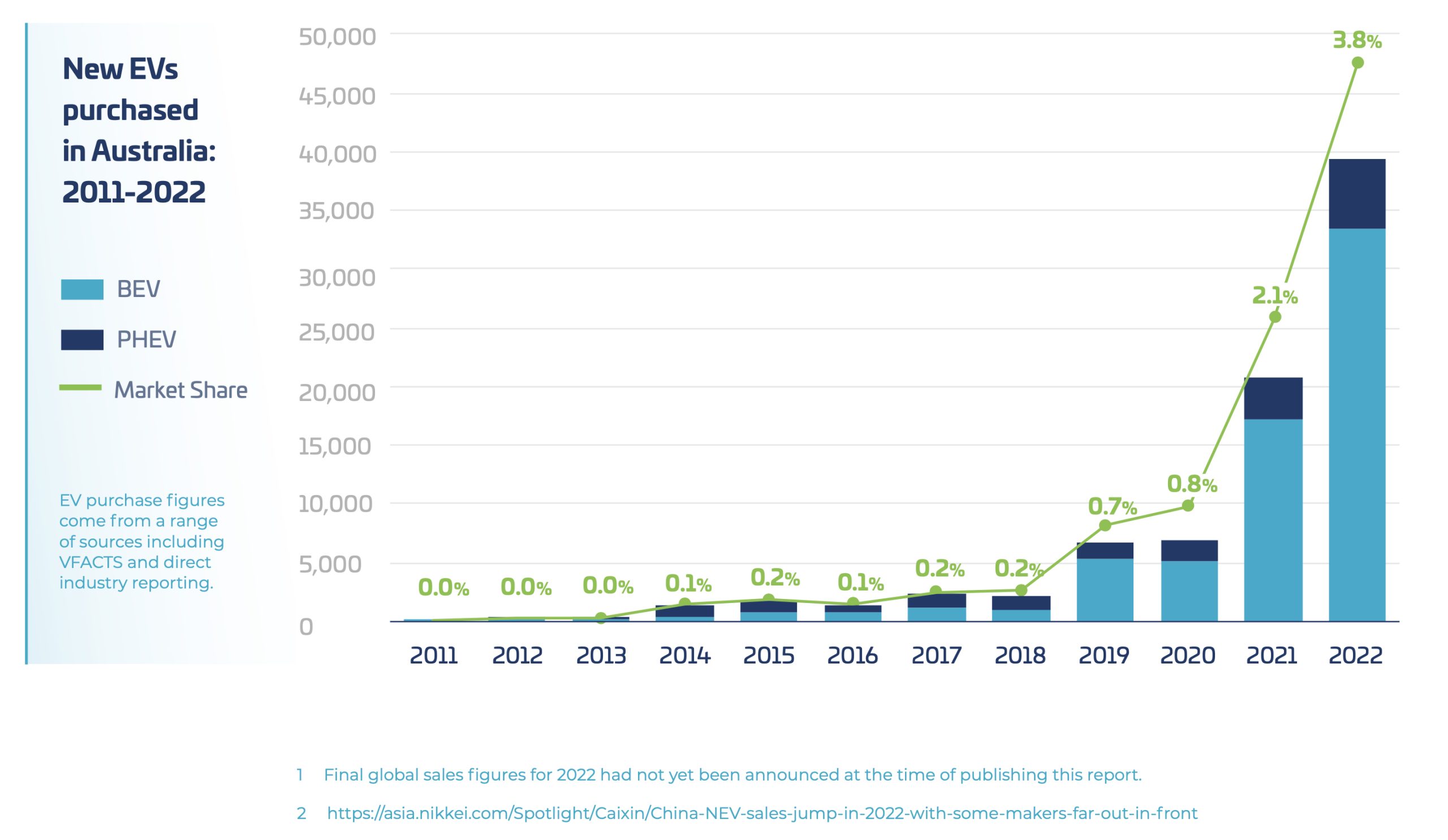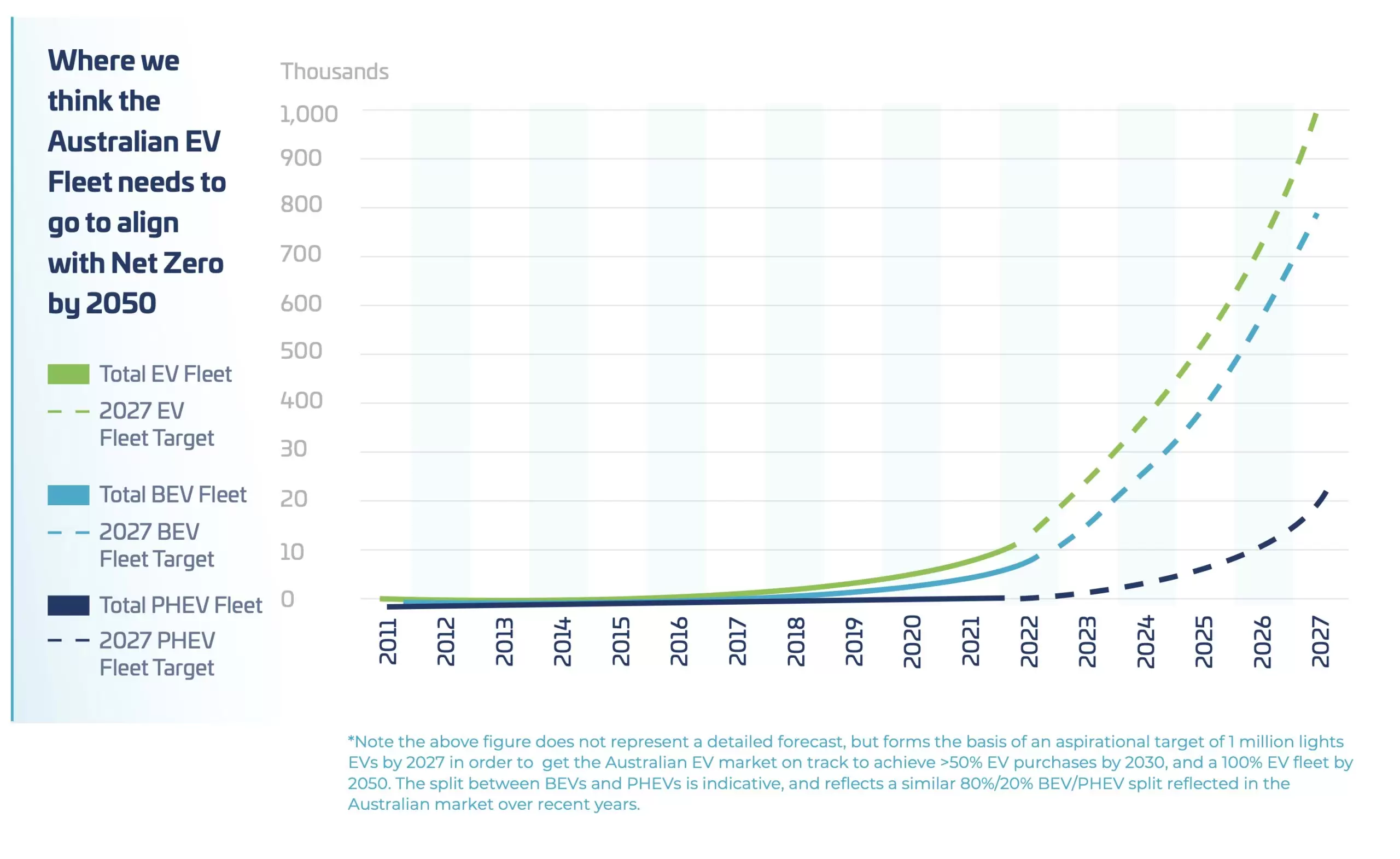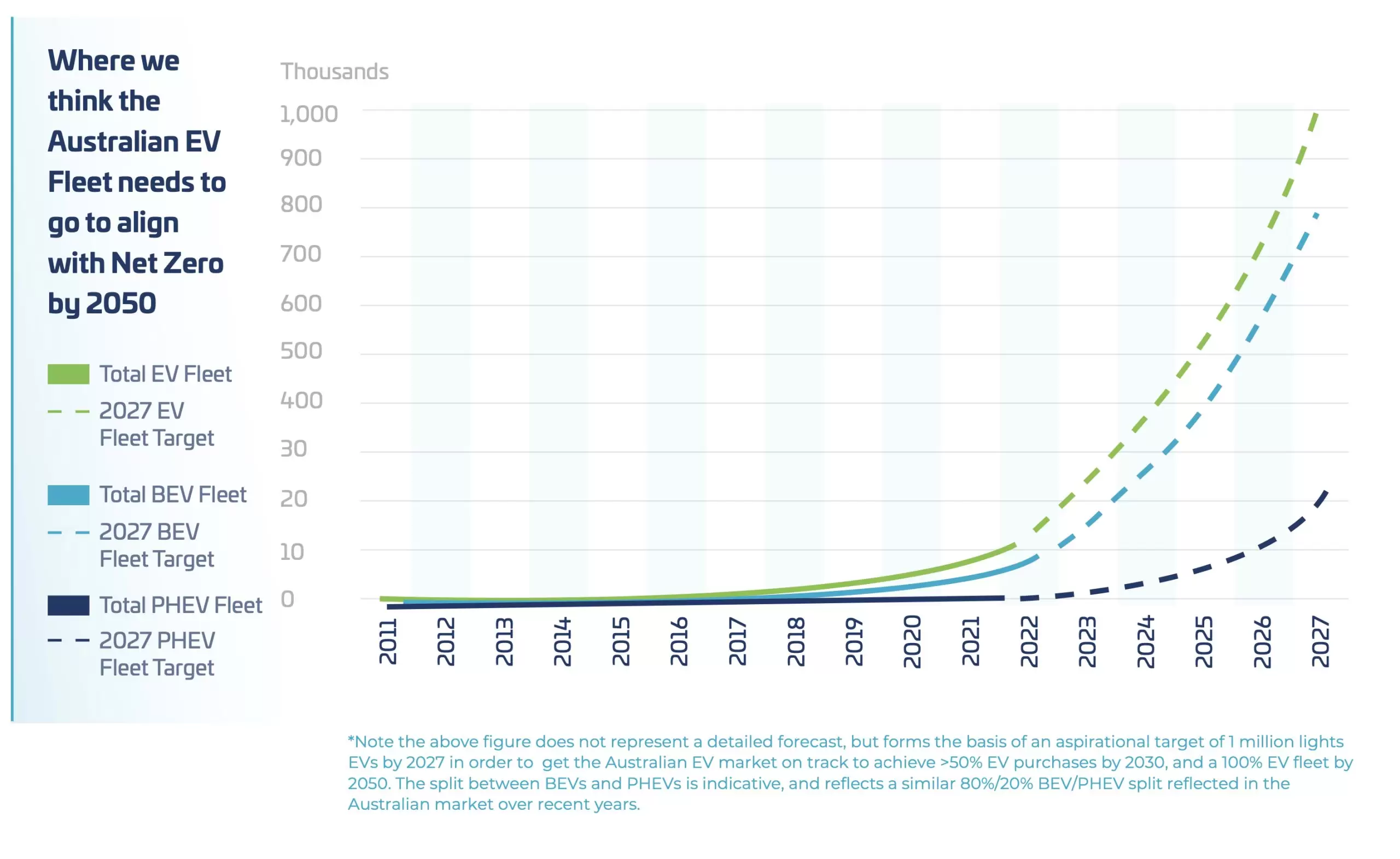 According to the Swedish-based industry monitor, EV-volumes.com, an estimated 10.5 million EVs were sold globally in 2022, up 55 per cent on 2021. Although final global figures for 2022 are still to be finalised, the International Energy Agency said the outlook was strong: global EV sales in the first half of 2022 accelerated to an estimated share of around 13 per cent.
This follows EV sales reaching a record high in 2021, despite supply chain bottlenecks and the COVID-19 pandemic: sales nearly doubled to 6.6 million EVs, led by China at 3.3 million (tripling 2020 sales) and Europe with 2.3 million (up from 1.4 million in 2020). 
Sales of EVs in Australia had lagged until 2020, where new EV purchases went from 0.8 per cent of sales to 2.1 per cent in 2021. Australia now lags the United States, where adoption of EVs had previously been very slow: electric car sales doubled market share to 4.5 per cent in 2021, reaching 630,000.
The ACT continued to lead the nation in EV market share (9.7 per cent), followed by both New South Wales and Victoria which effectively doubled their market share to 4 per cent of new vehicle purchases in 2022.  Tasmania was next at 3.7 per cent, followed by Queensland (3.5 per cent) and Western Australia (3.4 per cent) not far behind. In South Australia and the Northern Territory, the EV market share almost doubled between 2021 and 2022, albeit off a low base.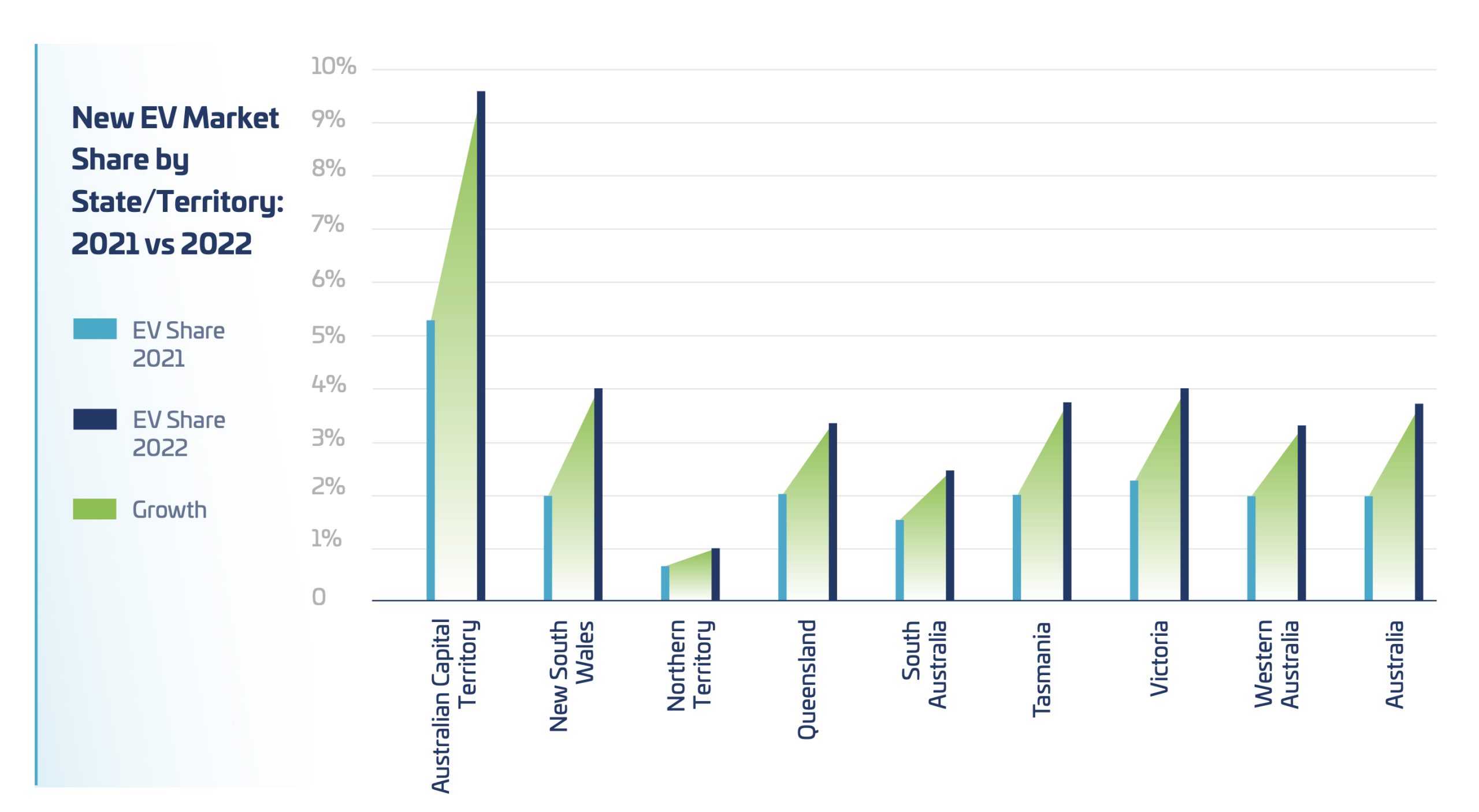 The council's report argued that Australia's EV fleet needs to grow at 60-80 per cent a year to reach the United Nations' Paris Agreement target of net zero emissions by 2050: "We should be aiming to enable our market to reach 1 million EVs on Australia's roads by 2027 (approximately 5 per cent of Australia's passenger and light commercial vehicle fleet) and around 3 million by 2030 (equivalent to approximately 50-60 per cent of all new vehicles purchased being EVs)." 
For its part, the International Energy Agency said meeting the U.N.'s 'Net Zero Emissions by 2050 Scenario' will require a global EV fleet of over 300 million by 2030, and for electric cars to account for 60 per cent of new car sales.