Brendan Burkett's journey has taken him from graduate engineer to Paralympic gold medallist to university professor.
Back in December 1985, Brendan Burkett had the world at his feet. He was young and fit, captain of the Central Queensland University football team, and a talented swimmer who had competed at the national titles. He had also just got his final year exam results confirming he would graduate as a civil engineer. The next step was to get a job.
Unfortunately, while riding his brother's motorbike home he was hit by another vehicle, smashing his left leg in 13 places. It ultimately had to be amputated above the knee. The other vehicle didn't stop and Burkett remembers little of the accident.
"I was in theatre most days for about 10 days straight, so it's all a bit blurry and you're pretty juiced up on painkillers," he said.
"I was in hospital for three months just getting bones repaired and pinned and plated and all that. Then I got out and I was just keen to get back into life. Walking was a struggle so running and playing football weren't an option, but, as soon as I could, I started swimming again and then applying for jobs."
His physical fitness and positive mindset put him in good stead for the road to recovery, but it wasn't easy. In the early days, he and his family were a bit naive about other people's perceptions of disability.
Potential employers would ring the family home in Tannum Sands near Gladstone to tee up an interview, but he would be out getting rehab on his leg. When his parents revealed that, the conversation suddenly ended and he heard no more from them.
"That happened three times, so we decided not to tell them I'd had an accident because I wasn't even getting to the interview," he said.
"So all I put in my CV was my qualifications, the bit of work experience that I had, I'd played football, toured New Zealand and I'd swum."
Finally he got an interview with Leighton's Engineering in Brisbane. At the time he still needed two canes to walk.
"I remember saying to the physio, 'I've got an interview next week and I've got to be able to walk with one', so I could walk in and shake their hand but I physically couldn't do it," he said.
"So, I got there and sat as close as I could to the door so I could hobble with one step to get through and, as I went in, Bill Leighton shook my hand and said, 'Oh, did you hurt your knee playing footy on the weekend?'.
"I had to say, 'No, I had an accident and lost my leg.' He just said, 'Oh, okay'. We went through the interview and I got the job.
He was working on civil projects like roads and subdivisions across south east Queensland from the Gold Coast up to Caboolture. He enjoyed it but was also becoming confident he could do something with his swimming and was training seriously.
"I was training in the morning, then going to work, then trying to train again in the afternoon," he said.
"So I decided to make a career shift so that I could pursue my sport. If I went and studied a masters, I could then get a job as a lecturer at Queensland University of Technology (QUT), which gave me some more flexible hours to train and, more importantly, recover from the training.
"So, it was more a case of trying to fit in with my sport at that time. It was a hard decision to leave Leighton's as I really respected Bill and appreciated the opportunity to work, but I figured you only have a small window of opportunity to compete as an athlete so I'd better take it with both hands."
Black line fever
For the next few years, he worked part-time on his Masters and lecturing, all while training two or three times a day. In 1988, he was selected in the Australian team for the Seoul Paralympics, where he won a silver medal as part of the 4 x 50 m freestyle relay team.
In 1990, he completed his Masters in foundation construction, then headed to Europe for the World Swimming Championships in the Netherlands with the goal of trying to find engineering work over there afterwards. His Masters specialty helped him snare a job on an oil rig in the North Sea, but again his leg almost cost him the opportunity.
"We all had to go to Switzerland for the offshore medicals, and back then they were the toughest medical because we would have to fly in to the rig on choppers, and climb down the rope off the chopper onto the rig," he said.
"I went in to do the medical and the doctor asked, 'Have you had any operations?' And I said, 'Yeah, I've had my appendix out and my leg cut off.' He said, 'What do you mean?' and I said, 'my appendix, just here', pointing to my abdomen.
"He said, 'No, no, your leg'. I said, 'Oh, it was a shark attack back in Australia'. And he said, 'Well, you won't pass the test'. I said, 'Well, you've got to test me first.' He went, 'No, no. You won't pass it'. And I said, 'But you've got to test me. You can't just say that. Give us a go.'
"Anyway, he phoned a few people and reluctantly decided to test me and because I was a swimmer and fit, I actually passed all the tests within the timeframe, so I got the job."
Burkett didn't know it at the time, but it turned out he was the first person with a disability to work on the oil rigs. He loved his time there despite the gruelling 12-hour shifts – midnight to midday for 30 days straight – because it gave him plenty of dry-land swim training time. And he then had a month off afterwards, which allowed him to travel around Europe and train in the water before the next month of work.
Tumble turn
As the 1992 Barcelona Games got closer, Burkett decided to return to Australia to focus on training with his former coach, Michael Bohl. He also started to rethink where his career was headed. The crossroad was to either continue working in engineering or transfer into the sport industry.
"I got a job at the Australian Institute of Sport for a year as a coach and that gave me a taste of what it was like working in sports," he said.
"I enjoyed that and thought, how do I combine my engineering and sport? I started going round to different universities and they said, 'If you do your PhD, you could do it in something like biomechanics, engineering of the human body or engineering of sport'."
That sounded perfect to him, so he returned to QUT to do his PhD in the newly-formed research centre that combined engineering with the human movements. Despite his background in swimming, he wanted to broaden his knowledge base. He focused on track athletics, investigating how to set up a prosthetic limb to improve running performance.
"I was using the engineering of the mechanics of the limb, but putting it into a sporting context," he said.
"I came up with a way of cheaply modifying a prosthetic running leg so that the athlete could run 10 to 12 per cent faster just by changing the alignment and configuration of their limb."
The time he spent on his PhD took him through the 1994 Commonwealth Games in Canada to the 1996 Paralympics in Atlanta, where he was named team captain and won an individual gold medal in the 50 m freestyle and silver in the 4 x 100 m relay.
He described it as an amazing period in his life, studying something he was passionate about where he had the flexibility to train when he needed to optimise his own performance. And he was making lifelong friendships with other athletes.
"You might only see them once a year when you're racing at World Championships or Commonwealth Games or Paralympics, but you've got something in common," he said.
"You're there at that point in time. You want to be the best in the world. It was great teamwork, camaraderie and you were all there for the same thing. I was fortunate enough to make it to four games as an athlete and then I've been to the next four as a staff member."
The fourth of those Games as an athlete was in his home country in 2000. He was chosen to carry the Australian flag for the team out into the Sydney Olympic Stadium. Just as he had done in his first Paralympics 12 years before, he won a silver medal in the 4 x 100 m freestyle relay team.
He retired after the Sydney Games to concentrate on his new role as a professor of sports science at the University of the Sunshine Coast (USC).
"It's engineering of the body and how we use it in sport," he said.
"So instead of a building, I now look at a human and find what are the stresses and strains? And how can we manipulate those things so we get the best performance out of the athlete?"
Since 2011, USC has been a high performance swimming centre, with about 15 Olympic and Paralympic swimmers, as well as the Sunshine Coast Lightning netball team and the Australian Cycling Academy. Burkett worked with some of those athletes at the recent Gold Coast Commonwealth Games and is also looking forward to the 2020 Tokyo Olympics and Paralympics.
"I do a whole range of things, testing and measuring stuff in the water and on land," he says. "It keeps me involved in sports, but I use that engineering knowledge to coordinate and oversee these projects."
New technology
Burkett's interest in sports science and engineering means he keeps an eye on the latest technology. One he took a personal interest in is osseointegration which allows amputees to support their body weight through an attachment fastened directly into the bone of their stump. This avoids the rubbing and chafing caused when the flesh of the stump sits directly in the prosthesis.
"You have an adaptor or a bolt that basically protrudes from your internal bone, through the skin, to the outside and your prosthetic limb is then attached to that," Burkett said.
"They started that technology with teeth. If someone lost a tooth, they would do that in the mouth. And it worked fine in the mouth, because your saliva could control any infection in that area. But it took a lot longer to get a system working for external attachments."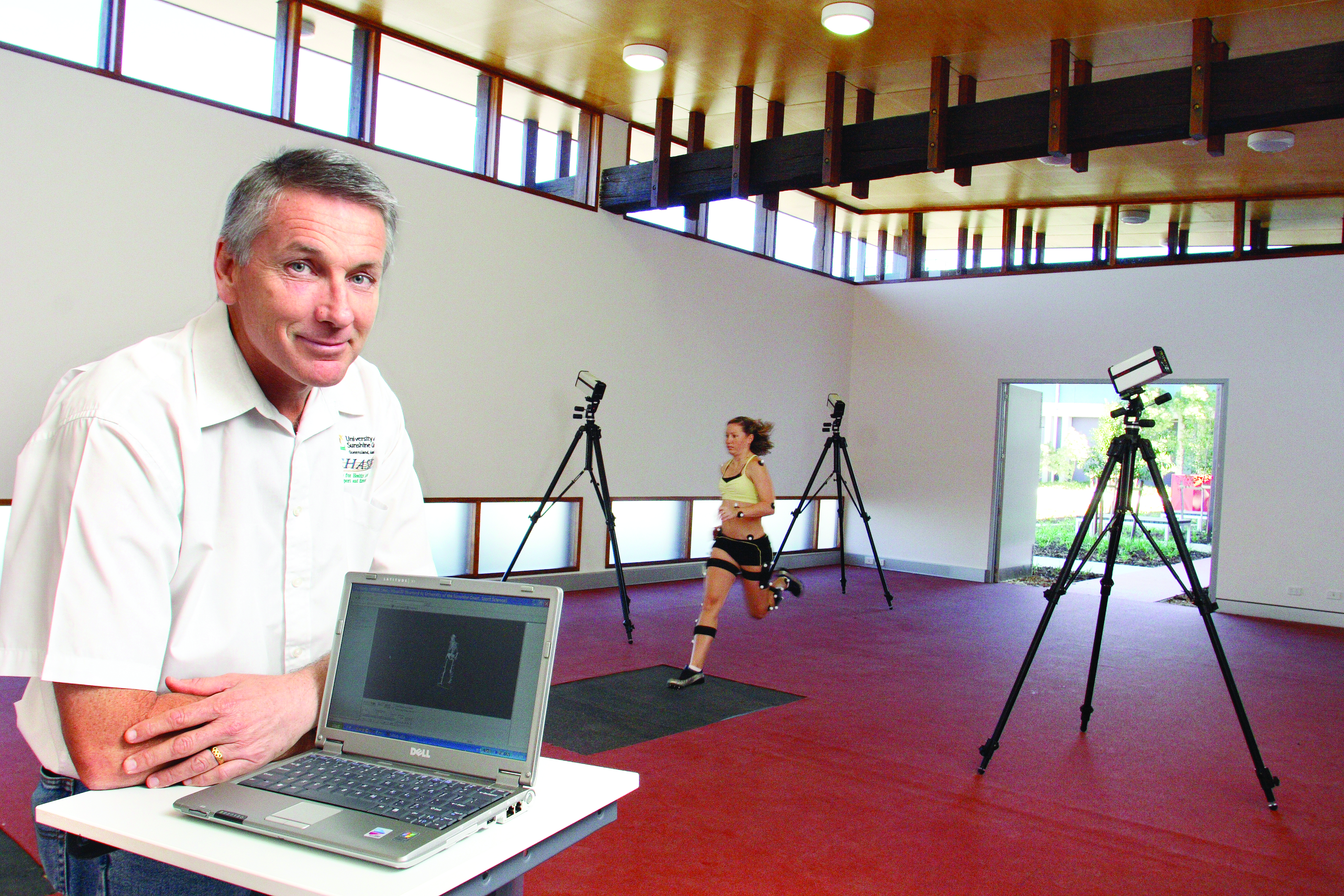 He said he had been following the technology for five or six years, and met with various different doctors and patients, before approaching Dr Munjed Al Muderis for the operation.
"There's some good engineering in this one. It was what they call a third generation implant," he said.
"When hip and knee joints first came out, they were cemented in and then the cement would wear. Then you had a screw-lam type component, where it would sort of be jammed in. And then this integration is jammed in, but it has an external layer of mesh, like thick, fly screen mesh that's all titanium and cobalt. The bone grows in through that mesh so you get a far better connection."
He had to have two operations: the implant followed by the external attachment, but Muderis has now refined the process so it can be done in one step. He is very happy with the outcome and sees great potential for other technologies in the future.
"This has solved the skeletal connection problem. Now we need to solve the nerve, muscle stimulations," he said.
"There is some good progress in there, but it's not sorted. I think that would absolutely improve the life of people with a disability."