Four engineering interns are living life in the fast lane, getting experience with Australian motor racing team Walkinshaw Andretti United.
The students, from Swinburne University, are working across three specific projects aimed at improving the race team: fuel delivery systems, reliability and performance monitoring and tyre modelling. They each have been given the project to run, leading the direction, reporting directly to their respective engineers.
Walkinshaw Andretti United currently fields two Holden ZB Commodores in the Supercars Championship, along with a Porsche 911 GT3-R in the Australian GT Championship. Tori Hendy, a third year product design engineering student, is working on a project involving fuel delivery systems.
"I am going through the full design process from initial ideation, design development and 3D modelling," she told create.
"I'm also sourcing and finding quotes for the componentry required and managing the manufacturing process. I'm learning a lot about both the motorsport industry as well as more general project management skills required to design and manufacture a product from scratch."
Hendy said she didn't go into the internship with any preconceptions about being a woman in a traditionally male-dominated industry.
"It is really interesting to be able to observe what everyone on the team does and how they each contribute to the success of the team as a whole. Being able to see the pit stop practice was cool as well," she said.
"This internship has shown me that there are more facets to the product design engineering industry than I thought."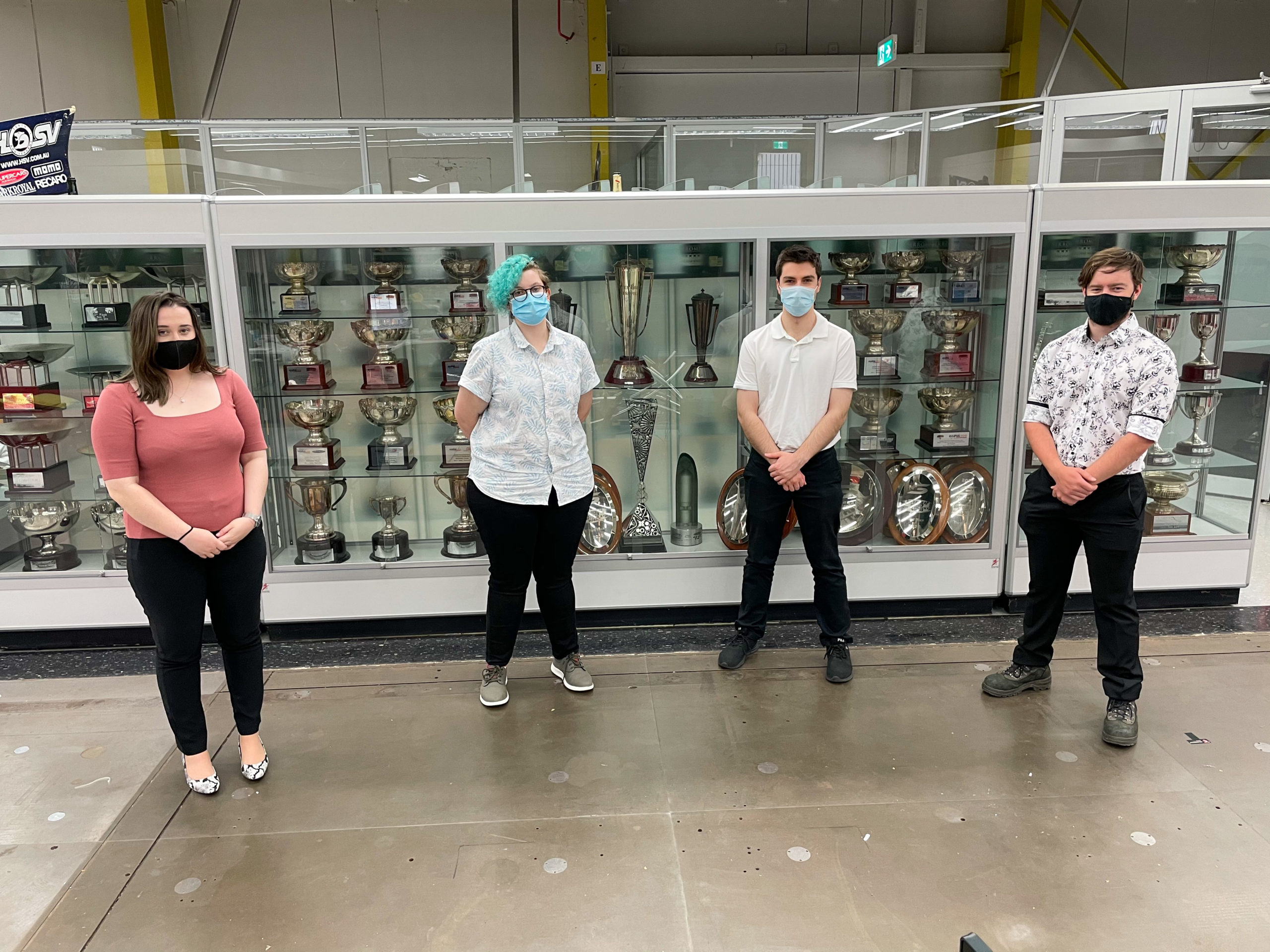 Sensing an opportunity
Fellow intern Gabrielle Leslie enjoyed studying electrical actuators and sensors at university, and thought a stint with a racing company would be a great opportunity to see them in action.
"Personally, I had never considered working for a Supercar team, but with some research I was intrigued by the incredible scope of mechatronics engineering innovation being done in the industry," she said.
Leslie has a background in programming, but had to learn Python and SQL on the job, because this software is designed to analyse large datasets and find patterns in the data. 
"I have been working with acquired data from sensors embedded in car tyres, developing algorithms to ensure performance and reliability of the sensors during races. The goal is to learn from patterns in the data and how these patterns can lead to failures," she said.
"I've been researching machine learning algorithms, and constructing and implementing an algorithm from scratch, to teach the sensors to become aware of their own health."
On the right track
Terry Kerr is a full-time engineer at Walkinshaw Andretti United, where he looks after testing and race events including race car setup, testing plans and race strategy preparation. 
"During the event, as race engineer, I am the main contact point for the driver in session via the radio, leading the changes to the car in session," he told create. 
"Post event, we undertake a complete analysis including race car data analysis from onboard data loggers and race strategy analysis.
"Outside of a race weekend I work on CAD [computer-aided design], including structural analysis of new components for the race cars, as well as creating data analysis and simulation tools."
Currently, he's working on a project to help make better decisions in the very short time frames available between sessions during events.
"I have been working on a suite of tools for automatically analysing car data that can highlight mechanical problems, systems requiring adjustment or reconfiguration, feedback for drivers and race car performance metrics immediately after car logged data is available, so that decisions can be made within minutes of the car finishing on-track," Kerr said.
He added that the motorsport industry is high pressure and unique in the world of engineering, but offers great insights for interns and career professionals.
"The interns will learn about common engineering data analysis tools and techniques in an industry where outcomes are required in short time frames," he said.
"There's no doubt that this experience will definitely help them in their career pursuits."