Teams of engineering students from more than 20 countries have converged in Darwin to chase the future of solar-powered travel.
Taking a road trip from Darwin to Adelaide usually requires a fair bit of planning, especially when it comes to carrying enough fuel to make it through long stretches between petrol stations.
Soon, groups of students from around the world will hit the open road to test how people can travel using one of our most abundant resources: sunshine.
The biennial World Solar Challenge brings together groups of students from dozens of countries. Their mission: design and test a solar car that can survive a gruelling 3000 km road trip through the heart of Australia. 
The route: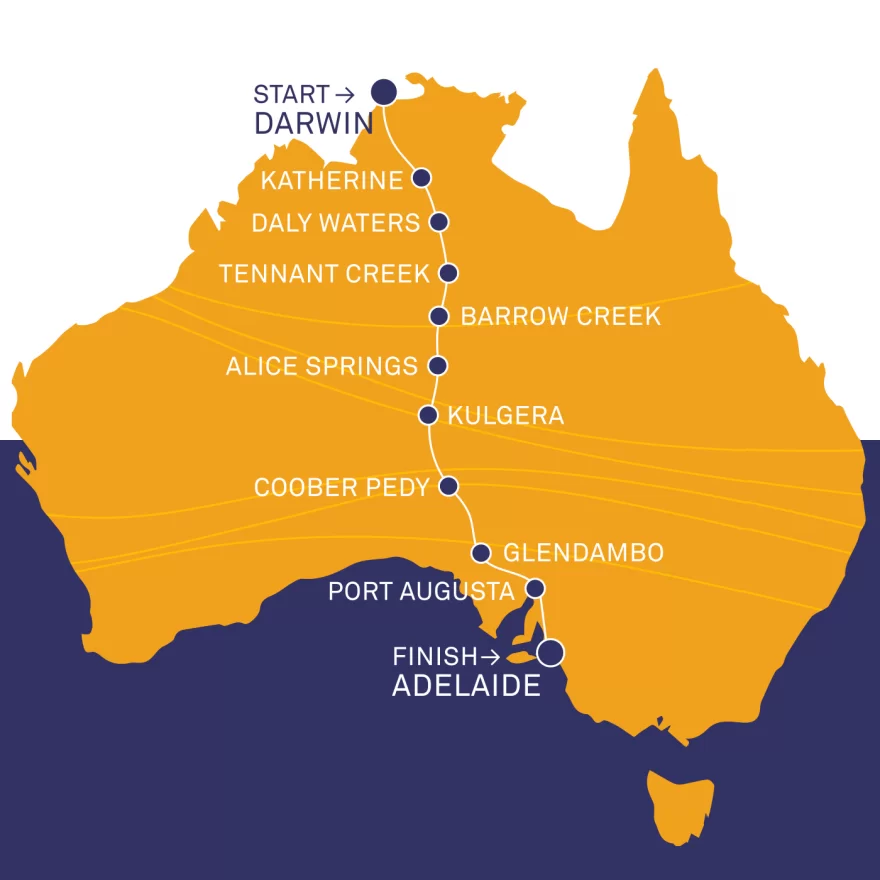 Group of eight
This year's competition will see nearly 50 teams from more than 20 countries compete in either the Challenger Class (focused on endurance and total energy efficiency) or the Cruiser Class (focused on practicality and marketability). 
Students have spent months designing and building their cars, which will first undergo testing to make sure they are roadworthy. 
Mechanical factors like brakes and steering are tested for performance and safety, while electrical components such as the battery pack and solar array are tested to ensure they are properly installed.

Competition judge Dr John Ward, whose day job is leading a team of CSIRO researchers tackling renewable energy and grid integration challenges, said these cars offer a glimpse into the future of solar-powered transport.
"These cars are always at the forefront of the best solar cells, the highest efficiency electric motors, highest specific energy storage … This is where you can see it," Ward said. 
Eight Australian teams are competing this year: 
Several of this year's teams are repeat contenders, including veterans TAFE South Australia and UNSW, which have each participated in 10 events. Only one team is making its debut –  team ATN, a consortium of five Australian universities. 
One of the most exciting aspects of the competition is seeing how each team has approached the design challenge in a different way. Some have focused on maximising efficiency through power generation. Others have gone the practical route, creating a ride they believe will be most appealing to consumers. Some aimed to replicate the sports car feel by creating a sleek ride, while others want to demonstrate the freight capabilities of solar car by creating a ute-style vehicle. 
However, one uniting factor among all the teams was a desire to contribute to the future of energy efficient transport and solve some major challenges facing solar power using clever engineering.
"We love the opportunity to meet with other engineers from all over the world. It's such a wonderful opportunity to share and learn with all the other teams," said team Arrow Racing Association.
Team Adelaide University echoed these thoughts, saying: "We believe in sustainability and clean energy, especially in transportation and our participation is a contribution to this field."
It's also an opportunity for engineering students to gain hands-on experience and put theory into practice. 
"It gives us all a chance to apply the skills and knowledge we have developed at university, and gives us all a chance to work in a cross-disciplinary team to achieve a common goal," wrote team ANU.
"This is a once-in-a-lifetime opportunity for young engineers who want to develop their skills, in terms of engineering, but also working within large teams," said team UNSW. 
"Many team members go on to work in industries directly related to more sustainable forms of transport and renewable energy because of the experience they gained being part of designing and building a solar car."
The competition begins 13 October in Darwin and runs through 20 October, and you can track the progress of the cars here.