Supporting the nutrient requirements of crew members is critical for deep space missions. Engineers are working on growing fresh food in space to help astronauts maintain their mental and physical health.
On the first human spaceflight in 1961, Soviet cosmonaut Yuri Gagarin ate pureed beef and liver from a tube.
The gastronomic delights served up in space have continued to evolved.
The next frontier are fresh plant crops, which represent an appealing alternative to the processed food bars typically taken into space, Julio Hernandez, PhD candidate at Purdue University's School of Aeronautics and Astronautics, told create.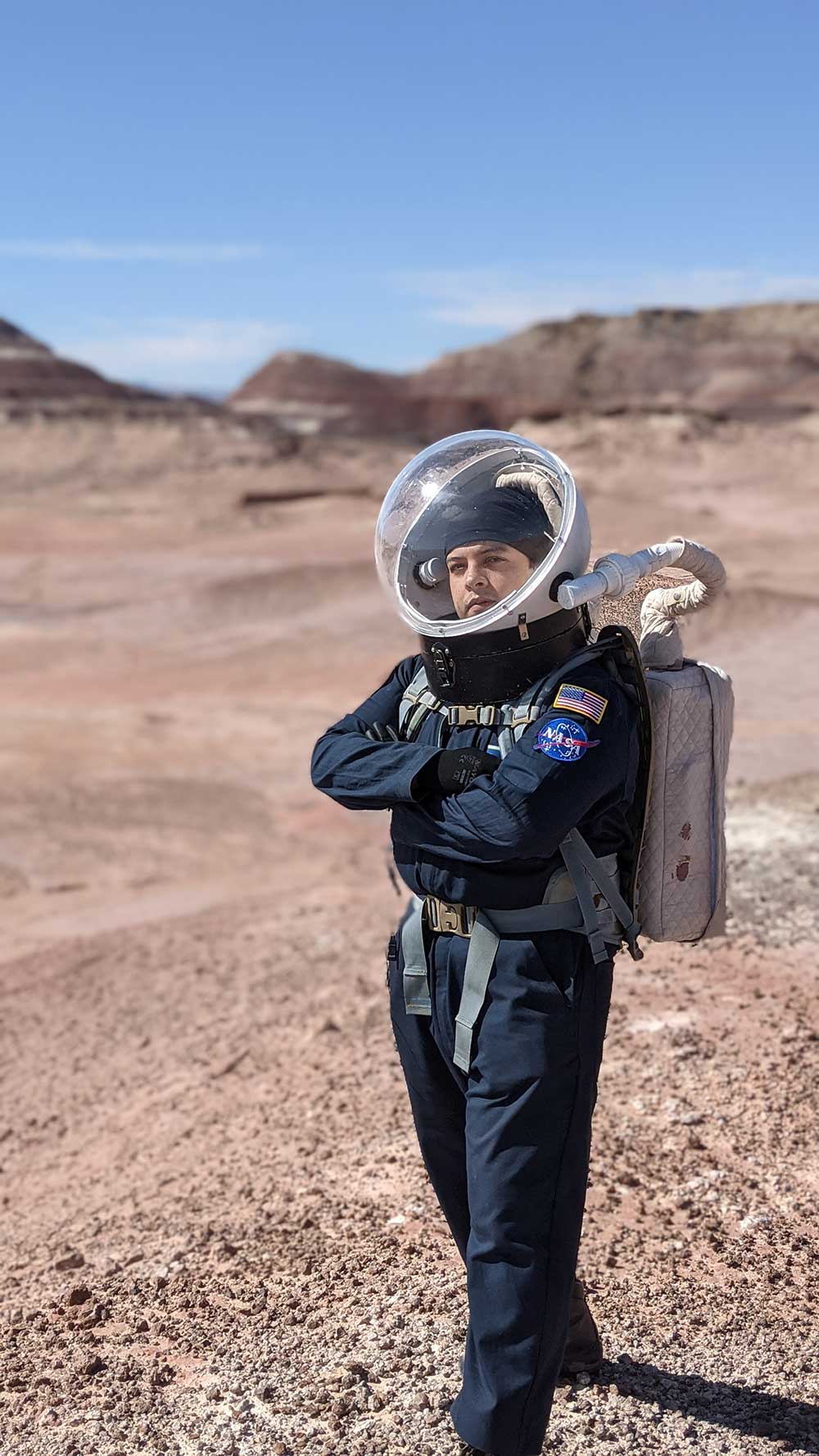 While the vitamins in the bars degrade over time, plants could provide for a person's basic metabolic needs, as well as offering a diverse micronutrient balance. 
The challenge is growing them.
"On space stations or during transit to Mars or any other space destination, plants must grow in a micro-g [microgravity] environment," Hernandez said.
"This means that the medium that plants grow in should not be loose … to prevent particulates or water from becoming agitated and potentially finding their way into sensitive equipment or electronics."
It is also important to distinguish that there are different challenges to growing plants on other planets, such as Mars, and planetoids, such as the Moon, Hernandez said, because gravity has a big impact on the technologies that can be used.
"We may more highly consider a closed hydroponics system over traditional agricultural techniques such as using soil. On the other hand, on other planets and planetoids, this is less of a concern, so we have more flexibility in the technology we can use," he said.
"For every environment, we must consider logistical limitations, such as mass and volume on the spacecraft or settlement, as well as initial and recurring costs and [what's] required to sustain agriculture production."
"For every environment, we must consider logistical limitations as well as initial and recurring costs and what's required to sustain agriculture production."
One small step for plants
Dr Jacob Humpal, research fellow at the University of Southern Queensland's Centre for Agricultural Engineering, is part of a team developing automated plant monitoring systems to grow plants in space, through a project funded by the Australian Space Agency. 
The Australian Space Agency's Moon to Mars Initiative provides local businesses and researchers an opportunity to support NASA space missions. The University of Southern Queensland was awarded $200,000 through this initiative to explore automating plant stress evaluation using machine vision algorithms.
Humpal said there was a need to develop these automated systems to enable the production of healthy plants with minimal input from crew members.
"Management of plant stresses on space flights, such as suboptimal nutrition and water or exposure to pathogens, is currently achieved by astronauts being in frequent contact with experts on the ground," he told create.
"However, there is an increase in communication lag with experts as missions move further away from earth, delaying potential remedial action."
Humpal's research experience includes machine automation and machine vision systems for detecting plant stress in laboratory and field environments. He said the effects of microgravity and partial gravity on the healthy growth of plants are not yet completely understood.
"Plants grown in space have mass and area constraints onboard spacecraft or stations. The current plant growth media used onboard the International Space Station (ISS) is single use, which is not ideal given launch mass constraints, and the available growing area is limited," he said.
"Automated, sensor-based detection and identification of plant stress potentially enables greater efficacy of plant production in a constrained area and with reduced need for interventions by astronauts or experts on the ground."
AI is on board
Humpal said the technology the team is developing will assist in the creation of a sustainable food supply for space missions without the need to resupply.
"This technology will develop launch ready software to automate the detection of plant stress including moisture, nutrient and potentially pathogen stress using cameras compatible with current plant habitats onboard the ISS such as the Advanced Plant Habitat (APH) and Veggie units," he said. 
Thinking of space exploration to Mars and beyond will continue to be the research focus, and establishing food security through plant cultivation onboard spacecrafts, terrestrial and extra-terrestrial surfaces. 
"Management of plant stresses on space flights is currently achieved by astronauts being in frequent contact with experts on the ground."
"Future space explorers will have fresh food which was grown with complete automation where the astronaut does not need to be involved in the food production process," Humpal said.
He would also like the technology to inform agriculture systems on Earth, including intensive controlled environment agriculture and vertical agriculture systems by providing increased automation of real-time plant stress monitoring.
Improving agriculture on Earth
Dr Cheryl McCarthy, senior research fellow at the Centre for Agricultural Engineering, said autonomous plant monitoring in space involves managing the fundamental inputs of water and nutrients in a controlled environment, which are the same key inputs we need to optimise on farms on earth for precision agriculture.
"Earth's farming environment is affected by climate, genetic variability and pathogens, for which on-farm machinery automation and robotics is moving closer towards sensing crop requirements at the individual plant level for site specific application of water, nutrients and chemicals," she said.
McCarthy added that the technologies being developed are potentially translatable to space plants for early detection of stress or disease. 
"For example, a crop protection issue for growing plants in space may be fungal infection of plant tissues triggered by waterlogging," she said. 
"Current advances in fungal disease detection for field crops on earth enable automated discrimination of diseased plants from healthy plants, even in the absence of visible disease symptoms." 
In turn, developments for space agriculture are expected to inform farming on earth. 
"Foundational automation technologies of satellite imagery and digital image processing, GPS and multispectral sensors, in widespread use on farms, had their origins in space exploration by the space industry," she said.