The community has a consistent ethical attitude towards Engineers Australia at a time when overall ethical trust has declined.
The Governance Institute of Australia's Ethics Index that's just been released shows an overall drop in the country's ethics and trust levels. 
However, the Institute's CEO, Megan Motto, singled out Engineers Australia as one of the three member groups "shining brightly from a trust perspective" – the other two being Choice and AMA.
"Ethics in engineering is a top priority for Engineers Australia and it is reflected in everything we do, particularly our advocacy, continuing professional development and services to our members," says Engineers Australia CEO Romilly Madew AO HonFIEAust. "We are pleased that our endeavours are acknowledged by the people of Australia as they are with our members and stakeholders in government and industry."
The overall Ethics Index Score this year sits at 42 compared with 45 in 2021 and 52 in 2020. Now in its seventh year, the Index is an important check of the country's ethical standards and expectations.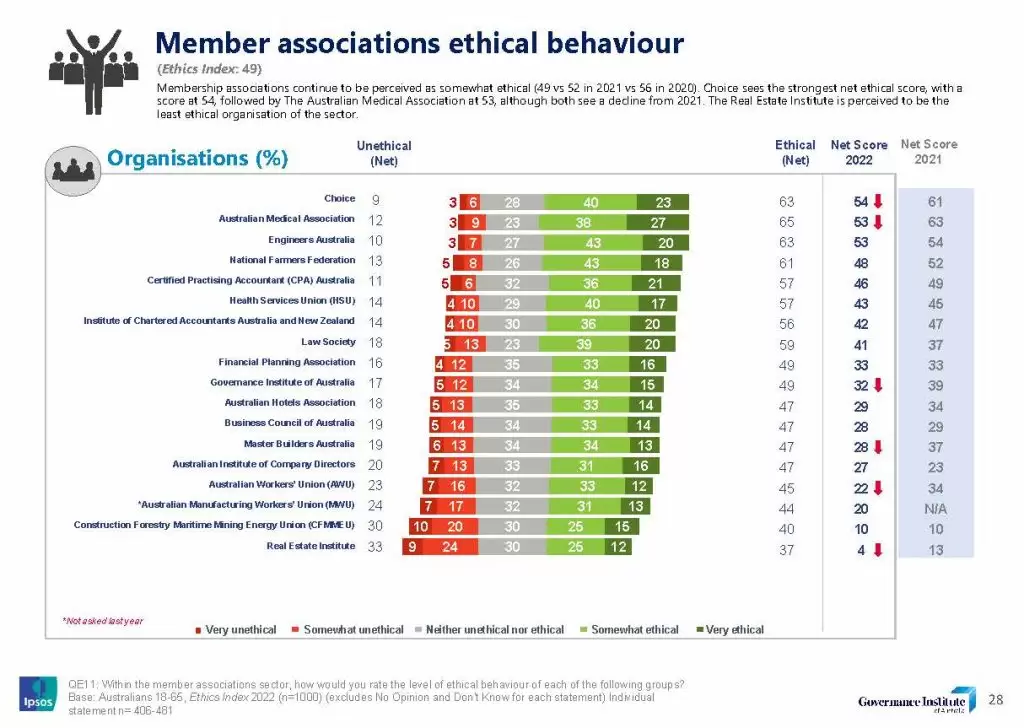 Engineers Australia has registered in joint second place for most ethical member organisation in Australia with a net score of 53, and an ethical net score of 63. Engineers Australia dropped only one point, from 54 in 2021, indicating that the community has an overall consistent ethical attitude towards the organisation at a time when overall ethical trust has declined.
While ethics have fallen across many key categories, society's expectation of good ethics is growing with the Ethics Expectation Deficit – the gap between our expectations of how ethical something should be and how ethical we think something actually is – widening this year to -37 (-28 in 2021).
"The wider the gap, the bigger the indication that society is not performing the way we want it to," Motto says.
"Let's hope these findings help act as a wake-up call that we all have a role to play on this urgent issue."
She says we all have a role to play in finding better balance, whether that's in the workplace, our neighbourhoods, or the corridors of political power.
"Following two years of poor results, it's time for an ethical reset for the nation. Organisations must reaffirm their commitment to ethics and creating a positive culture. If culture is not deeply entwined with your overall strategic plan, then there is more work to be done.
"It is essential we are promoting good ethics in organisations, as well as good conduct."
And while as a nation we have high ethical expectations for action on climate change, we seem to think it's a task for everyone else with the Index showing the Federal Government and multinational corporations have the highest urgent ethical obligations to act ('urgent' score of 70), whereas individuals register as having the lowest obligation ('urgent' score of 47).
"Let's hope these findings help act as a wake-up call that we all have a role to play on this urgent issue," says Motto.
"In the current challenging era of addressing climate change and the skills shortage in engineering, ethics guide Engineers Australia in our approach to stewarding the transition to a clean energy economy, supporting skilled migrants and attracting more women into the profession," says Madew.
State politicians register as the least ethical occupation, falling to last place with a net score of –22 (down from –10 in 2021, and 2 in 2020). Federal politicians and real estate agents sit just above in second and third last place.
Social media entity TikTok has emerged as the least ethical organisation (-32), this year falling below pay day lenders (-30). Facebook is in third lowest place for least ethical organisation (-28).