Sydney to Los Angeles in 6 hours and 45 minutes might sound like the stuff of weary travellers' dreams — but a new deal is reviving blue sky thinking about supersonic passenger jets. 
US airline United has announced plans to buy a fleet of new net-zero carbon supersonic aircraft from aviation startup Boom, with the aim of starting supersonic air travel in 2029.
According to Denver-based Boom, its Overture aircraft will cut travel times in half and operate on up to 100 per cent sustainable aviation fuel.
United has placed a deposit for 15 Overture airliners, which will undergo testing by 2026. Should the jets meet safety, operating and sustainability requirements, the airline has an option to buy another 35, reportedly priced at $US200 million ($261 million) per plane.
Boom is drawing obvious comparisons to the doomed French-British Concorde, which was retired after 27 years of service in 2003, following a fatal crash three years earlier that killed all on board, as well as incurring substantial financial losses.
Ben Thornber, Associate Professor at the University of Sydney's School of Aerospace, Mechanical and Mechatronic Engineering, told create he believes Boom's vision is achievable.
"Boom is bringing the Concorde concept into the 21st century, leveraging significant advancements in lightweight materials, engine efficiency and understanding and control of both engine noise and aerodynamic noise generated when travelling at more than twice the speed of sound," he said. 
"By combining these technologies, Boom hopes to deliver an aircraft which can provide the necessary 30 per cent efficiency improvement over Concorde to deliver a financially viable aircraft."
Thornber noted that a European study in the late 1990s suggested that there was no market for a follow on for Concorde, where the supersonic premium was simply too much to support the cost of purchasing and maintaining the aircraft. 
"However, with a modern design, Boom hopes to be able to simultaneously deliver an aircraft which is both palatable to the general public during take off and operation, and economical for airlines," he said.
"The recent commitment by United Airlines to purchase 15 aircraft is a solid indicator that their sums make sense. However, with rivals such as Aerion collapsing unexpectedly, and the ongoing uncertainty generated by the pandemic, it is an unprecedentedly challenging environment for such transformational aircraft."
While some aviation experts have cast doubt on the project, Thornber is optimistic about the prospects of Boom. 
"I believe it is a matter of time before one of the supersonic concepts stick — there is no doubt that the market size has grown dramatically since the mid-1990s, and that there is a consumer appetite," he said.
"It is a matter of time before one of the supersonic concepts stick. The market size has grown dramatically since the mid-1990s and there is a consumer appetite."
"Boom has gone a long way to address concerns around take-off noise, but the key challenge which remains is the ability to generate minimal supersonic boom noise such that overland flight is possible, and there are exciting programs underway to test mitigations, such as the US X-59 program."
Return of the Mach
Commercial airlines have been stuck at maximum speeds of just under 1000 kilometres per hour. Boom is aiming for Mach 1.7 — or about 2100 kilometres per hour, more than double current speeds. Concorde could reach slightly above Mach 2 (about 2180 kilometres per hour).
"The key challenges are to design the aircraft to simultaneously minimise overall noise and emissions, whilst maintaining sufficient efficiency to make the aircraft economically viable," Thornber said.
"They must demonstrate that the aircraft structure can sustain both the high temperatures (about 180°C) and pressures generated at Mach 2.2. 
"Finally, all of this must be done in a package which is straightforward and cost-effective to maintain, and delivers an exciting and comfortable customer experience."
Reducing speed will alleviate some of the heating and structural expansion issues that plagued Concorde — with the retired jet's airframe growing by about 300 mm in a supersonic flight. 
Some aircraft pioneers are looking beyond Concorde's capabilities. In April 2019, British aerospace engineering firm Reaction Engines announced successful tests of precooler technology, simulating conditions at Mach 3.3 — more than three times the speed of sound, and twice the cruising speed of Concorde.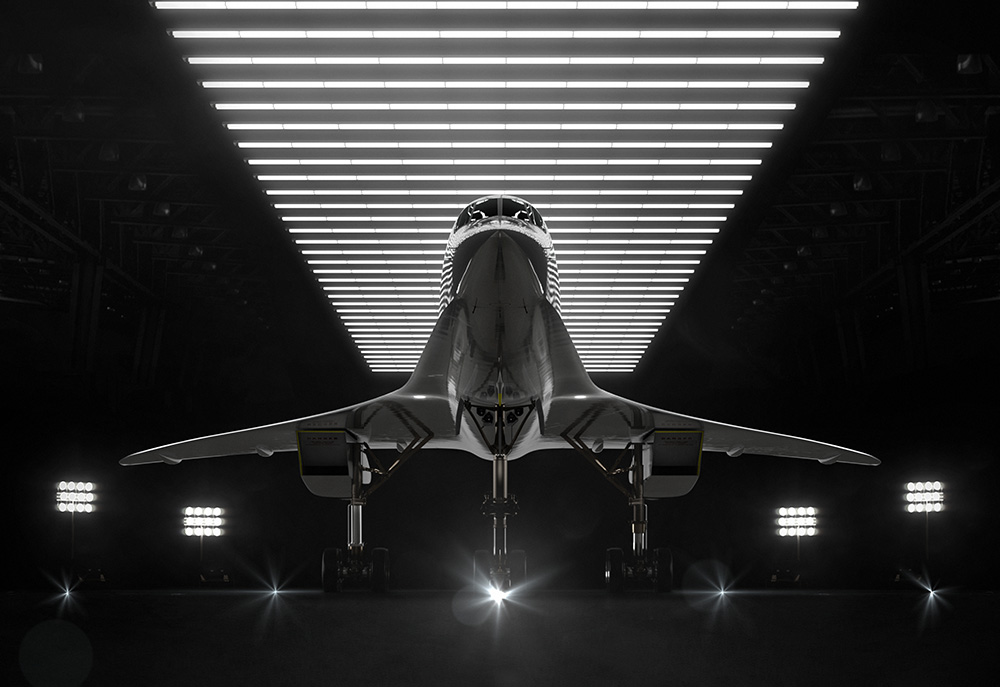 Reaction's Synergetic Air-Breathing Rocket Engine (SABRE) hypersonic engine is designed to reach speeds above Mach 5 in the Earth's atmosphere, and turn into a rocket which can fly at up to Mach 25 through space.
Engineers claim that SABRE is on track to begin flights in 2030, potentially blowing past Overture with projected flight times from Sydney to London of four hours — some 80 per cent less than the current journey.
Making flying less of a drag
Before we can imagine jetting off to London in an afternoon, Dr Daniel Edgington-Mitchell, Senior Lecturer in Mechanical and Aerospace Engineering at Monash University, explained that there are still a number of engineering challenges to overcome for any kind of aircraft looking at supersonic speeds and beyond.
"Supersonic travel is a challenging prospect for a range of reasons," he told create. 
"The drag on an aircraft travelling above the speed of sound is much higher, and supersonic flight requires the vehicle to be a very different shape — compare the shape of the Concorde to a [Boeing] 787 or [an Airbus] A380. This higher drag means much higher fuel costs to travel the same distance."
Engineers looking to break speed barriers also need to consider noise restrictions, with increasing regulation about aircraft noise, which can be harmful to human health.
"The key challenges are to minimise overall noise and emissions, whilst maintaining sufficient efficiency to make the aircraft economically viable."
"A jet engine can produce thrust either by moving a small amount of air very quickly, or a large amount of air a bit more slowly. The increasingly strict noise limitations have largely been met by pushing engine designs towards the latter approach [as] very large high-bypass-ratio engines are much quieter," Edgington-Mitchell explained.
"However, these engines are unsuitable for supersonic flight, meaning that most of the gains that have been made in noise reduction and fuel efficiency in recent decades are lost, with a reversion to lower bypass ratios needed. 
"Selection of appropriate engine architecture remains an unsolved challenge for Boom. They are working with Rolls-Royce on this problem, but it is unclear what progress has been made."
On top of engine noise, there's the sound of the 'sonic boom' as the plane moves through the air faster than the speed of sound. 
"Because the vehicle is outrunning the sound it has produced, the sound waves all pile up together and arrive all at once, producing the 'boom' sound that gives the phenomenon its name. While NASA has done extensive work to mitigate sonic boom, it provides a further design constraint for the vehicle," Edgington-Mitchell said.
 "The Overture is intended to fly supersonic without an afterburner, which is a key difference to the Concorde. If this can be realised it can significantly bring fuel costs and noise down. Boom are also intending to only fly supersonic over water, thus largely sidestepping the sonic boom issue."
"Concorde was a technological marvel for its time, but there have been significant advances in technology since."
Money talks
In spite of all of the engineering challenges to overcome, Edgington-Mitchell believes it won't be the technical detail that determines whether Overture gets off the ground.
"Concorde was a technological marvel for its time, but there have been significant advances in technology since," he said.
"There is no doubt that Boom can succeed on a technological level, and I have little doubt they can produce an aircraft that is significantly more efficient and economical than Concorde. Whether it can be economical enough for the current marketplace is the question — and it's not one I am equipped to answer."
Aerion Supersonic, the other major effort in the supersonic travel industry, recently hit turbulence with raising funds and closed down their company last month. While Edgington-Mitchell agreed that this will call into question the economic viability of Boom's proposition, he noted that the business models of Aerion and Boom are different. 
"Aerion intended to fly over both land and water, and at more moderate speeds. Boom is focusing instead on flying only over water, and thus avoiding the limitations imposed by sonic boom," he said.
"The failure of one does not necessarily imply that there is no market for supersonic air travel. Boom's success will be dictated by economic concerns."