By predicting when and where outbreaks of mould will occur, a group of engineers has found a solution to help reduce respiratory problems in the Northern Territory (NT).
During the NT's tropical wet season, exposure to mould formations significantly increases the rates of asthma and respiratory conditions in comparison to other areas of the country.
To help tackle the problem, engineers at Frazer-Nash Consultancy developed a way to forecast the severity of mould growth to provide advanced warning of an outbreak for the first time.
The team's computation method relied on information about the four major drivers of mould growth: indoor temperature; moisture content; air conditioning (AC) unit health; and the main type of internal material used to build a house.
As these factors vary from home to home, modelling state-wide mould formation is a complex problem.
In order to overcome this challenge, the team 'inferred' the indoor air quality from six years worth of outdoor climate data from the Bureau of Meteorology. This required two assumptions: the room temperature setting of the AC unit and the cleanliness of the unit.
Cleanliness is represented by the ability of the AC unit to dispose of water condensed out of the evaporator coil. The predominant housing materials in the NT – frame cladding, treated wood and concrete – were modelled.
This resulted in a "mould index", with air conditioning and AC unit cleanliness found to exacerbate respiratory conditions.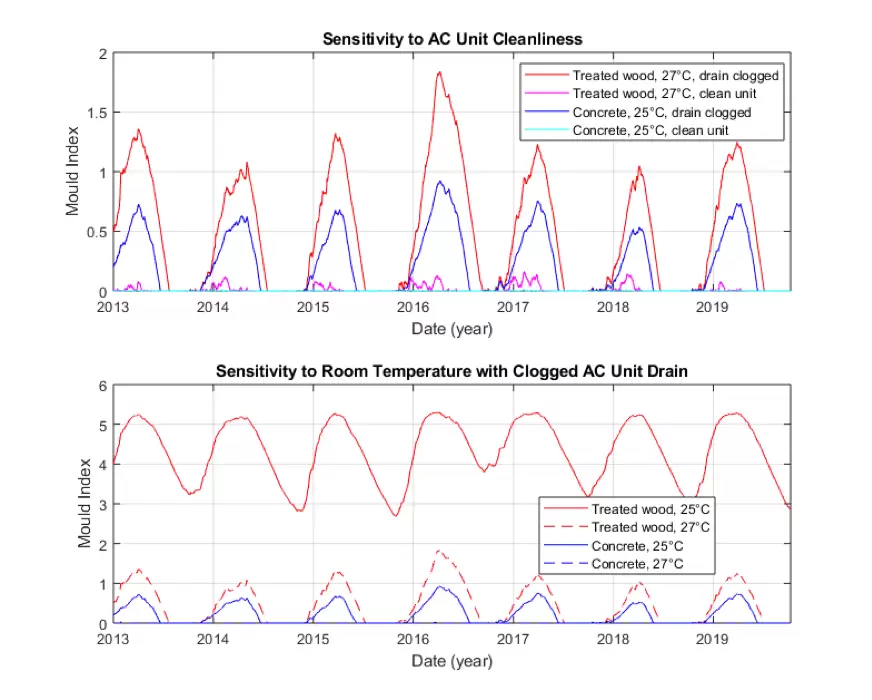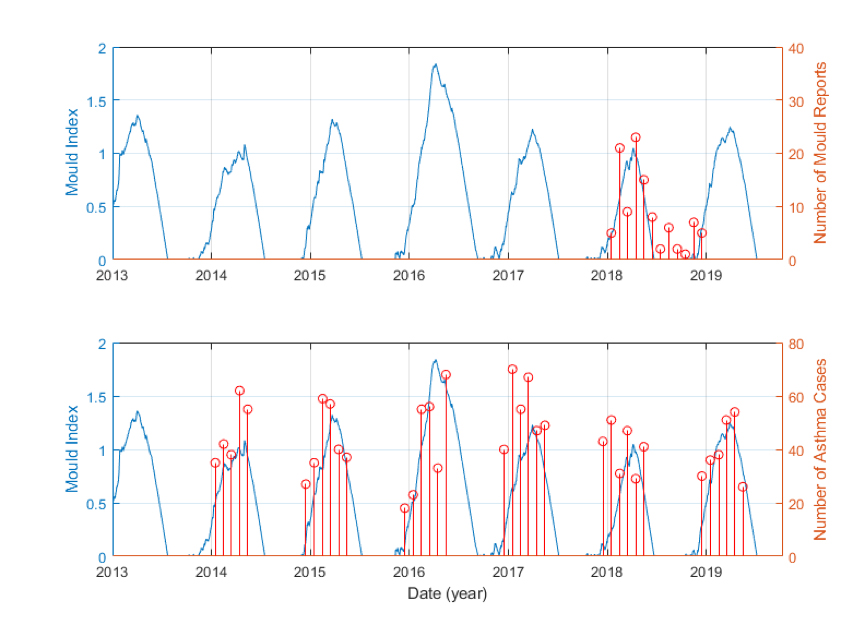 The team's mould index was compared to the number of mould reports in 2018 and asthma cases over the past six wet seasons. From this, they were able to establish a strong correlation between official records and the predicted mould index, giving credibility to their methodology.
Warning signs
It typically takes a few months for mould to peak. This means that, unlike other allergens (for example, smoke and pollen), advanced warning can be issued before any visible sign of mould growth. In other words, when it looks like mould is starting to grow the community can be informed.
Frazer-Nash is now working with NT Health to develop and deliver mitigation measures, which could include an educational campaign or a phone app that allows individuals to monitor their home environment for mould potential.
The goal is to reduce mould-related asthma cases, which can be fatal. And, by forecasting when and where mould growth is likely to increase, the NT Government can manage potential demand on scarce medical facilities during an outbreak. This will help improve the health and welfare of Territorians, particularly Indigenous Australians and those living in remote communities.
Frazer-Nash developed the approach as part of the first Deloitte AWS Gravity Challenge. Alongside a tool for smoke spread prediction from bushfire events, the approach earned the consultancy the 'Most Innovative Use of Space Data' and 'Northern Territory Health Challenge' awards.