Engineer Dr Richard Barnes paddled his way into the record books earlier this year with his solo journey from Australia to New Zealand aboard his purpose-built kayak. 
1676km. 67 days at sea. 300kg in food and supplies. And one very determined paddler.
In February, Sydney-based structural engineer Dr Richard Barnes became the first person to kayak solo, non-stop and unassisted from Australia to New Zealand.
And he did it all in his self-designed and hand-built craft, the Blue Moon.
By day, Barnes, 62, works at Sydney architecture practice Bureau SRH, with a career that has seen him working on projects as varied as the Sydney Harbour Bridge, the Sydney Opera House, Centrepoint Tower and the GWS Giants Stadium.
But it is his passion for long-distance paddling that has truly taken him places, like the 111km Hawkesbury Classic (which he's done 40 times), the 404km Massive Murray (20 times) and the Yukon 1000 in Canada, which covers 1600km in 10 days.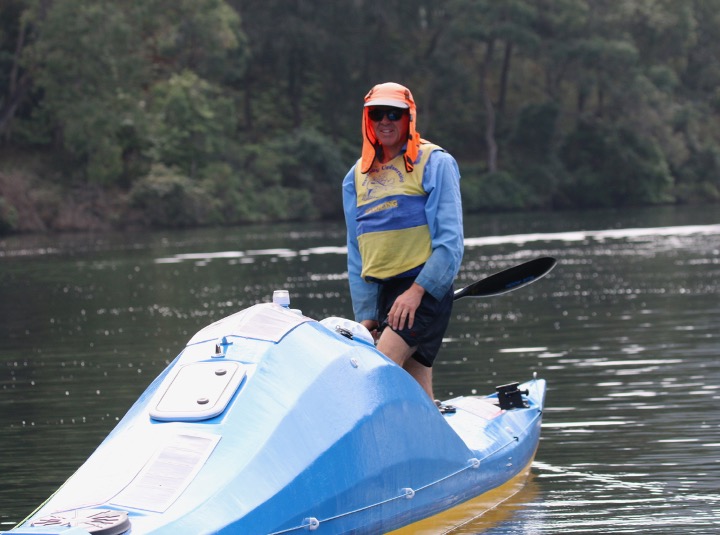 The successful trans-Tasman crossing was the culmination of years of preparation. An earlier attempt, from Sydney in 2021, was called off after 75 days at sea when Cyclone Seth intervened. 
The treacherous Tasman was first crossed non-stop and unassisted in a double kayak by James Castrission and Justin Jones in 2008. Tragically, in 2007, mountaineer and sea kayaker Andrew McAuley died during his second attempt at the crossing, with his empty kayak found less than 40km from the New Zealand coast.
Only one other kayaker has ever paddled solo across the Tasman: Scott Donaldson completed the same voyage in 2018 but stopped at Lord Howe Island for repairs and supplies.
Getting sea-worthy
Calling upon his engineering knowledge and design skills, Barnes fashioned Blue Moon to be a combination of sea-worthy craft, floating hostel and survival cell, all in one.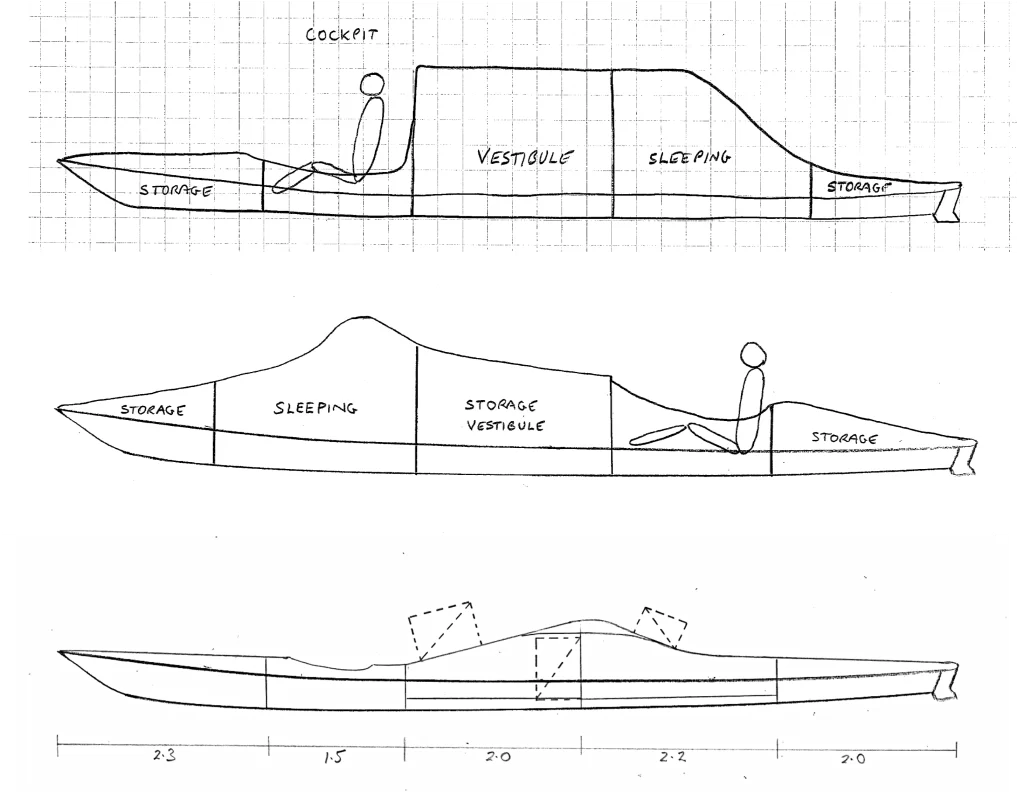 The result was a 10-metre-long self-righting vessel with three main compartments — one for sleeping and drying clothes, one for eating and changing, and the cockpit for paddling. 
Barnes built Blue Moon at home and almost entirely from fibreglass. He sketched out several possible designs with the cockpit at the front or the back before settling on the sleek and low-slung final design. 
He used a series of plywood bucks in the mould-making and production process, but the end result was a traditional fibreglass foam-cored unit designed around his specific needs. 
With a view to reliability, he built in a great deal of redundancy — if the kayak were to sink, he had a life-raft; if one solar-charged lead-acid battery failed, he had another. And while his desalination routine involved a spell pedalling a converted manual desal unit for a couple of hours every other evening, he carried a hand-powered version too. 
This back-up capacity extended to a spare paddle, a second rudder and a spare sea-anchor; deployed at night, when he was asleep. He did lose one sea-anchor and damaged the rudder, so his preparations were justified.
"Working as an engineer, there is always planning and risk assessment and a dozen other engineering inputs," Barnes said. "I intend to share the Blue Moon project experiences with other engineers."
While Barnes carried an EPIRB and a personal locator beacon, once he was more than 300km from land on either side of the Tasman, he was effectively out of rescue-helicopter range, so the most he could expect would be an aerial drop of supplies and the rerouting of any nearby vessel capable of reaching him.  
Making the journey
Barnes began his epic crossing in Hobart on December 14, aboard the Blue Moon. 
Loaded with gear, the craft weighed over 900kg when he set off. This included about 300kg in food and supplies sufficient for spending up to 100 self-sufficient days at sea. As it was, he required two-thirds of that to reach his goal.
During his voyage, his single indulgence was one 300ml bottle of Coca-Cola each evening; once emptied, he refilled the plastic bottles with desalinated drinking water. The plastic bottles were a lesson learned during his earlier attempt — cans went rusty in the salty air.
The journey was not without drama — he capsized twice. Although the boat self-righted, both occasions showed the importance of safety measures. 
The first occurred during the night, at a time when Barnes was not strapped into his bunk, leaving him nursing minor injuries when he was tumbled out of bed.
In the second, a rogue wave managed to roll the Blue Moon and sweep Barnes out of the cockpit. Thankfully, his ankle tether kept him close to the kayak and he was able to get back on board. 
Barnes says he saw relatively little wildlife during the crossing — a couple of seals, some sharks and three beaked whales, which obligingly breached out of the water nearby several times.
His routine aboard was simple. Barnes would paddle from about 10am to late afternoon with breaks on the hour, and in the evenings, read or write his blog. He also memorised some of Banjo Patterson's poetry. 
Reaching land
Setting off from Hobart, he had the South Island's iconic Milford Sound as a target. However, winds and currents carried him further south so that his first sight of land was Stewart Island, off the southernmost tip of New Zealand.
On February 27, he finally set foot on Aotearoa at Riverton, just west of Invercargill, welcomed by a flotilla of other kayakers.
And although Blue Moon is headed for the Tasmanian Maritime Museum in Hobart, Barnes has no plans to retire his paddle, with plans for a year-long circumnavigation of Australia.