When Felicity Furey noticed the unequal gender representation in engineering, she decided to do something about it.
Felicity Furey's first day of university came as a shock.
Running late for class in 2014 at Queensland University of Technology, she burst into a lecture hall well-stocked with fellow engineering undergraduates. She scanned the room for a seat and discovered that there were barely more women in the class than empty chairs.
"There were 120 people in my class and only 12 were women, including me," Furey recalled.
"I looked around and thought, 'Hang on, what's going on?'."
Fast-forward 15 years and the proportion of female engineering students in universities across the country has increased from the 10 per cent Furey experienced on day one.
Progress, however, remains stubbornly slow.
Data from Engineers Australia puts the figure at 16.4 per cent in 2017. This number translates to a workforce where just more than one in 10 Australian engineers today is a woman.
"Gender diversity has been a topic of conversation for such a long time," Furey said.
"After I was in the workforce for a few years, I got sick of talking about it. I just wanted to do something about it."
Evening the field
That's exactly what Furey set out to do with Power of Engineering, the social enterprise she co-founded in 2012 at the age of 25 while working full time as an engineer.
The volunteer-based organisation aims to encourage young people, particularly girls, to consider a career in engineering.
What started with a handful of events at schools in Queensland has now become a national program that has inspired 8000 Year 9 and 10 high school students across Australia to think about engineering careers. It has also attracted funding from companies including Santos, QGC, Origin and Boeing.
Furey formed her interest in engineering late.
She attended an all-girls school where she said she was taught "women could do anything".
Physics and art were her favourite subjects, and when her Year 12 teacher suggested she study engineering, she had no idea what it was.
Her love of engineering clicked when she took on a role at Brisbane City Council.
"I was about 23 and I had up to $45 million worth of road infrastructure projects to work on," she said.
"That's when I discovered that engineers interact with the community and come up with creative solutions to some of their problems."
After three years at Brisbane City Council, Furey joined AECOM as a water resources engineer and later Arup as a senior project manager.
As in the public sector, she was often the only woman in meetings or on projects.
"I definitely didn't intend to start my own business," said Furey, who now works at Swinburne's Engineering Practise Academy as Director of Industry Partnerships.
"I was just sick of being in this environment and it not being okay for me. I often felt excluded from social events because I was a girl. Just like in university, I felt that I had to adjust to fit in."
Engineering change
Power of Engineering aims to inspire more women to enter the profession by showing girls the real-world applications.
They range from the simple, such as how water gets into a tap, to the more inspiring, such as how mechanical engineers create powered exoskeletons to help people with a disability to walk.
Furey said this approach was lacking during her secondary school days and its absence remains an impediment today.
She also believes the practical will translate across the gender divide. With the number of students applying to study engineering steadily declining since 2013, it might be time to consider a new approach.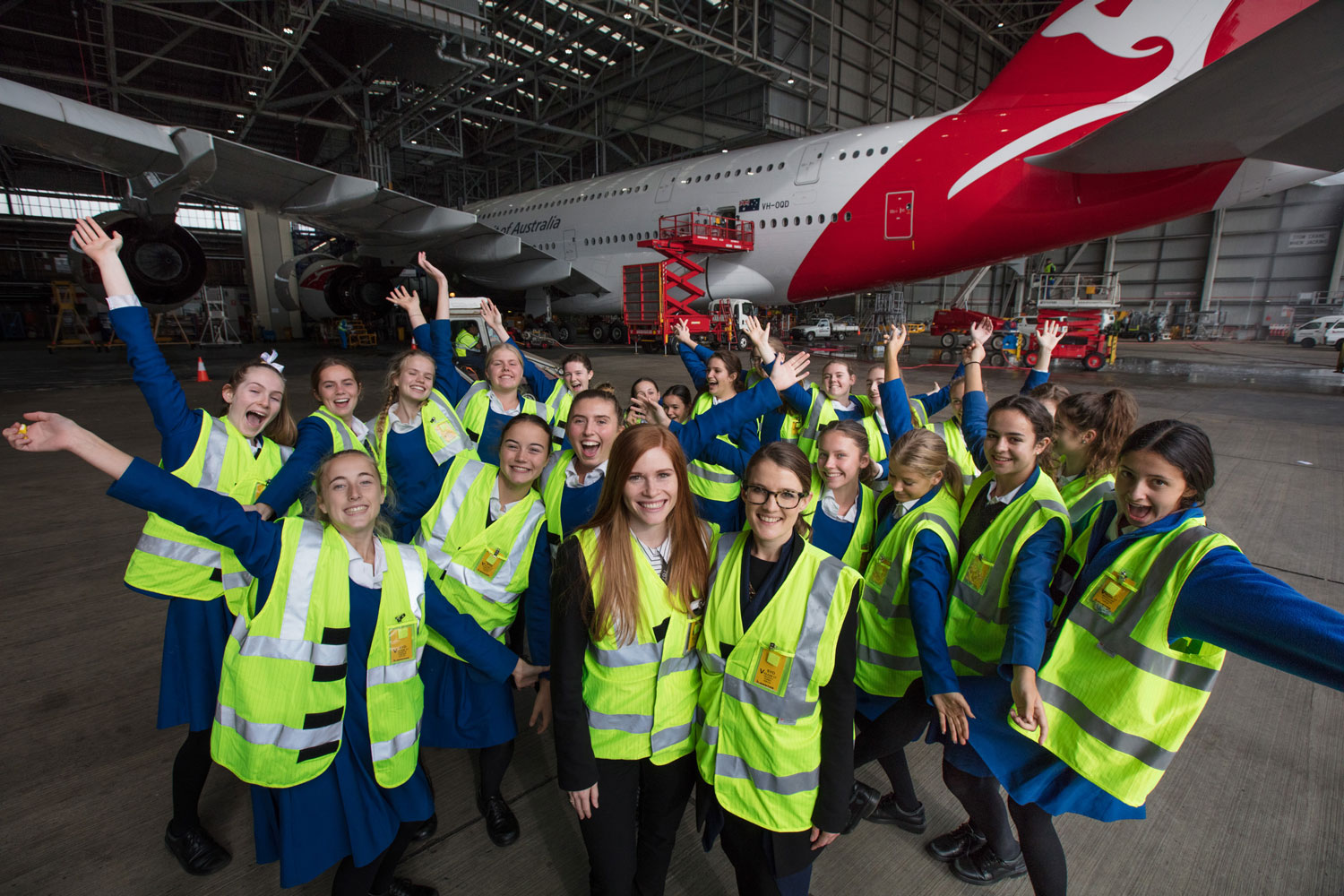 "At a recent event, I asked students what they thought engineering was — they said it was about fixing cars," said Furey, who also co-founded Machinam in 2013, a social enterprise that provides mathematics resources based on real-world scenarios.
"I think it points to the fact that kids don't know what it is."
Power of Engineering events also include hands-on workshops where students make something with a clear purpose, such as a prosthetic leg.
"In STEM education, kids might be encouraged to build a robot, but what's the point of the robot? I think that adding the 'why' behind something is much more exciting," Furey said.
She notes that more than 75 per cent of students who would not otherwise have considered an engineering career changed their mind after attending a Power of Engineering event.
Adelle Lack is one of them. Lack attended a Power of Engineering event when she was a Year 9 student and has just now graduated from QUT.
She is about to start her career as a Graduate Project Engineer with Monadelphous in Brisbane.
"I didn't really know much about engineering before I went to Felicity's event," Lack said.
"I didn't know what I wanted to do when I finished school, but I remember leaving the event and feeling really inspired by all the ways that engineers solve problems and how creative they are."
Beyond the numbers
While a shift in science, technology engineering and maths (STEM) education might help inspire engineers of the future, Furey believes a cultural shift is required to ensure that a good share of them are female.
"In our society, males and females are programmed with ideas about gender norms," she said.
"If you look at the UK and Australia, we all have similar numbers in terms of gender in engineering. In countries such as Iran, the number of women in the profession is much higher."
Indeed, women account for approximately 70 per cent of Iran's science and engineering students. Data from UNESCO show 50 per cent of engineering graduates in Malaysia and Cyprus are women.
Recent research from Washington State University investigated why the STEM gender gap was smaller in many developing countries.
It found that Western industrialised nations tend to assign gendered labels to different fields — a caregiving role, such as nursing, for example, is still widely considered women's work. In many developing nations, however, women are steered towards STEM careers because that's simply where the work is.
Workplaces also have a role in creating a more even playing field for female engineering graduates.
AECOM, for example, recently set a target of 40 per cent women by 2022. The figure currently sits at 35 per cent.
Kerry van Donderen, AECOM's Regional Managing Director, New South Wales and Australian Capital Territory, described 40 per cent as a "stretch target".
"When you look at the number of graduates coming through, it's still a very shallow pool that we've got to draw from," she said.
"And it's not just our competitors, it's also our clients who are trying to draw from that same pool."
The company's initiatives include mentoring and sponsorship programs for female engineers.
"Sponsorship programs are about advocacy and giving them exposure and opportunity that they may not otherwise have," van Donderen said.
As well as this, the company has shifted its recruitment processes.
"We've reviewed our wording in job ads and changed things from 'required years of experience' to 'required capabilities'," van Donderen said.
AECOM managers have also undergone training to address any issues of unconscious bias.
Furey believes the industry's gender diversity challenge is too great for engineers alone to solve.
"It's a complex, systemic problem that requires a systems-wide response," she said.
"It's easy to talk about solutions, but how many people actually go and volunteer their time to help make a change or talk to their company to get funding behind a program? You don't need to be the CEO to make a difference. I think there's a lot to be said about grassroots change."