Virtual reality and haptics are helping firefighters train in lifelike scenarios, and saving them from exposure to toxic retardants like PFOS.
Reinvention can be highly unpleasant, but handled well, it can be a positive.
Geelong's transition after the loss of traditional manufacturers like Ford and Alcoa has been painful, but as a case study in the Australia 2030 report from Innovation and Science Australia notes, it "is steadily carving out a brighter future".
A central plank in this rebuilding is the Geelong Future Economy Precinct at Deakin University's Waurn Ponds, which includes the ManuFutures incubator.
The incubator is a new $13 million site in a neighbourhood well-known for its materials engineering excellence, and which was assisted by $3 million in state government funding.
One entrepreneur making use of the facilities is James Mullins, CEO, Chief Technology Officer and co-founder of Flaim Technologies, and an Associate Professor at Deakin's Institute for Intelligent Systems Research and Innovation.
Twenty years of engineering and 25 years as a Country Fire Association volunteer have come together for Mullins, who is busy applying his haptics expertise to simulation kits for firefighters.
"It was some of the early days of applied haptics and force feedback," he told create of his robotics PhD, which concluded in 2007 and examined tissue simulation for surgeon training.
He was later inspired to tackle a very different training problem: that of contamination on firefighters' training grounds by chemicals such as perfluorooctane sulfonate (PFOS), which comes from fire suppressant foam.
This has grown into a product integrating a head-mounted display virtual reality unit, a nano-fibre bio-feedback vest, heating pads, breathing and protective gear, and haptics, which emulate the kick from operating a firehose.
It comes with a scenario library, all aimed at producing the most lifelike training simulation possible, and usable at any time.
It ends up as a complicated "system of systems", explained Mullins, and computationally intense.
"We are modelling fire, water and smoke in effectively real time at 90 Hz or so, and traditionally that's in the domain of CFD," he said, referring to computational fluid dynamics.
"We take shortcuts obviously, because we can't get to the accuracy of CFD modelling, but we try and get the realism as close to real-world as possible in fire, water, smoke models … and they're continuing to evolve."
Recreating real-life conditions has involved work with Cosumnes Fire Department in California, as well as NASA's JPL and the National Institute of Standards and Technology, among others. Real burning buildings are instrumented to collect as much data as possible so the conditions can be reverse engineered.
"We put our software developers in the burn houses up in Queensland," Mullins said.
"We immerse our dev team into what fire is so that they can try and replicate those conditions as close as possible."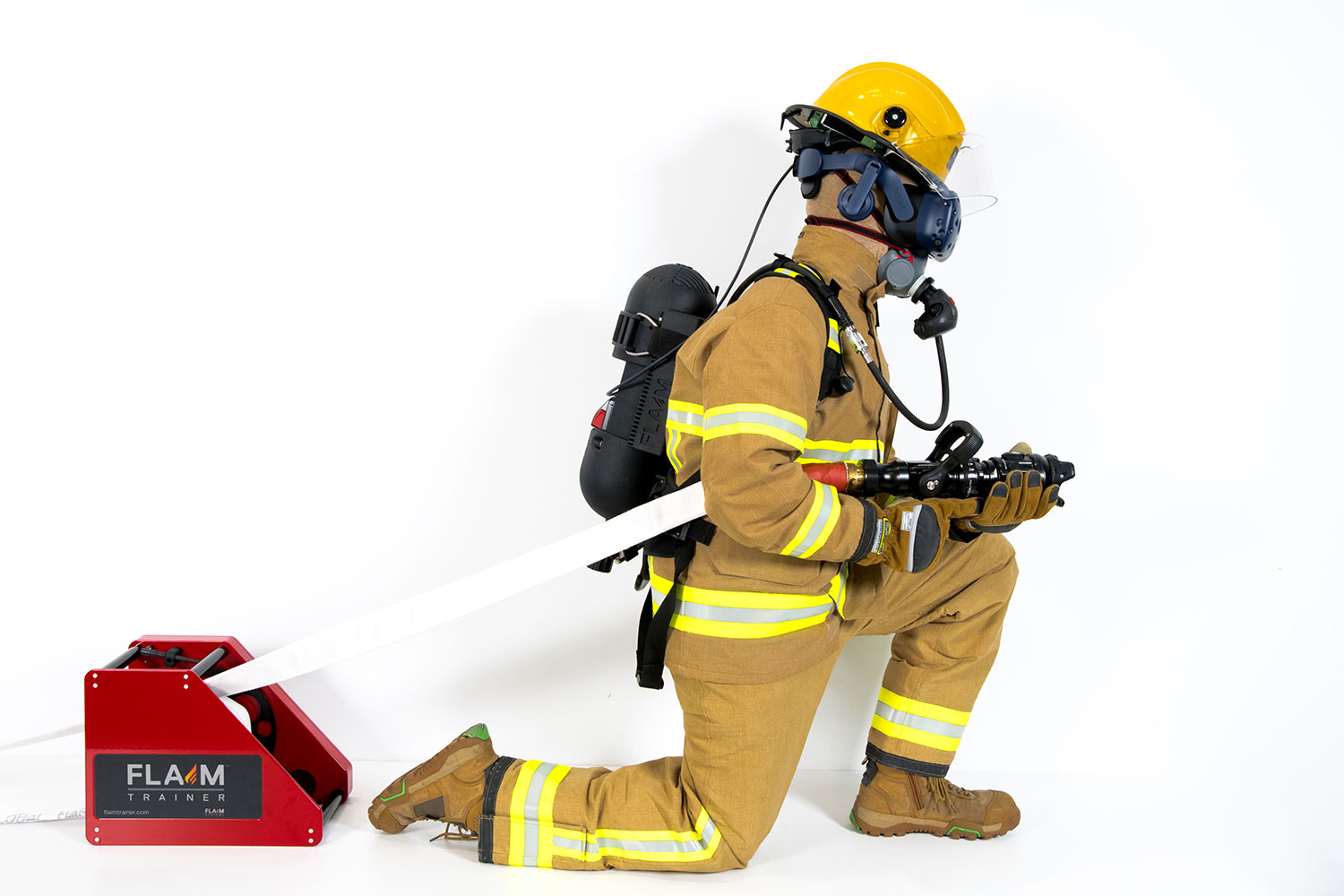 In good company
Flaim launched in September 2017, exports to 14 countries, and has grown to 18 employees.
Does the founder consider his startup to be a training, solutions, software, manufacturing or some other kind of company? There's assembly, quality assurance and testing, but there's so much more.
"I guess we're a little bit of everything … we call ourselves an innovation company internally," he said.
"We consider ourselves a bit of an ecosystem around immersive VR technologies."
The company received external investment this year, ending a period of 100 per cent ownership by Deakin. Mullins believes continued success will depend on agility. They are working to a five-year new product roadmap, while also juggling expanding distribution and reliability demands.
He considers the location beneficial for advice from other ambitious little companies trying to take on the world.
"It's those five-minute chats that really make a difference to both them and our operations," he said.
"We understand that we're not alone, but we also find good suppliers, we find good sharing of logistical ideas."
This article is part of a longer series explored in the December/January 2019 issue of create magazine.