If you spent your childhood riding waves on a boogie board, then you have former Boeing engineer Tom Morey to thank. Following his death last month aged 86, create looks at the legacy he left behind.
Born in Detroit, Michigan in the United States, Morey moved to Laguna Beach in California aged eight and quickly developed a love for the ocean.
However he didn't immediately take to surfing, instead learning how to bodysurf by riding on his father's back. It would be a decade before he picked up a board, but when he did, it began a love affair that would last for the rest of his life.
Making waves
Morey started tinkering with new surfboard inventions while studying at the University of Southern California. In 1954 he invented the concave nose pocket, and the following year he created the wing-tipped nose. 
After graduating in 1957 he worked for Douglas Aircraft, which later became Boeing, as a process engineer working with composites (plastics, as it was called back then). 
It was during his time at Douglas that Morey began to wonder if these composites could be used to improve surfboards. 
He started by creating the first three-piece travel surfboard with the help of fellow surfer Karl Pope. However, commercial success wouldn't come until he invented W.A.V.E, a removable fin system, in 1964.
It was around this time that Morey decided he wanted to dedicate more time to his inventions. He left the corporate world and in 1965 organised California's first professional surfing competition. The prize money was US$1,500. Today, prize money can be up to $100,000 for a single event. 
Morey soon began gaining attention for his unique approach to surfboard inventions. 
In 1966, the International Paper Company approached him with an idea. To demonstrate that their cardboard boxes could withstand being left outside in the rain, the company wanted Morey to build the first paper surfboard, and ride on it for a commercial. 
Morey created three boards using resin impregnated cardboard supplied by the company. The first board weighed almost 25 kg, but Morey managed to catch some waves with it. 
Side, navel, arm, knee, elbow
By 1971, Morey had moved to Hawaii and was facing an issue: he had a garage full of surfboards and no money to buy new ones. So he decided to make his own.
Morey took a nine-foot (2.7 m) piece of closed-cell polyethylene packing foam and cut it in half. He sketched some curves, giving it a wide nose and flat tail, and found he could shape the foam with an iron and a copy of his local newspaper. 
When he finished, Morey had a squat surfboard roughly 580 mm wide and 1.3 m long. It weighed about 1.7 kg. Now it was time for a test drive.
Morey took the board to his local beach. The swell was barely a metre tall. For most surfers, that would be a disappointment, but on this day it was perfect.
"I could actually feel the wave through the board. On a surfboard, you're not feeling the nuance of the wave, but with my creation, I could feel everything," Morey said.
"I was thinking, it turns, it's durable, it can be made cheaply, it's lightweight … God, this could be a really big thing."
In his excitement, Morey called out to his wife Marchia, who was eight months pregnant. Usually a keen surfer herself, Marchia was unsure she could do anything surfing-related, but the stout board proved to be the perfect solution. 
With this board anyone could enjoy surfing. Being lightweight and soft, it could be used in the smallest of swells and in shallow areas where traditional boards would get stuck. 
"I could actually feel the wave through the board. On a surfboard, you're not feeling the nuance of the wave, but with my creation, I could feel everything."
"There's this dynamic of toughness involved with surfing," Morey's son, Sol (the baby Marchia was carrying at the time) told The Guardian.
"But now you had grandads, kids, who could skim it. They could stand up on it. It was soft. When you are able to go into the ocean and come out of it unscathed, unhurt, that really does something to you. The ocean is something to be feared, but the Boogie Board took some of that fear out."
That name, Boogie Board, would come later. At first, Morey wanted to call it S.N.A.K.E, or Side, Navel, Arm, Knee, Elbow. But it was eventually renamed boogie after Morey's love of music. 
The first board was sold by chance. A man spotted Morey riding the boogie board and offered him$10 for it. Realising he had a potential commercial hit on his hands, Morey moved back to the mainland and began producing and selling the boards in California. 
At first they sold for $37 because that's how old Morey was at the time. 
He continued to build the boards himself at first, and then started selling a kit so customers could build their own. 
In 1977, Morey sold the Boogie Board name and company. Currently the trademark is owned by the Wham O toy company.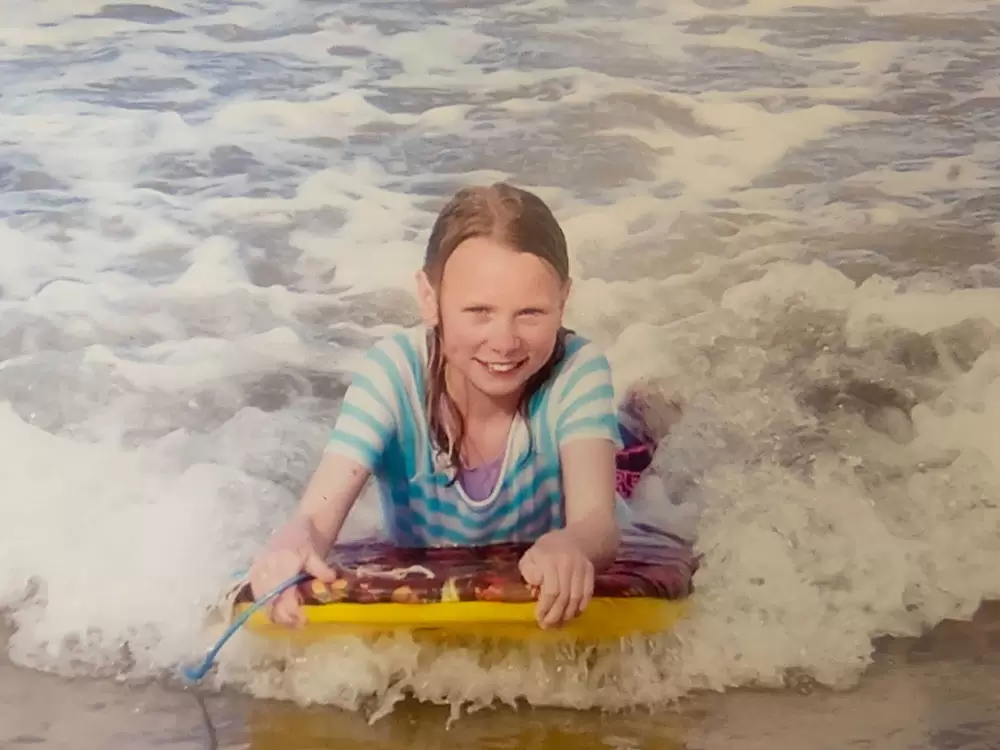 Don't call them bodyboarders
Nearly a decade after selling the Boogie Board brand, Morey moved to Washington, where he returned to where it all started — as an engineer with the Boeing Corporation. 
But he couldn't stay away from the waves for long. By 1992 he was back in California consulting for Wham O and tinkering with new board designs. 
Morey continued building and inventing for the rest of his life. His son Sol said he would receive emails from his father describing ideas for flying machines and new ways to use electromagnets. 
Morey died last month aged 86. He is survived by his wife Marchia, and his children, Sol, Moon, Sky, Matteson and Melinda. He was predeceased by his daughter Michelle who died in 2003. 
These days, bodyboarding is a serious sport. Competitions are held across the world, and it even has its own professional body, the International Bodyboarding Competition. 
But without competitions or a professional body, people will continue to use the boogie board. Morey's dream was to make surfing accessible, and as this writer can personally attest, I think he achieved that.