In the future, legions of tiny robots might search through earthquake rubble for survivors, build houses on Mars or cure cancer.
In a world where robots are becoming smarter, more dextrous, more social – dare we say more human – there is also work being done on robots that aren't particularly smart. They can't communicate directly with people and they're a bit clumsy. Why do we bother? Because they're tiny.
"It can get from A to B and that's pretty much it. That's all they're designed to do," said Sarah Bergbreiter, associate professor of mechanical engineering at the University of Maryland.
"But as long as it has a radio it can talk to the cloud. And once you can talk to the cloud, you have a vast network of data that you can use to optimise your decision making, and all that happens at a higher level."
She said tiny robots are one of the things they focus on in her lab, and they take a lot of inspiration from nature.
"You have incredible termite mounds in Australia, effectively well ventilated apartment buildings for termites, all built by these little insects," she said, suggesting robotic termites could build houses for people.
"Maybe the future headline is: 'Termites Build Houses Instead of Destroy Them'."
Another possibility is robots assembling themselves into the tool you need at that point in time, be it a hammer or spanner, then rearranging into the next tool when you need it.
"One of the things we want to take advantage of in small scale robotics is what we can do with large numbers of robots and how we can make robots lower cost and perhaps more ubiquitous and helpful in our environment," she said.
State of play
Currently, they're a long way off the applications she has suggested. Her team is working on basic research level machines a few millimetres in size. These don't have motors or power on board but they do have the ability to move by using external magnetic fields or other external sources.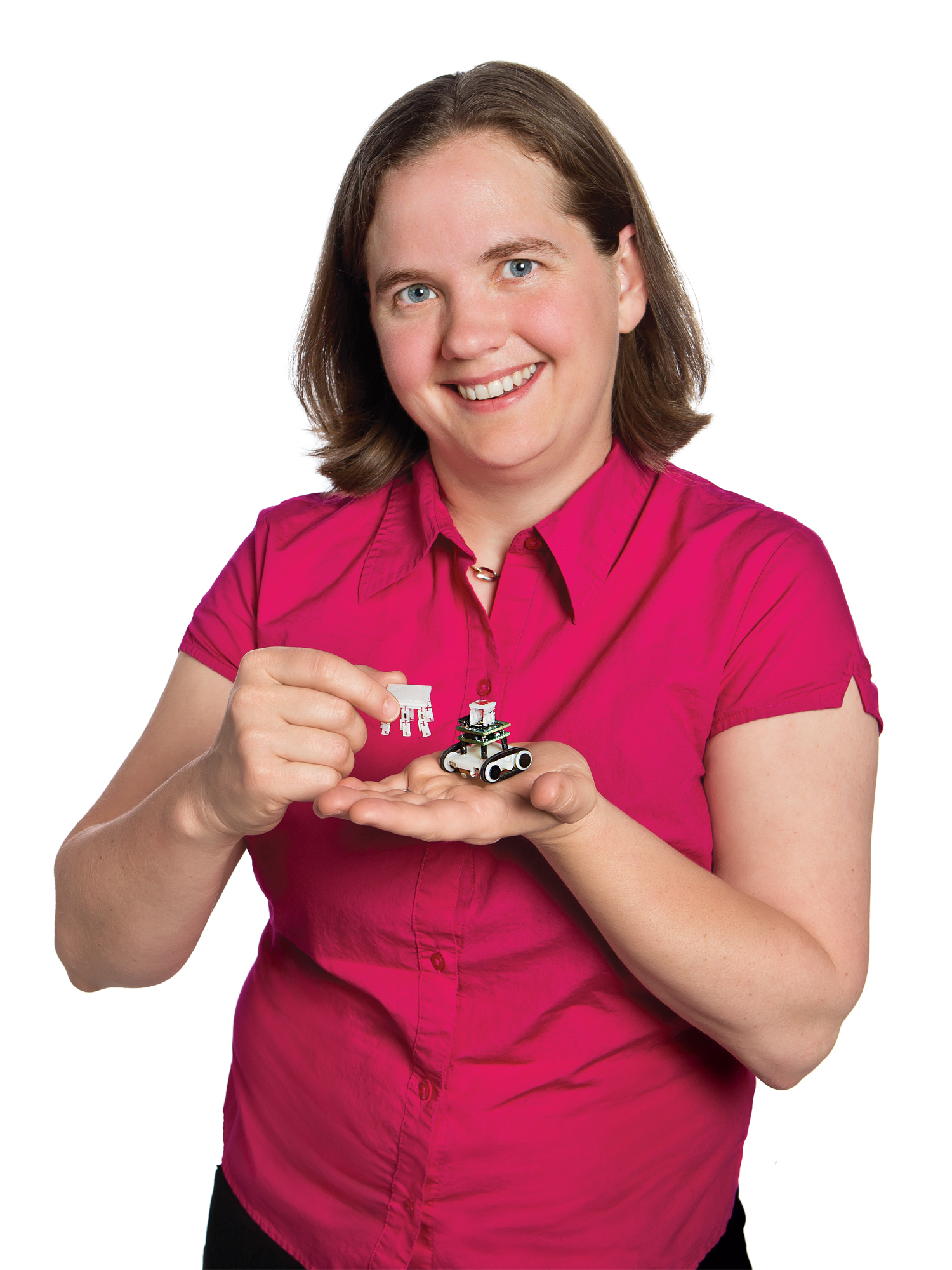 Bergbreiter described her work as being at the intersection of micro systems and robotics.
"There are a lot of interesting things you can do at that intersection. One is making very small robots, both to understand biomechanics and how small insects look and move, for example," she said.
"But we also use that intersection to make better sensors and actuators for larger robots. Within that we often use different materials than are common in micro fabrication, and so we use a lot of soft materials to make, for example, soft sensors for robotics."
In the future, she sees the robots getting smaller, down to the point where they can move around inside the body, analysing problems and delivering remedies. It might sound like the stuff of science fiction, but she tells of Israeli scientist Ido Bachelet who is doing work in DNA origami.
"You could effectively design the DNA to fold up into a particular way and use that to encapsulate a drug, for example. You can also functionalise the exteriors so that it's responsive to a particular chemical signature from, say, a tumour," she said.
"So if you inject a bunch of these into the bloodstream, the boxes will open once they detect that signature. You can very precisely deliver drugs to where you need to deliver drugs. Those are the smallest things, less than a micron in size."
And there are other applications where they don't need to be anywhere near that small. She said the biggest robot in their laboratory is about the size of an iPhone. It can crawl around a metal bridge, working with static sensors embedded in the bridge, and taking photographs to be examined later by a human operator.
"The interesting thing about that was using a multi-material 3D printer so you can print soft materials along with rigid materials," she said.
"By doing this, you can create legs for this robot that are very compliant in specific directions, which enables you to do the plane transitions for example, from horizontal to vertical, back to horizontal that you would need to do in a very complex girder-like environment of a bridge."
The current project is for undergraduate students so it's using magnetism to hold on to the bridge and relies on human analysis of the data. She imagines it will become more autonomous as other researchers join the project, and she already has a graduate student looking at electro adhesives for the feet of the robot so it can be used on wood or concrete bridges as well as steel.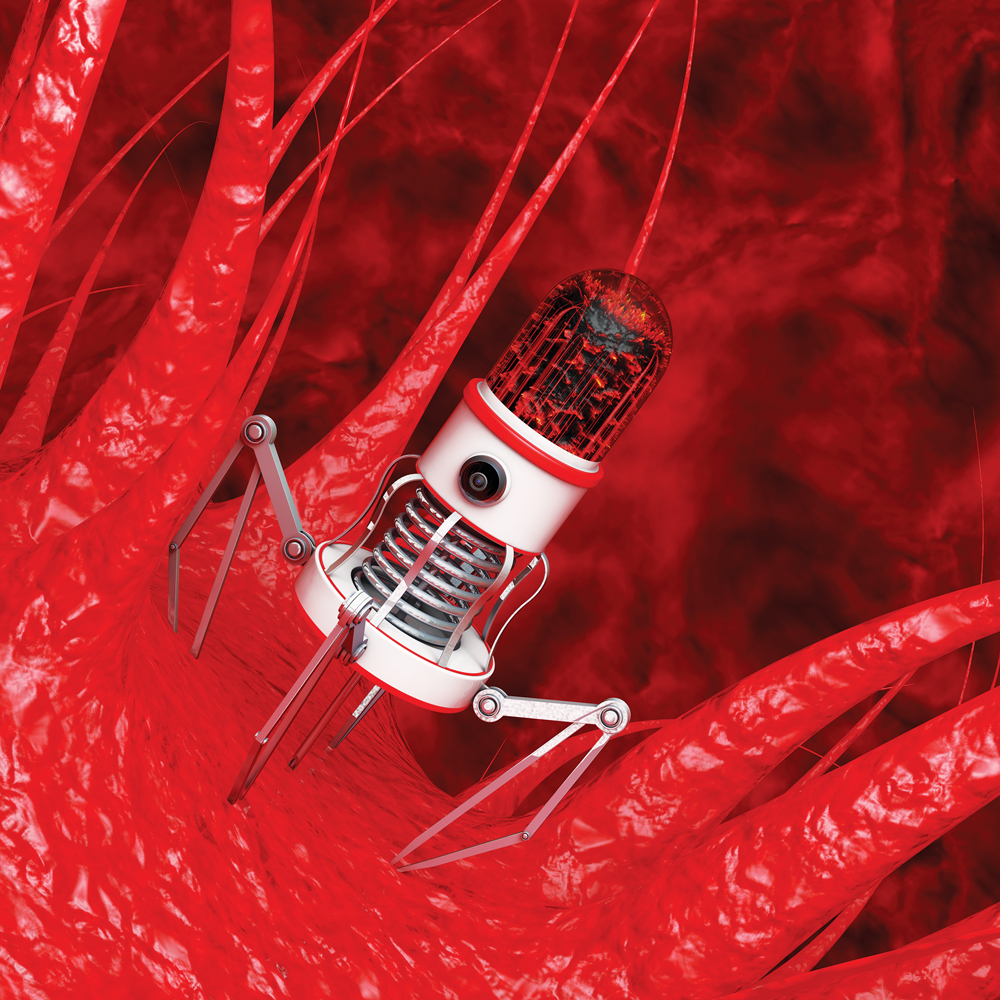 Personally, Bergbreiter's current research focus is on developing small scale motors and sensors for robots around 1 cm big.
"We have several different technologies we've used in the past," she said.
"Almost all have been based around electrostatics. So this is the idea that I have – two electrodes and air or something else in between them, then I apply a voltage so they're going to want to pull together. We've done things that are what we call interim motors where we have arrays of these kind of capacitive based actuators.
"You make very small steps, but you can do that very fast, by that, I mean kilohertz frequencies. That's one way of driving these motors. Another way is making the entire thing out of rubber. So you have now soft electrodes and a rubber dielectric in between them, and so you apply a voltage and they'll squish in and out. So you can create these kind of constrictive type systems."
Hands off
While Bergbreiter likes to focus her attention on smaller robots with little brain power, she is also interested in autonomous systems. Her networks of tiny robots will need to tap into something after they all realise their full potential. She is impressed by Rio Tinto's work on autonomous mining in Western Australia and intrigued by the resources going into autonomous cars all over the world at the moment.
"There are lots of companies in this space, and lots of different opinions as to how fast it will move," she said.
"There's this long tail of unpredictable events that we run into in autonomous driving, especially when you're driving through neighbourhoods with kids kicking balls around. This is one of the problems that people have to solve in autonomous driving for it to really become ubiquitous.
"I think this is why a lot of the experts in the field say it's not going to happen any time soon, but there's so much money and so much talent being pulled into this. I think it could be happening faster than they think."
And one of the keys to this is the development of sensor technologies like LIDAR, which is providing much greater depth to systems analysis of objects around them, while also getting dramatically cheaper.