Recent floods have raised questions around whether current infrastructure can cope with the severity and regularity of weather events in a climate-changed environment.
The first question from viewers during a recent EA Thought Leaders Series webinar on the topic of surface drainage, was a telling one. So was the response.
"Are the current drainage systems in cities adequate, especially considering the impact of climate change and global warming?" the viewer asked.
"The short answer is no," responded Alan Rotsey CPEng, Senior Civil Engineer at Arup, during the ACO sponsored webinar. "Cities develop from towns, and so when they were first built they were often designed for smaller rainfall events. Then, over time, standards can change. You also get further land development putting additional pressure on the original system. On top of that, you have to consider increasing rainfall intensities from climate change."
Rotsey went on to address the obvious followup question: how do we improve the situation?
"You need to consider some more creative solutions, because you either need to increase the capacity of the existing system on the ground or attenuate flows before it gets to the [trunk drainage] system," he said.
Whether engineers should still be using old terminology of a one-in-100-year storm event is a very common question, says Rotsey. He relayed that a leading flood designer from Arup had told him that statistically, in an 80-year life span there is a 19 per cent chance of experiencing two 'one-in-100-year events'. Consequently, that term is no longer favoured, and a one per cent annual exceedance probability is used instead. This avoids the common misconception that a one-in-100-year storm event will only occur once every 100 years.
A major issue is that any given region in Australia might suffer three or four extremely wet years, then could experience a decade in which very little rain falls. During the dry period, a large drainage system is considered too big as it leads to greater costs, not just from construction but also from maintenance as those systems fill with silt, weeds and other blockages.
In the end, Rotsey says, success comes from finding a balance and ensuring the client understands the logic and reasoning behind the design theory.
Getting surface drainage right
How do local governments and councils ensure surface drainage along roads and shared public spaces don't fail to do their job?
It requires getting the original runoff volume calculations right, says Market Segment Manager for ACO Greg Facey. This must include planning for the occasional, dramatic increase in water flows (ACO has developed free online software to manage these calculations).
Then, armed with that data, the designer can choose the right type and configuration of trench drain to effectively move stormwater runoff to its intended destination, ideally while cleaning out the drains along the way.
"Precast polymer concrete channels have a very smooth surface and are available with built-in slopes to further improve hydraulic efficiencies to remove water effectively from flat areas," said Facey. 
"With a V-shaped channel profile, the channel creates a higher velocity during low flows, compared to that of a U-shaped channel or, even worse, a flat-based channel. This is because the narrower V shape in the bottom third of the channel creates higher velocities to promote self-cleansing."
Grates matter
Another vital consideration, Facey says, is the type and size of the grate. 
The best-designed drainage channel will be undermined by a grate that doesn't allow the all of the runoff to enter it or which causes hazards at the surface for the public (whether that's cars, bicycles, wheelchair users, pedestrians, etc).
Grates designed for certain situations, such as roads, can have large apertures that not only allow good amounts of water flow, but which also simplify maintenance.
"These high-flow grates have large apertures that allow the channel to be cleaned without the grate having to be removed," Facey said during the webinar. "A soaker truck with a high pressure washer, for example, is used to break up the sediment and wash it down to the vacuum pump, which sucks up all the suspended silt into the truck."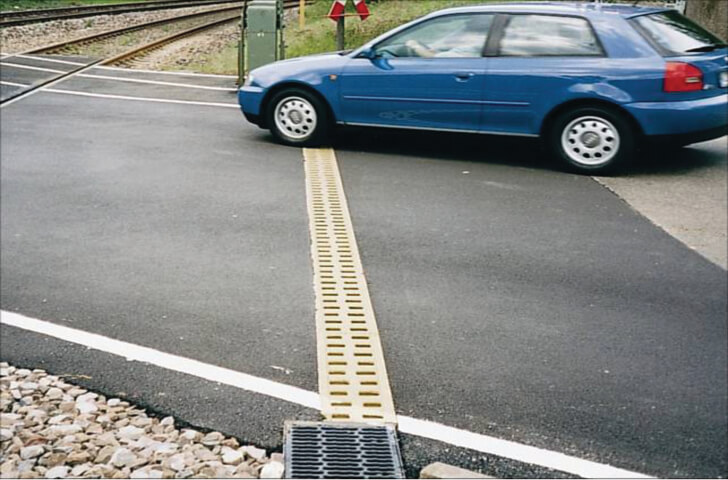 As recent flood experiences in Australia have demonstrated, it's vital to make drainage a core part of the design process. Well-planned surface drainage ensures increasing amounts of water from dramatic weather events are properly managed.
ACO's free project design service, complete with DIY drainage calculators, provides immediate and accurate solutions tailored for specific projects.