Involving the excavation of 15 million cubic metres of material, this massive engineering project – Italy's biggest – is creating thousands of jobs for local economies while putting sustainability at its core.

It's a tale of two cities: bustling Genoa, the historic port city, and Milan, the vibrant capital of industrious northern Italy. Divided by mountainous terrain, rail and road between these two hubs can be so congested that ships sometimes prefer to bypass Genoa and deliver their cargo to Rotterdam in The Netherlands. From there it is transported to the centre of Europe – sometimes even back to northern Italy. 
Now, a new chapter is being written – Terzo Valico dei Giovi-Nodo di Genoa. It's a 53-kilometre high-speed, high-capacity railway between Genoa and Milan that will reduce travel times between the two cities by 33 per cent – down to one hour. It will also reduce carbon emissions by taking cars and trucks off the roads. 
Of its total length, 37 kilometres will be in tunnels. The longest of the tunnels, the Valico Tunnel, will be the longest of its kind in Italy at 27.75 kilometres. The project will better link Genoa not only to Milan but also northern Europe as far as Rotterdam, making it a vital part of the Trans-European Transport Network (TEN-T), an initiative to connect all the region's railways.
A complex problem
The existing rail network out of Genoa towards the north was built in the 19th century and came with many drawbacks. It has a steep gradient of 3.5 per cent and tight turns, and it regularly reaches saturation. The Terzo Valico, meanwhile, will have a gradient of 1.2 per cent and much bigger tunnels in line with modern European freight standards. It will allow trains to reach speeds of up to 250 kilometres per hour.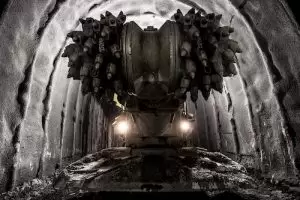 To put the railway line in perspective, it's a bit longer than the distance between Brisbane and Toowoomba, only through much steeper mountainous terrain.
The size of the project is staggering. It will encompass a total of 90 kilometres of tunnels and underground spaces, for which 15 million cubic metres of material are being excavated and 3.5 million cubic metres of concrete and 160,000 tonnes of reinforced concrete steel are required for new construction. Critically, the project has created about 5,000 jobs and engaged 2,314 local businesses for more than €3 billion worth of contracts. 
A huge, yet sustainable, solution
Employing sophisticated excavation techniques, working in parallel on 30 fronts – some up to 600 metres below the mountains – engineers have had to contend with geological features including claystone schists under tectonic stresses and asbestos in its natural state.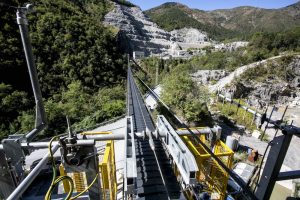 Webuild is employing a sustainable approach to the excavated materials. In order to manage one million cubic metres of spoil at the Cravasco work site, engineers designed a two-kilometre-long conveyor belt system, capable of carrying up to 800 tonnes of tunnel excavation muck per hour. The system includes a 260-metre-long flying belt suspended at a height of nine metres that passes over local roads and mountainous terrain.
Webuild prioritised safety in the projects, so engineers had to install a sophisticated ventilation system to protect workers as they uncovered asbestos while excavating in the mountain range. They also set up decontamination areas, large dedusting units and dedicated water treatment plants to minimise the risk of exposure to the asbestos fibers.
Creating a better future
The Terzo Valico, especially since it's part of the TEN-T, brings to mind Australia's transformative Brisbane-to-Melbourne Inland Rail project. In both, the idea is to overcome significant engineering challenges to deliver 21st century infrastructure that accelerates the transportation of freight, increases road safety, reduces air pollution and supports the expansion of ports and regional economies. 
Webuild has already deployed its rail expertise in Australia. In Perth, it is nearing completion of the Forrestfield-Airport Link, while in Sydney it built the viaduct and curved, cable-stayed bridge for Sydney Metro Northwest. Outside of rail, Webuild is working on one of Australia's most high profile sustainability projects: Snowy 2.0.  
"These types of projects are transformational," says Francesco Poma, Director of Consorzio Collegamenti Integrati Veloci (COCIV), the consortium behind Terzo Valico. "When you're entrusted with building infrastructure that will help shape a region for years to come, you want to make sure that you're not only achieving the best you can, you want to do so as sustainably as possible."
By helping to reduce the number of trucks on the road, the Terzo Valico will lead to a 29 per cent reduction in energy consumption and a 55 per cent reduction in CO2 emissions. Its impact on freight transport is even more impressive. Compared with maritime shipping, travel times will be reduced by 56 per cent and CO2 emissions by 71 per cent.
"It was a privilege for us to be given such a challenging project," says Poma. "Not only has it brought out the best in us, it's allowed us to contribute to the sustainable development of our country and this region."
To find out more about the Terzo Valico project, check out the Terzo Valico website. If you're interested, there's also more information regarding Webuild's presence in Australia, its approach to sustainable mobility and its sustainability strategy more broadly.