An international research team has studied the motion of bipedal lizards, with a view to helping robots get a foothold in inhospitable environments.
While lizards usually like to keep all four feet on the ground, there are some species that can rear up on two legs for a sudden burst of speed.
A team of researchers including Nicholas Wu from University of Queensland is studying the mechanics of this behaviour, and has come up with some interesting results. Previous studies suggested that lizards' bipedal motion comes from a backwards shift in their centre of mass combined with abrupt acceleration – similar to a 'wheelie' on a motorbike.
"What we found though is that some lizards run bipedally sooner than expected by moving their body back and winging their tail up. This means they could run bipedally for longer, perhaps to overcome obstacles in their path," Wu said in a media release.
Another member of the research team, Dr Christofer Clemente from the University of the Sunshine Coast, believes the results of the study could be useful in designing bio-inspired robots able to negotiate 'off-road' environments such as grasslands.
"We're still teasing out why these species have evolved to run like this in the first place, but as we learn more, it's clear that these lessons from nature might be able to be integrated into robotics," Clemente explained.
Mysterious motion
One of the challenges facing robots in real-world environments is avoiding collisions with obstacles. Wu told create that bipedal motion might help reptiles negotiate obstacles more successfully.
"If obstacle negotiation is indeed improved with bipedal locomotion, then we have shown how the tail and body can be moved to enable it sooner and for longer," he said.
"Thus maybe adding a tail to robots can help [them] get over obstacles or allow them to become more stable in uneven terrains."
To gain further insight into the lizards' bipedal motion, the researchers built an enclosed laboratory 'race track' and caught them in action with a slow motion camera.
The study focused on eight species of Australian agamid lizards, although lizards in other parts of the world also have impressive two-legged locomotion. For example the common basilisk lizard found in Central and South America takes things up a notch by running on two legs over water. This has given it the nickname of the 'Jesus Christ' lizard.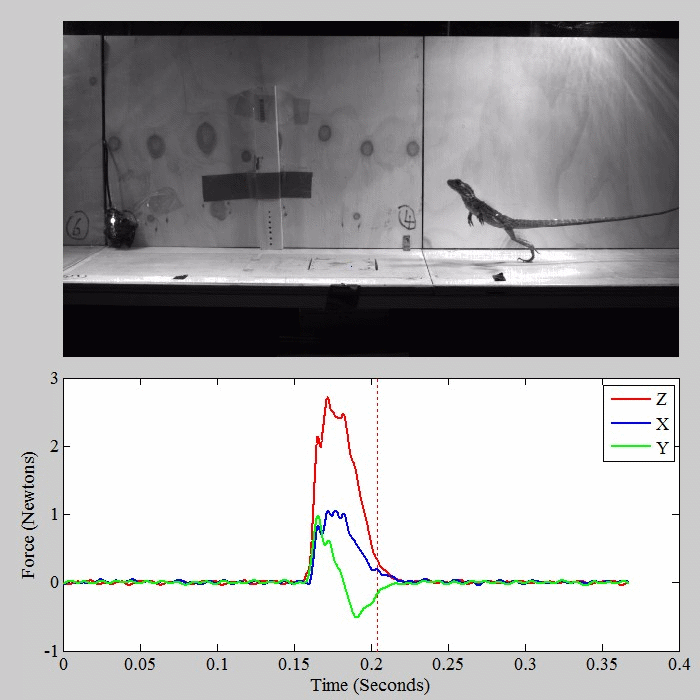 Tailbots
While tails on robots might seem like a radical idea, this isn't the first time they have been proposed. In 2012, a robot prototype inspired by the African agama lizard – fetchingly known as 'Tailbot' – was able to raise its rear appendage for a more stable landing when jumping off a ramp.
According to Wu, the authors of the recent study have plans to create model simulations using the kinematic data collected from the lizards.
"This will allow us to focus on which variables are necessary to allow a robot to shift from quad- to bi-strides," he explained.
They might also simulate tail stiffness to see how bipedal robots could remain stable while running across uneven terrains.
Clemente's lab is also looking at how lizards are able to climb vertical surfaces, and has started creating robot prototypes with different limb sizes and claw structures to find the optimal climbing robot in different size ranges.
According to Wu, the climbing robots are a good study to transition into the greater challenge of designing a robot that can alternate between four- and two-legged running.
"It would require large collaboration with robotics engineers to make this achievable," he said.