At a time when commercial real estate is reeling, a new building in Melbourne's CBD is breathing life into the city's construction landscape. 
Property developer Beulah, in conjunction with builders Multiplex, has almost completed construction on its $200 million Paragon project in Melbourne — but the undertaking has not been without its fair share of challenges, the building's development manager told create.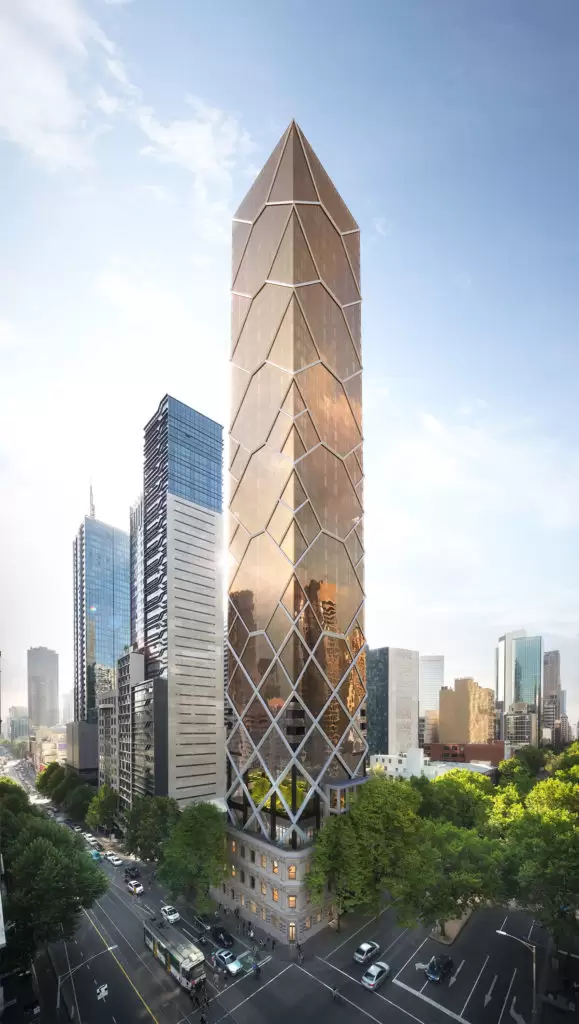 Paragon is a mixed-use, 48-level residential tower with 227 apartments at the site of the iconic Melbourne Celtic Club. 
In addition to maintaining and upgrading the building's original heritage-listed facade, Paragon's defining feature is its three-story 'indoor jungle' with mature trees, leafy canopies and a climbing garden.
Beulah senior development manager Luke Thornton told create that not all of the plans for the building were able to come to fruition.
"The structure was originally designed to be built using a zero-waste prefabrication technology," he said. 
"The interlocking crosshatch external facade feature originally served as a structural exoskeleton to support the prefabricated modules and maximise the usable indoor space.
"However, being new technology, it is not yet widely utilised within Australia's tier one construction industry. As a result, the design reverted to a traditional hybrid concrete and steel structure."
The tower's structural engineering uses an active mass damping system that is among the first of its kind in Australia, Thornton said, while its proximity to an underground train loop meant that a traditional retaining wall would compromise the tunnel's structural integrity. 
"Paragon's defining feature is its three-story 'indoor jungle' with mature trees, leafy canopies and a climbing garden."
"To overcome this challenge, the builder drilled shallow perimeter piles and used extremely large hydraulic rams to internally brace the retaining walls to allow excavation of the basement until floor slabs could be poured to take up the bracing," he said.
The Beulah team also discovered that working with heritage facades can be surprising, with a survey finding significant alterations to the original 1876 building in recent decades.
"The heritage facade was actually in extremely good condition and only minimal work was required to restore it," Thornton said.
"The retention system was designed with a series of working platforms that allowed heritage engineers to undertake a detailed assessment of refurbishment requirements with a close focus."
It's an urban jungle in there
What makes Paragon unique is its indoor garden that incorporates tall, dense trees into its design to reduce loud city noises and create a quiet escape.
"A large structural planting bed was designed to incorporate the deep planting requirements of the significant trees within the forest," Thornton said.
"This area is 1.8 meters deep and takes up 25 per cent of the floorplate on that level, allowing enough volume of planting media and irrigation systems. It requires a significant structural reinforcement to support all the weight of the forest."
Early on in the process, the team realised that space would be the key challenge of the design, which resulted in three levels being dedicated to the garden.
"Contributing to sustainability in a broader context, the forest is a biological system that generates oxygen and plant growth, also highlighted by the use of rainwater tanks to keep the forest thriving," Thornton said.
And naturally, the low-light tolerant tropical species will be monitored by webcams to ensure that the plants survive and thrive.