A University of Queensland team is hoping to make high-tech bipedal robots that won't break the bank.
Robots that can run and jump will be familiar to many people — Boston Dynamics' Atlas humanoid, for instance, can leap up a multi-level platform — but for consumers, walking robots have been an unaffordable proposition.
While extensive research has been carried out on walking robots, they can still cost upwards of $1 million.
But research by Associate Professor Pauline Pounds at the University of Queensland could help to develop robots for just a few thousand dollars that could be used for search and rescue missions or to deliver groceries.
Pounds's team is developing lower-cost systems that are able to move around campuses and urban environments like cities or factories, with these robots required to navigate staircases and steps.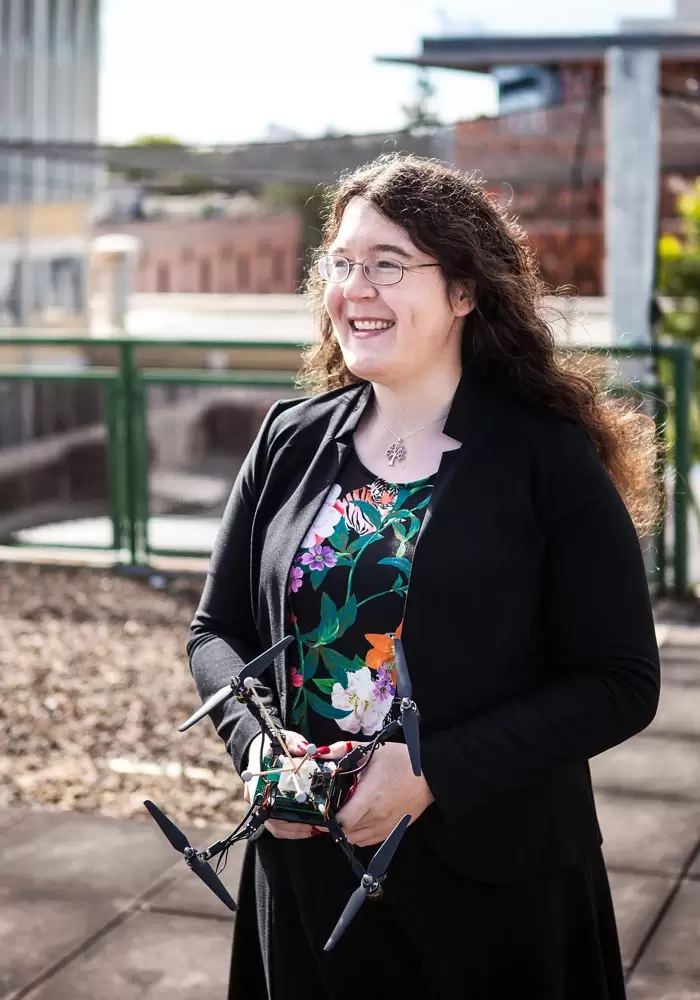 Pounds has been able to reduce the cost through a system that uses control moment gyroscopes to keep the robot upright, regardless of where it steps, allowing more affordable sensors and actuators to be used.
The team has started with small chicken-sized robots, which could be used inside a laboratory or for inspections.
"You could imagine putting it into duct work or having it walk through a parking lot just looking for things at ground level," Pounds said.
Eventually, they hope to scale up the technology to human-sized platforms that could carry out tasks such as grocery delivery.
"Then you could have it go anywhere a human can go — inside a factory or a shopping mall or a conventional suburban street," Pounds said.
Increasing the robot's size will mean designing the gyroscope to be reliable, safe, lightweight and also economical.
"Other than that, it actually boils down to those same sort of mundane robotics problems that pretty much any platform would have," Pounds said.
"The idea is to turn a legged machine from a difficult research problem to something that's really a glorified remote-control car."
The team hopes to expand its robot's ability to walk and improve its efficiency.
"It's an interesting and exciting thing to be going from a single proof of concept to suddenly going to three different platforms that bear out the technology," Pounds said.
"I like to joke that building bipedal robots is a step-by-step process."  
Walk this way
During the development of her team's bipedal robot, University of Queensland Associate Professor Pauline Pounds says changes were made to optimise the technology.
For example, the servo actuators that determine the orientation control with the gyroscope were originally expected to have more sophisticated and expensive motor systems in them.
"But when we sat down and did the mathematics, actually it turned out that we could use the same control systems as what we were using for the same actuator systems and what we're using for locomotion," Pounds said.
"It allows us to buy more of the same servo and less sophisticated, more specific devices, which reduces cost, because now you can buy the same actuators in bulk."
This article originally appeared as "Step by step" in the May 2019 issue of create magazine.