Arc flash incidents maim or kill 40 people every year in Australia and represent up to 50 per cent of injury costs in some US electric utilities. A Queensland-based electrical control switchboard producer decided it was time to do something better.
When an arc flash incident occurs in or around an electrical switchboard, blinding UV and infra-red light is released with the explosive energy of several sticks of dynamite. The temperature of the arc flash can reach over 19,000 degrees C – more than three times the heat of the surface of the sun.
Maintenance workers, and anyone else in its vicinity, can suffer severe radiation burns, have their eyesight, hearing and brain functions permanently damaged, and are sometimes killed.
Peter Taylor, founder and Managing Director of industrial and infrastructure electrical services engineering firm P.T. Automation Solutions (PTAS), witnessed a near-fatal arc flash incident at a paper mill several years ago. His colleague suffered severe, third-degree burns, never to work again.
Two years ago the PTAS management team embraced a plan to turn the company into a more innovative business. They would develop solutions for some of the most pressing safety problems in electrical engineering and construction. That restructure has resulted in the production and patenting of a modular, outdoor switchboard able to contain the massive blast energy of an arc-flash explosion.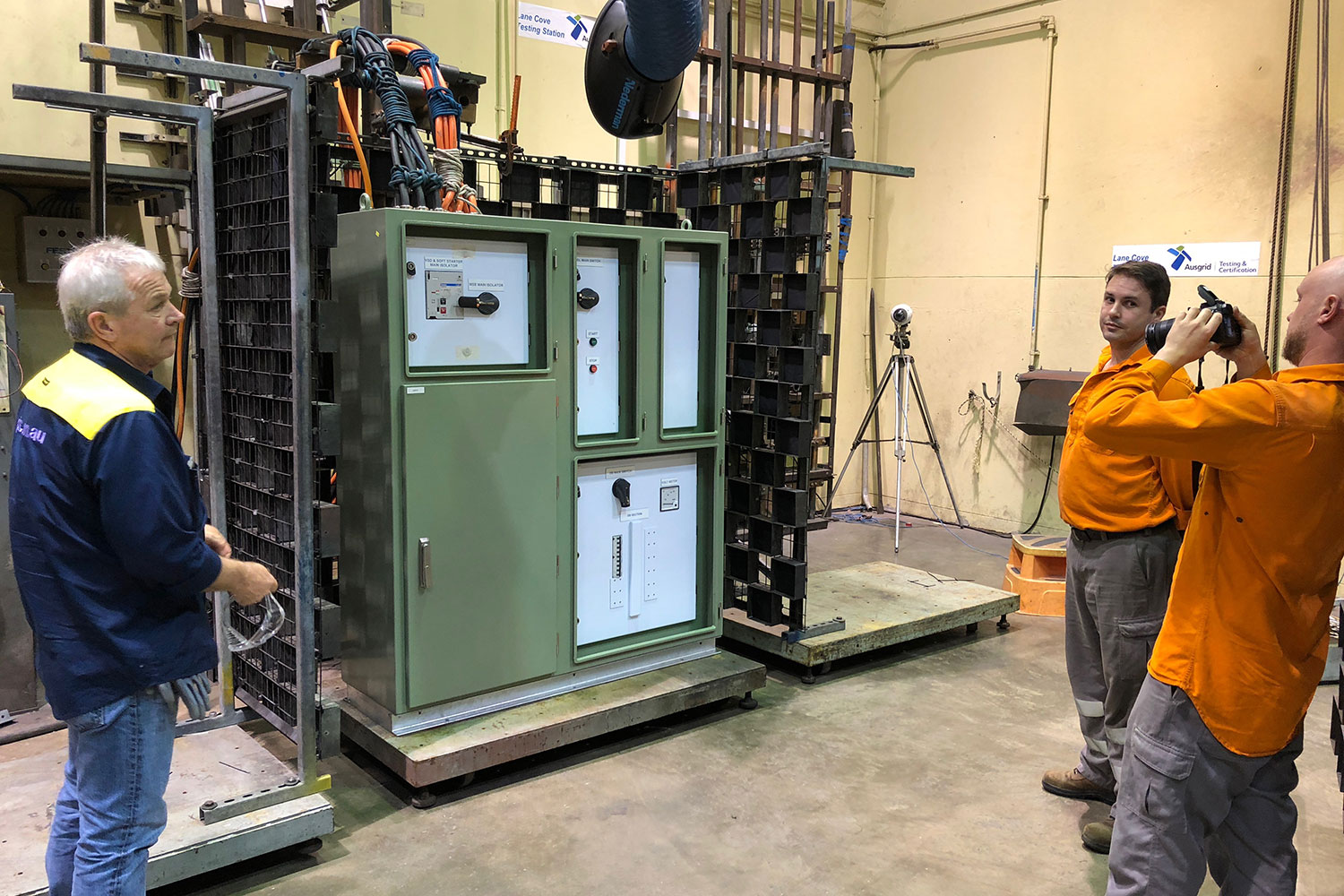 Interestingly, the 'box' – known as the ABCD Compact Modular Outdoor Arc-Fault Containment Outdoor Switchboard – is designed to be effective in containing an arc blast with its outer doors open and inner escutcheons closed.
"In terms of engineering, it required deep thinking around containment, pressure management, diffusion of temperatures, gases, power and noise," said Allan Morton, Chairman and CEO of PTAS.
"It works in a similar way to the silencer of a gun or a car."
Innovation is contagious
In solving one of electrical engineering's most deadly problems, PTAS has also developed a second innovation – a cloud-based, QR-Online customer support portal for customers. It allows any member of a maintenance or management team to simply scan a secure QR code on the inside of the switchboard door, using their smartphone or tablet.
That code will lead to a variety of resources including switchboard-specific technical drawings, manuals, safe operating procedures, parts lists and maintenance notes. Best of all, the maintenance engineer can update the portal every time they run a service or replace a part, informing the next engineer of the changes.
Previously, maintenance technicians had to search out service manuals. Sometimes that involved contacting the original manufacturer. Unfortunately, too many take the risk with trial and error to determine the circuits.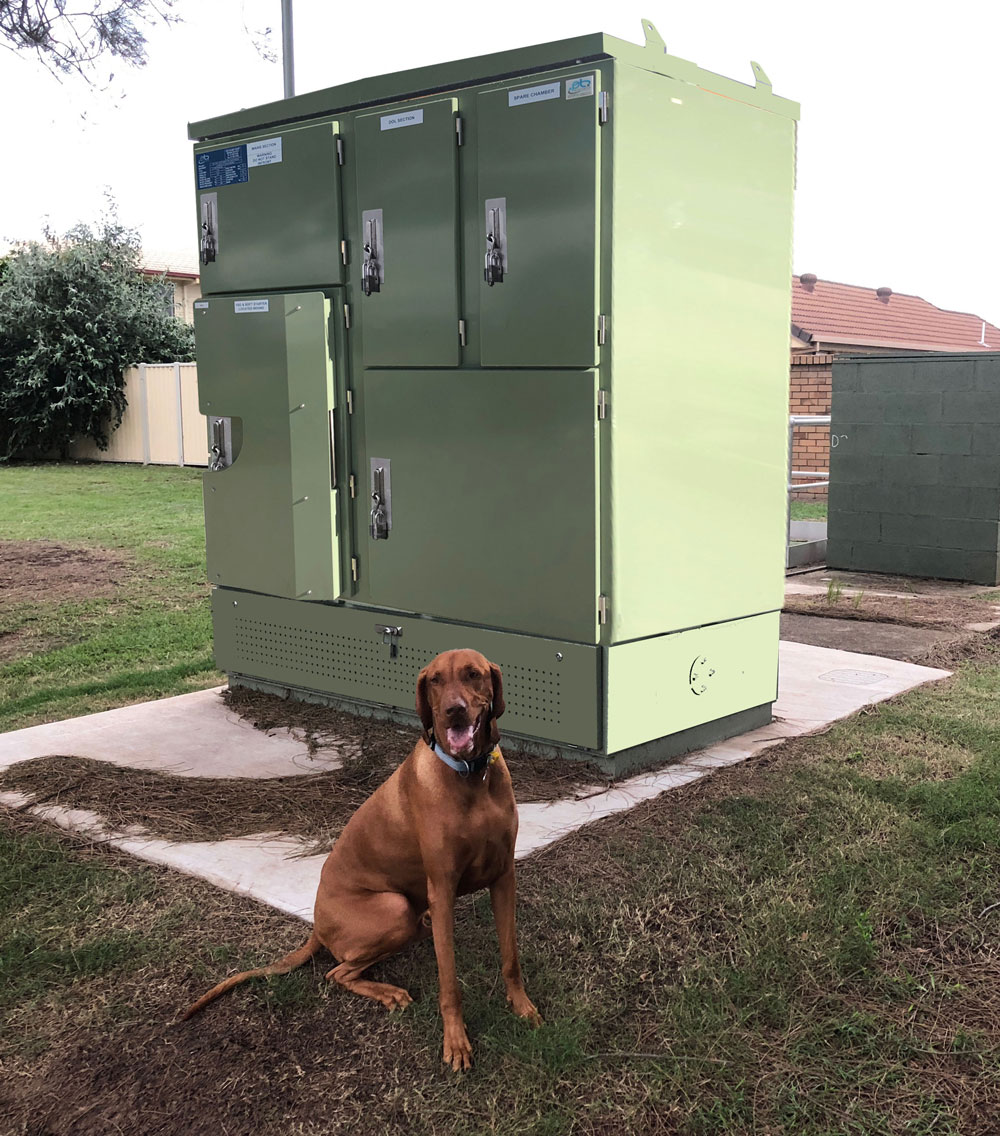 "When the technician is under pressure from the contracting company – and they are often under pressure – there's a possibility that they might not chase down all of the information they need," Taylor said.
"That could lead to a situation in which people are very badly hurt, because they were not aware of a procedure previously carried out, or an earlier part that had been replaced.
"It's like having a car with a QR code inside its door, so a buyer or mechanic can see a complete service history, in real-time, right there on their phone. It is held permanently, and instantly updated, in the cloud. No more log books. No more documents that can be lost or that must be found.
"We're very proud of these innovations, and we absolutely understand their value to industry. Significant investment was made in developing this new switchboard, and we insisted on it being tested and certified by NATA for safer outdoor switchboard design. PTAS was the first in Australia to earn this approval."
What causes an arc blast?
The violent explosion known as an 'arc blast', 'arc fault' or 'arc flash' tends to happen when  the electrical potential finds another pathway and creates an arc. These become unrestricted fault currents with huge energy to dissipate.
Such faults can have many causes, including touching the wrong surface with a test probe, improper tools and techniques, poor training, damaged parts, insulation gaps, corrosion, exposure to water, insects and wildlife and more.
An arc fault can be phase-to-phase or phase-to-ground. Whichever way the charge goes, it is always damaging to anything in its vicinity, and extremely costly for the related businesses and their insurance firms.
How does the 'ABCD Switchboard' contain an arc blast?
The 'ABCD' in the switchboard's name refers to Arc – Blast – Contain – Diffuse technology, built within the switchboard structure.
• ARC: The arc is like a lightning bolt streaking between higher (voltage) potential components to lower potential components. The ABCD board offers no easy, direct pathway for the arc to transfer outside the area in which it occurs.
• BLAST: Closely following the arc, the blast is initially in the form of a supersonic pressure wave bouncing around the chamber, dramatically increasing the dynamic loading of doors and fittings. The ABCD board has a blast shield structure to limit it transferring to other parts of the switchboard. The chamber itself is designed to withstand these very short, very high loads.
• CONTAIN: The blast causes the breakdown of copper and insulation from solid to gas. This gas is safely contained within the enclosure, shared amongst all chambers. Associated with each blast shield is an indirect pathway for the expanding gases to safely pass.
• DIFFUSE: As the energy, heat and gases move through the ABCD enclosure, they pass through many twists, turns and cross-section changes. This absorbs energy. The enclosure construction enables it to expand slightly to reveal other diffusion pathways, to safely dissipate the energy.
Innovation in business practice
In becoming an innovation-first business, PTAS had to dramatically alter its own practices, including its overall management and manufacturing processes. The new internal efficiencies mean their safer switchboards are able to be produced with only a negligible price premium.
The entire business is now fully engaged in lean principles, highly-effective methodologies originally devised by the automotive industry. In January 2019, 30 PTAS staff commenced a Cert-IV training program in competitive systems and processes.
Costs have been reduced and efficiencies and communication increased within, and between, all departments.
The robust systems has allowed PTAS to scale to meet high demand for its best-practice switchboard technology. In the six months after release, PTAS received orders for $3 million worth of ABCD units.
Recent PTAS customers include Glencore, Schneider Electrical, Incitec Pivot, James Hardie, Queensland Urban Utilities, SEQ Water, City of Gold Coast, Fulton Hogan, John Holland and many more.
"Our new organisational practices are a form of insurance," Morton said.
"You can have a very good product made by a very good manufacturer, but if the sales, service, finance and quality control systems, etc., are not integrated and working together then you can still have a great deal of trouble marketing and supplying that product.
"However, a business with a level of management systems, professionalism and sophistication to match the excellence of its innovative product will not only be a reliable manufacturer, it will also be a powerful partner."
PTAS provides comprehensive industrial electrical engineering services that includes system analysis, design, safety integration, manufacturing, construction, automation and project management; an end-to-end solution.