Renny Chivunga's drive has taken her from the catwalk to the skies to water engineering.
"To lead and inspire change and better living by demonstrating what can be accomplished from courageously expanding my circle of influence."
These words are part of a written vision on a chalkboard on the wall inside Renny Chivunga's house. 
The chalkboard is not filled with inspirational quotes; instead it contains a list of goals expressed in sharp focus. 
This written vision is helping Chivunga reach the destination of her life journey. 
That journey began in her home country of Zimbabwe when her father, who had little formal education, achieved his personal goal of sending his children to boarding school. 
Education, he realised, would be vital to his children's success. He was right. Renny's schooling eventually led her to Australia to study engineering.
The vision drives everything she does. Whether Chivunga is modelling on catwalks, appearing in Hollywood blockbusters, negotiating with African political leaders or following her passion for engineering, every decision she makes comes from these words.
They describe her desire to lead and inspire change, to courageously expand her circle of influence, to achieve greater wisdom, knowledge and prudence. They define the areas in life in which she must focus. 
One of the most important of these is engineering.
"Over the years I always felt a confirmation about what I really like," Chivunga, now a Water Network Engineer with Hunter Water and a member of the Advisory Board of the Chemical Engineering Department at the University of Newcastle, said. 
"During my high school gap year, for instance, I earned my private pilot's licence. I was considering a commercial licence, but then realised I was more interested in how the plane flies.
"I would have loved to have dug into the engine and understood more, figured out what the fuel was actually doing, etc. That was more fascinating to me than actually having a licence and being able to fly. Being a commercial pilot would have been fantastic, but the ins and outs of how everything works was more important."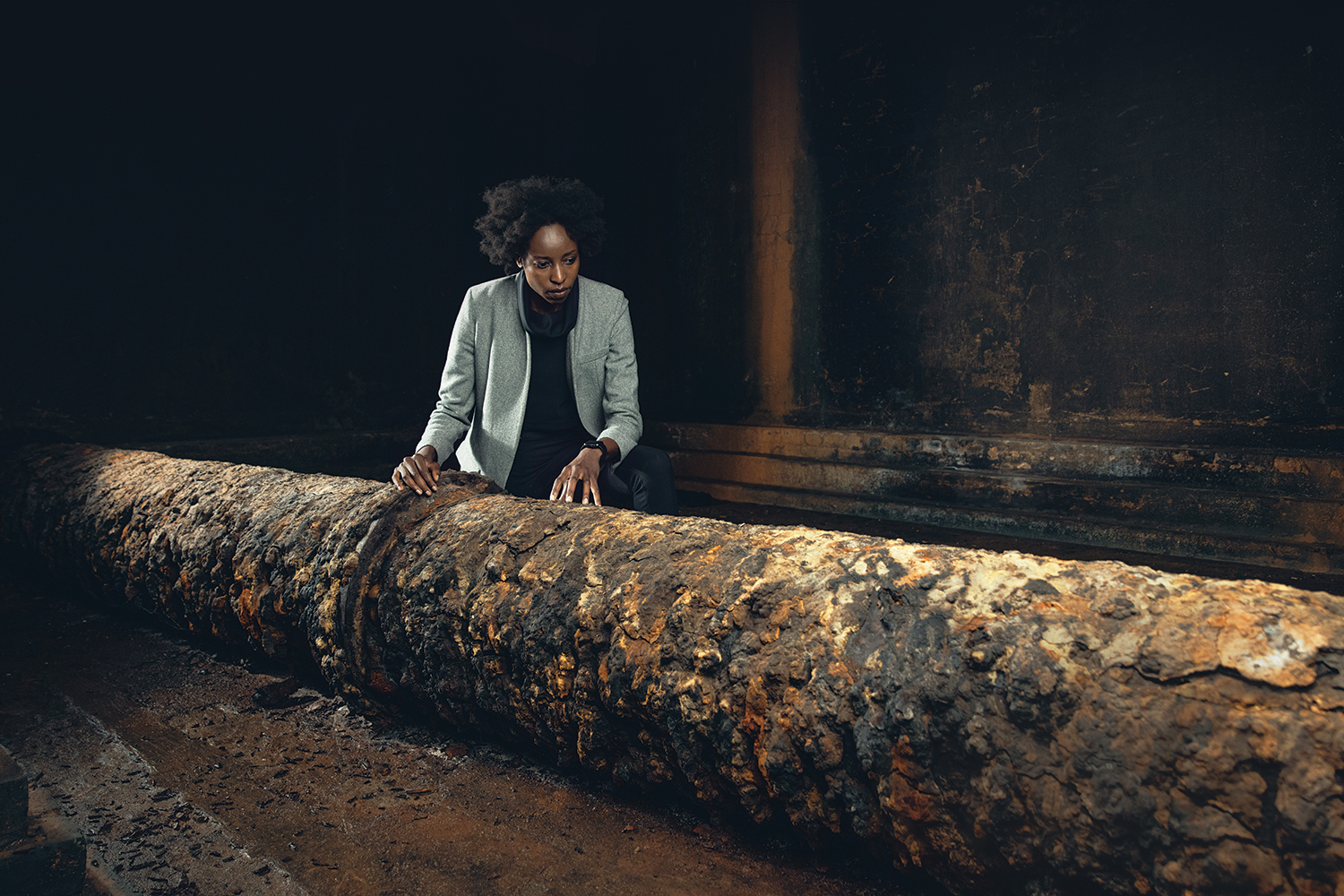 A powerful influence from her childhood drove her inexorably towards engineering, too. 
"I watched Zimbabwe deteriorate from an amazing country into one in which everything, especially the water and wastewater system, was dilapidated," she said.
"I couldn't understand how anybody could allow that to happen.
"The more I looked into engineering, the more I understood what I could achieve. I realised there was so much power in engineering, and especially in water, to really change the world. Everybody needs water!"
Zimbabwe to Australia, via the catwalk
When Chivunga arrived in Australia in 2001 to study engineering at the University of Newcastle, she was experiencing great demand as a model.
"Modelling opens the door to a lot of things," she said. 
"I often did music videos and commercials, for example. One day I was on the set of a music video and Sacha Baron Cohen was there. I didn't know who he was, I'd never watched Borat, but everyone was wanting to talk to him."
"His wife [Isla Fisher] was filming The Great Gatsby at the time, but to my shame I'd never even heard of it. I was standing at the back and, right in the middle of talking to a group of people, he turned to me and said, 'Are you in The Great Gatsby?' I said, 'No, and I'm so sorry, I don't even know what The Great Gatsby is. But seeing how excited everybody is, I wish I was in it!'." 
The next day her agency rang – she had been offered a small role. It makes a wonderful story now, but this only served to demonstrate to Chivunga how little control models and actors have over their careers.
And ultimately, the call of engineering was too strong. She completed her degree, then earned a coveted position at Hunter Water, where many of her dreams are coming true.
Liquid challenges
Having been employed as a water network engineer since January 2017, Chivunga is now working on three prominent projects.
She's the water network representative for the Recycled Water Schemes and the Belmont WTP Drought Response Desalination Project, both of which are firsts for Hunter Water. 
Chivunga is also network representative for the disinfection optimisation strategy, a project ensuring sustained disinfection through network, reservoir and chlorinator upgrades.
Chivunga is working on a range of prominent projects for Hunter Water."It feels as though I am working in a highly innovative part of engineering," Chivunga said. 
"We're working with a range of reservoirs and chlorinators, looking at how we can do disinfection better. Both recycled water and desalination are new to our region. Both processes requiring a commitment to learning new skills, especially learning to communicate with other utilities.
"We're constantly needing to solve challenges, including removing all cross-connections in the system for the recycled water project. We're also in concept design right now for the desalination plant which, if storage continues to deplete, will have to be up and running by the time storage levels reach 15 per cent."
In bridging the gap between Hunter Water and Sydney Water, Chivunga has created training resources, procedures and guidelines empowering teams to be "recycled water ready".
"We're working with a range of reservoirs and chlorinators, looking at how we can do disinfection better."
The value of communication has stood out, she said. It has had an enormous influence on the work she does and on her future plans.
"All major communication at Hunter Water is managed by the communications and media teams. My role involves supporting the contact centre when a customer's question has complexity requiring further investigation," Chivunga said. 
"I can't always give my customers what they want, but I can be honest, and I can distil the engineering principles and limitations into why certain things cannot be done, or why there will be delays. As often as I can this is face to face. Mostly this creates excellent results."
Chivunga's passion for the power of great communication doesn't end with Hunter Water. 
When former Zimbabwe President Robert Mugabe resigned in 2017 and was replaced by Emmerson Mnangagwa, the new President asked the community via Facebook what needed to be addressed. Remembering her vision statement ("courageously expand my circle of influence"), Chivunga wrote him a letter.
"I had thoughts around the water problems in Zimbabwe, and how we can solve them," she explains. 
"So I wrote and got a response from the CEO of the Zimbabwe water association. Water went on to the agenda as a priority, but he didn't accept my offer of help."
That response, she said, indicated that the association perceived that she did not have the required experience or authority. 
"That meant I was not ready yet," she said. 
"So now I take every chance to make sure that next time I get an opportunity to help a third-world country, I will be ready." 
"I had thoughts around the water problems in Zimbabwe, and how we can solve them."
In it to win
Chivunga's career development has included taking part in the Winnovator Challenge, a WaterAid program that charges teams of water professionals around the world to compete to solve an international water, sanitation and hygiene problem.
Chivunga's team chose a communication approach rather than a technical one in order to solve the root cause of their challenge — bringing clean water to a village called Ka-Ben in Eswatini, formerly called Swaziland.
"We chose the communication perspective because I remember a time in Zimbabwe when our government was trying to fix the AIDS epidemic," she explained. 
"One of the reasons AIDS was spreading was because nobody took the time to re-educate the witchdoctors, who were telling men that sleeping with virgins cures AIDS. You can quash much of a problem by simply communicating.
"So, our challenge is to communicate with a community that believes water should be free. How do we empower Ka-Ben to develop, own and sustain solutions to water challenges? How do we instil a value for freeing women and young girls from the daily job of walking a long way to fetch water?"
Engineering and communication is a potent mix, Chivunga said. It can change the world for the better. 
"I make it my responsibility to make sure everybody who is in my care, which is pretty much the whole of the Hunter region, knows I will communicate clearly with them and that I will provide them with a solution if I can, and a clear explanation if I can't," she said. 
"In the same way, as engineers we can use our knowledge and attitude to change the world."
This article originally appeared in the February 2020 edition of create magazine.