Micro-environment corrosion tests are challenging assumptions in residential construction, according to the Galvanizers Association of Australia (GAA). 
Unexpected midway test results into popular galvanized building products have led the GAA to provide advice for engineers around the impact of micro-environments on corrosion assumptions, particularly for residential flooring systems. These flooring systems are quite popular across the eastern coast of Australia, especially for sloping blocks, because they offer simpler installation than other systems. 
Under the preview National Construction Code (NCC), which is made up of the Building Code of Australia and the Plumbing Code of Australia, the minimum galvanized coating thickness requirement is aimed at ensuring a coating life of just 15 years in open exposure for any geographic location, and allows "performance solutions" with even lower zinc coating thicknesses. 
Surprisingly, the new BCA does not take into account any variation in corrosivity due to micro-environments within, or around, a building. Should parts corrode more quickly and major defects occur, problems can ensue.
"In NSW the mandatory state-based warranty period is six years for major defects, two years for all others. If your floor piers corrode out after six years, then you're left with no comeback," says David Harrison, Market and Specifications Engineer at GAA.    
A highly corrosive testing site
Located 20 km south of Newcastle's central business district and 200 m from the surf, GAA's test site at Belmont wastewater treatment plant is in a very corrosive area – it has a C5 rating. Companies such as InfraBuild and BlueScope Steel have used it for testing their products (other partners wishing to conduct their own corrosion testing on this site are encouraged to contact GAA).
Material samples for several products used in residential flooring systems were installed at the GAA test site in 2020. They included structural hollow sections that used batch hot dip galvanizing, continuously galvanized tube, electroplated tube and tube mill applied blue paint. 
Three different micro-environments were tested on-site: dry internal, sheltered and exposed environments. Sheltered environments are those with the same exposure to airborne salt as exposed environments, but with reduced rain washing. They are considered more corrosive than exposed environments.
The Australian standard AS 4312 outlines first-year corrosion rates of 4.2 – 8.4 μm per year for exposed zinc in a C5 environment. It was expected that after 12 months the results would not show significant corrosion on any of the galvanized products. This expectation did not pan out.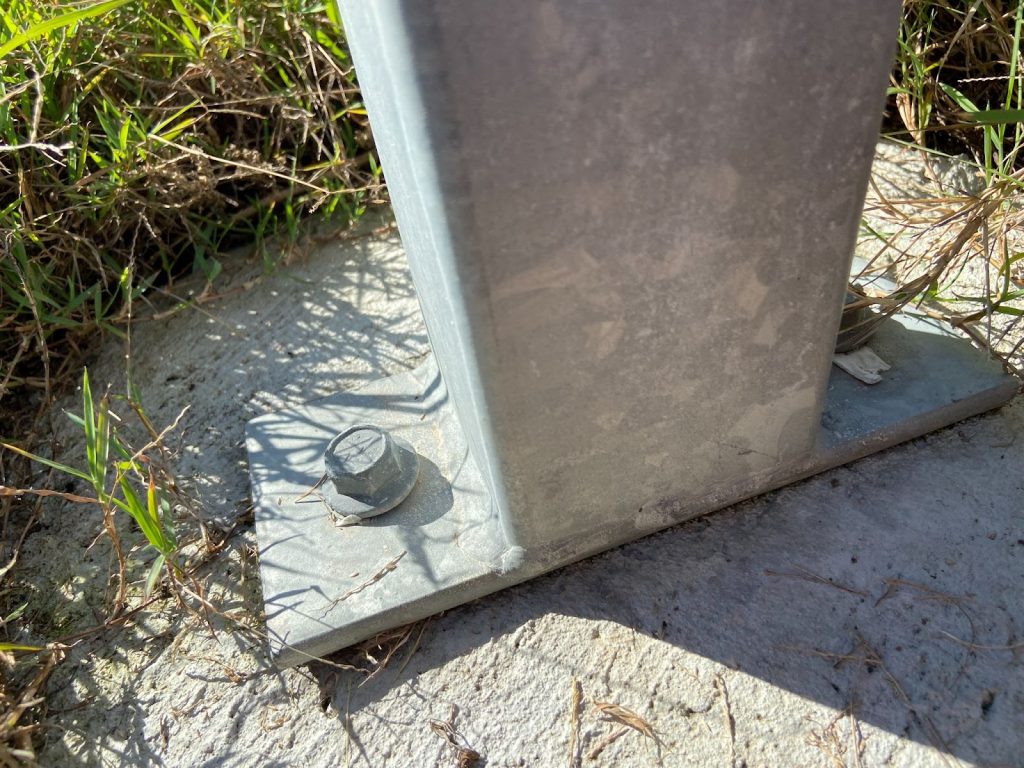 The tests revealed significant corrosion in micro-environments which provided more sheltering from rain washing, with the thinner coatings on electroplated products showing corrosion beyond that expected. 
In general, the tests showed that hot dip galvanized coatings have predictable corrosion rates in general atmospheric exposure and Australian Standard's AS/NZS 2312.2 and AS 4312 can be used to reliably predict the life to first maintenance of zinc coatings, but it is important to be aware of, and make allowance for, increased corrosion rates in sheltered environments.
The test also highlighted the need to allow for increased corrosion rates on the corners and weld repair of tubes made from electroplated or continuous galvanized strip and to ensure that the corrosion protection is reinstated on the cut-ends of these products. Fortunately, the new ABCB Housing Provisions at least make a requirement for coating reinstatement in damaged areas. 
Design features that introduce crevices, overlapping surfaces or contact between different materials can create local conditions conducive to higher levels of corrosion. In addition, plastic caps, commonly used to seal hollow sections, did not provide a hermetic seal against water ingress, particularly at the corners of the tube.  
"Our tests have highlighted the need for engineers to take micro-environments into consideration when making their designs, particularly when it comes to performance-based solutions for residential flooring systems," says Harrison. 
"Through the testing process, we aim to provide more accurate findings that help engineers better manage the durability and design life for their residential construction projects." 
Further updates from the testing are expected over the next few years and GAA has committed to regularly reporting these findings to builders, engineers and designers across Australia. 
For more information about the tests or to access the latest findings, please contact GAA or visit the association's technical publications page.