As we approach World Engineering Day for Sustainable Development (WED) on 4 March, it's important to reflect on how engineers come up with resilient solutions to the world's most complex problems.
Problem solving, creativity and thinking outside the box have always been inherent to engineering.
In a rapidly changing world, however, it has never been more important to come up with new ways to address increasingly complex challenges.
We know that climate change is one of the most pressing challenges of our time, due to both the pace and scale with which we need to act. Other challenges also abound, including changing business models, global social equity and ongoing geopolitical events.
At the same time, technology is increasingly underpinning many of our engineering responses and the systems we rely on to be resilient.
It is within the nexus of these challenges and technological developments that we can find great opportunities to innovate in the pursuit of resilience, as highlighted by this year's WED theme – Engineering innovation for a more resilient world.
Rethinking business models and building resilience
The ongoing shortage of engineers in Australia, coupled with the challenges and opportunities in front of us, means we must start thinking innovatively about our engineering business models.
With new technologies such as ChatGPT bursting onto the global scene, we're starting to hear conversations around the role it will play in future engineering design, and how it might change the way engineers interact with technology.
In the meantime, our business models are already beginning to evolve, including through the introduction of modular design. Now, parts of buildings or other infrastructure can be built in individual modules, then assembled on site.
Taking a non-conventional approach to design, construction and implementation comes with numerous advantages, including cost efficiency, lower emission footprints and better use of sustainable materials.
"When I talk about what engineering is, I describe it as a "choose your own adventure" career. Whatever your interest is, there's almost certainly a relevant pathway in engineering."
Innovations in digital technology, including digital twins and building information modeling (BIM), are also providing significant opportunities to introduce efficiencies, lift quality and reduce rework on site in the construction sector.
They are also instrumental to tackling the enormous challenge of building resilience into our infrastructure and structures. 
From severe storms and flooding in our own backyard, Cyclone Gabrielle in New Zealand to the devastating earthquakes in Syria and Türkiye – the brunt of climate change-related patterns of weather is having a devastating impact on our infrastructure.
In Engineers Australia's Climate Change Position Statement, we called for a review of all critical infrastructure, followed by less critical infrastructure, to appraise its resilience.
By providing a system-level view, these technologies allow us to understand how the different parts of a structure or infrastructure work together so we can identify any weaknesses.
Integrating smart sensors into infrastructure and buildings helps us understand when they're not performing as well as intended, or to obtain early warning signals about structural members that are approaching margins we don't find acceptable. 
Looking forward, we also have plenty of opportunities to advance the frameworks, accounting and calculation methods for determining performance of infrastructure, including in embodied carbon and circularity of materials. 
Endless opportunities for innovation
There is potential for all engineering sectors to innovate in the quest for climate resilience, with some exciting stories beginning to emerge in the circular economy, solar and aerospace engineering to name a few.
A solar canal prototype is about to launch in the US to reduce water evaporation in drought-wracked California.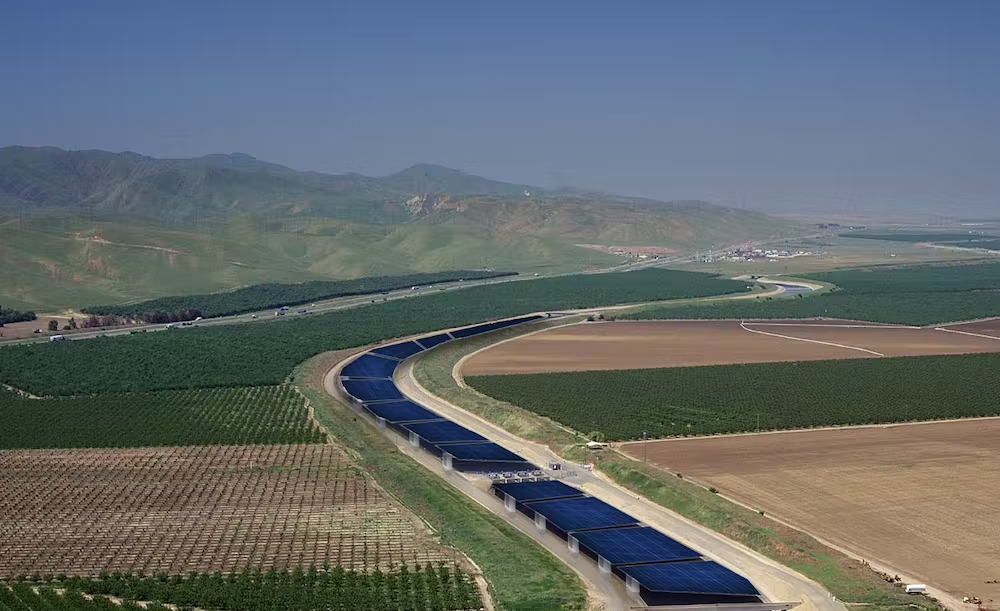 Just last month, Danish wind turbine manufacturer Vestas unveiled a new chemical process capable of breaking down epoxy resin into virgin-grade materials, allowing all current and future wind turbine blades to be 100% recycled. 
This method doesn't require a change in the design or composition of blade materials, meaning the recycling method can be applied to turbine blades in use or those that have been dumped into landfill.
Technology is also being used to improve food security. Regrow Ag, led by Anastasia Volkova, is developing satellite imagery to look at agriculture and cropping. Understanding where moisture levels are variable for example, allows us to be more resilient to changing climates and extreme weather events.
Space technology transfer is another exciting frontier. Tomorrow, I'll be speaking with Daniel Lockney – Technology Transfer Program Executive at NASA – in an EA webinar to explore how the space agency's technologies can be adapted to solve climate and other  challenges on earth.
Facilitating innovation
While engineering has made leaps and bounds in the innovation stakes, we also need to consider solutions that will equip us to drive further change – such as improvements to education, and diversity and inclusion.
We're at a point in time where the skills, literacies and knowledge of engineers are as broader and deeper than ever. We therefore need to expedite our education, particularly when it comes to current and emerging digital and cyber technologies, which now touch all facets of engineering. 
I like to think about innovation and creativity as the process of joining ideas from different places into new combinations to solve current or future problems or to pursue opportunities. The more aware we are of new developments, standards, methods and techniques, the more ideas we can join together to innovate. 
When it comes to diversity and inclusion, it's not only important from a moral and equity perspective – it's just good business. There is extensive research showing that the more diverse teams are, the better quality decisions they make due to the multitude of perspectives and considerations that inform them. Where we need to move the needle, however, is from conversations about diversity and inclusion into action.
Inspiring the next generation of engineers is another area that must be tackled. Not only do we need to replenish Australia's engineering pipeline, we also need fresh perspectives in order to innovate.
To help the nation's youth see engineering as a rewarding career choice, we must highlight the creativity, problem-solving and multitude of opportunities it offers. 
When I talk about what engineering is, I describe it as a "choose your own adventure" career. Whatever your interest is, there's almost certainly a relevant opportunity in engineering.
However, the best way to get the message across about how our profession contributes positively to the world is through storytelling.
We need to tap into our profession's innovators, not only for inspiration, but to learn: where their ideas came from and how they were implemented, the challenges they encountered and how they were overcome, and how they maintained the drive and determination to see their ideas through.
If we can borrow and learn from these inspiring innovators, we can grow, adapt and shape the work we do as engineers well into the future. 
To learn more about how NASA is using space technology to help life on earth, register to attend Engineers Australia's WED webinar on 3 March 2023.