Robot baristas are on the job in Melbourne, San Francisco and Tokyo as automation gets a foothold in the service industry. But can they meet the high standards of coffee aficionados?
According to Liam Wilkie, vice-president of Coffee Insights at Aabak, the answer is yes.
Wilkie's prototype robot barista, affectionately dubbed Rocky, is installed at shop front Once Alike in Collingwood, Melbourne. Customers have the opportunity to taste-test Rocky's freshly brewed beverages, and Wilkie said most are really excited – and pleasantly surprised.
"They've seen [robot baristas] on Youtube, but it's all a bit removed from reality. To actually be able to walk up to a machine and press 'latte', and it comes out and it's delicious… people have involuntary responses," Wilkie said.
Wilkie said people usually associate automated coffee machines with convenience stores rather than cafes. Rocky's creations upend this stereotype of sub-par, machine-brewed coffee.
"When they get a coffee at that standard they are very, very surprised," he said.
Quality and entertainment
US startup Café X – which has rolled out three one-armed robot baristas in San Francisco – has also reported a positive customer response.
"On a scale of 1 to 10, most people rated their drink a 7 or higher; 7 or 8 were the most common ratings given," the proprietors told MIT Technology Review.
Like Rocky, the US machines are installed in a transparent case for safety, but the San Francisco robot barista simply serves coffee made by an automatic machine.
Melbourne's two-armed Rocky takes things up a notch by carrying out the entire process of espresso brewing, from grinding and tamping the coffee to putting the lid on the cup and serving – just as a human barista would. Rocky's developers even gave it a beard and glasses at one point to help it blend in with the Collingwood crowd.
There is also an entertainment element to robot baristas. In Tokyo's Henna ("strange") Cafe, a wise-cracking one-armed 'Sawyer' collaborative robot serves filter coffee and takes jabs at his human counterparts, telling customers, "I can make [coffee] better than human beings around here".
An unexpected opportunity
Wilkie's personal network and involvement in RMIT University's Formula SAE (FSAE) team led to his employment in the robot barista game.
FSAE is a design competition facilitated by the Society of Automotive Engineers (SAE) where students build a racing car from scratch and compete in static and dynamic events.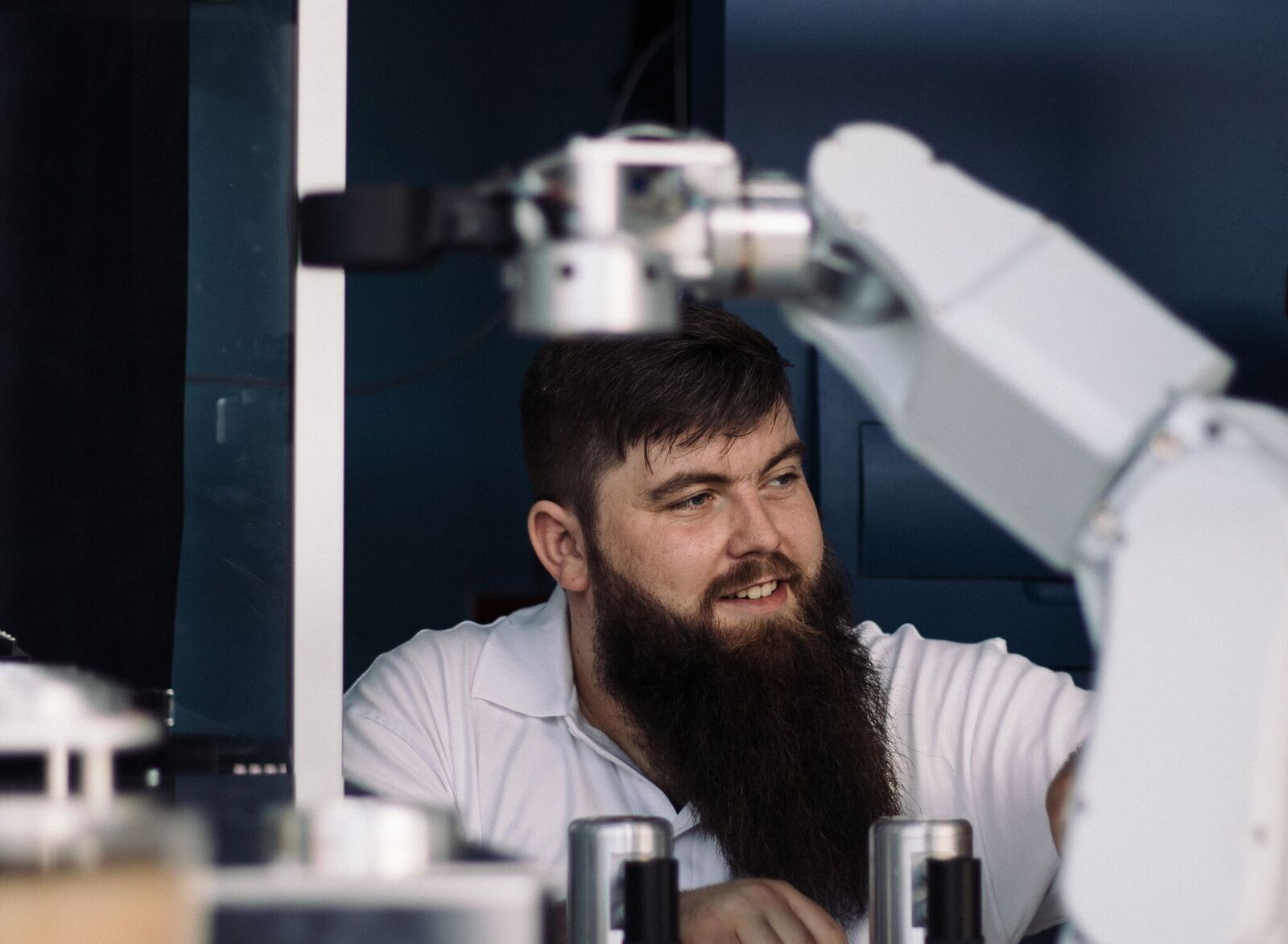 Wilkie put the fourth year of his mechanical engineering degree at RMIT University on hold when he was offered a position at Aabak in September 2016 to work on the robotic coffee machine project. He was recommended by then housemates and FSAE colleagues Daniel Bolitho and Patrick Watts, who had joined Aabak shortly before him.
"They said, 'You should meet our housemate – he's the coffee guy'," Wilkie said.
Wilkie's engineering training and barista experience give him the right combination of skills to liaise with engineers and consultants to solve challenges related to the mechanical properties of coffee grounds and the subjective tastes of coffee drinkers.
"There are a number of variables in the brewing process, and the randomness of a natural product is difficult from a control perspective," Wilkie said.
The translation from subjective to objective criteria doesn't occur in many industrial processes, Wilkie said.
"Coffee is something people want to taste and enjoy, and there is no standard coffee. They need someone like me to assist the engineering team," he explained.
Keeping people in the business
Wilkie said that while machines such as Rocky have the potential to take over some of the tasks of baristas, there will always be room for humans in the service industry, as some people still want the personal touch and banter that comes with a human barista.
"Every industry is seeing pressure from robotics and automation. Even people in white collar occupations are having to find ways to upskill as there is software that can do their job," Wilkie said.
Increasing cafe automation has been accepted by the coffee industry, Wilkie explained, with mechanical devices in place for repetitive tasks such as tamping, milk dispensing and steaming.
Wilkie believes that further arduous tasks within the service sector will be taken on by robots, as people move to a more customer-facing position. He added this might not be a bad thing for human baristas.
"I was in the coffee industry for 10 years, working behind a coffee machine for 10 hours [at a time] and making many thousands of coffees. It's hard work, if they tell you they're enjoying all of it, they are lying," Wilkie said.
Wilkie and his team have now finished testing the prototype model of their robot and are developing the production version of the system. The next-gen Rocky will address issues identified during the testing phase and will be released later this year.