The Federal Government's recent State of the Environment Report delivered a dire warning for the future of Australia's unique biodiversity.
At least 19 of our ecosystems reveal signs of collapse or near collapse. We have
lost more mammal
species than any other continent and
have one of the highest rates of species decline in the developed world, with habitat destruction and clearing identified as the leading causes of extinction. 
With manual reforestation practices unable to keep up with the pace of decline, a number of innovative, drone-driven start-ups are rising to the challenge. 
Australian-based AirSeed Technologies is a leading example. Combining drones, artificial and data-driven intelligence with a proprietary seed pod biotechnology, AirSeed aims to
increase natural habitat and carbon sequestration through global scale reforestation.
"The last 12 months has seen a complete turnaround in not only the need for ESG targets and net-zero goals, but also a stronger focus on restoring lost biodiversity," says AirSeed Technologies Director and CEO Andrew Walker, who founded the company with geospatial data specialist, Andries Louw, in 2018. 
"But we need to ensure that we restore ecosystems the right way, instead of just going out there and planting for the sake of sequestering carbon."
Drones to the rescue
A mechanical engineer with a background in the automotive and aerospace industry, Walker says his idea for AirSeed Technologies was driven by a desire to create a "business that had an impact".
"I've always been passionate about the environment, and I was looking at the deforestation in the Amazon and other places in the world and thought about how we could use technology to make a difference," he says.
Data from
Brazilian space agency INPE
shows deforestation destroyed the equivalent of more than two football fields each minute in the country's Amazon in 2020.
 Meanwhile,
Wildlife Society statistics
show Australia loses
an MCG-sized area of forests and bushlands every 86 seconds.
Walker says AirSeed Technologies can disperse seed pods 25 per cent faster than traditional manual planting at 20 per cent of the cost.
It
began trials of its drone technology in Australia and South Africa in 2019 and launched a crowdfunding campaign the following year, raising more than
$373,000
from more than 200 equity investors. 
In June this year, the company
raised $2.1 million
in seed capital and has received a number of grants, including
$543,650 from the
Australian Research Council to fund a collaboration with Western Sydney University, Macquarie University researchers, Royal Botanic Gardens and Domain Trust to restore native vegetation in degraded land.
"We need to ensure that we restore ecosystems the right way, instead of just going out there and planting for the sake of sequestering carbon."
"The crowdfunding helped us to raise awareness and basically invite people to get behind us – our tagline is 'Join our mission: restore the planet'," Walker explains. 
"It also helped us to grow our team and leverage partnerships with academic institutions, but the latest round of funding has been fundamental in advancing our biotech to a point where we're now ready to scale."
Today, AirSeed's projects include collaborations with landholders and corporates on large-scale projects, with reforestation playing a vital role carbon credit schemes. 
It recently teamed up with Telstra on a technology trial to plant and manage the reforestation of 240 ha of land at Yarrowyck in northern NSW to help offset the telco's carbon emissions. The project includes the planting of 158,000 native trees and shrubs, which is expected to store approximately 160,000 t of carbon dioxide over the next 25 years.
Restoring biodiversity
AirSeed Technologies uses a combination of artificial intelligence and GPS technology to plant 40,000 seedpods per drone each per day. 
Machine learning technology enables the drone to optimise planting by matching certain species with their ideal typography, irrigation conditions and soil health. 
Louw explains pre- and post-planting analysis is a key element in the AirSeed solution. 
"Using remote sensing, our proprietary software and machine learning algorithms, we are able to identify the best places to plant specific species while also identifying the places where not to plant, such as rivers, roads, fallen trees and depressions in the ground that may indicate harmful weeds."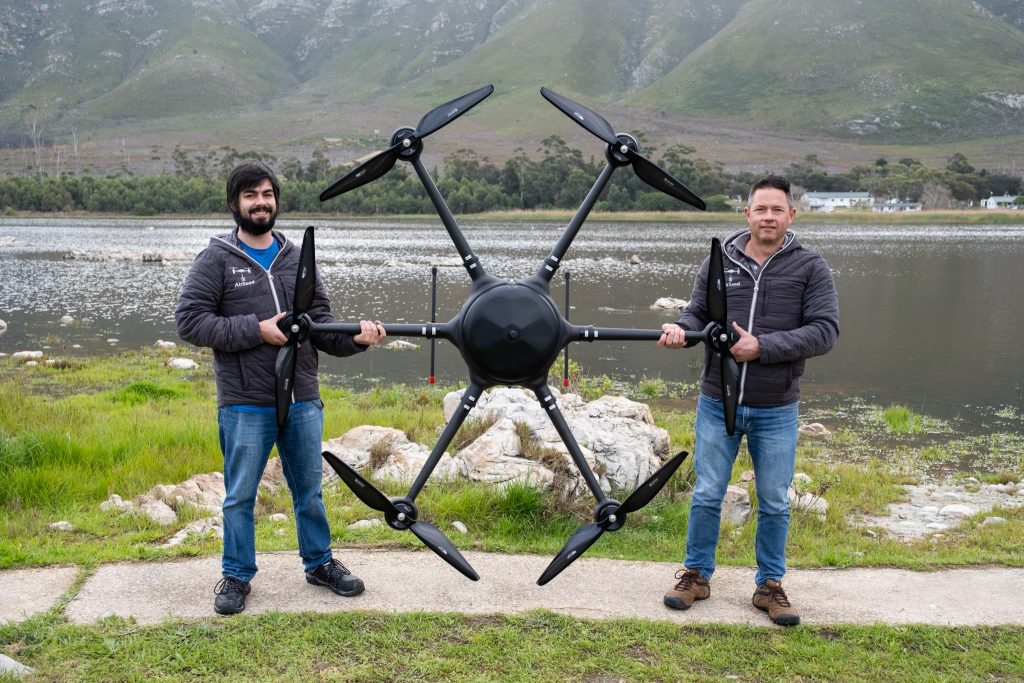 Once these factors have been identified, AirSeed's software creates a flight path and tells the drone where to plant certain species in certain locations. 
"Each drone in any one flight can plant up to 16 different species, which is a key part of the process, and a big part of our business is the manufacturing of the seed pods and the technology behind that," Walker says.
AirSeed's seed pod technology represents the majority of its intellectual property. 
"We use different types of organic components that are great for holding water and different types of microbial communities that we put inside the seed pod, such as probiotics, that help support the seed once germinated, along with different types of nutrients and minerals," he says. 
"It's a way of stimulating the early-stage growth and reducing vulnerability to things like insects, rodents and birds that could potentially damage or kill the plant once it got to a certain size."
AirSeed drones also log the GPS location of every seed pod planted to assist with monitoring and surveying.
"We don't just plant and then walk away," Walker says. "We engage in a project for typically up to three years and use remote-sensing data to process the algorithms that tell us where we planted and what's growing and where there are invasive weeds, because weed load is one of the biggest causes of failure."
Where invasive weeds are detected, AirSeed's technology can identify the variety and the type of pesticide to administer at specific volumes.
"Low-toxicity spot spraying information is passed to another drone that flies out and does the spraying," Walker says.  
Most saplings take at least five years to mature beyond the point of vulnerability to pests and predators. Walker says AirSeed's success rate varies, depending on the environment and the plant species planting. 
"Project types have their nuances, but 20 to 40 per cent is our target ratio," he says. "Seedlings cultivated in a nursery with people going out and digging a hole and planting them present an expensive and not very scalable process, but it does yield really high success rates of about 80 per cent. 
"Our goal has always been about finding a balance between creating the technology, the delivery systems, the software and the machine learning to facilitate the scale and concentrating on the science behind the biotech to promote early-stage growth and success rates."
Replanting the globe
The UN International Panel on Climate Change estimates that the world has only 10 years to prevent the most catastrophic effects of global warming. Global energy-related carbon dioxide emissions rose by 6 per cent in 2021 to their highest level of 36.3 billion tonnes. While planting trees is currently the best way to sequester carbon, the scale of the challenge requires billions of trees to be planted each year.
"We're doing the work that birds and small animals would normally do in bringing seeds back into the landscape."
While AirSeed's aim is to plant more than 100 million trees in Australia and Africa by 2024, its work is part of a broader automated reforestation movement. In Canada, for instance, reforestation start-up Flash Forest uses aerial mapping software, drone technology, automation and ecology to plant seeds at a rapid rate, with a focus on permanent, diverse forests, rather than managed forests and monocultures.
The work of US-based DroneSeed, includes restoring wildfire-ravaged land. Its drones drop seeds housed in pods made from plant fibre that contain nontoxic elements, such as spicy pepper, to deter rodents and other mammals. DroneSeed recently acquired Silvaseed, a 130-year-old seed and seedling supplier, to ensure a steady and scalable supply to restore forests.
Australian-based start-up Lord of the Trees has been automating reforestation since 2019.
"One drone can plant 158,400 seeds a day," founder Aymeric Maudous says. "We're also working with the Federal Government as one of the first responders after bushfires. You'd normally have to wait three months before going into a landscape that had just burned because of the heat and toxic fumes generated by ash.
"We're working on a seed pod that is heat resistant up to 60 degrees, and that will enable the drones to go in a few days after a wildfire and start reseeding," Maudous adds.
"We're doing the work that birds and small animals would normally do in bringing seeds back into the landscape."
Forests for the future
Walker says AirSeed's key point of difference is its biotechnology.
"Our seed pods can be manufactured remotely, so, as an example, we could put a container on a ship to the Amazon and be able to manufacture the seed pods in situ at a planting site, in the middle of a forest, completely off the grid, with minimal people required to restore tens of thousands of hectares," he says.
"This is a really powerful tool, not just from a commercial sense, but from an environmental sense as well, because we'll be able to address a need that human capital can't solve."
AirSeed's current focus is scaling its business and plans to expand into global markets in 2024. Walker says the ultimate goal is to continue pushing the technology to the forefront of industry use while remaining true to its mission of restoring the planet.
"It's taken so long to convince people to change their mindset about climate change and we've got such a massive uphill struggle to restore what we've taken away," Walker says.
"We need to start doing things differently and we have the technology for this, so we need to keep pushing the needle further forward."