Two ambitious projects are helping Tasmania make moves to become the 'battery of the nation'.
With a location south of the 40th latitude line, Tasmania sits directly in the path of the notorious system of westerly winds known as the Roaring Forties.
Long considered the bane of sailors, these fearsome gales may soon prove a boon for the National Energy Market (NEM) as the state gears up to propel Australia's renewable energy future.
Tasmania's $2.5 million Battery of the Nation study was released in June 2018 by the country's largest generator of renewable energy, Hydro Tasmania.
It features a proposal to double Tasmania's renewable energy capacity over a 10-to-15-year period from 2500 MW to around 5000 MW via a combination of pumped hydro storage development, private wind power development and an upgrade of existing generation assets.
Integral to the proposal is the separate and highly ambitious Project Marinus, which aims to convert the state's abundant natural resources into valuable exports to the mainland via a second Bass Strait interconnector known as Marinus Link.
The two projects share a purpose: to aid the transition of the energy system.
A business case for Marinus Link is being examined as part of the $20 million Project Marinus initiative, which is being undertaken by TasNetworks, the state-owned company responsible for electricity transmission and distribution throughout Tasmania, with support from ARENA, the Australian Renewable Energy Agency.
In addition to economic feasibility, TasNetworks is looking at the extent to which the Apple Isle's clean power can help balance the mainland's energy system, particularly in Victoria and South Australia.
It is also seeking to overcome a complex set of engineering challenges.
Powering the nation
The Battery of the Nation study, managed by Hydro Tasmania, focuses on pumped hydro storage.
It has revealed the potential locations of 14 pumped hydro sites that together could generate up to 4800 MW, doubling the scale of the Snowy 2.0 scheme.
The overall project is expected to create up to $5 billion of infrastructure investment and as many as 3000 jobs in regional Tasmania, including hundreds of engineering roles.
"Low-cost reliable clean power is part of the Tasmanian brand and it will attract new investment, development, growth and jobs," said Guy Barnett, Tasmania's Minister for Energy.
Barnett describes the Battery of the Nation and Marinus projects as "a compelling national story".
"Additional interconnection will enable Tasmania to leverage off this renewable energy advantage and Infrastructure Australia regards this project as a national infrastructure priority," he said.
"In short, we have what the country needs — low cost, plentiful renewable energy that can be dispatched on demand."
Chris Gwynne, Program Director for Battery of the Nation at Hydro Tasmania, said the initiative highlights the state's potential in transforming the NEM.
"We have amazing power down here," he said.
"Hydro and wind are the dominant ones in this analysis."
An important characteristic of Tasmania's abundant and predictable wind resource is that, unlike that of South Australia, it has little correlation with Victoria's wind patterns.
"In the evenings when South Australia or Victorian winds start to die off, you see Tasmanian wind picking up, and that brings diversity to the market," Gwynne said.
Building new connections
The existing 370 km long Basslink cable, which was constructed in the early 2000s, has a 500 MW capacity. TasNetworks is examining the feasibility of either a 600 MW connection, with an estimated cost of $1.3 to $1.7 billion, or a 1200 MW link costing between $1.9 and $3.1 billion.
Gwynne, an electrical engineer, said the amount of energy supplied by each form of power depends on the size of the cable.
"If you had a 600 MW link go in, you could expect somewhere between 1000 to 2000 MW of wind development on the island — and that's conservative," he said.
"You could also potentially see pumped hydro development anywhere between 500 to 1000 MW to take advantage of a 1200 MW cable."
Stephen Clark, an electrical engineer and the Technical and Economic Leader for Project Marinus at TasNetworks, said the cable decision comes down to economics.
"We have a number of engineers working on the economics," he said.
"What we have to do is model the electricity market. Underpinning the market is the physical power system, so we need to understand that as well."
Clark said Marinus Link will take advantage of new high-voltage direct current (HVDC) technology.
"When Basslink was put in, it was cutting edge technology," he said.
HVDC uses transistor technology that enables it to create a voltage waveform.
"It's a bit like a generator and it gives us more control over the power and the voltage output," Clark said.
"It will also integrate better with new renewable energy sources, which connect to the power system via inverters. What we're doing is future-proofing the link as coal-fired generation retires and we get more renewable generation."
Engineers Australia's National Manager of Public Affairs Jonathan Russell said the link will have national benefits.
"The Marinus project is an example of how Australia can achieve an electricity market that achieves reliability, while also meeting emission reduction targets, delivered at least cost to the consumer," he said.
Engineering challenges
The Battery of the Nation project presents a number of engineering challenges, particularly in relation to the Marinus Link component of the project.
"The average Tassie load is 1100 MW, so we'd potentially have a link that's the same size, and that's going to put a lot of stress on the power system," Clark said.
"We have to look at the control systems of the link to ensure it doesn't detract from Tasmania's power system. Victoria's system is about five to six times the size of Tasmania's, so it would experience much less stress."
While HVDC technology is not new, Clark said that each system requires a bespoke engineering design and that requires much testing and quality assurance.
"We have a simulator arriving from Canada and this will iron out a lot of the unknowns," he said.
Even before the Marinus project receives the green light, Clark and his team are addressing what he describes as the "big-ticket-item challenges".
"How do we deliver a large-scale infrastructure project? Who are our suppliers? How many cables are required and what are the logistics of that? How can we ramp up our HVDC expertise? There's really not a lot of it in Australia."
Russell said the project could have long-term benefits for Australia's engineers.
"To take advantage of the demand for new energy and the global low-carbon transition, opportunities like this must be used to develop a strong domestic baseload of energy skills," he said.
Gwynne said there will be high demand for civil, electrical, mechanical and environmental engineers when the Battery of the Nation project kicks off.
"We'll also need construction engineers," Gwynne said.
"You can design these things till the cows come home, but, in the end, you need people with the expertise to actually build them."  
What is project Marinus?
Latin for 'marine', Marinus also means 'of or connected to the sea'. It's a fitting name for this $20 million initiative, which investigates how an additional Bass Strait interconnection could deliver more low-cost clean energy to Australia's electricity and telecommunications grid.
A more advanced version of Basslink, the existing interconnector linking Tasmania and Victoria, Marinus Link would have a greater transmission capacity of between 600 and 1200 MW and could keep clean energy moving on-demand between Tasmania and Victoria.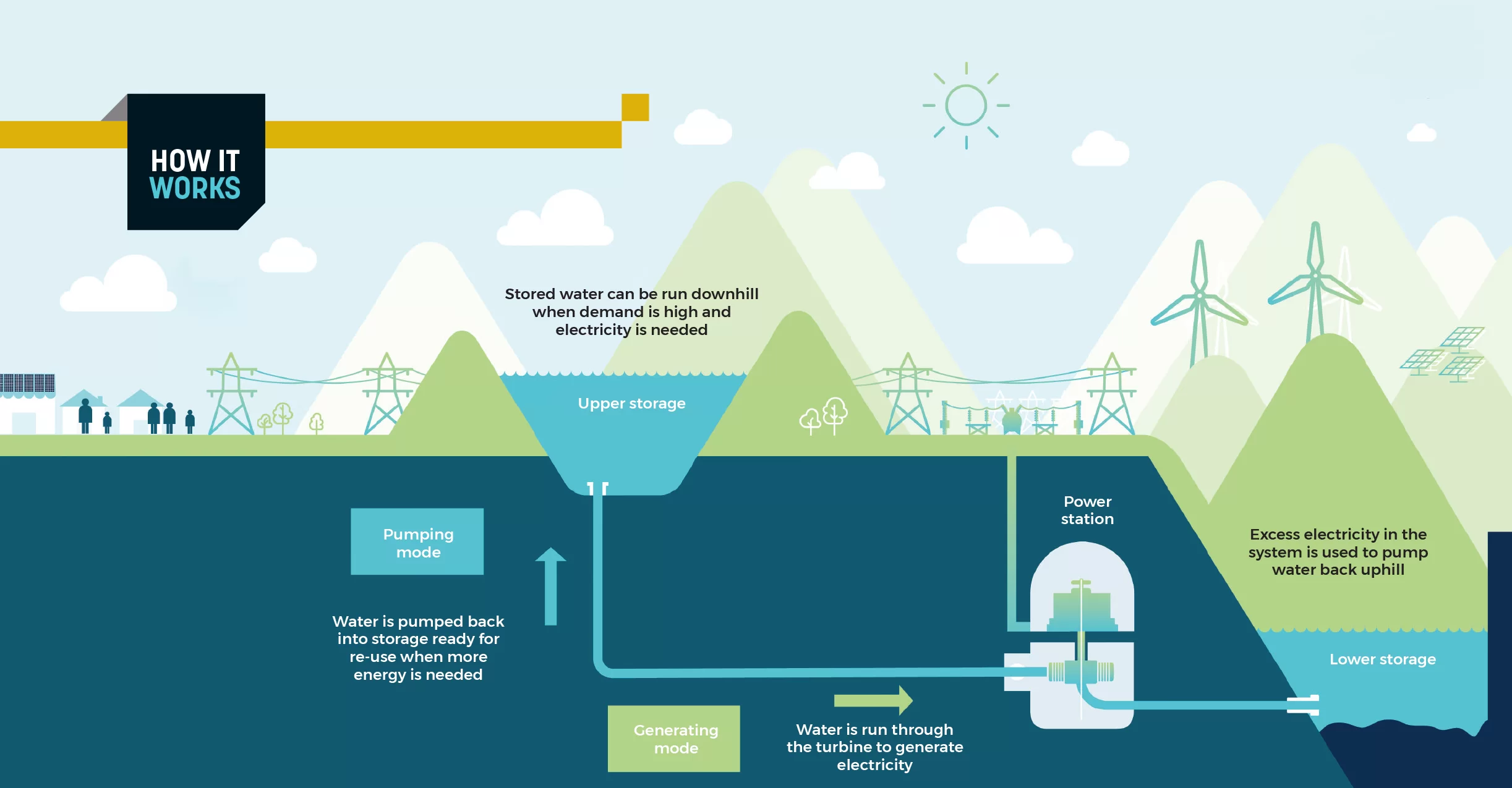 The project is being undertaken by TasNetworks, with support from the Australian Renewable Energy Agency.
If economic modelling is approved, manufacturing of key components is anticipated to begin by mid 2021 and the project is expected to generate hundreds of engineering jobs.
"Depending on the size of the interconnector, Hydro Tasmania will most likely respond with hydro power development of its own," Gwynne said.
"It's a really exciting time for the Tasmanian energy industry. It's almost like turning on a big light switch."
This article originally appeared as "Electric island" in the May 2019 issue of create magazine.