A student team from Monash University has been designing and building its own race car – and the vehicle is entirely autonomous.
A team of Australian automotive engineering students is preparing for a series of big races in Europe this year.
They are running their final tests, refining the processes powering their vehicle, and looking for ways to reach even higher speeds.
And the driver racing this vehicle? 
The driver does not exist.
"We have a combustion vehicle, an electric vehicle, and … in 2017, they started the driverless vehicle," said Paras Bhutiani, an engineering and commerce student who serves as the Chief Executive Officer of the Monash Motorsport team.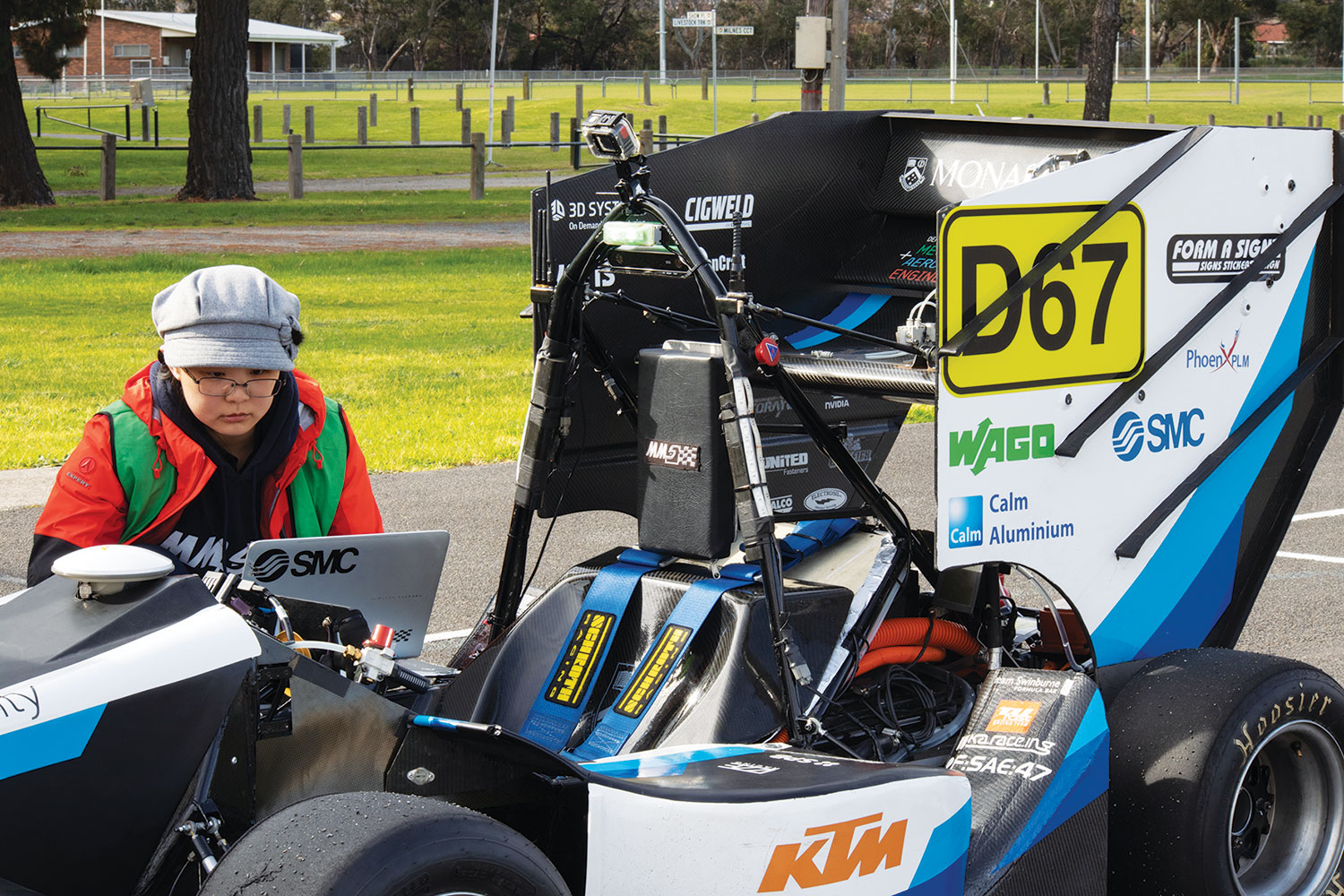 Based at Monash University, Monash Motorsport consists of around 130 students who design, build and race cars in competitions held around the world, including Formula SAE, run by SAE International — formerly the Society of Automobile Engineers.
The Monash team will compete at a series of events that culminates with a prestigious meet in Germany. Formula Student Germany introduced the first driverless Formula SAE competition in 2017, and 2020 will mark Monash Motorsport's first entry into the autonomous competition.
"Our motto for … 2020 is 'one team, three cars'," Bhutiani told create. 
Monash Motorsport's first Formula SAE efforts, 20 years ago, were with combustion engine vehicles. 
Then, in 2017, they introduced an electric car into their repertoire. 
Now, with the addition of an autonomous vehicle, they can compete in all three categories.
Overseeing the project's technical integration is Driverless Chief Engineer Aryaman Pandav, an undergraduate studying mechatronics and science. 
"My role is to integrate all the technical subsections of the team and all the various aspects of the car," he told create. 
"Whether it's the aerodynamics of the car or the structure of the car, or the suspension that actually allows the wheels to react to the forces that the road produces, as well as the autonomous systems."
Pandav first joined the team in 2017 to work on the electric car's powertrain.
"I think the combination of having a knowledge of the electrical powertrain as well as the autonomous systems is what made me a suitable fit for the role of chief engineer," he said.
"Given that it's our first ever driverless vehicle, a large part of the challenge was integrating the electric powertrain and the autonomous systems."
Bhutiani said that a challenge in creating an autonomous car for the competition lay in the lack of pre-existing models to guide the team.
"There's no instruction manual on how to make a driverless race car," he said. 
"Really it came down to figuring out from these foundations what we need to do, and what sort of theory and different applications that we can combine together to fit our purposes. And we have to do that for a range of different sensors, and also the rules." 
Competing in the Formula SAE requires teams to adhere to a rigorous set of standards, as well as to produce a marketing plan, which plays to Bhutiani's advantage — his double degree takes in commerce as well as engineering.
"In the real world you don't just make cool stuff and you don't just make the cars; it's also about being able to apply it in industry or being able to look for a market for these products," he said. 
"Part of the competition is developing that presentation, so I was heavily involved in that aspect."
But that does not mean the technical challenges were trivial.
"It involves developing novel perception and path-planning algorithms, as well as applying existing technologies," Bhutiani said. 
"I mean sensors like our cameras, GPS antennas and LIDAR, which is a laser scanner very similar to how radar works, but using light instead."
The autonomous system works by identifying the blue and yellow traffic cones that plot the course of the competition track. However, the vehicle's first public exhibition at Monash's Open Day this past August has already demonstrated how that can go wrong.
"We had done maybe about seven full simulations at different testing sessions in the lead up to that day," Pandav said. 
"So we were quite confident that it would work as expected. We had even tested at the exact same venue the day prior and it had worked completely fine. But when we initially set up, the car just wouldn't start."
"You don't just make the cars; it's also about being able to apply it in industry or being able to look for a market for these products."
The problem, it seems, was with how the sensors located the track.
"We later found out that it was because it had rained the night before and the surface was very wet. And because the surface was wet, our laser scanner, which we use to detect cones, it was coming up with lots of false positives and getting confused," Pandav explained.
The team has since modified its algorithms and conducted more wet-weather tests. And they're spending the next few months improving the car and its technology's reliability, ensuring it can work in any conditions.
"Our goal is to keep testing our vehicle to further improve reliability and push the boundaries of performance," Bhutiani said.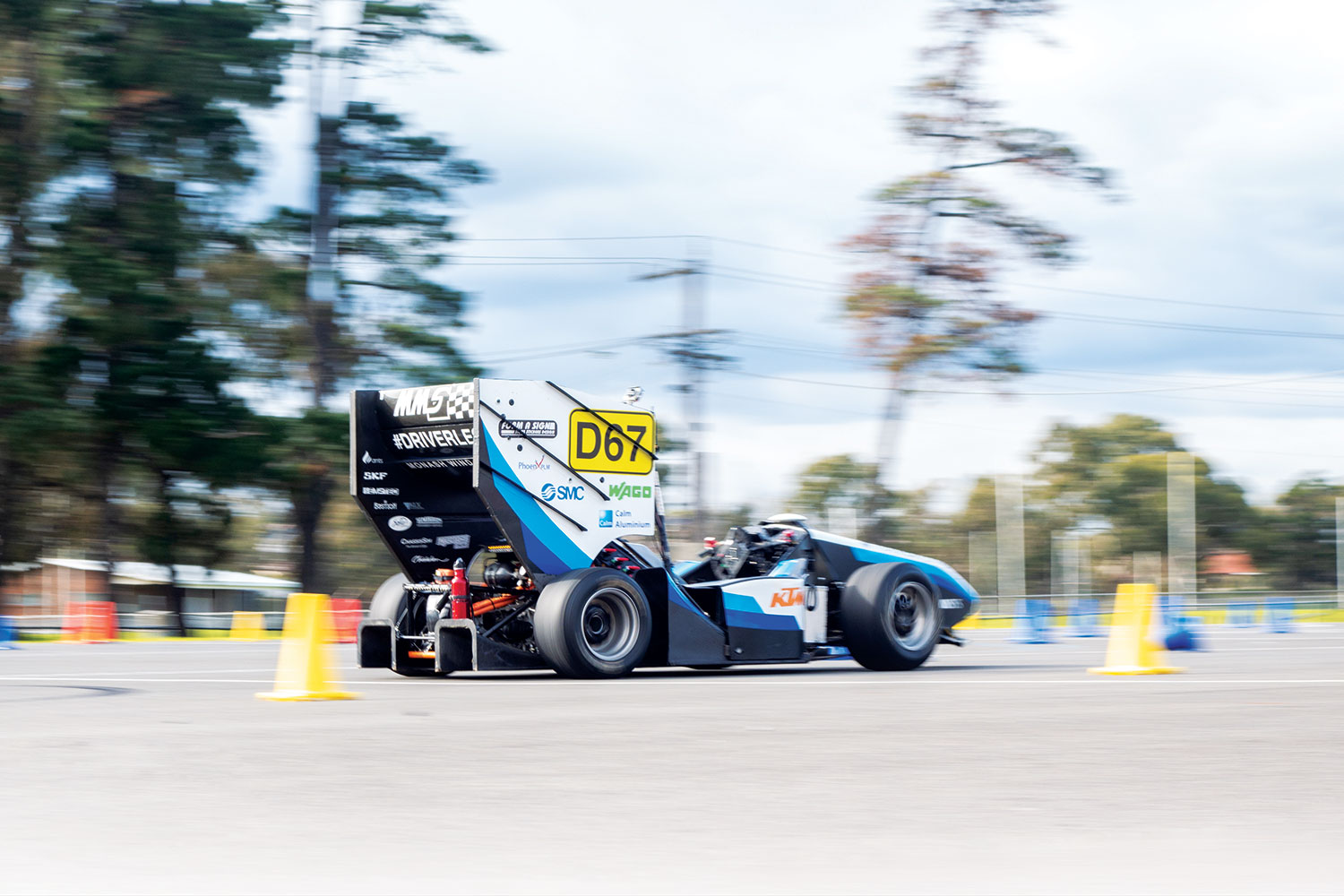 Automatic stop
Monash Motorsport's autonomous race car can reach high speeds in a competition environment, which could prove dangerous, considering the vehicle has no driver to take command if it flies out of control.
Fortunately, the team has devised a failsafe function to act as a brake in case anything goes wrong.
"It's a pretty expensive unit that crane operators use for emergency stops on cranes," said Bhutiani. 
This unit checks in with the vehicle every 30 ms to ensure that it is safe for the car to continue driving.
"It essentially creates a heartbeat with the car, and so long as the car is receiving that heartbeat from this remote, then it'll continue working," Bhutiani said. 
"The moment that one of our team members sees that the car is about to go off track, or it's about to go off track, or something is wrong, they can hit the kill switch on the remote stop, and then the heartbeat signal stops. Then the car recognises this within 30 milliseconds, causing power to shut off immediately and the car to come to a complete stop."