Some of life's pleasures are so simple that they can't be improved upon. The first warm day of spring. Sleeping in. A plate of warm chocolate chip cookies.
Actually, scratch that last one. It turns out the ordinary, everyday chocolate chips with which we're familiar are not perfect enough — according to industrial engineer Remy Labesque, who works for Elon Musk's electric car company Tesla.
"The shape of a typical chocolate chip is an arbitrary result of the industrial process used to make it," said Labesque, the engineer in question.
Dandelion, the San Francisco chocolate maker for whom Labesque designed his superior chip, says the design is actually so good that it also works outside a biscuit. 
"While the chip was created for baking," the company wrote on a blog post, "many of us at Dandelion Chocolate have reached for them to nibble because the mouthfeel is different from our bars."
Not a pyramid, yet not quite a diamond 
Labesque's relationship with Dandelion began when he attended a cooking class with the chocolatier in 2013. In true engineering fashion, his attention was captured by the precision of the chocolate-making process.
"I was struck by their attention to detail. It was remarkable that they were as obsessive as they were while still shipping at scale," he told Bloomberg.
So when Dandelion pastry chef Lisa Vega wanted a chip tailored for her recipes, she asked Labesque for help.
"The shape of a typical chocolate chip is an arbitrary result of the industrial process used to make it."
The shape of a commercial chocolate chip doesn't vary much from brand to brand, Labesque noted, even though the ingredients might. In all cases, a drop of molten chocolate is left to cool on a flat surface.
However, Labesque observed that a thin piece of chocolate would melt more quickly in the mouth. On the other hand, the chip needed to be chunky enough to remain an effective chocolate delivery mechanism. 
The resulting chip is flat and square with a combination of thin and thick edges — something like a diamond that has been squashed to more closely resemble a pyramid. To get such a structure, Labesque needed to create the chips in a mould.
"The shape of our chip is faceted: the edges of a Dandelion Chocolate chip taper to thin-as-we could-make-'em without compromising structure," he said.
"When you put a Dandelion chip on your tongue, the thin, chiselled edges warm-to-melt nearly instantly. The 3D shape, while simple, we believe is also novel."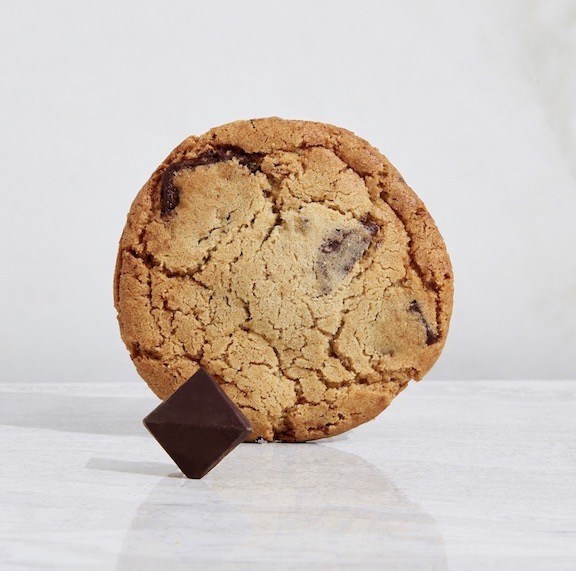 Taste test
The chip, in accordance with Vega's needs, comes in two sizes: 0.8 g and 3.5 g. She gives the design a thumbs up. 
"They stay whole, but once they're baked, the centre of the chip gets soft," she said.
Dandelion CEO Todd Masonis was also satisfied.
"You're getting a nice big chunk, but it's more a horizontal chunk if you will," he told Fast Company.
"We tried early taste tests. Our chocolate is honestly pretty strong, so we wanted a shape or experience that isn't too overwhelming. This is a chunk that's a bit more palatable."
For Labesque's part, he's pleased to have had the opportunity to introduce innovation into such a seemingly straightforward arena.
"This is noteworthy because the world of industrial design is running out of simple forms that haven't been claimed for something already," he said.
"Beyond that, we're proud to have optimised the chocolate chip eating experience as a result of rethinking the humble shape itself."
Any aspiring engineer-bakers can order the chips through the Dandelion web store. Creativity does not come cheap, however. Half a kilogram of the chips will cost US$30 — $41.80 at present exchange rates.