An Australian startup hopes its reusable plane will see the company become our national carrier in space. 
When aerospace engineer Alexander Ward describes the satellite launch platform he is designing, he's careful not to use the word "launch".
Instead, Ward says the plane will "fly" small satellites to space. "We operate like an aircraft, not like a rocket," he says. "We can take off, we can turn in the air … and deliver the satellite to a slightly different plane in orbit. For the industry, that's a really interesting and useful capability, which is unique to our system."
Ward is a vehicle design engineer at Hypersonix Launch Systems, an Australian startup specialising in hypersonic technology and scramjet engines. The company plans to manufacture a reusable space plane that, as part of a three-stage to orbit system, can place a satellite in any orbit from any launch site.
Known as the Delta-Velos Orbiter, the plane's designers say it will run on green hydrogen fuel and feature the world's first 3D-printed fixed-geometry scramjet engine.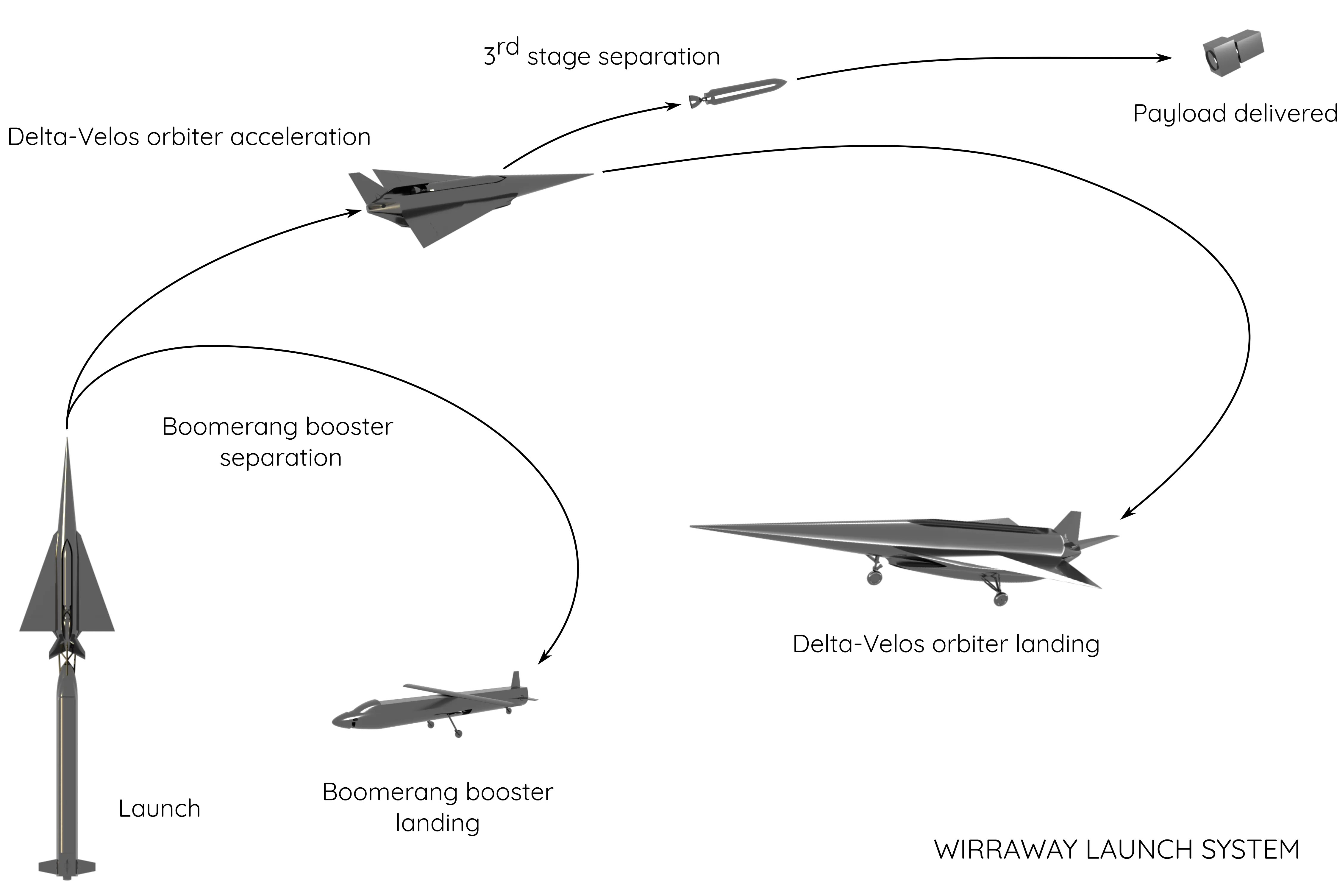 Green space
Speaking fresh off a flight from Los Angeles to Brisbane, Hypersonix founder and Head of Research Dr Michael Smart says most rockets are thrown away after a single use. "It'd be like they threw away the A380 aircraft after that one trip," he says.
"That's what the space industry does. That's what NASA does. But we're not going to do that. We're going to fly like Qantas."
Rather than ditching the plane in the ocean, Smart says the Delta-Velos Orbiter will land back on a runway beside the launch pad, ready for another launch the following day.
"We're not creating a graveyard of space vehicles off the coast of Australia," he says. "We also use hydrogen as fuel, so we don't create any CO2 emissions. We're really trying to be the first green space launch company."
Hypersonix builds on more than three decades of research at the University of Queensland's Centre for Hypersonics, where Smart was a professor and Ward a PhD student.
"They did a lot of computational and experimental work, and then flight tests," Ward says.
"So all of that research has been done.
"We're not in [research and development] mode… we're executing. We're designing real parts, manufacturing real parts, cutting metal."
"We're not creating a graveyard of space vehicles off the coast of Australia."
Heat wave
Scramjets aren't new. Experimental scramjet engines have been around since the Apollo era. But one of the biggest challenges faced by engineers — then and now — is managing the extreme heat generated by flight at hypersonic speeds.
"As we're flying at Mach 5, Mach 10, everything gets very, very, very hot, purely because of the friction of the air," Ward says.
"Designing for that heat… using systems like active cooling systems or passive cooling systems to remove that heat — that is one of the most difficult technical things that we have to overcome."
The heat also limits the materials that can be used in the plane. "We're not talking a few hundred degrees … areas will be well over 1000 degrees Celsius," Ward says.
"Most metals — you cannot use them close to these temperatures."
Instead, Hypersonix has looked to very high-temperature metals and more exotic materials such as ceramic matrix composites. But they come with their own manufacturing challenges.
Ward says there isn't a company in Australia capable of manufacturing real-world items from high-temperature composites.
"There are the laboratories, which can make a little test piece, he says. "There is the knowledge. But there isn't a company that could make a wing, for example."
Scale up
Hypersonix has an ambitious plan to build three vehicles in three years, starting with a technology demonstrator called DART AE.
From a performance point of view, Smart says the engine and plane scale nicely.
But it's expensive. When the vehicle size is doubled, the cost "goes up much more quickly", Smart says.
Another limitation is that the scramjet technology only works above Mach 5.
"For a launch system, we need another technology to get us up to that speed," Smart says. "So we plan to use a rocket motor to do that, and we will partner with other [rocket] companies."
If it works, Smart sees applications for the technology in places like SpaceX's Starlink satellite internet constellation.
He says the project is expected to put more than 10,000 satellites in orbit, with 50 being launched at a time.
"Each time they launch those 50 satellites, at least three of them are dead on arrival," Smart says.
"Those need to be replaced, and the best way to replace those is with a smaller system like us. And we could position them very accurately in terms of the timing and the altitude and the orbit."
Ultimately, Smart says he wants to take advantage of the money the Australian Government has put into hypersonic technology and create an Australian aerospace company.
"Our whole company is about creating this product," he says.
"I just want people to realise that hypersonic technology is not 20 years from now. It's today. And we're a part of that.