There are three megatrends shaping most industries, according to mathematical computing software company, MathWorks.
It's sometimes difficult to figure out what changes might mean for your business or job because of the frenzy of modern work and the pace of innovation. The trees prevent us from seeing the forest. But for MathWorks, a developer of mathematical computing software for engineers and scientists, identifying and analysing such trends is vital.
Today's megatrends, says Stephane Marouani, Director and Country Manager Australia and New Zealand at MathWorks, all involve engineers. They are:
Electrification

: Particularly around clean energy generation, electrified transport, storage, and microgrids.

Connectivity

: Everything we do, from our personal communication to shopping to running a business, relies on interconnected devices.

AI

: Connectivity produces data, which can be used by organisations to constantly optimise and adjust their processes.
"There is good progression in the understanding of AI amongst engineers," says Marouani. "But there's still a knowledge gap. We often hear engineers saying, 'I'm not sure that I know how to do that, so I'm going to leave it to the data scientists.'
"The problem is that data scientists do not have sufficient engineering domain knowledge. This gap creates a vicious circle of organisations outsourcing their AI to programmers who understand AI, but who don't know exactly what an engineering solution looks like. That's why we've developed low-code AI apps specifically for engineers."
Optimisation is fuelled by data
Whether it's from satellites or weather agencies, connected, and autonomous machinery, or past operational records, data can fuel the optimisation of all engineering projects.
Take for example MathWorks client Monarch Tractor, a technology and agriculture company headquartered in California that produces driver-optional electric tractors.
The technology performs field scouting, meaning it recognises various ground issues such as weeds or bare ground. It also recognises livestock and humans, conducts moisture level and pest assessments, provides aggregated data analytics and more.
"They integrate cameras and AI to autonomously drive this tractor," says Marouani. "As in so much of the engineering world, we're seeing the physical system coming together with AI to create something so much better."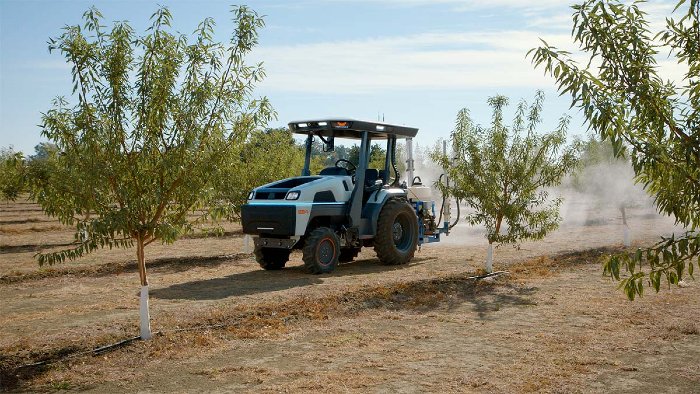 Once, such technological advancement would have solely been the domain of data scientists. But today, user-friendly AI is available to engineers with little code experience.
AI for all
When considering bringing AI on board, the first question an organisation must ask is why.
"What is the problem you're trying to solve?" says Marouani.
Next, businesses must ask whether relevant data is available and, if not, how they can collect it?
"Think of automated driving," he says. "Systems needed millions of hours of driving data to learn to tell the differences between various traffic signs, road markings, bicycles, pedestrians, and motorcycles. The machine is constantly learning, and it requires data for that learning."
Once the data pool has been identified, it is time to set up the AI and let it loose. With the right support, this step doesn't require organisations to hire their own data scientists or AI experts.
"At MathWorks, we are a software company for engineers," he says. "We're not a software company for software developers. So we're developing more and more low-code workflows, where you can develop AI applications with very minimal coding – less than 20 lines of code."
This low-code offering is exactly what engineers at Monarch Tractors utilised. As a startup with fewer than 100 employees, the company wanted to remain agile rather than trying to hire a whole new team of AI specialists. 
With the help of MathWorks products MATLAB and Simulink (a block diagram environment for model-based design), the company was able to get first iterations of their vehicles active more quickly, test their architecture and deliver the first tractors to farmers.
"At MathWorks we're trying to remove technical steps by giving engineers apps that they can simply load up and let go," says Marouani. "The app will generate the very best AI models for your requirements."