Three former engineering students have built a global business manufacturing electric vehicle chargers in their home town of Brisbane.
Unless you've been living under a rock you could not help but have noticed the furore sparked in the lead up to this past Federal election on the subject of electric vehicles, or EVs.
It must have all seemed a bit bizarre to the trio of electrical engineers who head up Tritium, a Brisbane-based enterprise that has established itself as a global leader in the design, development and manufacture of EV fast chargers.
Tritium arranged a factory tour for create, to see the fast-growing company's R&D and manufacturing facilities, in suburban Murrarie, near Brisbane's Gateway Bridge.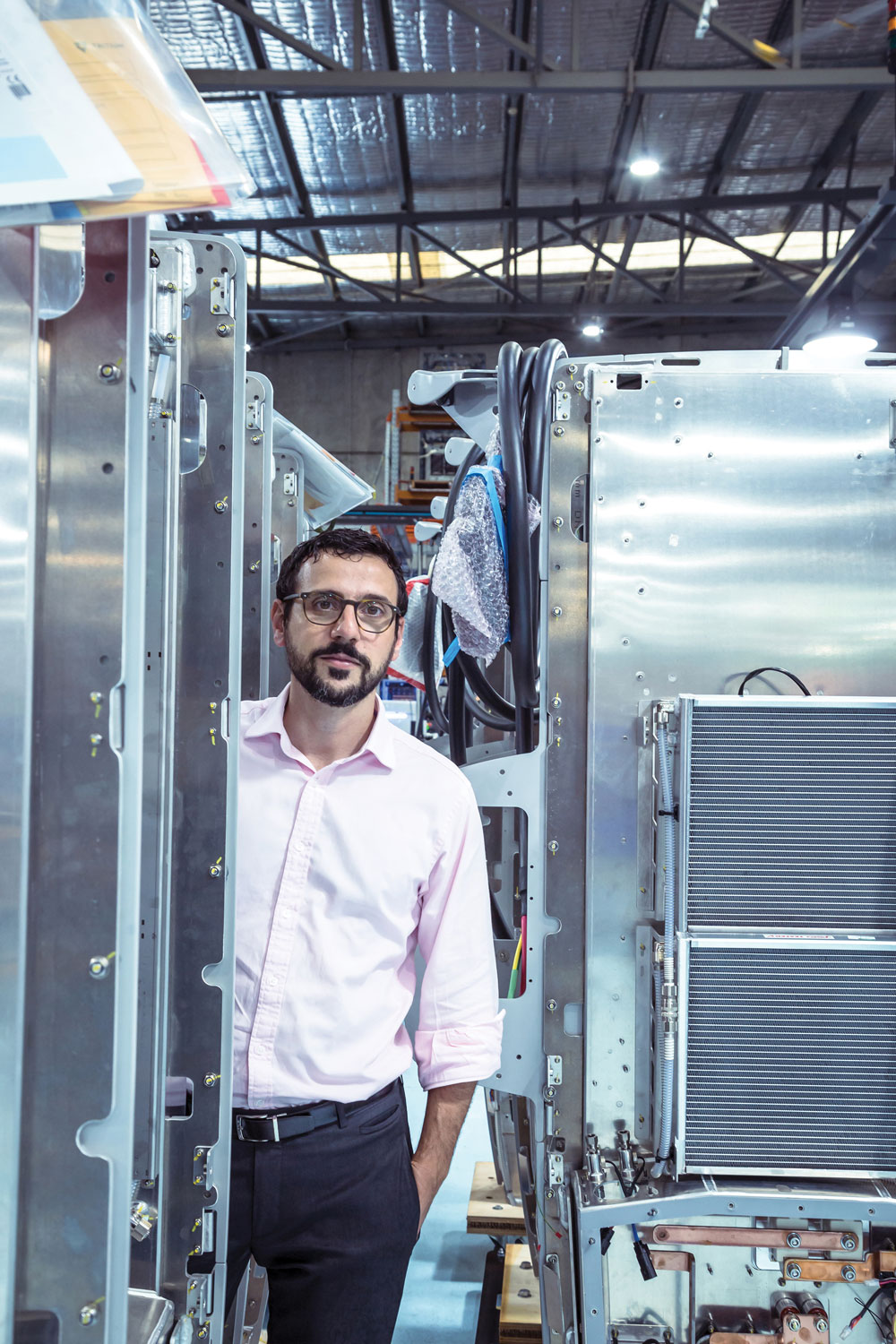 Founder Paul Sernia explains that he and his now business partners met while studying electrical engineering at the University of Queensland in the late 1990s.
The trio worked together on several World Solar Challenges, including the 1999 event in which the University's 'Sunshark' placed third.
"We actually designed electronics for that car as part of that project and when other solar car teams saw what we had developed, they wanted to know whether they could get their hands on the technology themselves," Sernia said.
"And so after we graduated we formed Tritium to supply that market with those electronics and it's really grown from there."
Sernia explains that the partners decided they would use their expertise to pursue DC charging solutions, since that was the best known way to get high power into EVs quickly.
"What we really want to do is make it as convenient as possible for drivers, which means replicating the petrol station experience, where you come in, you fill up quickly and you move on," he said.
"Really, DC charging is the only way to do that. It may be that one day in the future electric vehicles won't support AC charging at all."
Today, the company has expanded to more than 300 staff — the majority employed at its facilities in Brisbane and others at its Los Angeles and Amsterdam operations. 
High power
Tritium's two main products are its Veefil-RT 50 kW DC fast charger, which is the charger of choice for most EVs, and its new Veefil PK 350 kW DC high-power charger, which is the next generation of charging technology being rolled out in Europe.
Sernia explains that the 50 kW units take around 10 minutes to deliver a 50 km charge, whereas in the same time frame the new 350 kW units can deliver enough charge for 350 km.
Only a few vehicles are capable of using this level of charging power right now, but the Volkswagen Group has a number of new models in the pipeline that will be suited to it, including the Porsche Taycan.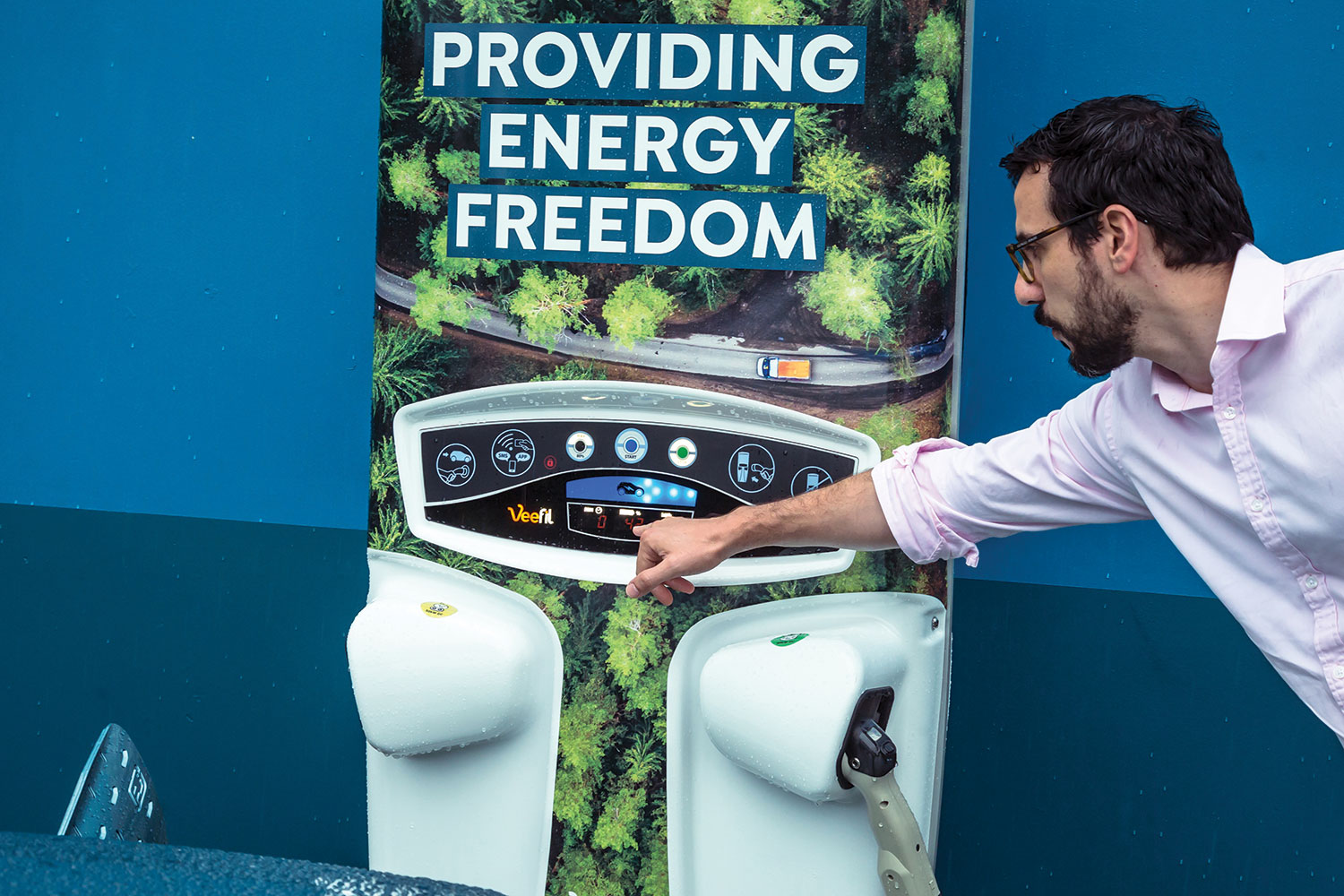 In July last year Tritium inked a deal to supply its new generation units for 100 sites in Europe's Ionity charging network, which plans to locate the chargers across Germany, France, UK, Norway and Sweden. 
A spokesperson for Ionity said at the time that it had chosen Tritium as its technology partner due to the company's "world leading technology and ability to provide rapid delivery."
Cooling system
As create discovered during its tour of the 3500 m2 manufacturing facility, Tritium is quite sensitive about that world-leading technology, refusing to allow our photographer to snap anything that might remotely show the inner workings of the charging units.
Sernia explains that part of the key to the Tritium chargers is the design of their cooling system, which is an integral part of the unit's efficiency due to the high heat loads generated by the charging process.
Inside the user units are coolant hoses that circulate ethylene glycol – the stuff you put into a car radiator — over a series of liquid cooling plates with a manifold at the base of the chargers.
"Part of our intellectual property is around understanding how we get the heat from the electronics into those cooling plates, and then it comes out via the automotive grade fans and radiators," Sernia said.
The trio of fans and radiators he references are stacked atop each other and look like scaled-down versions of the custom radiator you might see in a V8 Supercar.
That's no coincidence; they are made by Gold Coast's PWR, which supplies the Supercars series, along with F1, NASCAR and major original equipment manufacturers.
"In terms of our technology, we are unique in that we are the only liquid-cooled DC fast charging stations and that enables us to get some really unique properties out of our chargers," Sernia said. 
"Generally we have a very small footprint, the smallest footprint in the world, [and] we're the lightest in the world."
The radiators are the only parts of the chargers exposed to air, with all the crucial electronics sealed inside an IP65-rated enclosure, meaning no dust, water, salt or other material can enter the units.
"Part of our intellectual property is around understanding how we get the heat from the electronics into those cooling plates."
Sernia explains that the chargers have a lifetime expectation of "10 years-plus" but notes that because the charging market is still so new, the projection could prove pessimistic.
Production flow
Tritium also boasts a strong local supply chain with about 60 per cent of the thousands of components that go into the chargers sourced from Australian suppliers. This includes the aluminium chassis, sourced from Yatala, and the plastic outer cases from a Queensland-based body panel manufacturer.
At the end of the assembly process the chargers go through high-power end-of-line testing, where Tritium use a series of slave chargers to recirculate test load and reduce their electricity usage.
The last step in the manufacturing process is branding and customisation for individual clients, before being boxed up and shipped to destinations in Australia and around the world.
One of those customers is Queensland energy company Yurika, which manages the state's so-called Electric Super Highway, which stretches from Coolangatta to Cairns, and inland from Brisbane to Toowoomba.
Tritium's 50 kW DC fast chargers are dotted all along the state's coastline and look not unlike a fuel bowser, with an inbuilt charging lead on either side for different vehicle connections and a small window and control panel on the front to activate the unit and advise on charge status.
To date, the network has delivered just 3000 charging sessions but Sernia nonetheless believes the existence of the network will accelerate EV uptake.
"It's a catalyst," he said.
"Of the three things that you really need to enable adoption or transition to electric mobility, the availability and diversity of cars is very important, and the availability of public charging infrastructure is the other big one. And we know that the infrastructure always leads the vehicle activity, so it really was a very important network in Australia."
While Tritium is currently the only Australian manufacturer of EV charging stations, it does have a number of global competitors.
"I think the more activities and the more competitors we start to see, the better the signs are for the market in general," Sernia said.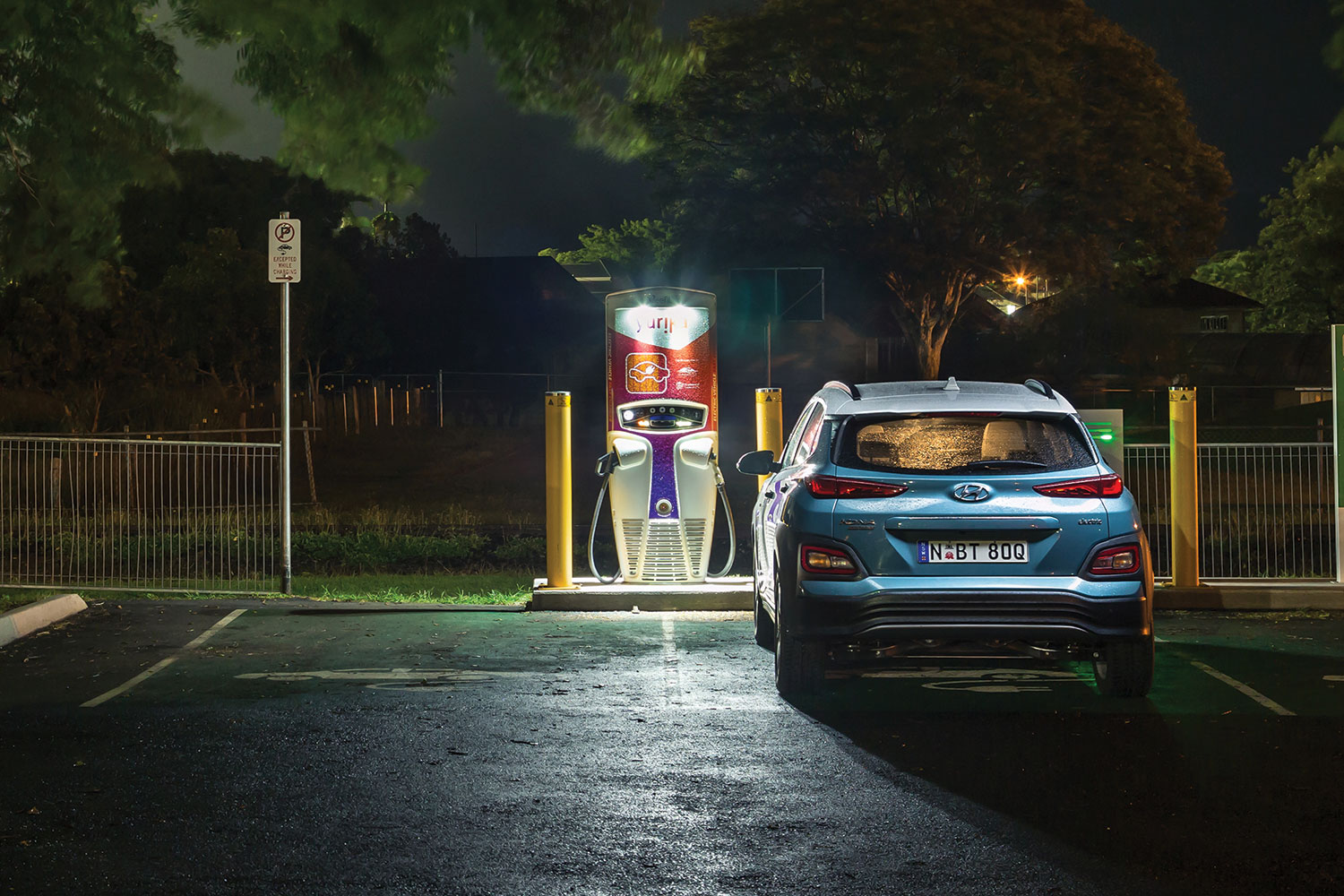 At present, only a half-dozen EVs are sold in Australia — a tiny percentage of the annual one million-plus new vehicle sales. Incredibly, in the US there are just 19 EV models, but Sernia points to the fact that this is expected to expand to around 50 or 60 vehicle types over the next three years, so the opportunity is huge.
How huge? In Norway, the country with the highest penetration of EVs worldwide, 77 per cent of new cars sold this past February were electric. In China, the world's biggest EV market, sales of electric cars rose by 62 per cent in 2018 to an estimated 1.2 million units.
Given the rapid growth and potential scale of the EV industry, Tritium appears well placed to continue to lead the charge in the EV charging space.
Upgrading the grid
While there are understandable concerns about how the growth in the number of EVs on our roads might impact the national electricity grid, Tritium's Paul Sernia does not believe it will be an issue.
"I don't believe [the Grid] will need to be upgraded," he said.
"I don't believe we'll need to build more power plants to power electric vehicles. What we'll really see is that charging will happen as a managed process.
"When people come to work and they plug in, they've got all day, six hours. There will be pricing signals, there'll be control that people will have over their charging, or that a workplace will have over their chargers, that enables them to dynamically change how much power they're using."
"We have a very small footprint, the smallest footprint in the world, and we're the lightest in the world."
Sernia also sees a future of bi-directional charging capability.
"What we want is to enable people to unlock their vehicles not just as transport assets but also as energy assets," he said.
"I think it's really exciting, if we have millions of cars every day moving energy throughout our cities. I call it the internet of mobile energy. The roads become the electricity grid of the future."
Just charge it
While Tritium specialises in the manufacture of high-voltage DC fast chargers, this type of charger is more the exception than the norm at present. Most EV owners will find themselves charging at home via an AC power outlet, or possibly with an AC fast charger.
Here's how the various charging types are forecast to perform when charging the Hyundai Kona's 64 kWh lithium ion battery to deliver its predicted 450 km urban and 400 km highway range.
⚡️Slow: Using a standard household 240 V AC 3-prong power outlet cable will take 27 hours and 50 minutes to charge the Kona from 0 to 100 per cent.
⚡️⚡️Faster: Using an AC fast charger, such as those sited along the DC fast chargers on Queensland's Electric Super Highway, will take nine hours to charge the Kona from 0 to 100 per cent.
⚡️⚡️⚡️Fastest: Using a 50 kW DC fast charger, such as the Tritium units on the Electric Super Highway, will take 60 to 90 minutes to charge the Kona to around 90 per cent (the maximum available when DC charging, due to inbuilt battery protection features).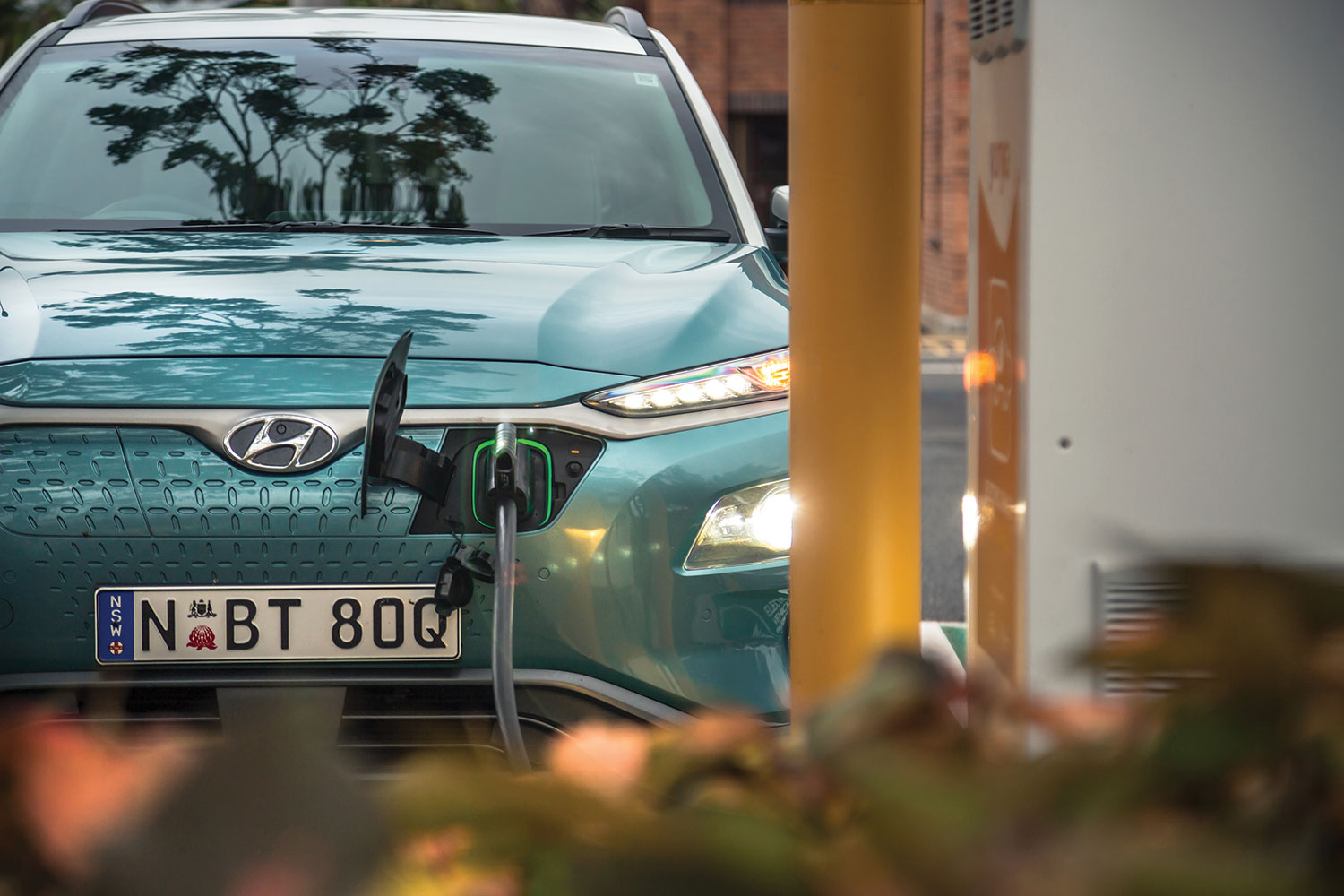 Driving the Electric Super Highway
The catalyst for create's visit to Tritium was the opportunity to drive Hyundai's new Kona electric vehicle (EV) the length of Queensland's so-called Electric Super Highway.
This network of EV fast charging stations stretches from Coolangatta to Cairns, and inland from Brisbane to Toowoomba, and was completed in 2018 as an initiative of the State Government.
In total, there are 14 DC fast charging stations along an 1800 km length of the state's glittering coastline, with the distance between charge points varying from 98 km to 208 km, with an average of 130 km.
Over the course of our 2122 km journey we recharged the Kona EV at Tritium-manufactured chargers in Brisbane, Childers, Rockhampton, Mackay, Townsville and Cairns. The powerful 50 kWh DC fast chargers recharged the Kona's 64 kWh battery to 90 per cent capacity in 60 to 90 minutes, delivering an effective highway range of just under 400 km.
The network itself is managed by Yurika Energy, which said that its chargers use only green power and are carbon-neutral. Based on this, the journey saved an estimated 288 kg of CO2 compared with an internal combustion engine-powered model.
Our adventure showed that an EV trip is perfectly feasible – at least on the Queensland coast. Elsewhere, Australia has a long way to go.
This article originally appeared as "The power of 3" in the August issue of create magazine.