A new autonomous robot developed by NASA and recently tested in Antarctica could be the key to finding life in ocean worlds beyond Earth.
The 'Buoyant Rover for Under Ice Exploration' (BRUIE), a rover with two wheels that travels along the underside of ice crusts, was built at NASA's Jet Propulsion Laboratory (JPL). Trials of the technology have previously been conducted in the Arctic and Alaska, and most recently BRUIE was tested out at Australia's Casey Research Station in Antarctica.
Dr Dan Arthur from the University of Western Australia's School of Engineering was part of the recent expedition, along with scientists from JPL. 
"We developed the project scope over a number of months and contributed to the general robotics work in the lead-up to the trip," Arthur said. 
"WA is a uniquely well-resourced location for the development of autonomous robotics systems that interact with geology." 
In Antarctica the robot was tested for its ability to operate at extreme depths and temperatures, as well as communicate through thick ice. And with NASA planning an interplanetary mission, Europa Clipper, in the mid-2020s, BRUIE technology could be set to travel to Jupiter's moon in the future.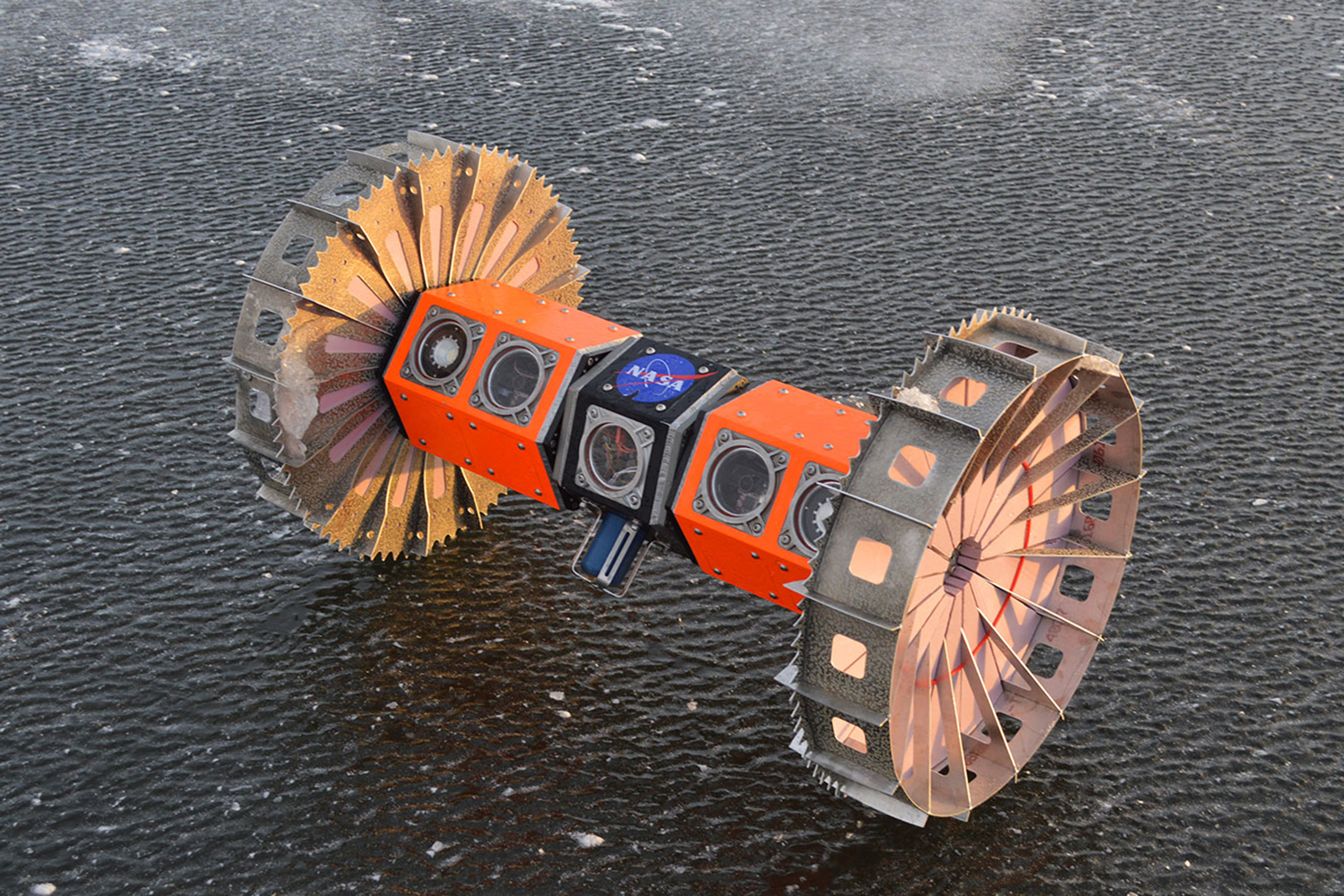 "Europa Clipper could be followed by a subsequent mission, which will aim to land on the surface of Europa and deploy an evolution of BRUIE, beginning the search for life on the icy moon," Arthur said. 
"In the future, we will be reliant on technologies like BRUIE to enable the exploration of these ocean worlds and beyond."
Europa Clipper
Expected to launch in 2025, NASA's Europa Clipper is set to conduct the first dedicated and detailed study of an ocean world beyond Earth. It will undertake a detailed survey of Jupiter's moon Europa – including its ocean, ice shell, composition and geology – to determine whether the icy moon has conditions suitable for life. The spacecraft is set to make 45 close passes over Europa while in orbit around Jupiter. 
Europa is considered one of the most likely places in the Solar System to find life due to strong evidence of a liquid water ocean on its surface. 
"We are all excited about the decision that moves the Europa Clipper mission one key step closer to unlocking the mysteries of this ocean world," said NASA's Associate Administrator for the Science Mission Directorate Thomas Zurbuchen late last August, when the mission was confirmed. 
"We are building upon the scientific insights received from the flagship Galileo and Cassini spacecraft and working to advance our understanding of our cosmic origin, and even life elsewhere.